Legendary High School Teacher Receives Beautiful Gift From Two Students: Two Gorgeous Kittens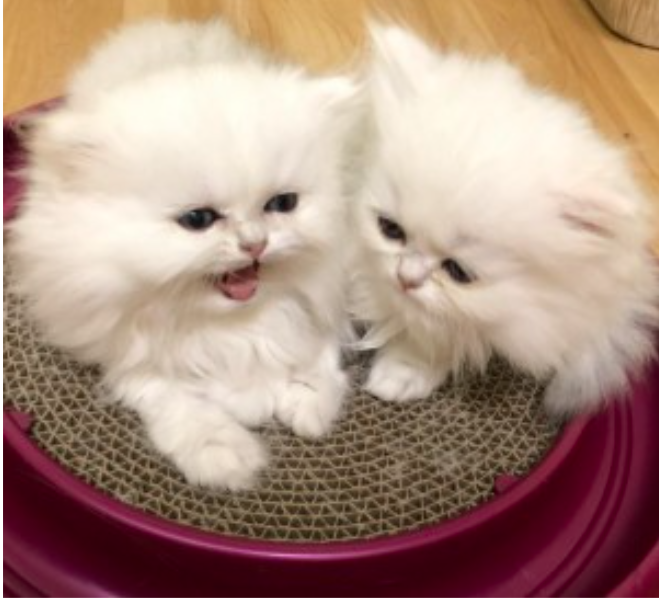 In today's increasingly hostile and aggressive world, many people are losing hope for general human decency and kindness. However, there are those incredible moments that happen every day that bring a little bit more faith into a person's life.
Take, for example, a recent instance in a Texas high school. A beloved and almost legendary high school teacher had raised her beautiful cat, Blondie, for the last 16 years. Unfortunately, Blonde passed away and devastated this teacher. However, her lovely students helped her overcome her loss in a surprising and heartwarming way.
The Initial Loss
Miss Andrews, the math teacher who lost the kitten, was somebody whom everybody in the whole school loved. She not only knew how to make math fun for her students – indeed a Herculean task – but was also a kind, energetic, and giving person who truly cared for her students.
The day after the loss of Blondie, she came into school in obvious duress and experiencing real emotional trauma. Her caring students found out what was bothering her and were upset for their favorite teacher. They knew that Miss Andrews had recently gone through a hard patch, including the loss of her father, and was also dealing with the aftermath of a painful divorce.
Instead of shrugging and playing "Pokemon Go" on their phones – the way most students would have reacted – three soft-hearted students decided to make a positive difference in their teacher's life. These three students – Ashlei Mahan, Rachel Hanhart, and Sheridan Swindel – hatched a plan that would deeply touch Miss Andrews for the rest of her life.
The Big Plan
While other girls their age were likely obsessing about boys or getting into heavy partying, these three girls got together to do something meaningful with their time. First of all, they spent most of one day cooking delicious cupcakes to give to Miss Andrews at school. Then, they bought some fun balloons, inflated them, and paired them with a dozen roses.
These gifts alone would likely have been enough to please Miss Andrews. However, the girls went that extra mile and went to a local shelter to find a pair of cute kittens who needed a home. They spent time playing with the kittens to get a feel for their personality and chose only the friendliest.
The Day of Giving
When the bell rang for Algebra 2, Miss Andrews noticed that a few of her best and brightest students weren't in their seats. This surprised her, as Ashlei, Rachel, and Sheridan almost never missed class. However, she was even more surprised when they walked in the door holding flowers, balloons, and cupcakes. Her jaw dropped as the smiling students handed her these gifts and gave her heart-felt hugs.
The girls then truly threw the already crying Miss Andrews for a loop when they brought in a basket of adorable kittens to give to her. The kittens mewed softly as Miss Andrews picked them up and held them closer to her face. One pawed at her nose while the other licked her chin. By this point, Miss Andrews was over the moon and already in love with her new pair of kittens.
It's moments like these that really touch the heart and remind you that there truly are giving and caring people in this world. In the right circumstance, just about anybody can become a loving person capable of great acts of kindness and decency. Do you know of any instances like these near you that are worth sharing with the world?
Nurses Unite to Bail Out Father In Trouble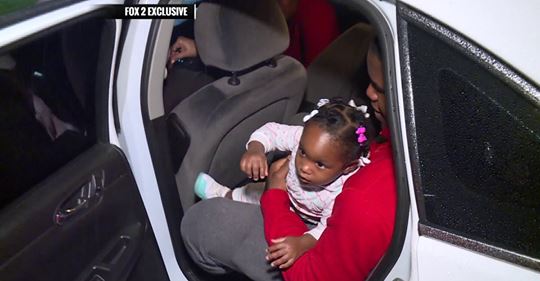 A near tragedy in an Illinois town was almost compounded by a police overreaction, but the quick thinking of a group of nurses saved the day and made everything turn out alright.
The story began in Centreville, a small town in the St. Louis metropolitan area. On the evening of April 7, 2019, a one-year-old girl named Demani began to choke on a penny. She had put a penny inside her mouth, as children are wont to do, but accidentally swallowed it. The penny became lodged in her throat. Her father, Darius Hinkle, and her mother, Donecia Pittman, who were with her at the time of the incident, were terrified for their daughter's safety. They put her in the car, and began to drive to the hospital. Naturally the mother comforted the choking child while the father drove. Time was of the essence, so they drove very quickly.
Unfortunately, a police officer saw them driving towards the hospital. Unaware of their destination or the situation, the police officer went into pursuit of the speeding vehicle. Obviously the father did not stop to waste time explaining the situation, but instead proceeded with all possible haste towards the medical center. Before they had gone many miles the speeding car was being followed buy a long line of police cars with sirens flashing. The father disregarded them and continued to the hospital, sometimes at speeds exceeding a hundred miles an hour. The police kept pursuit.
Very little time passed until they reached their destination, Touchette Regional Hospital. The distressed parents tried to make contact with medical personnel and to inform them of their child's dire predicament, but witnesses to the incident say that the police were almost entirely unconcerned with the well-being of the baby. Instead, the police forced the distressed parents to the ground, treating them with harshness and severity as they disregarded the choking infant. The father was arrested and taken away. The mother went in to see to her child.
The obstruction was removed from the child's trachea without the necessity of surgical intervention. Once Demani was out of danger, Ms. Pittman went to bond out her partner. When she arrived she encountered the biggest surprise in an evening filled with surprises. When Ms. Pittman stepped forward to speak to the desk clerk about paying the bail for Mr. Rucker, she was informed that the person immediately before her had already paid for it. That person was a nurse from the Touchette Regional. The nurses had seen the entire incident, including the man's overwhelming concern for his daughter and the police officers' complete indifference to the circumstances. They were moved to action by what they had witnessed. The nurses took up a collection among themselves and volunteered to pay the man's bond.
Although Mr. Rucker still faces criminal charges for this incident, and he will still have to appear in court and plead his case, the touching faith that the nurses showed in him has gathered national attention. The story has become an example of how human beings can support each other in the face of injustice. Contributions have been made to the man's legal defense and to reimburse the nurses for their time and trouble. One can only hope that the police have read this story as well and found in it an example for better behavior.