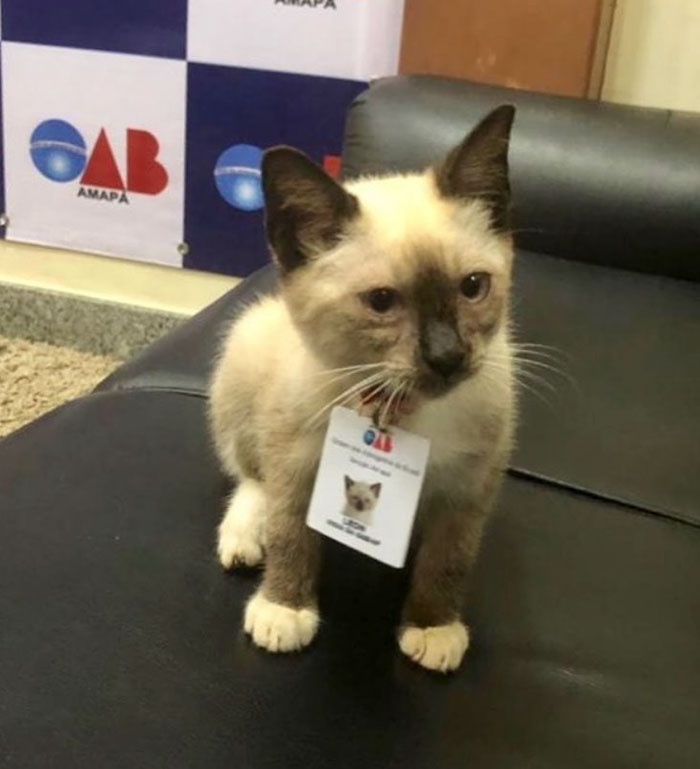 Law Firm's Siamese Cat Leon is Just the Latest in a Tradition of World-Famous and Influential Stray Cats
Cat's Don't Like Rain, and Stray Leon Liked the Brazilian Bar Association's Offices
The Order of Attorneys of Brazil is the Brazilian national bar association, a very serious institution for the country's legal profession. When a stray cat arrived during the rainy season and made itself known, visitors began to complain. A stray cat is not right for a serious establishment, they said. Leon, a handsome Siamese, was prepared to debate the point.
Cats Can Choose Fame if they Want To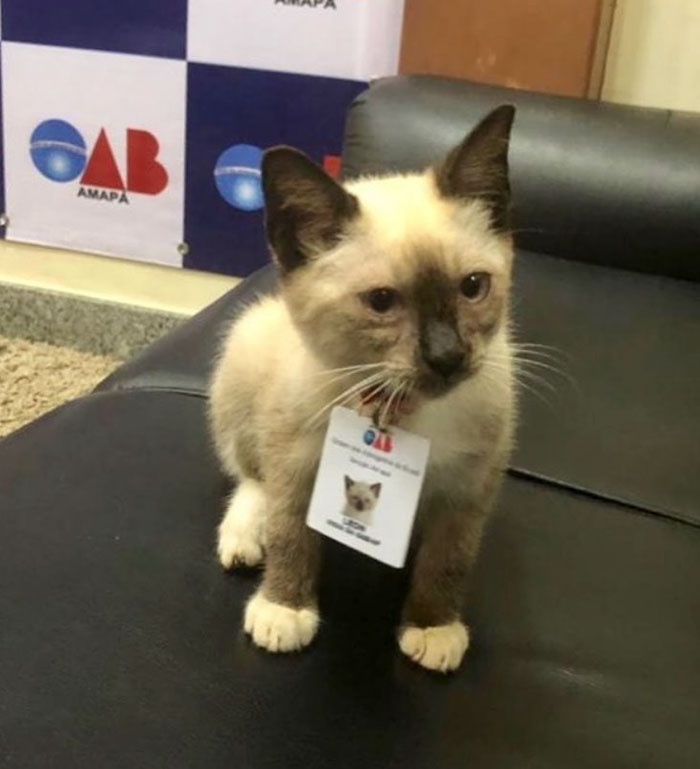 Cats have a natural talent for self-promotion. When people invite stray cats into their lives, amazing things do seem to happen as if the cats had planned it all along. It couldn't be by chance, right? Cats have clout. For instance:
London stray Bob the Cat — bestselling books, movies
Iowa library cat Dewey — bestselling books, movie
Mexican mayoral candidate Morris the Cat — 100,000 Facebook likes
2016 U.S. Presidential candidate Limberbutt McCubbins — multiple national print, radio, and tv stories
Dr. Leon the Cat's Legal Career
Back to Leon's story — some of Brazil's best legal minds set to work figuring out how to make Leon's situation less tenuous. What better way than to make his position official? They hired him as a greeter, later promoted him to "Dr Leon, the lawyer," and gave him his own employee badge and appropriately formal attire including suits, waistcoats and ties. Clothes make the man, especially in the case of lawyers, and so clothes also make the cat. It also silenced the stray cat complaints — nothing like that around here, they said, just us lawyers.
New Challenges and Creative Solutions: You're Hired, Cat!
Leon the Siamese was hired by the law firm and once again, a stray cat was on his way to becoming famous. If you call over 40,000 followers on Instagram (dr_leon_advogato) famous, that is. While some stray cats still prefer to live lives of quiet anonymity once they find a forever home, clearly felines have the option of jumping onto the world's stage if they prefer.
Cats in Positions of Power Worldwide
Leon holds to another internet cat tradition: holding court with his followers and sharing his opinions and experiences online. Cats seem to have their own social media thing going, of which he is now part — for example, Larry the Cat (@Number10cat) at the Prime Minister's Residence in London has 329,000 Twitter followers, many of them cats themselves. Larry's been "tweeting" for over eight years, as human residents of Number 10 come and go.
Lawyers Recognize the Power of the Cat
If any visitors to the Brazilian bar association still question the presence of a well-dressed, credentialed cat among the workers, it's clear that the problem lies with their inability to keep up with the times. Cats are a political, legal and economic force to be reckoned with, and generally good company at the office as well as at home.
Flexing Cat Muscles for Change
Leon's coworkers couldn't really see their way to adding even more cats to the staff, but they used their lawyering powers for good in this area. They set out to create an NGO, a charity organization, to help find homes for other stray cats in the region. As Leon's fame spread, they knew that the number of people who wanted to help would expand and they wanted to be ready. And so the story of Dr Leon the lawyer cat continues to write itself and benefit the stray cats of Brazil.
Indiana Man Saves Children During House Fire, Footage Caught on Police Body Camera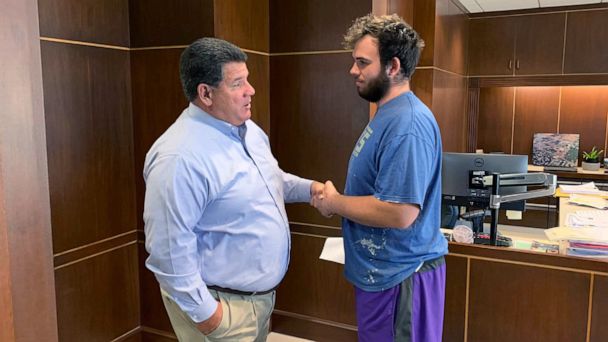 There are moments in life when we can decide to become a hero or to fade into the background. For Nicholas Bostic, a young man from Indiana, the choice was thrust upon his shoulders without much time to think. Bostic had been driving home around 12:30 in the morning when he noticed a fire billowing from the balcony of a home. A moment later, the driver was slamming on his brakes, running up a hill, and vanishing into a house engulfed in flame. Moments later, Bostic would re-appear with four saved lives.
However, there was someone still missing.
Tragedy Averted, Stunning Moments Caught on Camera
When police officers and fire response teams arrived at the Indiana home that was ablaze, they didn't know what they were walking into. However, moments after officers arrived on the scene, video footage from police body-worn cameras would reveal a stunning image of Bostic emerging from the flames with a young girl in his arms. Moments later, the two would collapse onto the sidewalk, wheezing and injured, asking for oxygen.
After initially beating law enforcement to the scene, Bostic would run into the home where he would find four young children as well as their oldest sister. After getting the small group out of the home, they would reveal that another child was still stuck inside.
Bostic didn't hesitate. In an interview with Fox 59, Bostic revealed his return to the home, "The smoke just came out of nowhere. It was pitch black, pitch black. The heat was excruciating."
Despite the billowing smoke, excruciating heat, and blinding particulates, Bostic was able to find the young child trapped in the home. Listening to her faint cries, Bostic was able to find the child on the second story of the building. The duo would jump out of the window only to appear dramatically before the waiting law enforcement officials.
Bostic and the child would both survive the incident, though Bostic would suffer from blisters, burns, and other abrasions. The entire family was uninjured.
When asked about his experience, Bostic replied, "I'd be hoping that the guy driving would consider doing the same if they were able to."
Honoring a Local Hero: Thanks From a City
According to a report by fire department officials, the fire began on the front porch and had been caused by ashes that had not been extinguished before they were emptied. Bostic's minor injuries would be treated at Eskenazi Hospital in nearby Indianapolis.
Lt. Randy Sherer of the local Lafayette Police Department cited Bostic's actions as being brave, selfless, and heroic. Lt. Sherer stated, "He has impressed many with his courage, tenacity, and steadfast calmness in the face of such perilous danger."
Local police officers stated that Bostic would be honored by the community during a local baseball game for the Aviators in August. Lafayette Mayor Tony Roswarski was also quick to thank Bostic for his actions. All proceeds earned from tickets at the local baseball game will be given to a fundraising campaign on the internet for Bostic.
As far as Bostic is concerned, his actions were just an extension of his personal faith. Bostic told the local station News 18, "I have something to remind me of why I'm here, still alive. Why God keeps me here. He used me like his instrument that night."