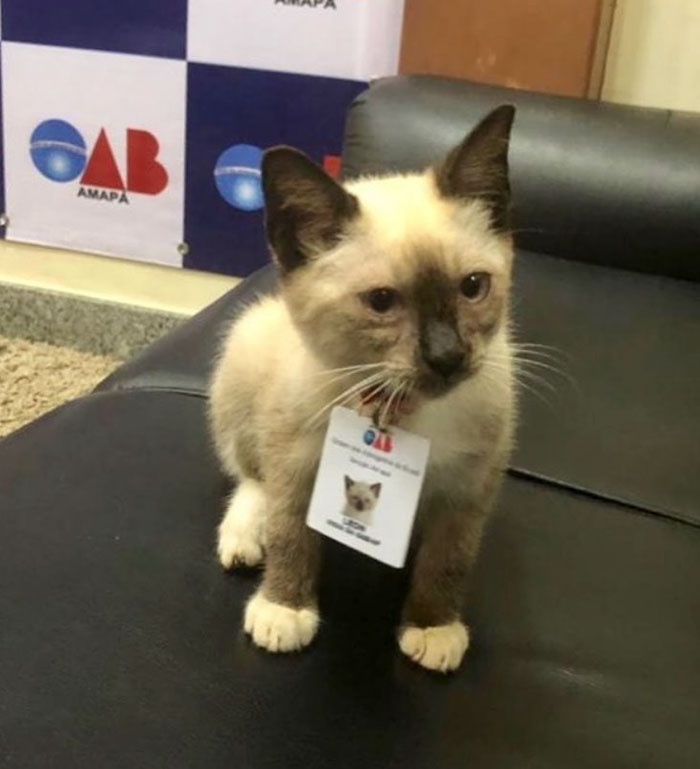 Law Firm's Siamese Cat Leon is Just the Latest in a Tradition of World-Famous and Influential Stray Cats
Cat's Don't Like Rain, and Stray Leon Liked the Brazilian Bar Association's Offices
The Order of Attorneys of Brazil is the Brazilian national bar association, a very serious institution for the country's legal profession. When a stray cat arrived during the rainy season and made itself known, visitors began to complain. A stray cat is not right for a serious establishment, they said. Leon, a handsome Siamese, was prepared to debate the point.
Cats Can Choose Fame if they Want To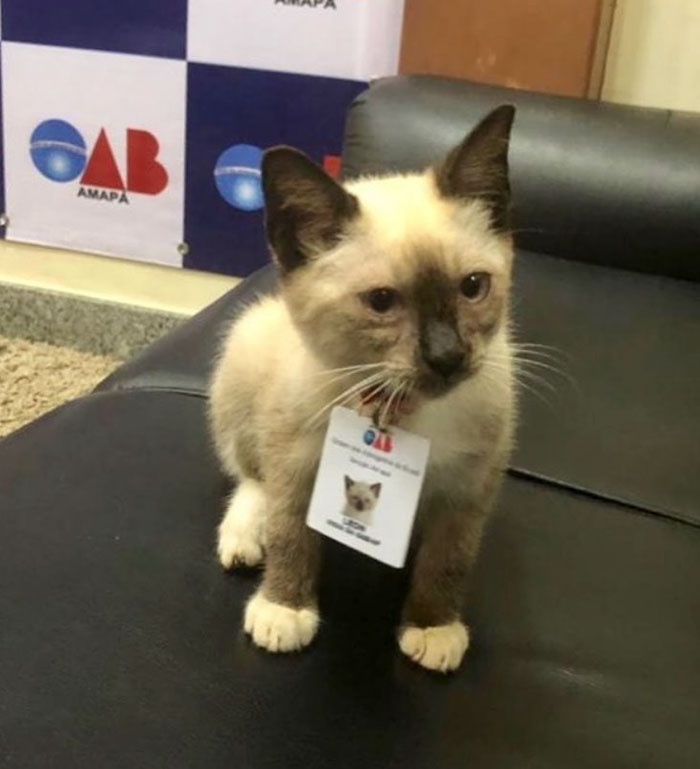 Cats have a natural talent for self-promotion. When people invite stray cats into their lives, amazing things do seem to happen as if the cats had planned it all along. It couldn't be by chance, right? Cats have clout. For instance:
London stray Bob the Cat — bestselling books, movies
Iowa library cat Dewey — bestselling books, movie
Mexican mayoral candidate Morris the Cat — 100,000 Facebook likes
2016 U.S. Presidential candidate Limberbutt McCubbins — multiple national print, radio, and tv stories
Dr. Leon the Cat's Legal Career
Back to Leon's story — some of Brazil's best legal minds set to work figuring out how to make Leon's situation less tenuous. What better way than to make his position official? They hired him as a greeter, later promoted him to "Dr Leon, the lawyer," and gave him his own employee badge and appropriately formal attire including suits, waistcoats and ties. Clothes make the man, especially in the case of lawyers, and so clothes also make the cat. It also silenced the stray cat complaints — nothing like that around here, they said, just us lawyers.
New Challenges and Creative Solutions: You're Hired, Cat!
Leon the Siamese was hired by the law firm and once again, a stray cat was on his way to becoming famous. If you call over 40,000 followers on Instagram (dr_leon_advogato) famous, that is. While some stray cats still prefer to live lives of quiet anonymity once they find a forever home, clearly felines have the option of jumping onto the world's stage if they prefer.
Cats in Positions of Power Worldwide
Leon holds to another internet cat tradition: holding court with his followers and sharing his opinions and experiences online. Cats seem to have their own social media thing going, of which he is now part — for example, Larry the Cat (@Number10cat) at the Prime Minister's Residence in London has 329,000 Twitter followers, many of them cats themselves. Larry's been "tweeting" for over eight years, as human residents of Number 10 come and go.
Lawyers Recognize the Power of the Cat
If any visitors to the Brazilian bar association still question the presence of a well-dressed, credentialed cat among the workers, it's clear that the problem lies with their inability to keep up with the times. Cats are a political, legal and economic force to be reckoned with, and generally good company at the office as well as at home.
Flexing Cat Muscles for Change
Leon's coworkers couldn't really see their way to adding even more cats to the staff, but they used their lawyering powers for good in this area. They set out to create an NGO, a charity organization, to help find homes for other stray cats in the region. As Leon's fame spread, they knew that the number of people who wanted to help would expand and they wanted to be ready. And so the story of Dr Leon the lawyer cat continues to write itself and benefit the stray cats of Brazil.
Centenarian Beats Coronavirus and Prepares For 109th Birthday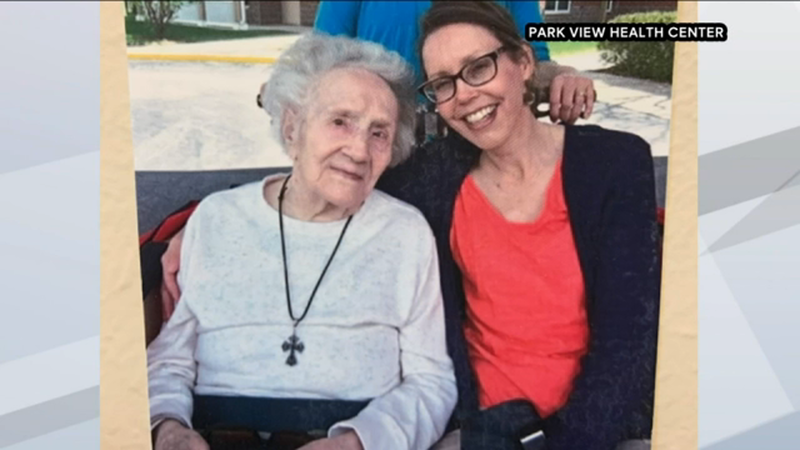 Millions of people have been dying across the world as a result of contracting the Coronavirus.
One of the most emphasized points has been for the elderly and people with underlying health conditions to shelter-in-place or wear protective gear at all times.
It is therefore understandable why the world is celebrating the fact that a centenarian has been able to survive the brutal virus.
She is actually well on her way to a decade past the century and doing so in fine style.
Not only has she fought and won the battle, but she is taking preparatory steps to celebrate another birthday.
One hundred and nine years, she has managed to survive on this earth, two world wars, multiple Presidents, Stock market and housing market crashes, now a pandemic.
Ruth Stryzewski of Oshkosh, Wisconsin, has only three weeks to go, but plans are in high gear. If anyone has anything to celebrate, she certainly does.
Maybe if she were fifty years younger, it would not have been such a surprise that she pulled through the virus unscathed, but at her age, that's unheard of anywhere in the world.
The pandemic has devastated the United States and has led to the loss of lives in the region of four hundred thousand.
Some survivors recover in the slated two-week period, but others take weeks and even months to recuperate.
Some have symptoms that appear to be long-term, like loss of taste and smell or even fatigue.
Some are still laid up in bed, struggling to regain their stamina, trying many home remedies to help them become rejuvenated.
Yet 108-year-old Ruth Strzyzewski of Oshkosh managed to evade all the horrible symptoms and, above all, death, which she is genuinely grateful for.
The coronavirus toll on the elderly has been disproportionate to all other ages. Even seemingly young robust people have succumbed, as well as infants.
However, this older woman was having none of it. She has decided that the virus will not be determining her fate.
For several weeks she remained isolated, putting up an intense fight against the severe virus that has brought many nations to their knees.
Fortunately, she did not need to be hospitalized, even though several symptoms presented themselves.
After her solace period, Strzyzewski has emerged with no ongoing effects and seems to be recuperating with no issues. She's expected to make a full recovery to her usual cheerful self.
One health official highlighted the remarkable feat, noting that at her age, Strzyzewski being on the road to recovery would have been the last thing on anyone's mind, not with so many people losing the coronavirus battle.
Not only has she fought, but she has won and is doing very well. Her strength continues to build each day, and she's almost back to a state of normalcy.
Her birthday celebration, slated for February 20, will be a high point for 2020. Many health officials are likely wondering about the possibility of someone this old conquering the virus.
Maybe they'll be revisiting the round table and analyze her specimens to see what is so different about a woman over a century old that made her survive the vicious virus.
Either way, as they contemplate, she will be having a whale of a time celebrating her 109th birthday on 20 February with whatever number of people will be allowed.
Be assured; it will be covered by media houses not only in the United States but globally.