Kitchen Fire Breaks Out After Would-Be Thieves Steal Food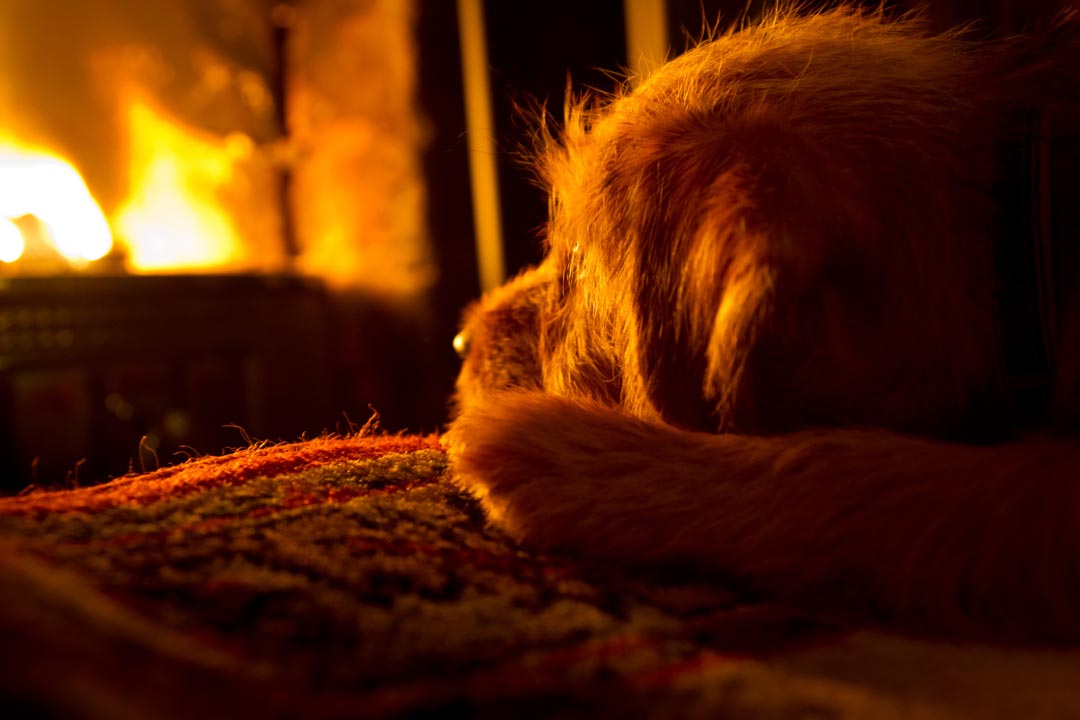 Our homes are our sanctuary from the world. It's hard to handle it whenever something goes wrong, like a thief or a fire…but what about a thief and a fire? The entire story unfolds for us by way of the home security camera. Without it the police and fire workers would probably have been able to piece together the series of events. However, would anyone have believed them?
What Happened
The family left home for a while and apparently assumed that leaving pancakes out on the stove would be alright. We have to give them credit- each of them probably thought that someone else had taken care of the plate of pancakes. With two beautiful Golden Retrievers as pets in the home, you can bet they all knew that the kitchen counter was within doggy reach. They left, and those pancakes sat there where the dogs could see and smell them. Time went by…then one of the dogs quietly walks over and swipes a pancake. It went well for them! They went back for more, and this is when things take a turn for the worse. The dog knocks the controls of the burner into the 'on' position, the burner ignites, and a fire starts. The items left on the stove start to heat up and then they catch fire. Smoke begins to fill the home.
Do I Have To Cover My Eyes?
The dogs know something is wrong, and start pacing. They retreat to the couch, watching the fire and feeling the smoke make their breathing uncomfortable. Their eyes and noses are probably stinging from the fumes that are building up. They expect their people to come in at any moment and take care of things. But the family is away. It's the police who come to the rescue. The first policeman makes sure the dogs are friendly, and then more rescuers pour into the house to make sure everything is safe and under control. The dogs are glad to see them!
What They Did Right
Anyone could forget to put something away or make some other simple mistake. What this family did right, however, was to install a fire alarm system that was monitored by rescue personnel. They made it possible that even when the inevitable mistake was made, their alarm system would bring help right away. Fire Chief Russell Anderson used the video and the incident to teach everyone about fire safety. He commended the family on their fire alarm system and added that safety covers for burner controls would add extra security for homes with pets or children. Let's hope this family doesn't have to deal with fires or pancake thieves again!
Check out the video here! The camera captures the crime as well as the unintended consequences.
Fire Safety At Home
The Southwick Fire Department in Massachusetts learned of the surveillance video after the fact. They were happy to share it with the public as a way to alert the community to the importance of smoke alarms, monitored fire systems, and other safety devices. These devices save lives every year, including, as we see in the video, the lives of some sweet family pets. Without the alarms things might have gone from bad to worse, and then to tragic. Fire safety is a great lesson to teach at home, where families can learn on a regular basis what to do – and what not to do- when something scary like this happens. Being prepared made all the difference for these dogs and their family!
Handicapped Puppy Befriends Flightless Pigeon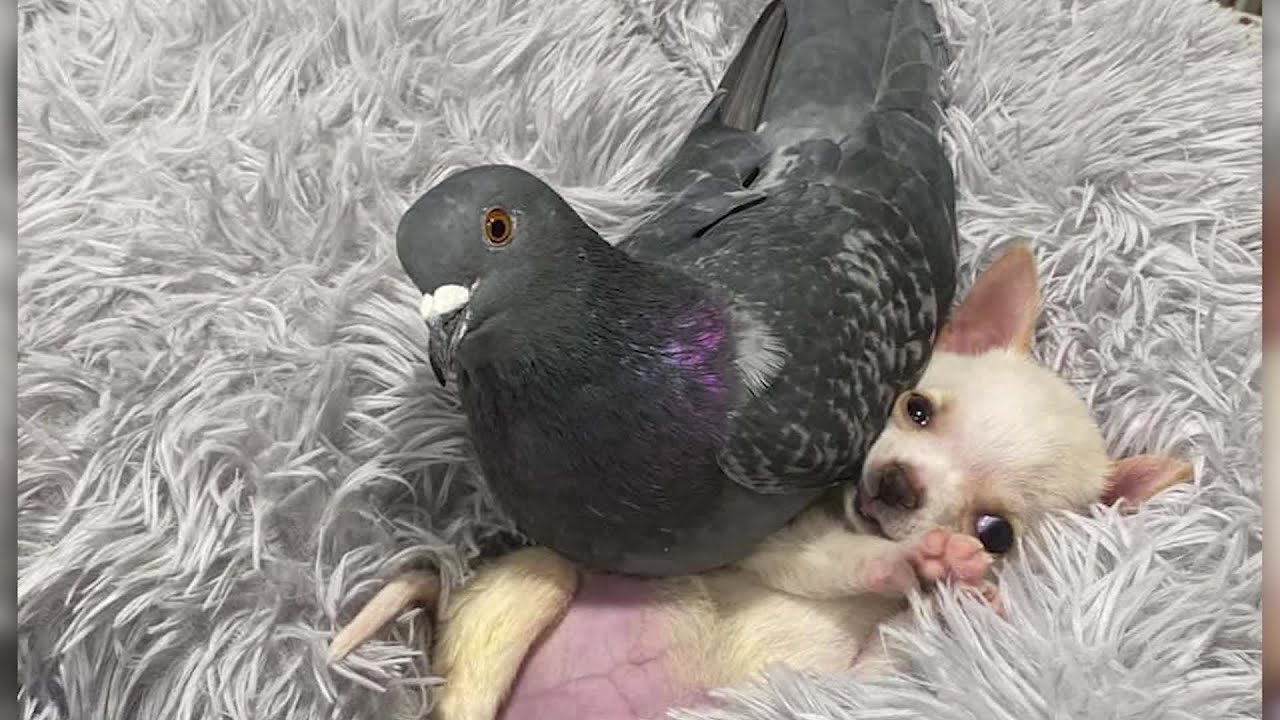 In Rochester, NY, Sue Rogers runs a non-profit called the Mia Foundation. The rescue organization rescues and rehabilitates animals who have birth defects or deformities and tries to find them a loving home. About a year ago, a pigeon was found unable to move in the parking lot of a car dealership. The pigeon was huddled and cowering on the ground. When a local wildlife rescue was called, they said the bird had neurological damage that caused him not to be able to fly. They thought that euthanization would be the best option for him.
Sue was having none of that. She stepped in and took the bird, who she named Herman, under her wing, so to speak. She made space for him in her shelter and kept him close where she could keep an eye on him. He liked to sit on a furry dog pillow and watch her work.
A couple months ago, a tiny Chihuahua was brought to the Mia Foundation. He was an infant, maybe a few months old, when his South Carolina breeders sent him to Sue. He's a teacup sized Chihuahua they named Little Lundy and he was born with spinal cord damage. Sue also determined that he was suffering from swimmers syndrome. Swimmers syndrome is a developmental deformity that causes the front and hind legs to be splayed out. This makes it almost impossible for Little Lundy to walk.
Although swimmers syndrome is thought to be untreatable, according to a few studies and an article in a veterinary journal, it can be treatable. With some physical therapy and at-home treatment, Little Lundy could live a long and happy life, which is exactly what Sue plans for him.
When Little Lundy arrived at the Mia Foundation he decided to get acquainted with his new surroundings and the other animals at the shelter. One particular encounter, created a friendship that has gone viral. Herman and Little Lundy, a puppy and a pigeon, are the unlikeliest of friends, but they have a lot in common. They both have trouble walking, or flying in Hermans case, and they were living in the same place. You could say, they were in the right place at the right time to become instant friends.
In the six weeks they have been together, Herman and Little Lundy have become inseparable. They do everything together, which is a lot of sleeping and snuggling. Mostly, with Herman sitting on top of Little Lundy, which doesn't bother him in the slightest. This friendship was so out of the ordinary that Sue had to document it. The viral sensation of the puppy and pigeon has brought attention to the Mia Foundation that was much needed. The rescue organization runs solely on donations to help cover the costs of taking care of the animals and for needed surgeries. So far, about $6000 was donated because of this unlikely friendship and over 100 adoption inquiries. Hopefully when they are adopted, they are able to stay together.