Kind Neighbor Helps Young Boy Find Friends in Texas
In a heartwarming story from Amarillo, Texas, an 11-year-old boy named Shayden Walker knocked on his neighbor's door, hoping to find friends to play with. Little did he know that this simple act of reaching out would lead him to discover the kindness and support of his neighbor, Brennan Ray.
On the sunny afternoon of July 3rd, Shayden approached Ray's house, filled with a desire to connect with kids his age. He rang the doorbell and spoke to Ray through the doorbell camera, explaining his wish to find friends. In the video capturing this touching encounter, Shayden can be heard saying, "Um, I just wanted to see if you knew any kids around like 11 or 12, maybe. I need some friends, like really bad."
Ray, touched by the boy's genuine plea, listened attentively and wanted to assist. He mentioned a group of kids living nearby but soon realized that Shayden had already encountered them and found them to be bullies. Ray's own child was just a toddler, so he recognized the importance of finding the right companions for Shayden.
With a heart full of compassion and a desire to help Shayden, Ray decided to share the interaction on TikTok. Alongside the video, Ray added a caption that resonated with empathy and understanding: "You never know what people are going through until you get a chance to talk to them. This young man is well mannered, kind, and brave. So TikTok, can we help Shayden make some friends?"
By posting the video on TikTok, Ray hoped to reach a wider audience and potentially connect Shayden with children who would appreciate his kindness and friendship. TikTok, known for its ability to spread messages and bring people together, seemed like the perfect platform to help Shayden find the companionship he yearned for.
The power of social media is incredible, and Ray's TikTok video quickly gained attention and started circulating among users. People were deeply touched by Shayden's story and Ray's gesture of support. The video garnered numerous comments and shares, with many individuals expressing their willingness to assist Shayden in finding friends.
"I figured I could post it, and some local people would see it and help me connect to them," Shayden shared, reflecting on his decision to share his story on TikTok.
To Shayden's surprise and delight, the post quickly gained traction, amassing an astounding 69 million views. The response from viewers was overwhelmingly compassionate and supportive, with numerous individuals expressing their willingness to be Shayden's friend. This outpouring of kindness brought immense joy to Shayden, who was elated to hear from so many kind-hearted people.
Not only did the TikTok video bring new connections and potential friendships into Shayden's life, but it also led to an incredible act of generosity from his neighbor, Ray. Inspired by the compassionate response to Shayden's story, Ray decided to start a GoFundMe campaign to support the young boy. The campaign quickly gained momentum, and through the collective efforts of compassionate donors, an astonishing $37,000 was raised.
The funds raised through the GoFundMe campaign opened up a world of possibilities for Shayden. With this newfound financial support, Shayden is planning to set up a gaming setup, an activity he thoroughly enjoys. Additionally, he is looking forward to going on a well-deserved vacation to create cherished memories. Showing his gratitude and empathy, Shayden also plans to donate a portion of the funds to charitable causes, demonstrating his generous spirit.
Shayden's journey holds even more significance when considering that he is on the autism spectrum, which occasionally presents challenges such as meltdowns that can make it difficult for him to make and maintain friendships. Ray's actions and the overwhelming response from the community have truly uplifted Shayden's spirits, reminding him that he is valued and surrounded by people who care.
This heartwarming tale exemplifies the power of social media in bringing people together and spreading kindness. It demonstrates how a simple act of reaching out, sharing a story, and responding with compassion can have a profound impact on someone's life. Shayden's experience serves as a powerful reminder that understanding, acceptance, and support can create a world where everyone feels valued and connected.
500,000-Year-Old Wooden Structure Rewrites History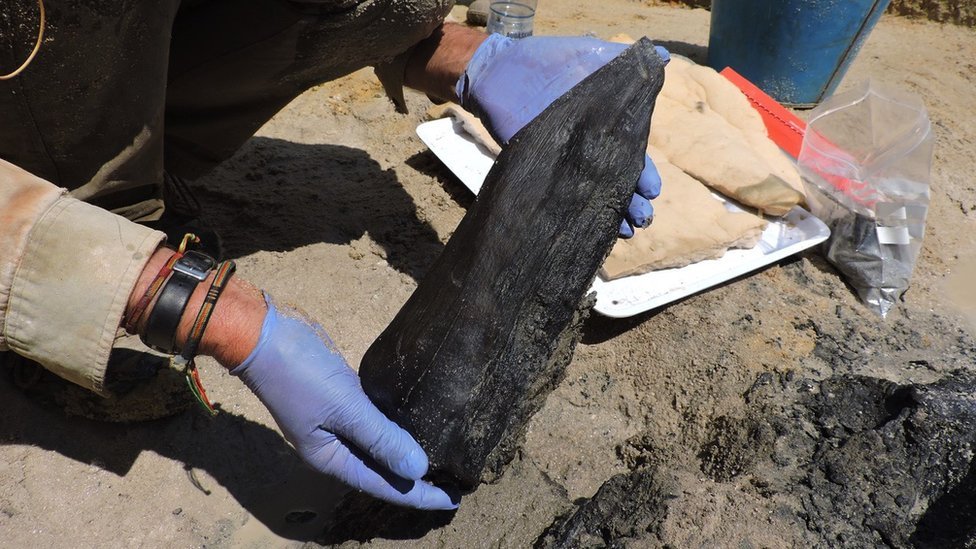 In an archaeological discovery, a wooden structure dating back an astonishing 500,000 years has been unearthed on the banks of a river in Zambia, challenging long-held beliefs about the capabilities of ancient humans. Researchers stumbled upon these ancient wooden logs, a revelation that has the potential to reshape our understanding of the lives of early humans.
The find, located on the riverbanks near Zambia's Kalambo Falls, provides compelling evidence that stone-age people may have constructed primitive shelters, forever altering our perception of their intelligence and resourcefulness. Archaeologist Prof Larry Barham, who led the research, was profoundly impacted by the discovery, stating, "This find has changed how I think about our early ancestors."
What makes this find truly remarkable is that it suggests ancient humans did more than merely survive; they thrived by creating something entirely new. These early humans exhibited intelligence, imagination, and craftsmanship by fashioning structures from wood, a material that had never before been transformed into such large and sophisticated objects.
The researchers also uncovered ancient tools, including digging sticks, but the most exciting find was two pieces of wood positioned at right angles to each other. "One is lying over the other, and both pieces of wood have notches cut into them," explained Geoff Duller, a professor of geography at the University of Aberystwyth and a member of the research team. "You can clearly see those notches have been cut by stone tools, making the two logs fit together to become structural objects."
Radiocarbon dating confirmed the wood's age, placing it at a staggering 476,000 years old. This revelation has ignited curiosity about the woodworking traditions of ancient societies, challenging the prevailing notion that early humans led simplistic, nomadic lives.
Perrice Nkombwe, a team member from the Livingstone Museum in Zambia, expressed her astonishment, saying, "I was amazed to know that woodworking was such a deep-rooted tradition. It dawned on me that we had uncovered something extraordinary."
The preservation of the wooden structure itself is a miracle. Typically, wood decays over time unless preserved under specific conditions. However, in the waterlogged environment along the Kalambo Falls, the wood remained intact, essentially pickled by the elements for millennia.
While the exact purpose of this ancient wooden structure remains a mystery, it has sparked numerous speculations. Prof. Duller suggests it might have been used as a place to sit beside the river and fish, although a complete understanding of its function remains elusive.
Moreover, the identity of the individuals who constructed this structure raises intriguing questions. "We don't know – it could have been Homo sapiens, and we just haven't discovered fossils from that age yet," Prof. Duller added. "But it could be a different species – [perhaps] Homo erectus or Homo naledi – there were a number of hominid species around at that time in southern Africa."
This discovery has the potential to enrich our understanding of ancient woodworking techniques, craftsmanship, and human interaction with the environment. As researchers continue their work at the Kalambo Falls site, the pages of history are being rewritten, and our appreciation for the ingenuity of our ancient ancestors grows ever deeper.