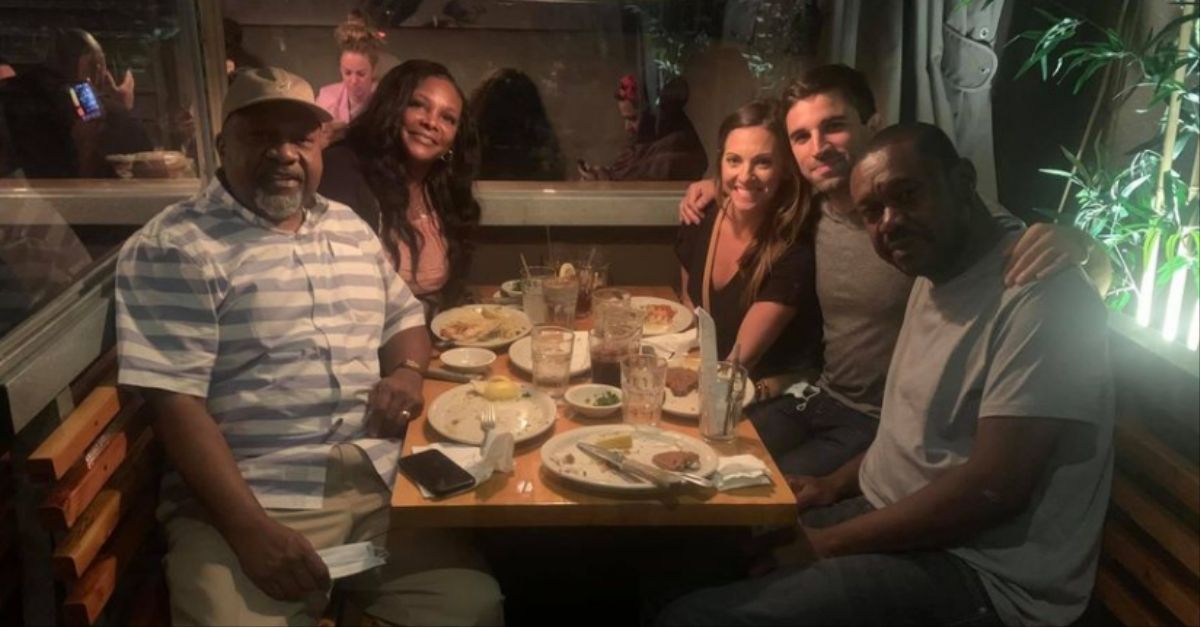 Kind couple reunite homeless man with his family after 20 years apart
"Everyone just stares at me. I'm an educated man, but all they see is a person who doesn't have a home and doesn't have anyone to call."
These were the sad, heartbreaking words Randi Emmans heard as she stepped outside her apartment in Los Angeles to take her dog on a walk. 54-year-old Petro Reid was the man Emmans had just heard talking to himself, and he was in a bad place mentally.
She called up her boyfriend, John Suazo to jointly hold a conversation with Reid. He was quite surprised at first, because according to him, no one had ever taken interest in him, and he poured out his mind to them.
For a homeless man, the person they had just held a conversation with was very fluent in expressing himself.
"He was so impressive," said Suazo.
"The whole conversation really touched us."
From the conversation, they found out that Reid had left his family home in Charleston, S.C., and moved to L.A. in 1999 to live with an aunt. Barely a year later, he found himself going off the rails and homeless due to drug and alcohol addiction.
He became a popular figure in jail, from where he'd occasionally call home and send letters to his grandmother's house in Charleston.
"It was always for petty crimes, usually shoplifting to support my habits, food and things of that nature," he said. "That cycle continued for years, and whenever I got released, I was right back on the streets."
For more than two decades, Reid wandered the streets of L.A. in search of his family or some beacon of hope, and for those two decades he didn't find anything- until Emmans heard him.
He had lost all hope of living a decent life. He always thought of his family, but the chances of setting eyes on them once again were pretty dim, so he gave up.
He found Emmans and her boyfriend non-judgmental. They genuinely cared about his situation and that was why he opened up to them.
"John and Randi saw me as more than what everyone else saw me as — just a homeless person living on the streets," he said. "They believed in me, despite the situation they found me in."
After giving him food, water, and other basic human needs, the couple felt they hadn't done enough to truly take him out of misery and ridicule. Emmans made a post on Facebook, a public plea asking for donations to help cover the costs of a night or two at a hotel, so Reid could get rest up, recuperate, and have decent hot meals.
Her post received a lot of engagements, and in only 3 days, they were able to raise about $6,500 for Reid. The funds were used to lodge him in a hotel, get him a new mobile phone, and buy him some new clothes.
Although grateful for all Emmans and Suazo had done, Reid still wanted to find his family. He asked the couple for help and they decided to help him.
Reid took on the name Franklin Mitchell after an encounter with the police in L.A. He didn't have his identity card, so the name stood- that was why his family members could never reach him.
In the search for his family, Reid gave Emmans and Suazo some names he could remember, as well as his grandmother's address, without knowing if she was still living there or alive at all.
"Randi and I started plugging away on the Internet, and we were able to find his grandmother's name associated with the address," Suazo said. "We called wrong numbers until, finally, we got someone who was his uncle's ex-wife."
This was when all the dominoes started falling in place.
Reid's uncle, Pierre Grant was informed by his ex-wife of a certain contact about his nephew and he immediately called the couple to set up a meeting.
Grant said "For over 20 years, we had been praying and believing that one day we would find him, and the day finally came. This is a miracle."
He took a flight paid for by Emmans and Suazo to L.A. to link up with his nephew. The amazing couple were also able to pay for a covid-19 test for Reid, Grant, and themselves- all which came back negative.
The long awaited family reunion came on Friday, August 7. Mia Green, Reid's cousin was also present for the reunion. It was a touching and soulful moment for Reid as he tightly embraced his cousin and uncle after 20 years of wandering the streets of L.A.
Now that Reid has finally reunited with his family, he plans to get his life together and back on track.
"I believe I can help a lot of people that are still in the position that I was in," said Reid.
He plans to start the next chapter of his education and find himself a stable, paying job.
Elderly Couples Food Kiosks Attracts Thousands of Customers After Heartbreaking Video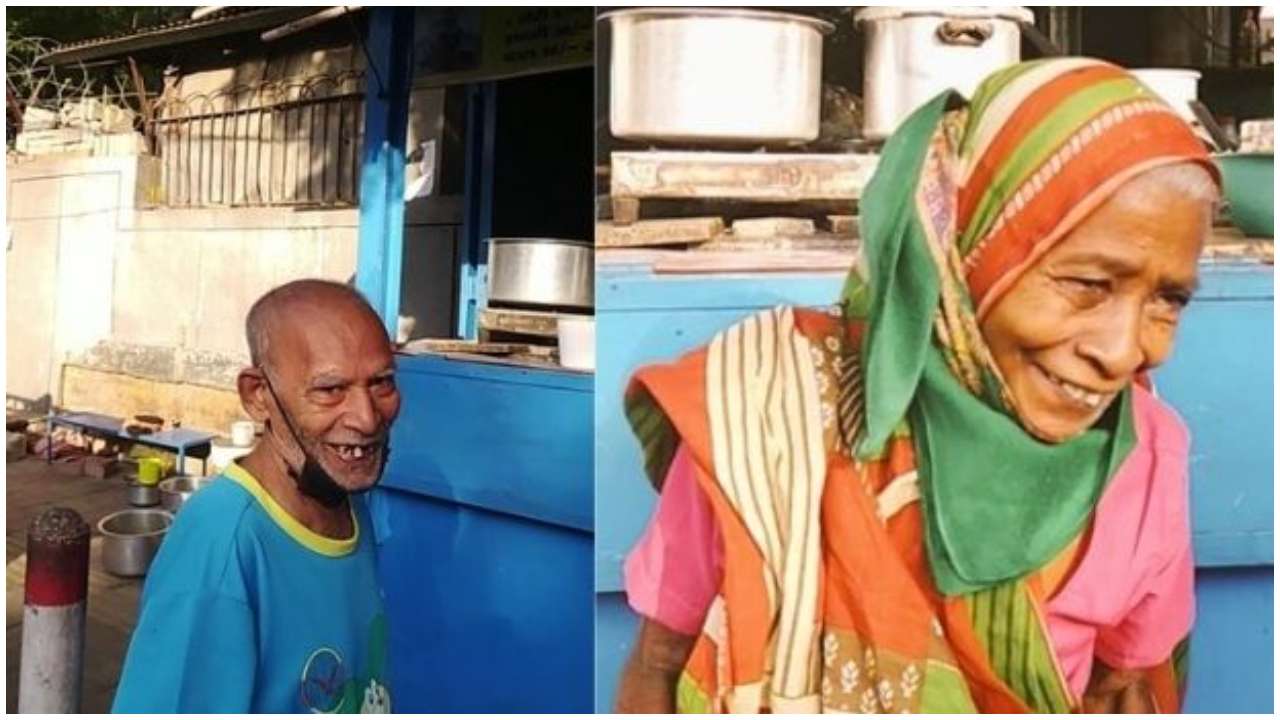 A miracle happened for an old couple in south Delhi this past week. The couple — Gaurav Vasan and Badami Devi own a tiny kiosk where they make home-cooked meals to sell. Daily, they don't make much with profits spent on buying ingredients for next day's sales. It's incredible they've done this for 30 years. 30 years of struggle and just being alive.
Luck however beamed on the couple.
Their story went viral last night, getting the emotions of people particularly celebrities, cricketers and companies.
All it took was an Instagram post and a tweet that alerted people to their plight.
It began with Vasundhara Tankha Sharma reposting a video made by a blogger that featured the couple. Vasundhara put the caption "completely broke my heart". She therefore implored residents of Delhi to "please, please go eat at Baba ka Dhaba in Malviya Nagar".
That post went viral as it was seen by many. The next morning, "Baba Ka Dhaba" was one of the trending topics on Twitter. As a result, people trooped to the kiosk.
The video by food blogger Gaurav Vasan was the starting point. The couple made open how they were struggling in the pandemic. 80-year-old Kanta Prasad shared that he and his wife began their routine at 6:30am, cooking meals until 9:30am. Dal, Curry, parathas and rice were made in large potions to be sold for ₹30-50 per plate.
Donning an orange t-shirt and wearing a mask, Kanta Prasad in the video was seen stirring a meal that looked like mouthwatering matar-paneer.
When quizzed about how much they make, he shed tears and grabbed the 10 notes that were in his box. That was their profit for that day.
The couple rarely made huge returns and with the pandemic, customers have failed to troop in as before, meaning sales are low. The couple can't bank on their children either as they get no assistance from their two sons and only daughter.
Hours after the video dropped, with the old man shedding tears making people emotional, the video garnered thousands of retweets and likes. Some made offers to help the couple financially and many made plans to have their lunch at Baba Ka Dhaba. Actor Sonam Kapoor, Cricketer R Ashwin, IPL team Delhi Capitals and food delivery app, Zomato were part of those who tweeted.
"We are very happy with the number of customers that are turning up now. We are grateful for the public support," said Kanta Prasad. His wife added, "During the lockdown months we could not sell anything. We struggled to survive but today we are flooded with customers. We want to give our blessings to all those who helped us."
Kanta Prasad was indeed elated with the response as there were huge lines of people at his kiosk. "It feels like the whole of India is with us," he said to news agency ANI.
People were seen at the front of the Dhaba with placads indicating the address of the kiosk. And also, contributions streamed in for "uncle and aunty".
"I am sure today #BabaKaDhaba will have more visitors than any other restaurant in Delhi. I don't know about the money, but Baba will definitely need a waiter this week," commented one post.
Gaurav Vasan who made the video was also seen at the Dhaba. "When I came here yesterday I had goosebumps listening to their plight. They had earned barely ₹70 the entire day. They had come at 6:30am to set up the shop and had spent ₹500 but even after lunchtime they had earned only ₹70. So I decided to record and share the video to help them. I am overwhelmed with the kind of support that he has received since then. It is great that there are so many people who want to help this man struggling due to poverty," he told NDTV.
It's indeed incredible how social media can assist people in times of need.
Meanwhile, Baba has a new message for all: "It is not just me…there are many others who need help, who lost their earnings."