Key Difference Between The British Royal Family Weddings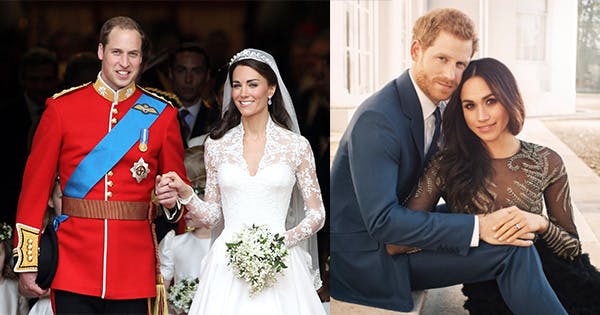 While in the past a British royal wedding would happen once a decade, we've been fortunate enough to see two of them in the same decade due to the brothers, William and Harry. Interestingly, the two ceremonies and their run-up have shown some very interesting similarities and contrasts in how they were prepared, occurred and developed. These are events of national pride for the British, so all the stops come out when one occurs, which again has been generational for the most part. So having two in the same short time span has provided detail attention folks a smorgasbord of comparisons to work with, as well as what some of the thinking might have been in the preparations.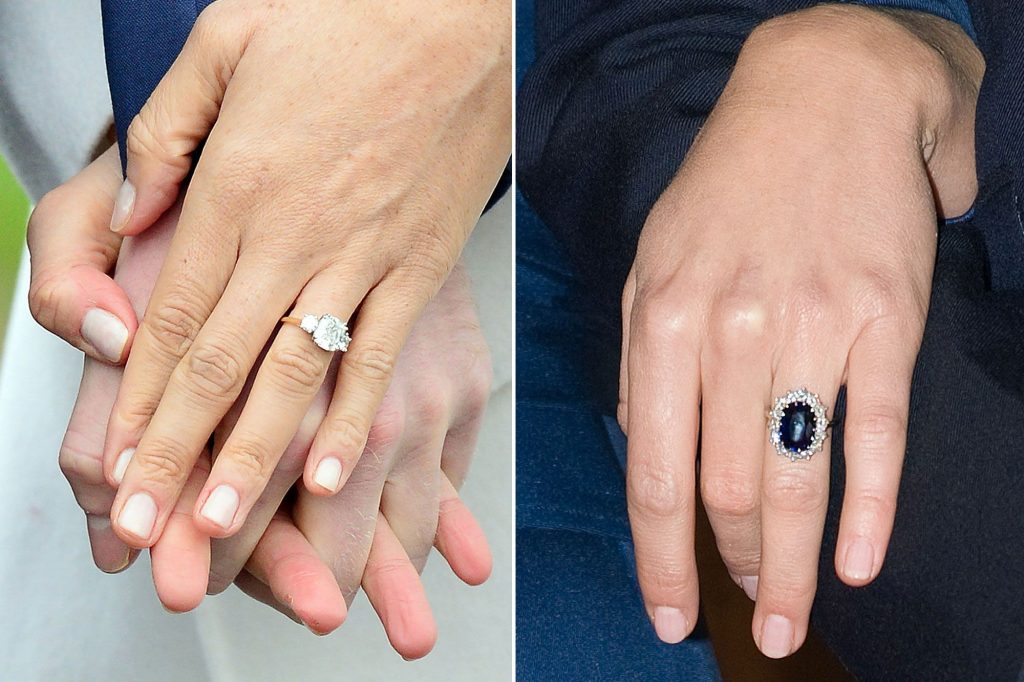 The Rings
For both sons of Princess Diana who have grown up in the media since an early age thanks to the popularity of their late mother, the rings chosen for their engagements were extra special. Both came from Princess Diana's ring collection, tying their marriage and another generation to her history and past in doing so. William's ring given to Kate Middleton produced an oval blue setting in a 12-carat ring with a perimeter of small diamonds as the accent. Harry's ring to Meghan Markle was a modification of his mother's ring, including two diamonds from Diana as well as new stone Harry added with an attachment to Botswana. This new stone significance noted where the couple first really attached to each other.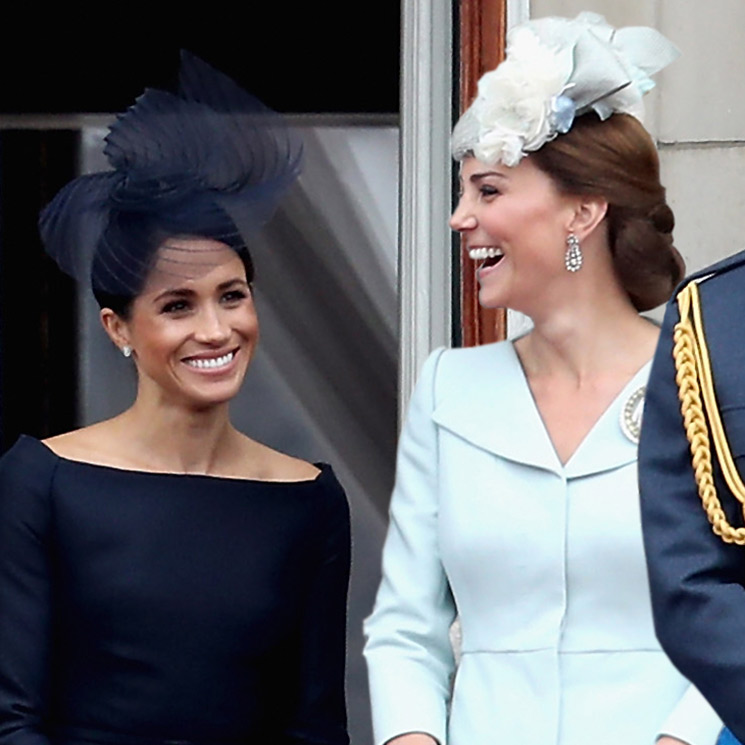 The Wives
Kate Middleton, hands down, is a true-blood Briton by family, lineage, name and practice. There couldn't have been a better fit for William with regards to British aristocracy expectations, and she was a night and day difference as a partner versus the antics that happened a generation before with his uncle, Andrew. The British high society circles were no stranger to Kate; her family traveled through all the right schools and reputations due to their established wealth and connections. It was inevitable that the two would cross paths. The surprise was that they developed a relationship and connected.
Meghan Markle provided Harry a self-established wife of renown and success through her own means by acting. Already famous and rising her own entertainment star, Markle was quite adept at managing the paparazzi and acting world and stood her own in any business environment, particularly given how successful she was already. Harry found a match that married him on even terms, irrespective British norms and social rules.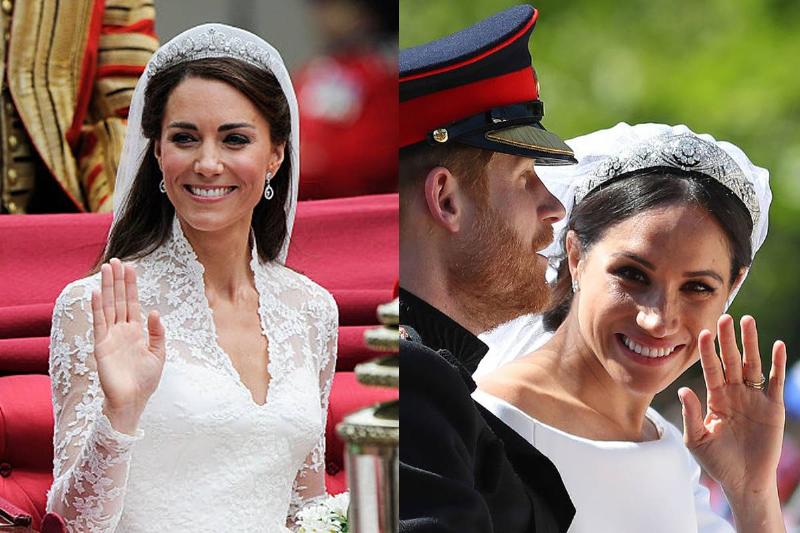 Crowd Engagement
During the wedding ceremonies the wives-to-be are expected to engage with the crowd and onlookers but with a reserved perspective. Kate Middleton practiced the age-hold British practice of the stiff back, at attention sitting in the carriage, waving with a stiff hand and smiling for the cameras. Megan Markle handled the cameras and audience just fine, being a veteran in front of the camera, but she added a bit of personality, making some of her waves a bit more genuine and connected with specific onlookers she would see, particularly children.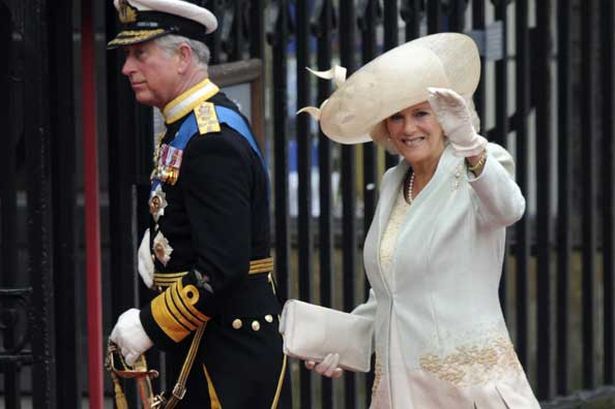 The Father-in-Law
Prince Charles has had a long, troubled history with British weddings given his fiasco with Princess Diana and then partnering up with Camilla Parker afterwards. For years there was a lot of enmity thrown in his direction for how he was perceived to have treated Diana. However, in practice, he has been close with both his sons, and Charles was clearly present at both weddings in full military dress and uniform for his elder son, and a business suit for the younger son. Camilla was at Charles' side for both events.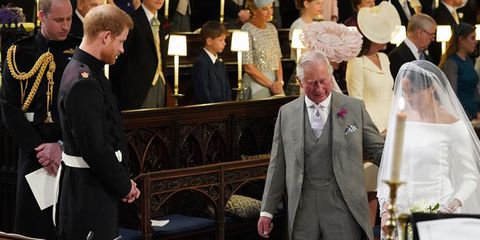 The Walk Down the Aisle
In standard British décor, Kate Middleton was walked down the aisle with her father. The classic look was traditional, historical and followed all the expected customs of British aristocracy. The classic long wedding dress train was in full display as well. Megan Markle, on the other hand, ended up walking down the aisle by herself. Her father was unable to make the even at the last moment due to sickness. To make up for the awkward exposure in front of everyone, it was Prince Charles himself who met Markle halfway down the aisle and walked her the rest of the way to Harry. In some small respects, Charles may have been trying to make up for his past doing so.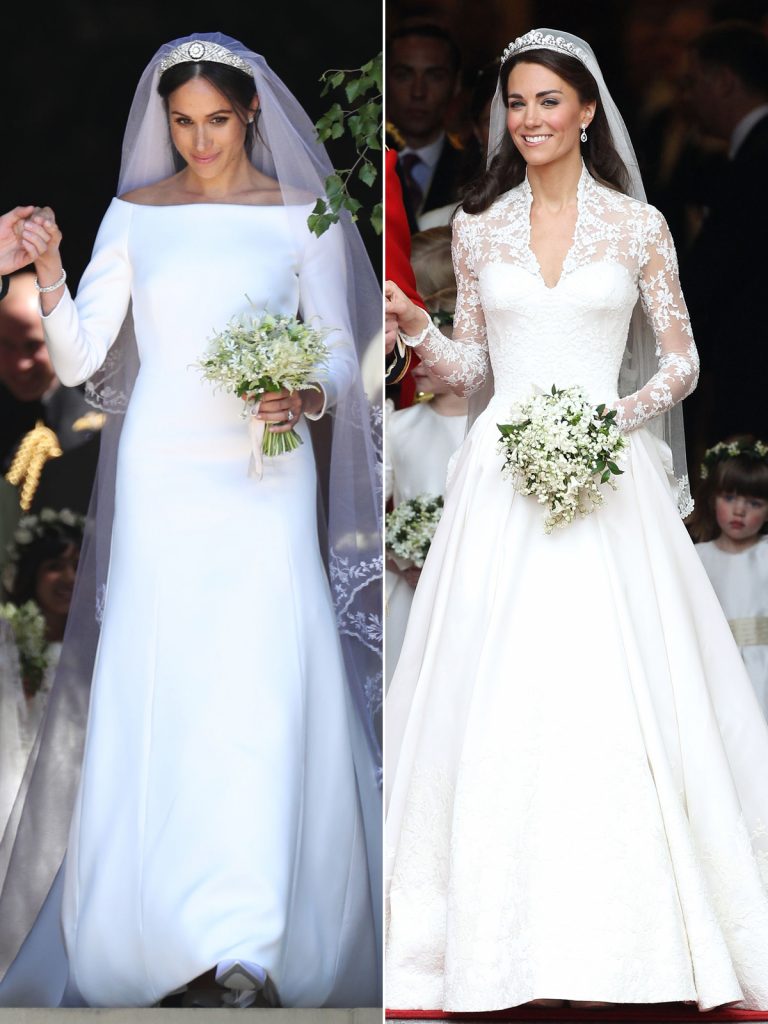 Dressed for the Wedding Reception
Megan Markle was very clearly not going to be normal British aristocracy right from the start, that was well known. The differences started to appear right after the wedding ceremony, as her choice of reception dress was very notable. Utilizing a design by Stella McCartney, Markle was dressed to the nines with a gown that hung off her neck and showed her shoulders and upper back. She was a look, and Harry was beaming. Kate Middleton, on the other hand, opted for an Alexander McQueen design with a long gown and white fur coif on the top as a mini-jacket.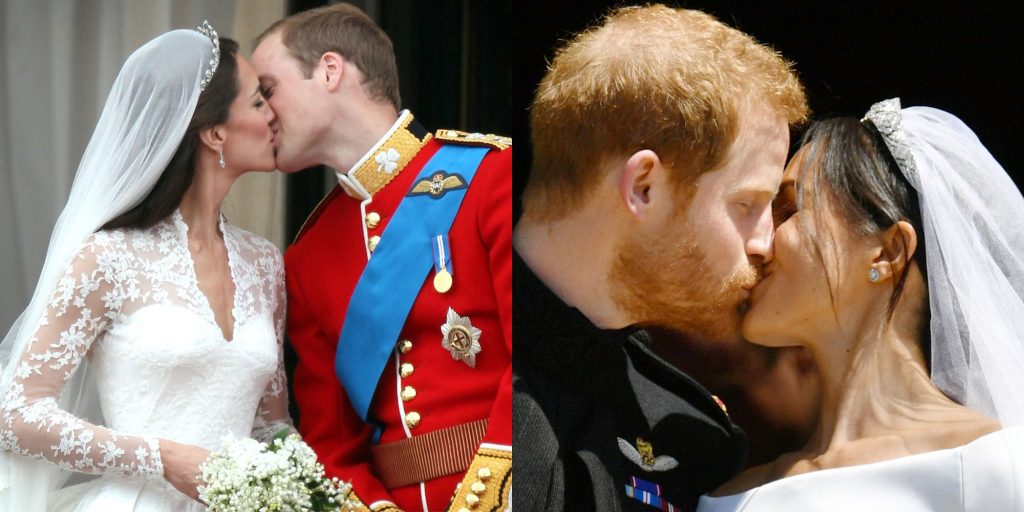 The Wedding Kiss
As a symbolic end to the official wedding ceremony, the audiences around Buckingham Palace are always gifted with the proud husband kissing his new wife for the crowd. Both princes honored the Britons as such. William was in his bright red military suit and kissed the new Duchess of Cambridge on the balcony overlooking the crowds. Harry chose his uniform as a stark black style, and kissed the new Duchess of Sussex right outside of St. George's Chapel after the ceremony ended. The crowds loved it both times.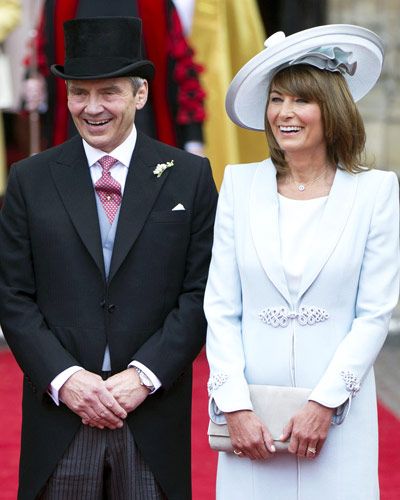 Royal Audience Members
Kate Middleton's parents attended both weddings, as did much of the British aristocracy and upper titled members. The first was obvious, for the wedding of their daughter, and the second was out of decorum being part of the royal family now by extension. In both cases Micheal and Carole Middleton were dressed to the nines in dashing formal wear, but Michael had made a point to wear a tophat to his daughter's wedding when outside, and both parents were beaming during that event.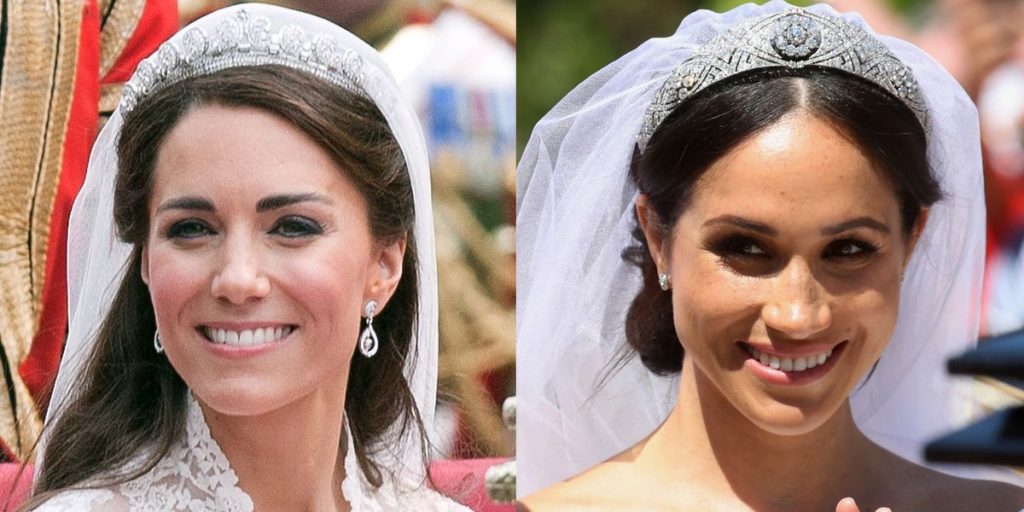 The Wedding Dress Tiaras
No wedding dress is complete without the veil and the tiara to keep it in place. Believe it or not, the veil is a historical tie back to ancient times and dress. While the west might be very separated from the Middle East, the veil is clearly a historical connection back to ancient times carried through to modernity via custom and tradition. Kate Middleton's tiara was designed by Cartier and came from Queen Elizabeth. Meghan Markle's tiara was also provided by the Queen, but her's was a Bandeau design. Markle added a change and had a sapphire placed in the middle for her specific look.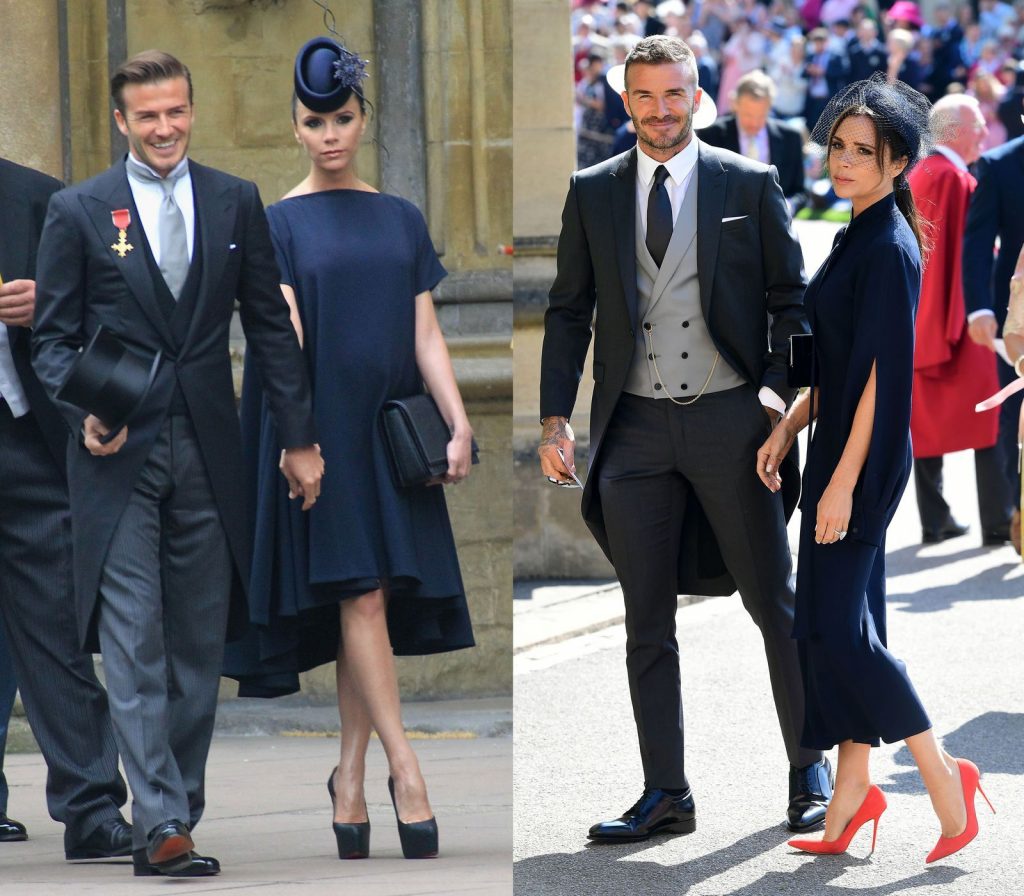 Interesting Guests: The Beckhams
Soccer star David Beckham and his celebrity-singer wife Victoria (formerly Posh Spice) were in full attire at both weddings. For the first one David made a point to wear his medal while at the second it was absent. Victoria Beckham was in sleek dresses for both affairs. In making a social point during the second wedding, the couple donated their suit and dress to charity after the event to help a specific non-profit with the proceeds that would sure come from the clothes and their recent history.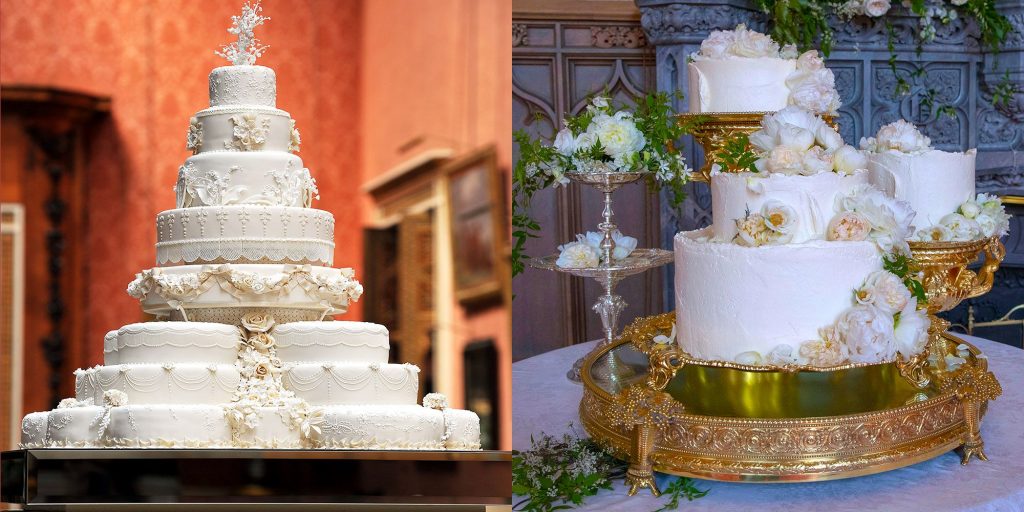 The Wedding Cake
One of the big differences between the events that everyone noticed as the wedding cake style. For William and Kate's wedding, their cake was a stacked design with a towering white set of flowering sprigs on the top. Harry and Meghan's cake, on the other hand was broken up and displayed on multiple tiers with white roses and flowers everywhere. These cakes were common with each other in that they were extremely expensive. William and Kate's cake cost a total of $160,000 while the same for Harry and Meghan ran a cool $75,000.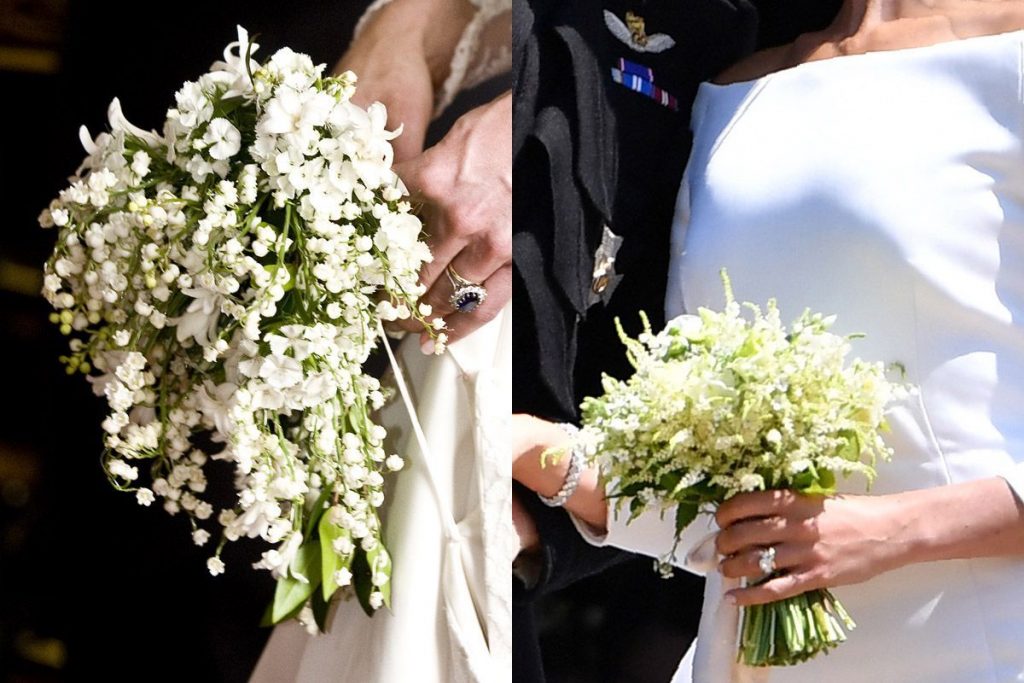 The Wedding Bouquets
From a distance, both brides' bouquets seemed to be almost the same, but up close the differences are noticeable. Kate Middleton's bouquet was designed independently and provided to her. Meghan Markle's bouquet, on the other hand, included flowers chosen by Harry specifically, making hers far more personal for the event. Both bouquets were designed by professional florists and finished for the weddings with intricate details included.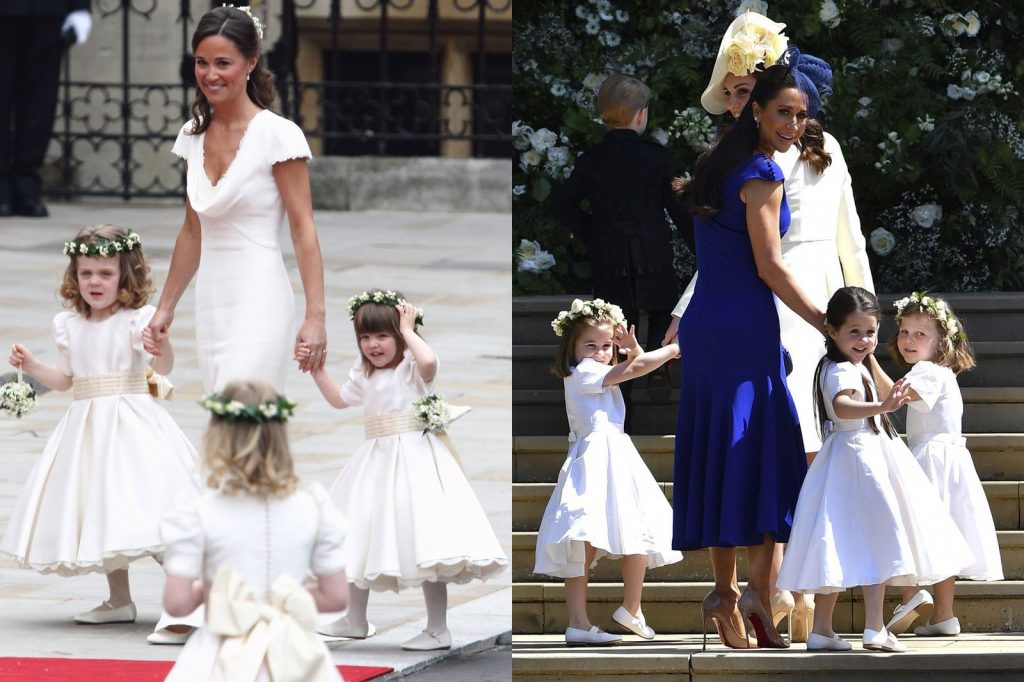 The Entourage
For Kate Middleton, her wedding entourage would be none other than her sister Pippa, which was almost put into some jeopardy with some issues in the run-up to the wedding. Fortunately, it all blew over despite what some of the paparazzi were hoping for otherwise. Pippa became Kate's maid of honor with two small wedding girls. Meghan Markle opted for four wedding girls, no maid of honor, and two page boys. A good number of Meghan's friend attended, but none were picked for the maid of honor role. They may have all breathed a sigh of relief from the stress.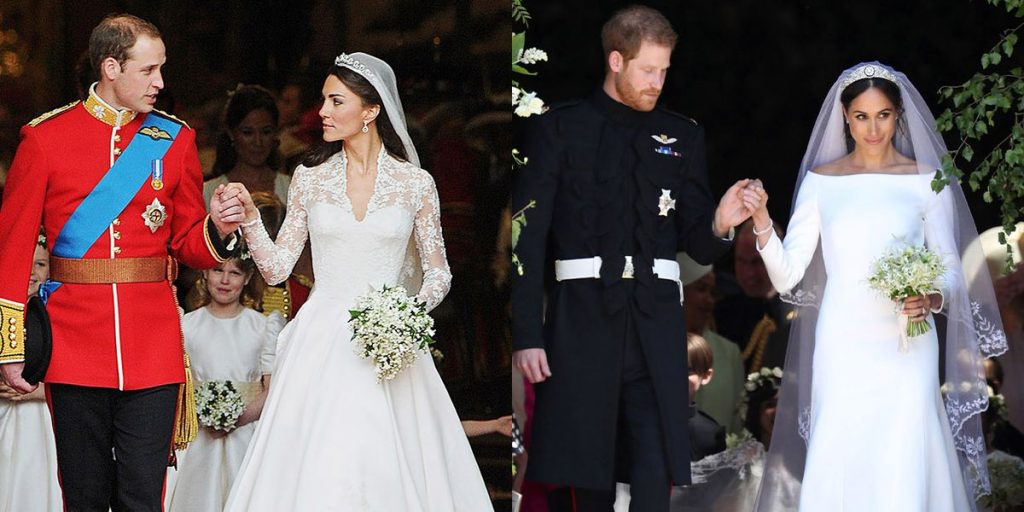 The Grooms Themselves
William was a standout in his red military uniform with a blue sash. His official rank, Colonel, was in full display, and the red symbolized the Irish Guards. This was significant since no royal family member had married with a red uniform since 1973. Prince Harry chose a very dark blue military uniform indicative of his membership in the Blues and Royals, his rank of Major was displayed, but officially he is also a Captain General in the Royal Marines. Both carry their military service beyond honorific titles; William spent years as a helicopter pilot and Harry saw action in Afghanistan.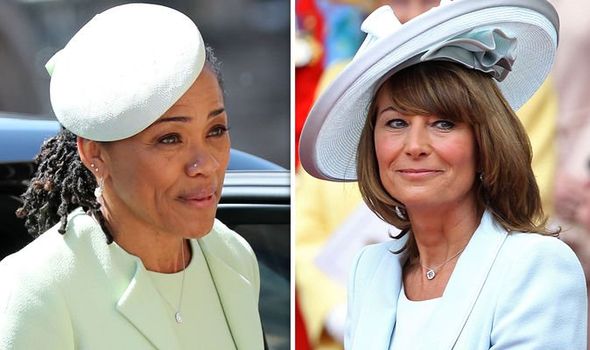 The Mothers of the Bridges
Both mothers were subtle and muted dresses and outfits to focus the attention on their daughters being married. Carole Middleton was in a pale blue matching outfit designed by Catherine Walker. It matched her complexion perfectly as she seemed more smiles than Kate was. Doria Ragland, Meghan's mother, showed up in an Oscar de la Rente outfit, attending solo after flying in from Los Angeles to attend. She too beamed for her daughter and the big day.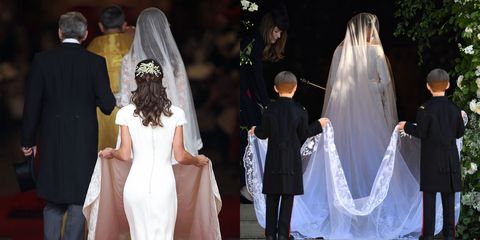 The Wedding Dress Train
Kate Middleton's dress included a solid material long train that was reminiscent of that which Princess Diana had during her wedding. Meghan Markle's train was extensively long as well, but hers was a sheer style that was transparent and see through to some extent, making it unique and different.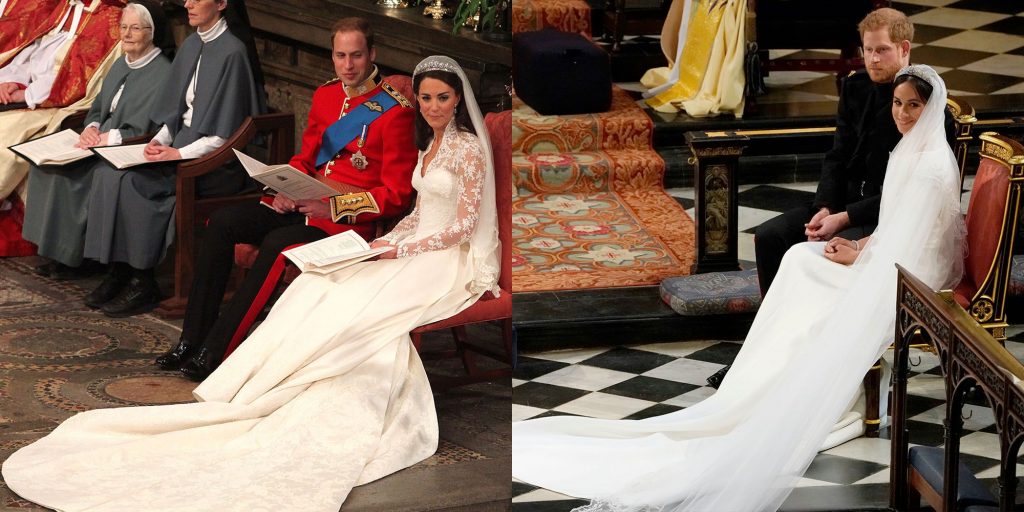 Wedding Reception Locations
The first son's wedding reception was held at Buckingham Palace, following tradition and custom. Since the second's son wedding did not require so much rigidity, Harry and Meghan's reception was held at St. George's Hall located in Windsor Castle. Notably absent was a face that had been close to Harry in prior years. Chelsy Davy attended the wedding of William and Kate but had just separated from Harry at the time. However, she did not attend the first reception and was not invited to the second one for Harry and Meghan.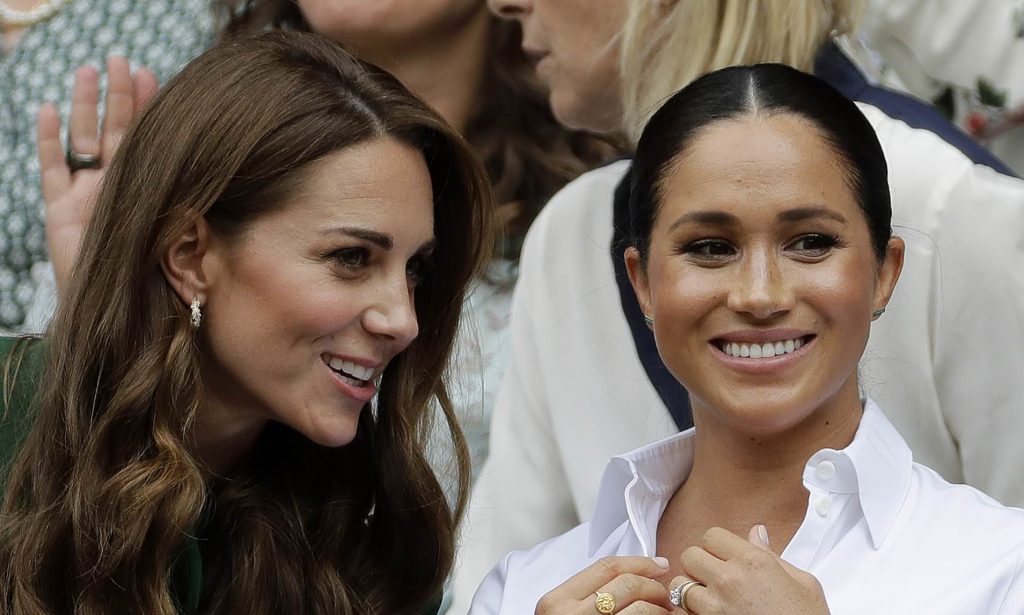 The Cost of a Royal Wedding
Again, the royal weddings are major national event for the British, which also means the government hosts the cost of the weddings as well. The money comes back with tremendous revenues in broadcasting licensing and tourism, so it's not a loss in the long run, but up front there is a serious cash flow going out the door. William and Kate's wedding totaled $34 million. Some seven years later, Harry and Meghan's wedding ran far more even with fewer guests, totaling a whopping $55 million.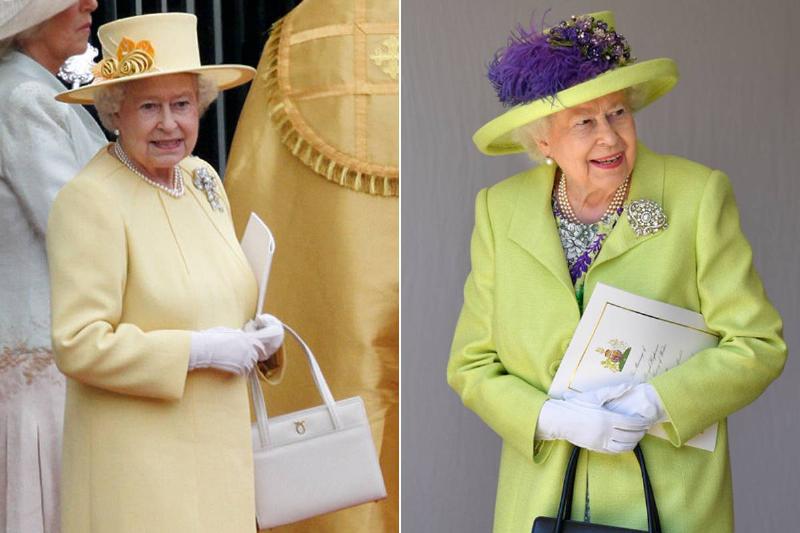 The Queen
Queen Elizabeth II was very much enjoying the affairs and the weddings and dressed up for the occasion. In her first grandson's wedding she wore a muted light lemon cream style outfit that was very formal and traditional. In her second grandson's wedding, however, the Queen decided to go to town and chose a lime green outfit with a purple feather accent on the hat and her blouse. Many felt the Queen was trying something different for a change and getting over her stuffy ways for a moment.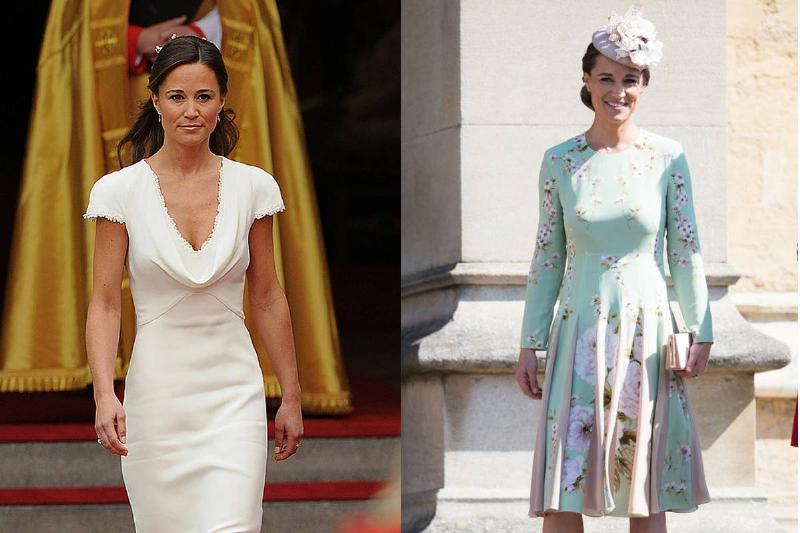 Pippa's Approach
For the first wedding, the eyes were all on Kate and her sister as both of them were part of the wedding train, Pippa being the maid of honor. However, for the second wedding Pippa got to be part of the formal audience instead, with less stress, and clearly enjoying herself a lot more. For the formal role, she was in a plain off-white, sleek gown so that the focus of attention was on her sister. When not managing her's sister's wedding train, Pippa found herself managing the two wedding girls for good measure. For the second wedding, Pippa wore a light green floral arrangement and matching hat, enjoying a Spring event in the sun. There were no children to manage and definitely no worries associated with where to stand in the right place anymore.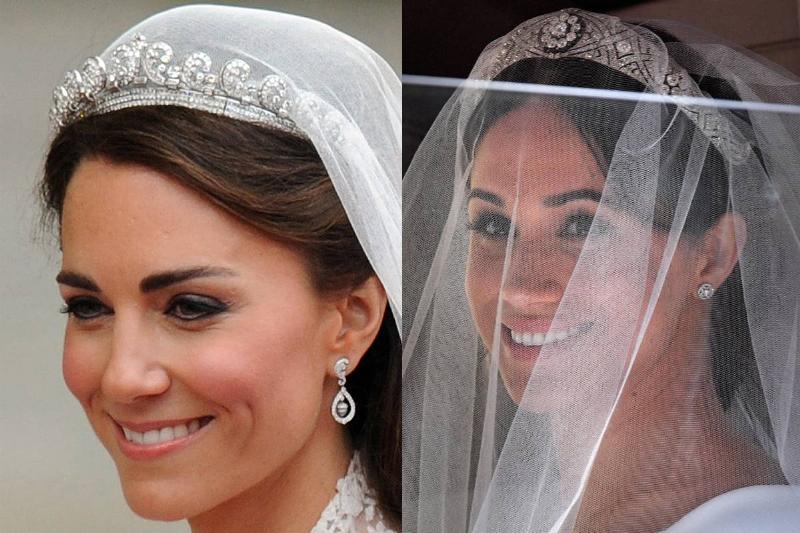 The Bridal Earrings
Kate Middleton's royal earrings hung as a tear drop design that was quite noticeable. Meghan Markle chose as tighter ensemble, with her earrings worn without any dangle and far more conservative in look.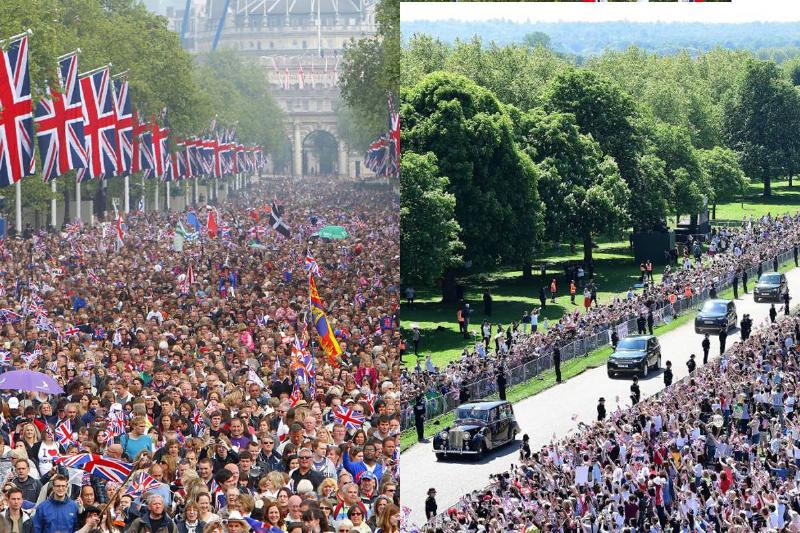 The Crowds
There was no question that William and Kate's wedding brought out half the country. It was the crowning achievement of the royal family after years of bad press and scandal that just wouldn't seem to go away. With a new generation led by William, the country pulled out the stoppers and had a huge bash celebrating the first prince's wedding for their future king and queen.
Harry and Meghan's wedding brought out a smaller crowd, but one that was still substantial around Windsor castle. The location of St. George's Chapel limited the bigger crowds from forming as it was far more off the beaten path than Buckingham Palace. Unlike downtown London, where most of the 2,000 or so people congregated for the first wedding with flags down the main avenue, Windsor Castle did not accommodate such entrances as well. Given both crowd control, distance and security needs, the second wedding naturally made the crowds smaller, although quite a few dedicated fans still showed up and made themselves present and known in adulation of the marrying couple.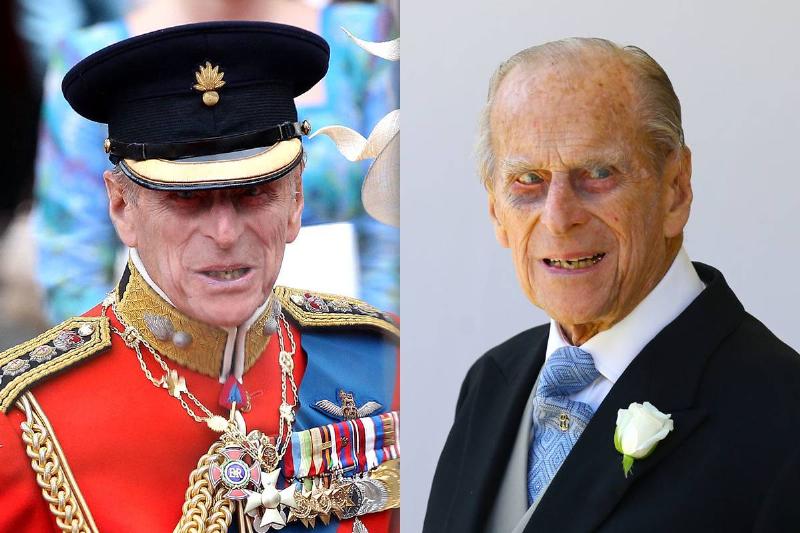 Prince Phillip
Last but not least, Prince Phillip was in attendance for both of his grandsons' weddings. For William's wedding Prince Phillip was in full military attire, showing off his own red Grenadier Guards uniform in full decoration. For Harry's wedding, however, Prince Phillip was far less militaristic, wearing a dark Oxford tuxedo instead. Recent health issues likely contributed to Prince Phillip going for less of a production in his wedding attire, as time was taking a toll on the man seven years later.

Tony the Plant Man Grows Very Expensive Plants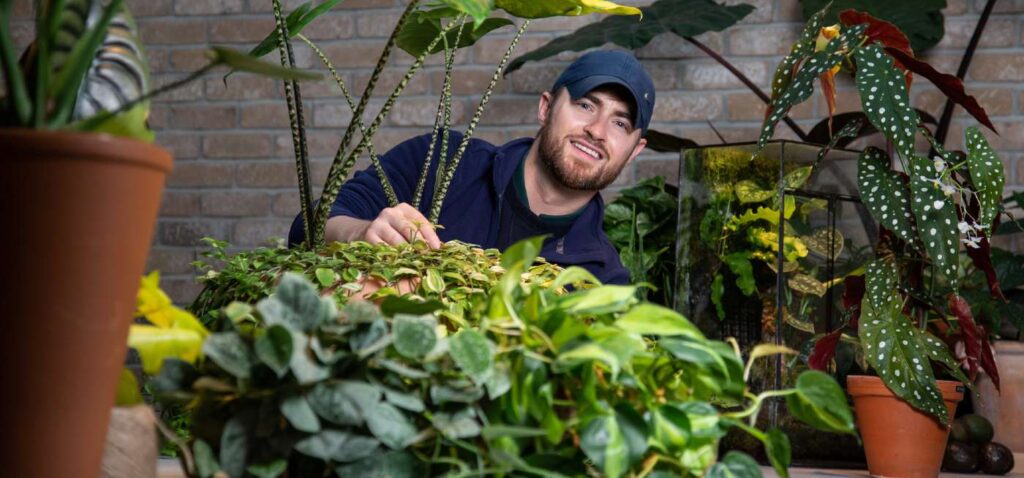 A Briton has quietly created his own Garden of Eden in his home, including one plant that is so rare, it could easily command almost $16,000 for one leaf. The botanist extraordinaire is a fellow named Tony Le-Britton.
Tony is, like many geniuses, a bit odd and extremely dedicated to his work. He's so committed to plants and growing them, an entire room of his home is an indoor jungle, complete with a personal greenhouse and environment control to help support the kind of plants he is able to bring to full fruition. Tony's collection, however, isn't the typical plant collection one gets from seeds at the local hardware store or plant farm. His focus is on growing some of the world's most uncommon and rare plants altogether. In fact, some of his flora are so rare, plant scientists and researchers around the world would love to spend a day with Tony simply examining his plants. He even has some plants that the scientific folks thought was completely gone and no longer alive, i.e. extinct.
Plant-growing, however, was not Tony's only career. As it turns out, he's quite adept as a photographer as well, having enjoyed a professional career producing images of hair and beauty. However, given how much his plants are in demand now, it's pretty clear his plants will also take care of him too financially. Just the leaves alone versus the entire plant has the financial capacity to provide him a living income.
The most valuable plant that Tony has in his greenhouse is known as a Rhaphidophora Tetrasperma Variegata. This particular plant is different version from a far more common plant that could be bought anywhere. Because it is a genetic mutation, an anomaly that has occurred due to a genetic change that occurred at the DNA level, it is extremely rare and practically impossible to find elsewhere. As a result, even samples of the plant are in high demand for collection or study or both. At the time of the interview, Tony had three orders on standby for just a leaf with a hefty price tag of $12,000 British Pounds. Of course, just taking leaves off the plant willy-nilly could kill it. So he has a waiting list, and the plant is literally growing money for him.
The above said, Tony has other plants in his stable as well. He is also a cultivator of an extremely rare Monastera sp Bolivia, a plant that has no complete documentation from a research or botany perspective. Tony was lucky enough to score a small stem, and he's since been able to grow the plant to a tremendous size. The size and robust nature of the plant is so unique, Tony's is constantly getting request for photographs of the plant for reference.
Another flora sample that was generally thought to be extinct in the wild is the Begonia Chloristica. Again, finding one with a collector in Europe, Tony was able to get another sample and grow is own version in his personal greenhouse in England.
The plant-growing interest, zeal, skill and hobby came from his grandparents, according to Tony. As a boy, they would spend a lot of time in the grandparents' garden. When they didn't have their hands in the soil, the boy and his grandmother would watch "Gardener's World" on the TV.
In short, Tony is a working plant genius. He's learned his skill and expertise in practice, trial and error, and 25 years of hands-on work. And, one notable trick is that he doesn't over-care his plants. In fact, many times, he lets the plants take care of themselves, which in fact allows them to grow stronger and self-sufficient to an extent. After all, Tony still controls and maintains the greenhouse with temperature, humidity and the light levels.
Most importantly, however, Tony enjoys what he does, which also makes a huge difference in his success. He has created an amazing collection of flora that nobody else would otherwise know exists, and it's his achievement.