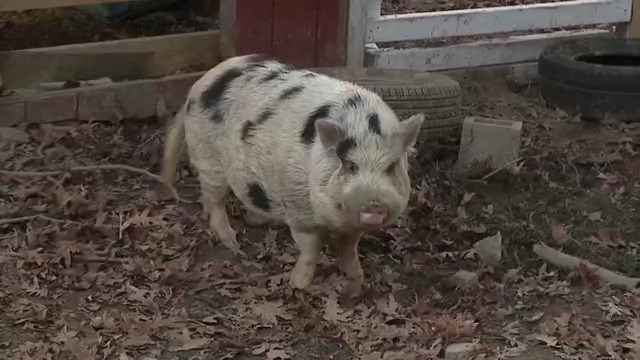 Kevin Bacon the Pig Found with Hollywood Help
In a heartwarming tale that could rival any Hollywood movie, a missing pig named Kevin Bacon has been found after a two-week adventure in the woods of Pennsylvania. What makes this story even more special is the unexpected involvement of actor Kevin Bacon himself.
Kevin Bacon, the pig, became the center of attention when he went missing from his home in Pennsylvania. Owned by Chelsea Rumbaugh, Kevin had only joined the family in October before deciding to explore the great outdoors on his own. Chelsea shared the news of her missing pig on a Facebook group she created, aptly named 'Bring Kevin Bacon Home.'
"We were so close to him; my 16-year-old was petting him," Rumbaugh explained in her post. "He stayed close but eventually took off into the woods."
Enter the unexpected hero, actor Kevin Bacon. When he caught wind of the missing pig's plight, he shared the information on his social media thread. The actor's post not only drew attention to the missing pig but also brought the community together in the search for the adorable runaway.
Despite the collective efforts to capture Kevin Bacon the pig, he remained elusive. That is until a clever strategy involving a sticky bun laced with pet-safe Benadryl was employed. The irresistible treat proved to be the key to success. After indulging in the sticky bun, Kevin Bacon the pig became drowsy, making it easier for the search party to guide him back to his pen.
To ensure that this escapade wouldn't happen again, Kevin Bacon's pen underwent reinforcement with concrete. This measure was taken to prevent the adventurous pig from using his tunneling skills for future escapes.
The story of Kevin Bacon the pig's disappearance and rescue not only highlights the power of community efforts but also shows how even Hollywood celebrities like Kevin Bacon can play a role in helping those in need, no matter how small or four-legged they may be. The happy ending to this tale brings a smile to all those who followed the journey of Kevin Bacon, the pig who briefly took the spotlight with a little help from his famous namesake.
Herriot the Heron and the Underpants Sling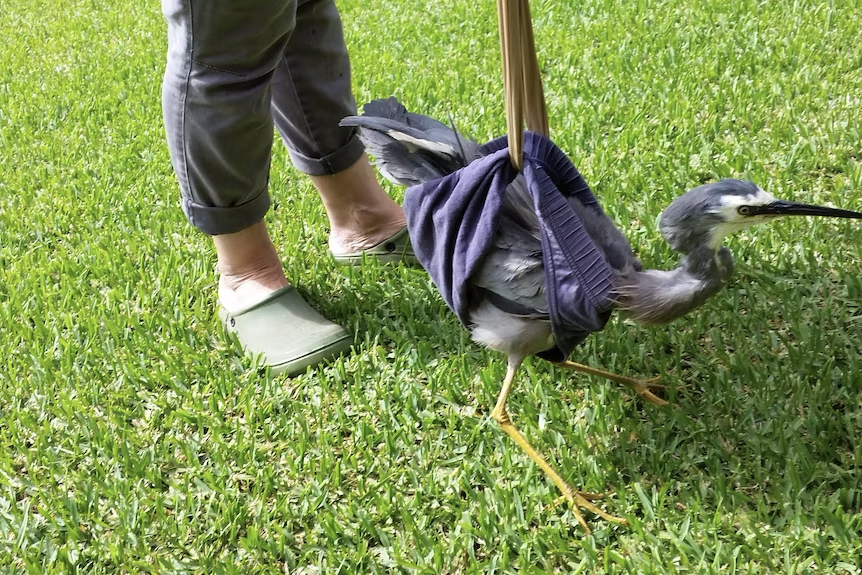 In the world of wildlife rescue, there are heroes who go above and beyond to help our feathered friends when they are in need. One such hero is Karen Ledger, a dedicated wildlife rescuer with a heart of gold. With over a decade of experience, Karen has helped countless birds in distress. However, it was her ingenious creation of an "underpants sling" that recently captured hearts and headlines, as she helped a heron named Herriot regain his ability to walk.
Herriot's story began with a troubling challenge. This majestic heron found himself unable to use his legs for reasons unknown. It was a dire situation, and things didn't look promising at the start. As Karen Ledger recounted, "It didn't look good at the start. He couldn't use his legs for unknown reasons. He might have been hit by a car."
Determined to help this long-legged bird find his footing again, Karen put her inventive mind to work. She faced the daunting task of making a heron walk when it seemed impossible. Her solution? An unconventional yet effective "underpants sling" made with a pair of stockings and her husband's underwear.
"I put the heron in the sling and physically made him use his legs three or four times a day until he could walk by himself," Karen explained. It was no easy feat, requiring intense effort and dedication. But for Karen, every minute was worth it when she saw Herriot finally regain his ability to walk independently.
Herriot's journey to recovery didn't end there. After his progress in the makeshift sling, he continued to improve by walking in an enclosed outdoor area for weeks. Finally, the day came when Herriot was strong enough to be released back into the wild, near a tranquil dam.
Karen's extraordinary efforts aren't limited to Herriot alone. She has a track record of helping a variety of birds in need. One heartwarming tale involves a barn owl who had lost his mate in a tragic road accident. Karen noticed that the owl was not physically injured but was deeply depressed, spending a week with his eyes closed and his head down.
Karen knew she had to find a way to lift the owl's spirits. "You have to think outside the square, just look at what you've got and adapt," she said. Drawing on her resourcefulness, she placed a stuffed toy penguin, roughly the same size as the owl, next to him in his cage. This simple act of comfort worked wonders. "After a couple of days, he started brightening up and opening his eyes. He came back to the point that he was well enough to be released," Karen said.
Karen Ledger's wildlife rescue efforts extend beyond her heroic acts with Herriot and the barn owl. She has dedicated herself to helping a wide array of birds, from barn owls and tawny frogmouths to lorikeets, rosellas, kookaburras, and more.