Julia Louis-Dreyfus Curses Out Breast Cancer in Inspiring Post After Having Surgery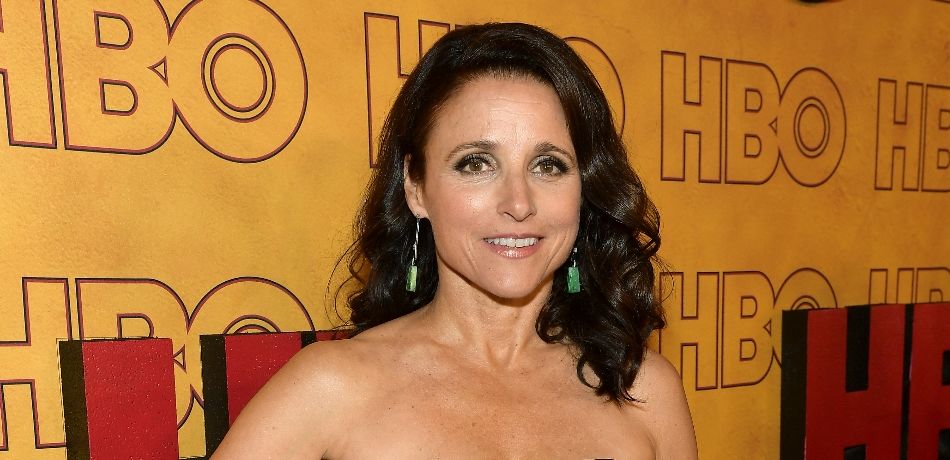 Actress and comedian, Julia Louis-Dreyfus, was certainly spreading the love to her fans this Valentine's Day. After undergoing her first operation for breast cancer, she excitedly updated her followers on her health status in an inspiring Instagram post. Louis-Dreyfus chose a glamorous close-up photo of herself and captioned it: "Hoorah! Great doctors. Great results. Feeling happy and ready to rock after surgery. Hey cancer, 'F*** you!'" She added, "Here's my first post-op photo."
Since announcing her breast cancer diagnosis last September, the day after she won an Emmy for Best Actress, Louis-Dreyfus has made it a point to tackle her cancer head-on with her signature positivity and humor. She has regularly empowered fans by showcasing strength and bravery in the face of a terrifying diagnosis. So far, she has undergone several well-documented rounds of chemotherapy, along with corresponding inspirational posts on Twitter and Instagram. Her decision to take an extremely private illness and share it will the public via social media platforms has helped bring further awareness to breast cancer as well as allow her to take a firm stand for healthcare reform in America. In her announcement, she wrote, "Just when you thought… 1 in 8 women get breast cancer. Today, I'm the one."  Breast cancer is the second leading cause of cancer-related death in women.
The Emmy-winning actress, known for groundbreaking television shows like Seinfeld, The New Adventures of Old Christine and HBO's Veep, is prepared to take on whatever comes her way. Along with her two children, Louis-Dreyfus's husband, Brad Hall, continues to be a major part of her support system. In an interview from December, she referred to her husband of over 30 years as her "hero." Upon her diagnosis, her representative shared, "We have every confidence she will get through this with her usual tenacity and undaunted spirit, and look forward to her return to health and to HBO for the final season of Veep."
The 57-year-old is planning to start filming the final season of Veep beginning in August, after a slight delay due to her cancer treatment schedule. Her Veep costars have been openly sharing their support and adoration of the actress, including Sam Richardson, who stated, "She is one of the strongest and caring people I know. Nothing can stop her. Not even this." Tony Hale simply proclaimed, "We love this woman." The final season of Veep is scheduled to officially air in 2019.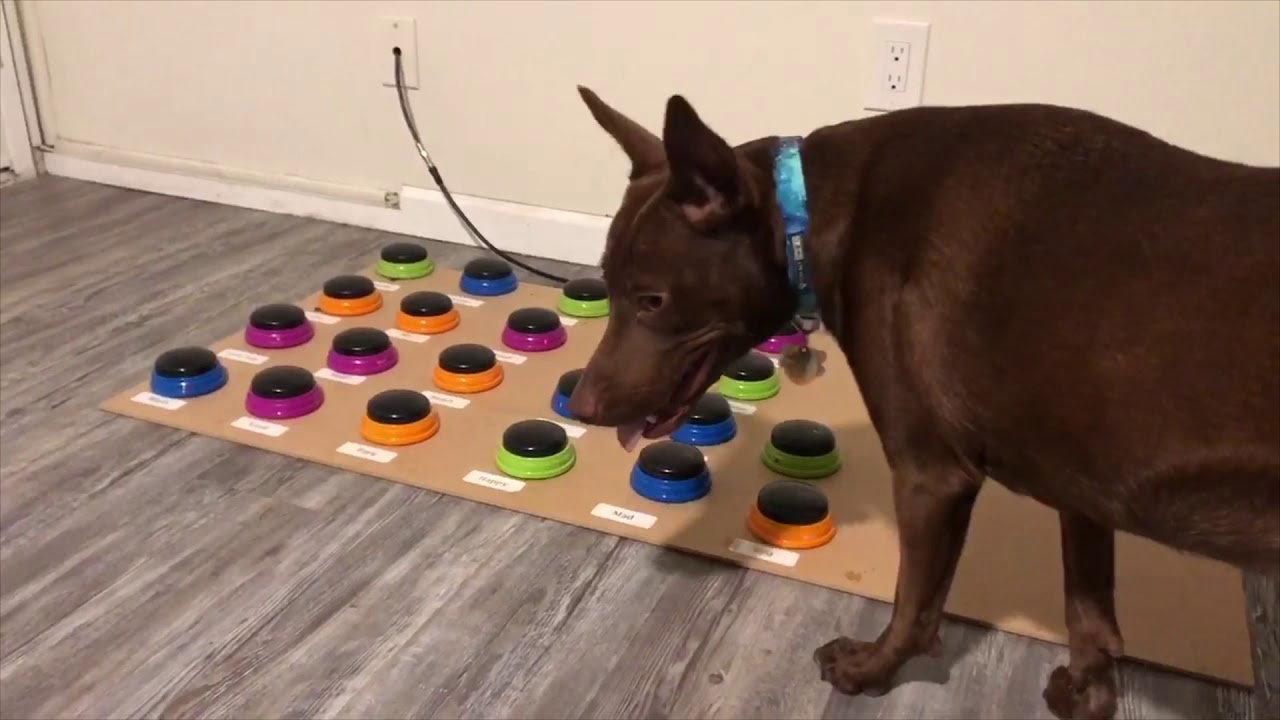 Christina Hunger is a speech pathologist who works with young children around two years old to enhance their ability to communicate with adults. Christina has always wondered if she could teach a puppy to use the word buttons, too. Several years ago, Christina adopted a dog named Stella. She decided to try and see if the same methods she uses for her therapy would also help her puppy to learn to communicate. Many dog owners would like to really understand what their pets are thinking about. Stella uses buttons to communicate her wishes to her owners. Christina can talk with her dog.
Christina set up a group of buttons for Stella to push with her paws. Each button was introduced singularly, and over time Stella learned the meaning of a variety of buttons. The buttons were also grouped by color. Each color represents a particular group of words. Stella can press "walk" or "beach" with her paws to indicate what she wants to do. She can also press buttons for Christina or Jake, her other owner. Stella will walk on the board of 26 buttons as she looks for the one she wants. Stella took the longest to learn her first button. After that, it was much easier to introduce more buttons to the dog.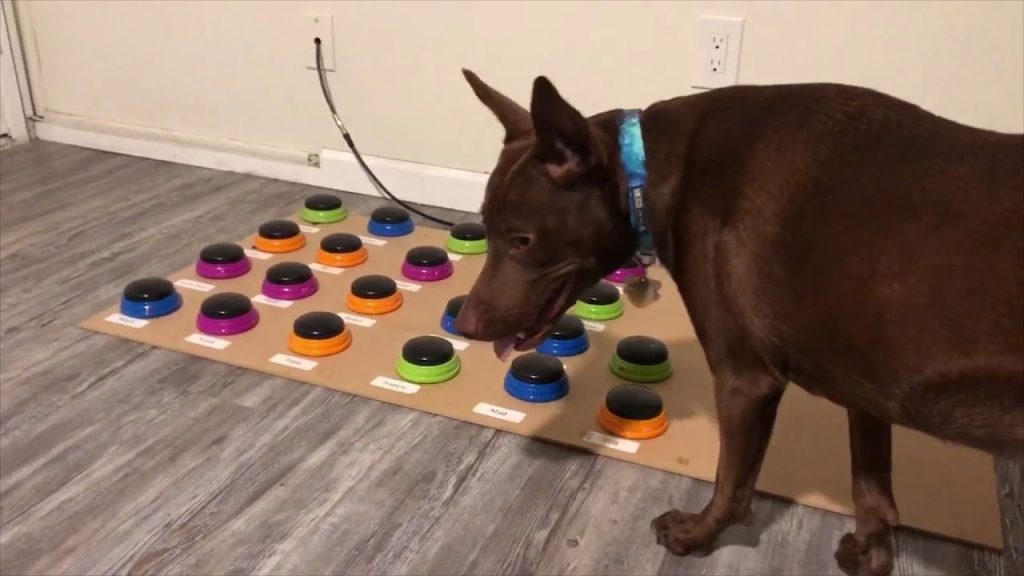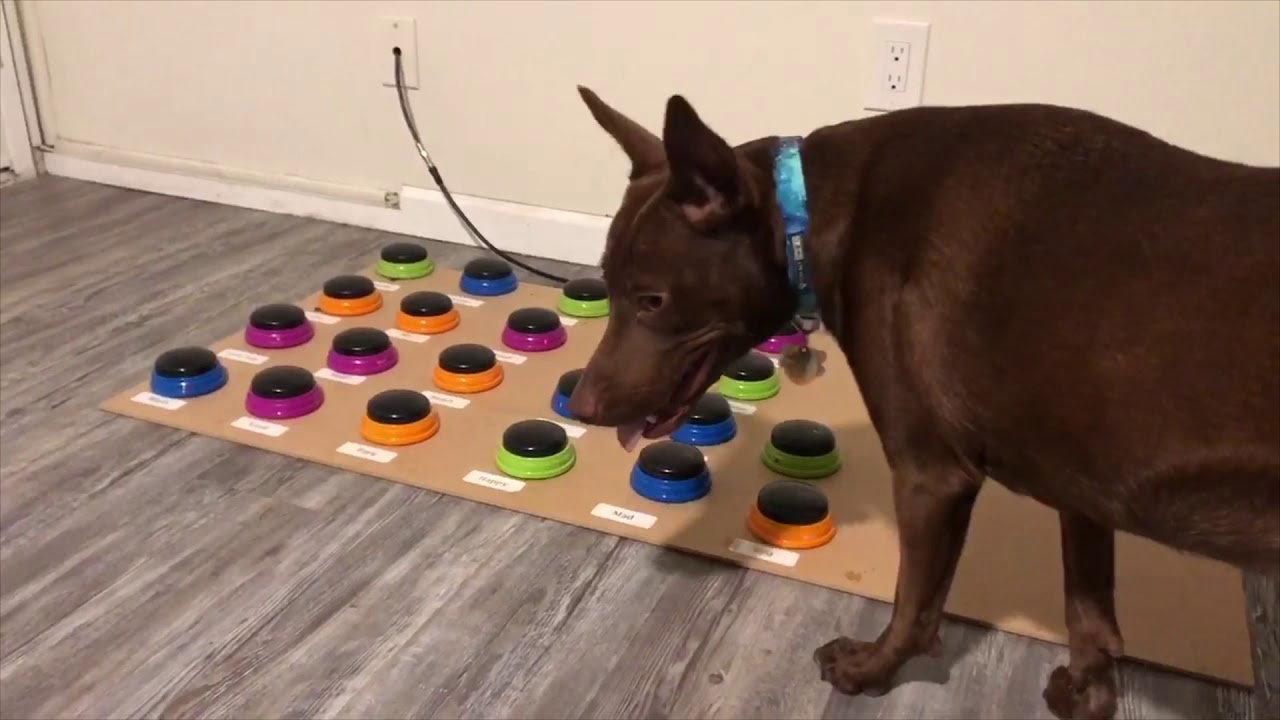 When Stella began to learn to use the buttons, she would only use one paw. Over time, Stella began using both paws to press the buttons. Using both paws makes it easier for Stella to put more than one button together. At this point, she can put a series of five or less words together such as "Christina walk" or "Want Jake Come." Christina feels that the dog showed relief when she finally learned how to punch the buttons for her needs. Stella barks when she hits the buttons, and is able to repeat requests if Christina does not understand her or does not see the dog punch all of her buttons.
Christina has started a blog entitled Hunger for Words where visitors can see the progress of Stella and her buttons. The blog has a number of cool videos of Stella's day. Christina is hoping to teach this method to other dogs and hopes that this method will improve the communication between owners and pets. She also feels that having the board made a recent move easier for Stella to understand. Moves often make pets anxious, but Stella was very calm about their recent move to the beach. Stella intends to introduce more words for Stella to learn.
Stella has been featured in People magazine, which is following the story of Stella from time to time for its readers. For more on Stella, go here to reach Christina's blog. Christina is currently looking for another dog that can learn to push buttons. She is hoping to organize a class of animals and show their owners how to make both of their lives easier.