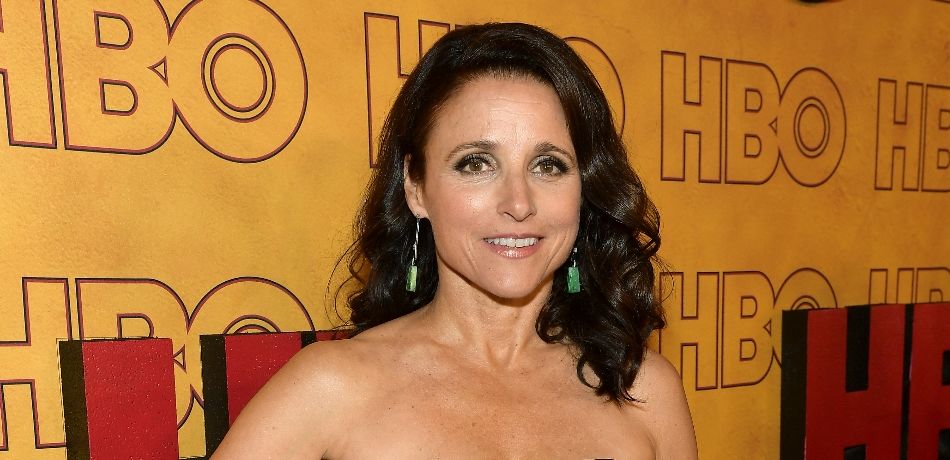 Julia Louis-Dreyfus Curses Out Breast Cancer in Inspiring Post After Having Surgery
Actress and comedian, Julia Louis-Dreyfus, was certainly spreading the love to her fans this Valentine's Day. After undergoing her first operation for breast cancer, she excitedly updated her followers on her health status in an inspiring Instagram post. Louis-Dreyfus chose a glamorous close-up photo of herself and captioned it: "Hoorah! Great doctors. Great results. Feeling happy and ready to rock after surgery. Hey cancer, 'F*** you!'" She added, "Here's my first post-op photo."
Since announcing her breast cancer diagnosis last September, the day after she won an Emmy for Best Actress, Louis-Dreyfus has made it a point to tackle her cancer head-on with her signature positivity and humor. She has regularly empowered fans by showcasing strength and bravery in the face of a terrifying diagnosis. So far, she has undergone several well-documented rounds of chemotherapy, along with corresponding inspirational posts on Twitter and Instagram. Her decision to take an extremely private illness and share it will the public via social media platforms has helped bring further awareness to breast cancer as well as allow her to take a firm stand for healthcare reform in America. In her announcement, she wrote, "Just when you thought… 1 in 8 women get breast cancer. Today, I'm the one."  Breast cancer is the second leading cause of cancer-related death in women.
The Emmy-winning actress, known for groundbreaking television shows like Seinfeld, The New Adventures of Old Christine and HBO's Veep, is prepared to take on whatever comes her way. Along with her two children, Louis-Dreyfus's husband, Brad Hall, continues to be a major part of her support system. In an interview from December, she referred to her husband of over 30 years as her "hero." Upon her diagnosis, her representative shared, "We have every confidence she will get through this with her usual tenacity and undaunted spirit, and look forward to her return to health and to HBO for the final season of Veep."
The 57-year-old is planning to start filming the final season of Veep beginning in August, after a slight delay due to her cancer treatment schedule. Her Veep costars have been openly sharing their support and adoration of the actress, including Sam Richardson, who stated, "She is one of the strongest and caring people I know. Nothing can stop her. Not even this." Tony Hale simply proclaimed, "We love this woman." The final season of Veep is scheduled to officially air in 2019.
The Simpsons Incorporate ASL in Their Show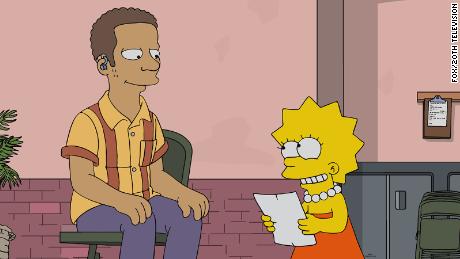 The TV cartoon, The Simpsons, has never been known for being a mild, sedate cartoon with low volume. Instead, it's been loud, brash and visual. That said, one of the reasons the Simpsons has lasted for so long, aside from always being relevant to current events and new generations, is the fact that the show also incorporates new elements when it makes sense. That was the case when the show's writers decided to incorporate American Sign Language for the first time.
Of course, there were challenges. Cartoon characters are not always anatomically correct. In the Simpsons world, everyone has four fingers on a hand instead of five. To make matters worse, the episode needed Shakespeare to be translated with ASL. Oops.
Making Up Fiction Based on Reality
The current writer responsible for the ASL episode was also keen on going farther. Instead of just focusing on solving how to use ASL, Loni Sosthand also figured out a way to incorporate deaf actors for the voices as well. Double-wow. The recognizable character, Lisa Simpson, spends a story on mourning over the passing of a musician she liked and was a mentor to her character. As it turns out, however, that musician had a son in the cartoon, and the boy is deaf. Lisa, trying to be the perennial helper, wants to assist the boy in getting a hearing implant, and of course, things go sideways from there.
Of course, like many stories used by writers, Sosthand's episode was rooted in reality. Her own family was big in jazz, different racial perspectives, and a sibling born deaf. The episode gave Sosthand a chance to use her personal experience of balancing a physical limitation with a whole family of issues and going from there. Sosthand ended up bringing her relatives into the cartoon world vicariously through Lisa Simpson's experience trying to help the musician's son.
The Results Proved the Success of the Idea
The ASL and deaf voice actor combination was a hit. The episode came across as realistic and accurate, despite fundamentally being a cartoon. And that's the kind of factor that makes The Simpsons one of the longest running TV shows, much less the longest running TV cartoon show. Even South Park doesn't even come close to longevity. And for those who use regular ASL, the particular episode of Lisa's adventures hit home and provided representation for the first time on The Simpsons. It was history in the making.