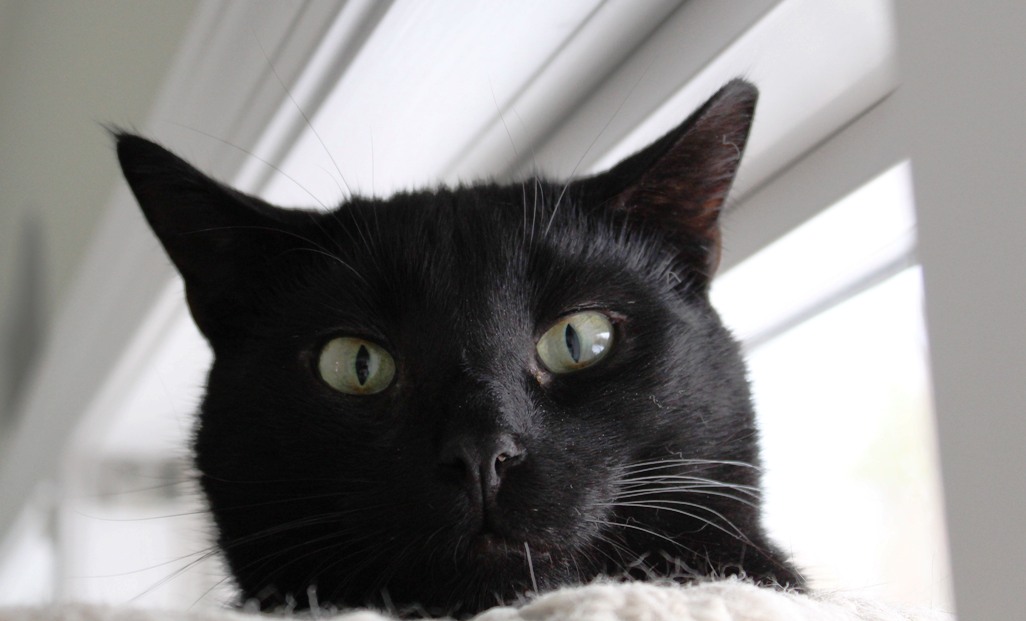 Black cats are evil! Do not let one cross your path!
Fortunately, 22-year-old Jordan ignores this silly and superstitious advice. Jordan, whose last name we're withholding, has autism. As a result, she's not very verbal…most of the time. But that's where her black cats come into the story.
Gracie's Tale
Jordan's experience with black cats started with Gracie, a feline friend Jordan had when she was younger. While at Mychal's Learning Place, a non-profit organization that supports those with learning disabilities, Jordan would draw pictures of black cats and call them Gracie.
That inspired the organization's Culver City, California chapter to put Jordan in touch with the local Adopt and Shop.
Adopt and Shop is a pet rescue and adoption center, as well as a retail store for pet food and supplies. Jordan became a volunteer at Adopt and Shop, spending much of her time with cats-especially the black ones.
The Ideal Pet
Cats can be the ideal pet for many individuals with autism. Dogs tend to be loud and excitable, barking suddenly and moving noisily. That much volume can be a sensory overload to many on the spectrum. Cats, on the other hand, move quietly and are usually calmer than dogs. And a meow isn't nearly as disruptive as loud barking or yapping.
Cats and other pets can play a major role in calming and comforting those with autism, helping them open up more emotionally and socially.
That's been Jordan's experience. Those working with her at Mychal's Learning Place say that the young woman rarely talked except to possibly repeat the last thing she heard someone else say. But while working with the cats at Adopt and Shop, they say that she's much more verbal. The animals seem to bring out Jordan's communications skills.
Jordan loves all of the cats at Adopt and Shop. She cuddles with them, stroking their fur and talking with them for hours just as she would communicate with another person. But she can't hide her special affection for black cats.
The Black Cat Curse
When people like Jordan go out of their way to show kindness to black cats, it helps offset the superstitions that negatively impact these animals even to this day. The fear and dislike of black cats might go back to the Middle Ages in Europe. Legends arose that these cats were actually witches in disguise. This belief even associated witches with black cats as recently as the Salem Witch Trials in America in the late 17th century.
The color is also associated with death. Think of the Grim Reaper. In that regard, black cats were considered to be as unsettling as crows and ravens of the same shade. In time, many saw the animals as being bad luck charms. (Interestingly, Japanese lore said that ownership of a black cat could bring a young woman a mate, and British sailors of old considered black cats to bring good luck.)
While most people today don't take the black cat curse seriously, they tend to show up, unwanted, more frequently at some animal shelters. Some rescues are hesitant to release the animals for adoption around Halloween because of stories, whether true or not, of people who want to sacrifice black cats on this "demonic" holiday.
The Culver City Adopt and Shop also sees its share of black cats rescued as strays or put up for adoption. That's why they so appreciate the volunteer involvement of someone who goes out of their way to offer love and comfort to this misunderstood segment of the feline population.
So kudos to Jordan for her compassion and love for all cats-but the blacker the better.
Good Samaritan Saves Four Kids After Witnessing Car Plunge into River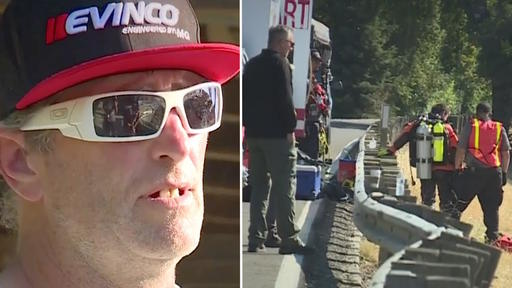 It was an average evening for Harrell Fischer who was working on his boat one night in Sacramento, California. Suddenly he heard gunshots. Like out of a movie, he watched in awe as a car sped by and crashed into the river.
Immediately, Harrell and his friend jumped in the boat to rescue the passengers. The second he opened the car door, a child's face was staring back at him, followed by little hands reach out to him. He reacted immediately after realizing four children, ages two-to-six, were trapped in the sinking car.
Thankfully, Harrel and his friend were about to rescue all four devasted children, who were in shock, from the freezing water. The boy who Harrell saved first said, "He killed my mom."
There is a twist in the story. Before the car plunged into the river, the mother of four was shot in the head and killed instantly by the father. After the car crashed into the Sacramento River, the father exited and refused to help Harrell and his friend save the children.
The shooter in the crime is 27-year-old Mendiko Cuarzo who was sitting in the passenger seat when an argument ensued. The conversation became heated and he shot the 23-year-old mother. Mendiko is the father of three of the four children. The shooting caused the vehicle to run off the road and into the river.
This experience was incredibly traumatizing for the children. In addition to watching their mother be murdered while driving, they must deal with that loss. Also, their father will now go to prison so these children will be without either parent.
Harrell Fischer has mixed emotions of being at the scene. He is glad that he was there to save the lives of the children but also not happy he had to bear witness to the murderous situation and neglect from the father.
Investigators continue to look for motives in the killing. Cuarzo has previous convictions including illegal possession of a firearm.
Since the beginning of the Covid-19 pandemic, the country has witnessed a sharp increase in gun violence. The number of gun-related deaths has been trending upward when compared to the same period from 2019 as the peak of the virus continues.
The economy has seen an unprecedented increase in gun sales and, when combined with social isolation and economic distress, the country's long-standing gun violence crisis is intensifying. The murder of these four children by Cuarzo is the latest representation of this issue.
The Covid-19 pandemic has highlighted weak gun purchase and access laws allowing guns to fall into the hands of those with ill-intent. The pandemic also further emphasizes the structural inequity of the nation. The virus is putting vulnerable populations, such as children, women, and communities of color, at high risk.
The resulting impact has been lethal and devastating to local communities but also identifies that through policies, laws, and programs, citizens can remain healthy and safe in the future.
In addition to the increase in gun purchases, domestic violence is spiking due to the prolonged financial strain on middle and lower-income households. This leaves domestic violence victims trapped with abusive partners, many of whom have easy access to guns. Having access to a gun makes it five times more likely that an abuser will murder his female victim.
These troubling statistics indicate that there is a need for quick political action on proven programs and policies to keep families safe during these times. Some of the focal points must be a reassertion of the federal regulation of ghost guns, enact Extreme Risk laws, raise awareness of firearm storage practices, and increase funding for gun violence programs.