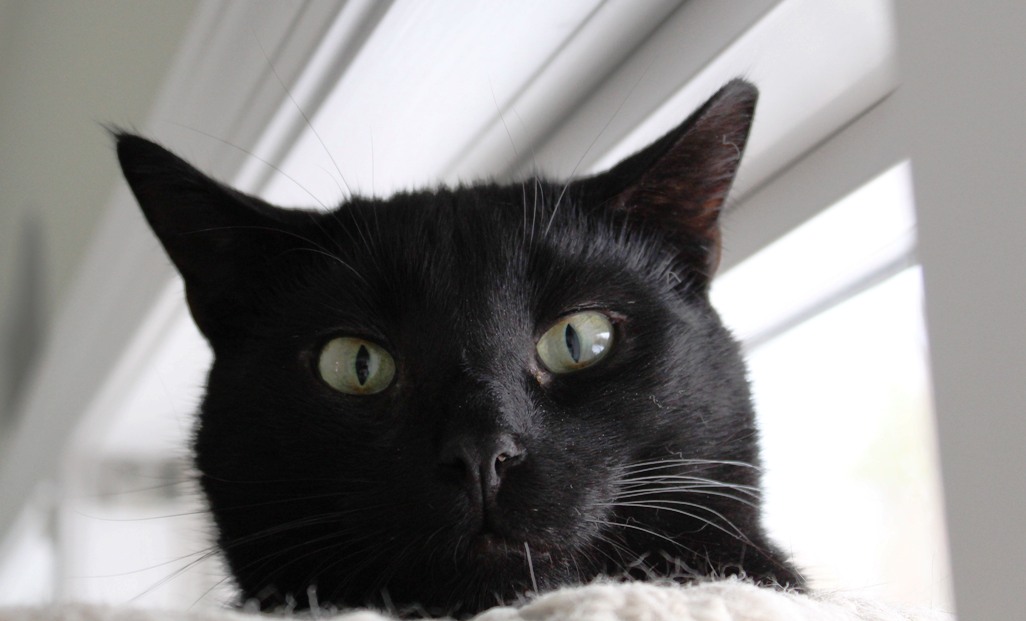 Black cats are evil! Do not let one cross your path!
Fortunately, 22-year-old Jordan ignores this silly and superstitious advice. Jordan, whose last name we're withholding, has autism. As a result, she's not very verbal…most of the time. But that's where her black cats come into the story.
Gracie's Tale
Jordan's experience with black cats started with Gracie, a feline friend Jordan had when she was younger. While at Mychal's Learning Place, a non-profit organization that supports those with learning disabilities, Jordan would draw pictures of black cats and call them Gracie.
That inspired the organization's Culver City, California chapter to put Jordan in touch with the local Adopt and Shop.
Adopt and Shop is a pet rescue and adoption center, as well as a retail store for pet food and supplies. Jordan became a volunteer at Adopt and Shop, spending much of her time with cats-especially the black ones.
The Ideal Pet
Cats can be the ideal pet for many individuals with autism. Dogs tend to be loud and excitable, barking suddenly and moving noisily. That much volume can be a sensory overload to many on the spectrum. Cats, on the other hand, move quietly and are usually calmer than dogs. And a meow isn't nearly as disruptive as loud barking or yapping.
Cats and other pets can play a major role in calming and comforting those with autism, helping them open up more emotionally and socially.
That's been Jordan's experience. Those working with her at Mychal's Learning Place say that the young woman rarely talked except to possibly repeat the last thing she heard someone else say. But while working with the cats at Adopt and Shop, they say that she's much more verbal. The animals seem to bring out Jordan's communications skills.
Jordan loves all of the cats at Adopt and Shop. She cuddles with them, stroking their fur and talking with them for hours just as she would communicate with another person. But she can't hide her special affection for black cats.
The Black Cat Curse
When people like Jordan go out of their way to show kindness to black cats, it helps offset the superstitions that negatively impact these animals even to this day. The fear and dislike of black cats might go back to the Middle Ages in Europe. Legends arose that these cats were actually witches in disguise. This belief even associated witches with black cats as recently as the Salem Witch Trials in America in the late 17th century.
The color is also associated with death. Think of the Grim Reaper. In that regard, black cats were considered to be as unsettling as crows and ravens of the same shade. In time, many saw the animals as being bad luck charms. (Interestingly, Japanese lore said that ownership of a black cat could bring a young woman a mate, and British sailors of old considered black cats to bring good luck.)
While most people today don't take the black cat curse seriously, they tend to show up, unwanted, more frequently at some animal shelters. Some rescues are hesitant to release the animals for adoption around Halloween because of stories, whether true or not, of people who want to sacrifice black cats on this "demonic" holiday.
The Culver City Adopt and Shop also sees its share of black cats rescued as strays or put up for adoption. That's why they so appreciate the volunteer involvement of someone who goes out of their way to offer love and comfort to this misunderstood segment of the feline population.
So kudos to Jordan for her compassion and love for all cats-but the blacker the better.
Newly Discovered Flower Blooms Atop One of the World's RAREST Trees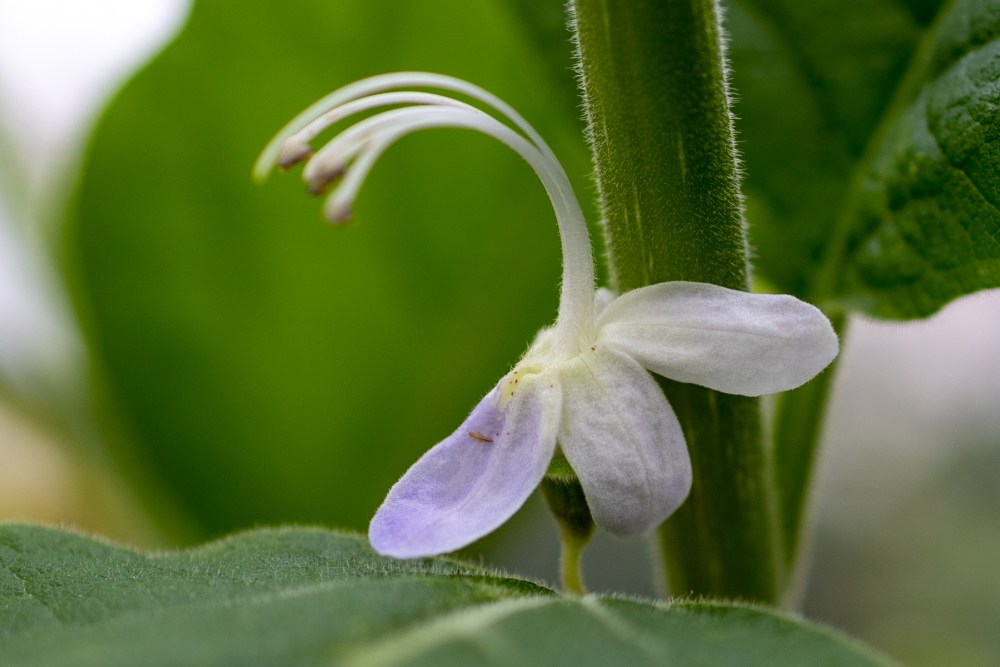 The Missouri Botanical Garden in St. Louis is known by locals for the intense work performed by the experts inside. When a small purple-and-white flower began to grow within their greenhouse, the team of experts at the Missouri Botanical Garden were confused. From their perspective, they were seeing something brand new – a completely fresh discovery.
Discovery on May 3rd
Justin Lee is a senior horticulturist at the Missouri Botanical Garden, and he was performing regular work on a Karomia Gigas sapling in the greenhouse when he first stumbled upon the rare purple-and-white flower. The Karomia Gigas is a tree from Africa with close relations to the mint plant. An endangered tree species in Africa, Justin was confused by the flower that had grown nearly an inch in length atop the tree.
Lee says of his discovery, "It's a bit odd for a mint flower. It seems flipped inside out."
The flower measured an inch in length with a strong halo of purple petals, sloping gently downward toward white stamens bearing pollen. According to Lee, the mint family likes to put out tube-styled flowers in an attempt to attract bees, butterflies, and moths. Lee also suggests that the tree can self-pollinate if necessary.
As the discovery made headlines around the city, the researchers at Missouri's Botanical Garden are preparing for more blooms in the future. Research has suggested that more Karomia Gigas flowers will grow at the greenhouse and it is then that their scientific research will really begin. Lee and his team are focused on successfully cultivating cross-pollination, thus improving the survivability of the plant in the world. At the time of this writing, only about two dozen of the Karomia Gigas trees can be found in the wilds throughout Tanzania.
The Wilds of Tanzania
At the time of this writing, the Karomia Gigas is considered so rare as to not even have a local Tanzanian nickname, nor is there an English one. What little is broadly known about the Karomia is that it can grow in straight stretches for up to 80 feet, limiting branch exposure until nearly halfway to its final height. As a result of its odd, stick-like growth, finding these unseen flower blooms has been harder than you might anticipate!
Roy Gereau is a program director for Tanzania at the Missouri Botanical Garden. Surprised but not shocked by the flower, Gereau was quick to admit that the bloom was new. Gereau said of the rare flower, "There certainly is no record of the flowers in scientific literature."
More important than discovering the flower, researchers in Missouri believe that they can maintain the health of the newly bloomed petals to prevent them from disappearing. Andrew Wyatt is the VP of Horticulture at the Missouri Botanical Garden, and he said, "We can make sure the species doesn't go extinct."
It has been a challenge to grow the plant in Missouri, as has been repeated by researchers at the facility. Seeds had been collected in 2018 from a series of Tanzanian field expeditions. These seeds were shipped to St. Louis where only around 100 were thought to be viable. To make things even more difficult, it was a task to match Tanzanian growing conditions within greenhouses in Missouri.
Despite the challenges that they had to face, it looks like the Karomia is finding solid footing within St. Louis. With some momentum and optimism on their side, what's next?
Andrew Wyatt said of the rare blooming flower and of his own future, "We were debating whether it would even flower in our careers."