John Cena Rewrites Make-a-Wish History
John Cena is known for a lot of things, ranging from entertainment wrestling to sci-fi and comedy movies as well as cable series shows he's successfully migrated into over the years. However, what a lot of folks don't know about Cena is that he also just recently broke the record on which a celebrity has completed the most wishes for the famous Make-a-Wish Foundation.
The Foundation has gained fame from finding ways to meet the wishes of children suffering from terminal conditions or limiting health situations where it's practically impossible for them to live long enough or accomplish things on their own. Instead, to at least make their lives a bit more memorable instead of just the difficulties they suffer every day, the Foundation finds out their wish and tries to make it happen. In many cases, it's going to a special place, like Disneyland. However, for many children, their wish also involves meeting someone really famous that they admire or look up to. John Cena happens to be one of the most popular celebrities right now. That may not be the case in the future, but right now it's keeping him extremely busy.
In fact, Cena has now granted 650 individual wishes for the Make-a-Wish Foundation, and makes the same number of kids happy for at least a day as a result. John Cena's involvement probably started early on when he was still a wrestling star, pushing an anti-bullying campaign. When Cena migrated off the wrestling ring and in front of the camera in 2002, he also shifted attention to the Foundation as well. That then became what is now a 20-year relationship helping meet the wishes of kids ages 2 up to 18 and diagnosed with a serious, critical illness. Prior to Cena, no other celebrity had broken the ceiling of 400 wishes total. Then along comes this big wrestling star, and he blows the record out of the water.
Cena had already raised eyebrows when the star reached the 500 wishes mark. And it was clear at that point he was doing a hell of a lot more for the Foundation than just an occasional appearance. The former wrestler tries to make the event comprehensive, including everything from photographs to experiences in a real wrestling ring, adjusted for the kid of the day, of course. And, of course, the kids get to see first-hand one of Cena's award belts from wrestling as well. It's a big thing for many of them who are regularly glued to the Internet or the TV watching the latest WWE or WWF match and their ringside heroes.
Will he continue to break records more? A lot depends on how popular he remains. But even when the requests die down, Cena will continue to whatever he can to make kids' lives easier when suffering from illness. He's definitely found his calling.
Brave 12-Year-Old Girl Saves Family from Carbon Monoxide Poisoning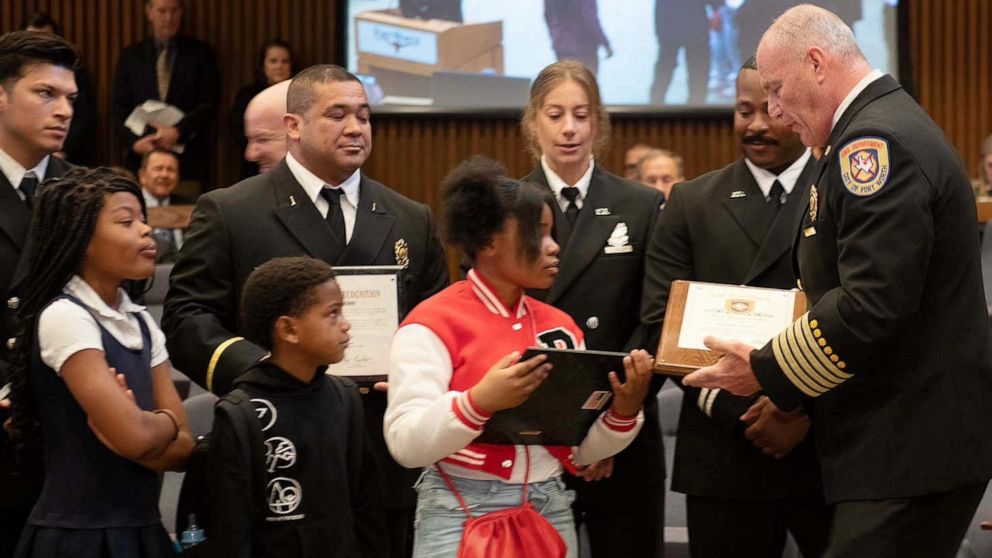 In a remarkable act of courage and quick thinking, 12-year-old Jaziyah Parker from Fort Worth, Texas, became a true hero when she saved her family from a dangerous situation. Jaziyah's keen observation and immediate action prevented a potential tragedy from unfolding.
One day, while Jaziyah was at home, she noticed something was wrong. Her mother and younger brother began to feel sick and lose consciousness. Jaziyah didn't panic but instead sprang into action. She grabbed the phone and dialed 911, desperately seeking help. In the recording of the 911 call, Jaziyah can be heard saying, "Something wrong with my mama. Can you hurry up and come?" Her plea for assistance was a crucial step that would ultimately save her entire family.
Little did Jaziyah know, her family's home was filling up with a silent but deadly gas called carbon monoxide. This odorless and colorless gas can be extremely harmful and even fatal when inhaled. But Jaziyah's sharp instincts and timely call for help prevented a tragic outcome. Her actions ensured that her family received the necessary assistance in time.
The Fort Worth Fire Department recognized Jaziyah's bravery and quick thinking during a special ceremony held on May 23, 2023. The firefighters honored her for her heroic act, commending her for the bravery she displayed in a challenging situation. Jaziyah's actions exemplify the importance of staying calm and taking action during emergencies.
Carbon monoxide poisoning is a serious concern, as it can occur in any home due to faulty appliances, heating systems, or ventilation issues. This incident serves as a reminder for everyone to have carbon monoxide detectors installed in their homes and to be aware of the signs and symptoms of poisoning. Symptoms such as dizziness, headaches, nausea, and confusion should never be ignored, as they could indicate carbon monoxide exposure.
Jaziyah's story is an inspiration to us all. Her courage and quick response saved her family from a potentially fatal situation. She serves as a shining example of how even young individuals can make a significant impact and help those in need. Her actions remind us that heroes can emerge at any age, and we should always be prepared to lend a helping hand in times of crisis.