Janitor Who Has Been With Bank for 30 Years Receives Surprise New Puppy After Losing His Dog

A dog is known as man's best friend. For Floyd Green, his Yorkshire terrier was everything to him. Unfortunately, his Yorkie ended up passing away due to natural causes. Floyd was no doubt distraught about this, but his coworkers had something in mind for him that would change his life forever.
Floyd Green is the custodian at a bank in Howard County, Texas. He has been working there for over thirty years and loves what he does. He's excited to go into work every single week and do his job and make new friends along the way too. His co-workers caught wind about Floyd losing his furry best friend and decided to do something about it.
Floyd is a cheerful man who doesn't let anything get him down. Many of the people at the bank know him for his beaming optimism and great advice that he gives to staff and friends alike. However, the loss of his dog was one thing that truly devastated him. The banking staff knew that something was wrong whenever they heard about the news of his loss. Floyd continued to press onward that week, but everyone knew how difficult it was for this incredible man. Fortunately, something wonderful was just about to happen and it was right around the corner…
The staff at the bank in Howard County pooled their money together to get Mr. Green a brand new Yorkshire terrier. Floyd was not prepared for what was going to happen next whenever he came into work the following week.
Floyd was handed a box and told to open it. "What is it?" Floyd asks while he is mysteriously handed a box. He is encouraged to open the box while the staff that surrounds him are having trouble holding back their smiles. Floyd opens the box and quickly closes it. He is overcome with so much emotion that he can't go on. He takes a moment to recollect himself and looks inside once again. A beautiful baby Yorkie is happy to see him and want to be picked up. It's like a bond was made in that instant.
Floyd seems confused as to who's dog this is. The staff assures him that it's for him and that the dog is a female. "Really? Thank you!" Floyd exclaims. He is clearly happy and doing his best to hide his enthusiasm.
There is nothing sweeter than having a brand new furry friend to enter your life. Floyd was best friends with his previous Yorkshire terrier and missed his dog dearly whenever it passed away. However, the bank coming together and presenting a brand new Yorkie to have forever is one of the sweetest things that we have ever seen. It is a reminder that there are good people out there that truly care about one another and will go out of their way to be there for a friend.
Giant Seal is Beached and Then has a Baby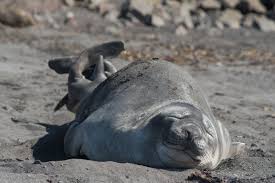 The exact moment when a mother sees her newborn baby for the first time is one of the most amazing sights in the world. The utter disbelief and joy on her face in combination with wonderment is one of the finest moments in any woman's life. It is the same feeling that animals have when they give birth and the look on their faces when they first see their babies is as equally magical.
Recently a tourist spotted a large female seal on the beach. She appeared to be in great pain because of the manner in which she was writhing around. The tourist shot a video of the seal. A few minutes later, the elephant seal appeared to have a spot beneath her tail. After some hard pushing, her calf was born. She quickly turned around and inspected her new baby to make certain that it was okay.
Elephant Seal Interesting Facts
Giant seals or elephant seals are the largest seals in the world. There are two types: the Northern elephant seal and the Southern elephant seal. The northern species are found in the coastal waters near Canada and Mexico and the southern species are found off the coast of South Africa, Argentina and New Zealand.
The adult bull or male seal has a proboscis that appears much like the trunk of an elephant, making it easy to distinguish males from females at a glance. The males roar through this appendage during the mating season to attract females. They also use it to fight with other males in order to win battles and claim females as their own.
The average adult southern male can weigh up to 6,600 pounds and reach a length of 16 feet in total. The female adults weigh about 2,000 pounds and measure around 10 feet long. Elephant seals may be light brown, dark brown, gray or rust colored.
Southern elephant seals can live to reach 22 years old and the northern species life span is only about 9 years.
Elephant Seal Reproduction
Elephant seals return to the coast for their breeding grounds in the winter. Female giant seals reach maturity between 3 and 6 years old and males mature slower between 5 and 6 years. Males battle each other to gain the alpha status that allows them to mate with the females. A male will mate with 30 to 100 females. A bit over 50 percent of first time breeding seals fail to produce a pup. A female elephant seal has one pup per year and the gestation period is 11 months. So, when females arrive at the breeding grounds in the winter, they are already pregnant. Females don't eat while nursing their pups for the first month of its life.
Don't Get Too Close to Wildlife
If you ever spot an animal of any kind that appears to be hurt, it's best not to get too close to them. In 2000, Homer, an elephant male seal terrorized Gisborne, a town in New Zealand. He attacked trash bins, cars, boat trailers, a tree and a power transformer in a rage. It isn't known what made him so mad, but it's best to keep your distance from all wildlife—thus the term of wild and life.