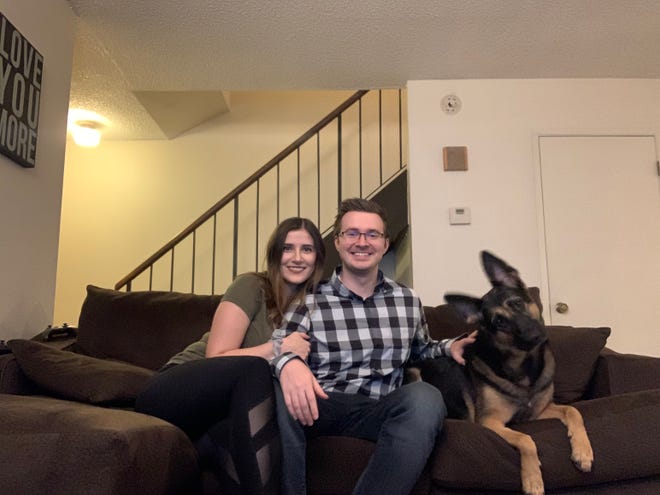 It is Possible for a Dog to Make a Couple Fall in Love?
Many people turn to dating apps nowadays to find a partner or other romantic connection. This is something that has become even more popular now than ever before. I am a single mom so I should know all about them! I have been dating on and off for the past few years now and have gone on many dates. I planned out most of the dates that I have gone on through dating apps such as Tinder, Hinge, and even Bumble.
When it comes to dating, there are many lessons to be learned. There are also many things you can learn when it comes to using these dating apps. One thing for sure is that men do lie about their height on their profiles. If you find any pictures that are blurry, be aware because they are usually deceiving you.
But above all, I have learned that my type of people are those who are dog lovers.
While it may sound cliché, it is important to have a shared love for dogs if you are a dog lover yourself. I have learned that I am not the only one!
It can be highly beneficial to feature your dog on your dating profile. Do not go overboard with pictures. One or two of them are perfectly fine. It may look suspicious if your entire profile is full of dog pics.
There have been many studies conducted that have shown that people have high hopes of actually meeting the dog in the pictures when they click on a dating profile.
The dating app known as Bumble makes it very easy to find dog lovers just like yourself using the pet badge that is featured in the app. This is actually one of the most well-known badges on the site. There are many reasons for this. Dogs play a big role in our lives.
In November of 2017, a couple met on Bumble. Their names are Andrew and Katy. Katy was extremely nervous about meeting a potential partner on a dating app until she stumbled upon a picture of an adorable puppy on Andrew's profile. They quickly began talking.
Andrew's puppy was what broke the ice for Katy. Katy was highly interested in finding out more about Andrew's dog, being a dog lover herself. This was then followed by a flirty and exciting conversation. Andrew let Katy know that he was on the lookout for applications for dog moms. Soon after they began dating and are now engaged. They are searching for a home to buy that has a nice big yard for their dog Mia to play in.
Well turns out I am still single. I haven't had much luck but this couple really gives me a lot of hope. This had made me really realize just how important dogs are to me. A few years ago I adopted my very first dog who has become a big part of me and my kids' lives.
While it may sound cheesy for someone to must love dogs, it is important to people on dating apps. It is a big turn on to watch a guy love your dog the same way you do. Take a mental note of how he treats your dog. There's something about dog people that I truly adore and I plan on tuning into that a bit more.
At this point in my life, I am beginning to think my dog is better than me when it comes to picking out men. However, being a dog lover is highly necessary when it comes to dating and I am perfectly fine with that. Just look at Andrew and Katy's story.
Pets Elected As Mayors, Earn Town Money For Project Development
Fundraisers are a dime a dozen, but great or unique fundraisers, on the other hand, are not so common.
Desperate times call for desperate measures or thinking outside of the box, and that's exactly what officials at a town in the state of Vermont did.
Instead of moping about the pandemic's impact on their city, they decided to go back to the drawing table and come up with a plan to develop a proper playground for the children in the town and its environs.
So what did they come up with? The election of two animals, a dog, and a goat, as mayors. That fundraiser may probably be one of the greatest of all times, (goat) or just doggone smooth, but either way, the plan has been working.
The fundraiser began in 2018 in the Vermont town of Fair Haven, where they elected a goat named Lincoln to hold the position as their honorary mayor.
The project aimed to raise funds to remodel a park that has been in a state of disrepair after serving the community for more than thirty years.
Once Lincoln completed his term as honorary mayor, he was succeeded by Murphee, a dog who still handles the special mayoral duties to garner funds for the project.
Both Lincoln and Murphee make frequent appearances at events, and people have been spending their money to catch a glimpse of them.
Murphee is a King Charles Spaniel, and his owner was ready from the onset of being approached to use her dog for the fundraiser.
Little did she know that it would become a significant undertaking attracting thousands of people and raising thousands of dollars.
The city aims to raise a hundred thousand dollars, and so far, the animals have helped to warn approximately thirty thousand of the amount.
The town has added another twenty thousand dollars to the amount raised, putting them at half the amount needed.
With the honorary mayors gaining national prominence, it is expected that they'll make the full amount needed for the redevelopment project at the park and more.
The federal Land and Water Conservation Fund has given a grant amounting to the other half required for the development, to Fair Bank.
Therefore, any additional earnings will go to other things needed in the community.
Residents are genuinely appreciative of the show put on by both Lincoln and Murphee in refined style and plan to begin the park renovation project in the spring.
Everyone is looking forward to the transformation of the park, which will enhance the aesthetics of the town.
It is not yet clear if the honorary mayors will be popularly featured at the park or if they'll be participating in the ribbon-cutting ceremony.
However, it turns out; this is undoubtedly going to be spoken about for many years to come. It will be a great story to tell the future generation about how the funds were raised to build the fantastic Park that they now enjoy.