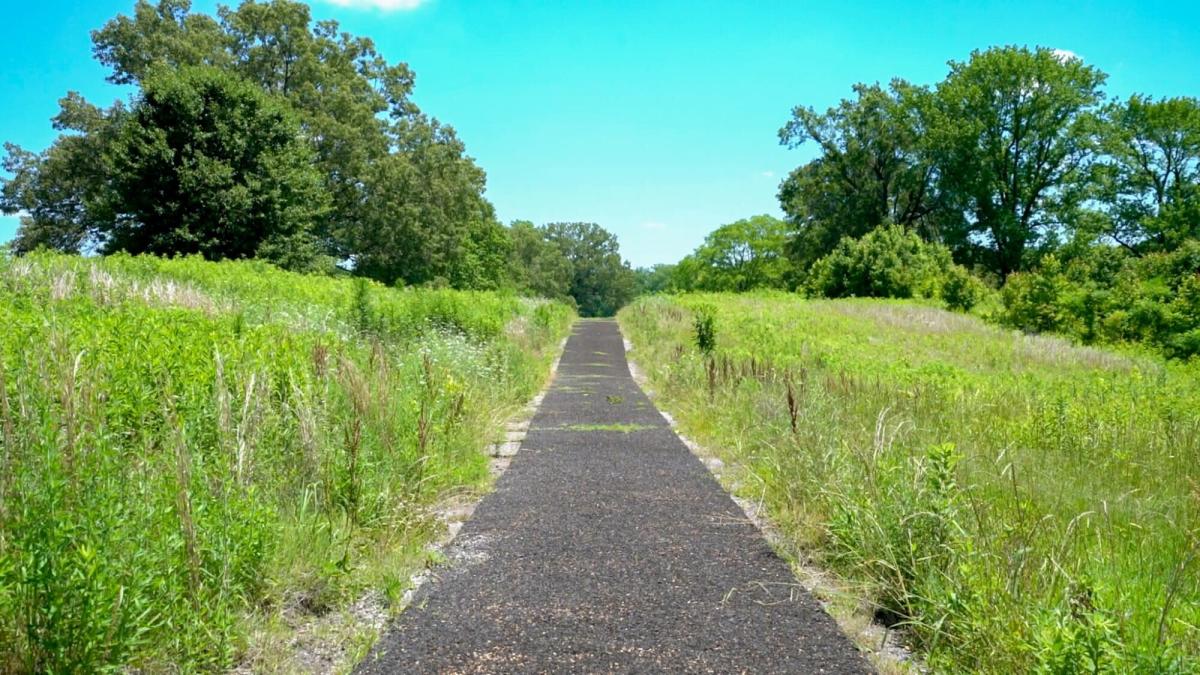 Illegally-dumped Tires Used to Create Trail in Tennessee State Park
Every day, societies that are clever and creative come up with new ways to utilize pollution. What is the most recent example? A new 2.5-mile walking and bike track made of recycled tires has opened in a Tennessee state park.
The route, which runs through T.O. Fuller State Park near Memphis, is one of the country's longest composed of reclaimed rubber. It's made up of rubber particles from tires discarded illegally throughout the state park. Tires for this project were first collected in 2019 by volunteers and local contractors. Patriot Tire Recycling at Bristol, Tennessee, then breaks them down into "crumbs" of rubber.
In a statement, David Salyers, commissioner of the Tennessee Department of Environment and Conservation (TDEC), said, "This is a typical example of recycling in full circle, recovering abandoned trash then turning it to positive use." "It's exactly the kind of environmentally responsible endeavor that Tennesseans should be proud of an area that can be cleaned up and people can benefit in new ways."
Over 24,000 tires of all types were collected by workers and 450 registered volunteers, including tires from passenger, commercial, and heavy equipment vehicles. Over 10,000 tires were gathered in just one day. The new rubber route replaced old roads from a previous golf course, creating a loop that goes around the park with the updated trail and new connections.
The Tennessee Department of Transportation (TDOT), according to Joseph Galbato, III, interim commissioner, spends approximately $19 million each year cleaning up litter and unlawfully abandoned objects. "We are grateful for partnerships like the 'Tires to Trails' project, which not only eliminates the trash problem but also transforms it into a valuable and long-term resource for the community," Galbato added.
The new state park route in Tennessee is one of the world's longest constructed of old tires, and many states are considering using similar material for walking and bike trails. The Kentucky Department of Waste Management recently accepted submissions for rubber crumb projects.
Alabama launched new recycled tire roads and parking spots at Lake Guntersville State Park in April. Locals can enjoy a recycled rubber walking track in Obregon Park in east Los Angeles, California, which was installed in 2014.
Shelby County Mayor Lee Harris said, "We're thrilled to see used tires recycled to develop T.O. Fuller State Park." "The new trail is an excellent example of our federal, state, and local partners working together to invest in our common environment and a valuable community asset."
400-Pound Black Bear Rescued From Waterway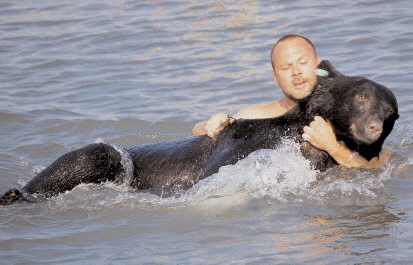 A Florida man recently became a hero after saving a 400lb black bear from drowning. Black bears are known to be excellent swimmers and are athletic animals, but the bear in question was not in its usual state when it jumped into the water. The bear had been tranquilized after walking into a residential neighborhood, and when the tranquilizer started to take effect, it ran towards the water and eventually began to sink.
Wildlife biologist Adam Warwick immediately sprang into action, jumping into the water to save the bear. Despite the bear's massive size, Adam was able to keep its head above water and pull it to safety. Although he suffered only a scratch in the process, Adam's bravery was a testament to the care and dedication of wildlife officials in protecting and preserving the natural world.
Black bears are found in various parts of North America, including Florida, and are excellent swimmers. They are known for their athletic ability and can easily swim across rivers and lakes in search of food and territory. However, when the bear in question was tranquilized, it was not in its natural state, and its swimming abilities were significantly compromised.
The incident highlights the importance of wildlife officials in preserving natural habitats and protecting animals from harm. Despite the risks involved, these officials put their lives on the line to ensure that animals receive the care and protection they need. The successful rescue of the black bear is a reminder of the importance of caring for the environment and all its inhabitants, no matter how large or small.