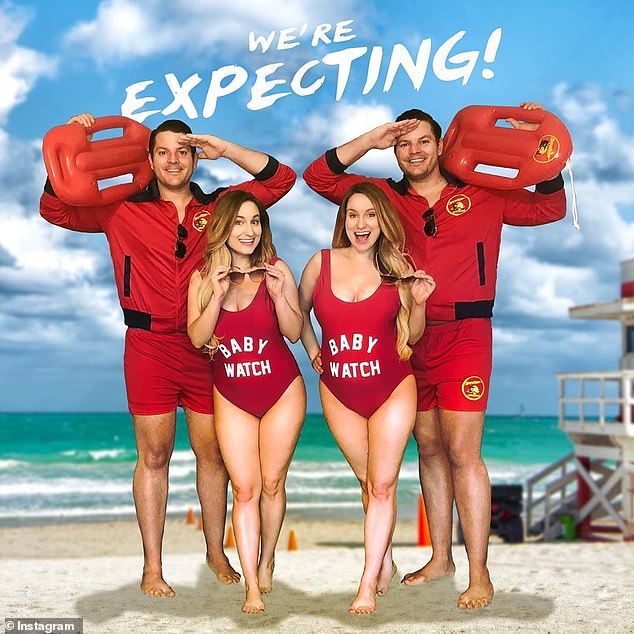 Identical Twin Sisters Married To Identical Twin Brothers Both Announce Pregnancies
No one knows if this was planned, but identical twins Brittany and Briana Salyers, married to Josh and Jeremy Salyers – also identical twins are both expecting at the same time. They broke the news via a Baywatch-themed Instagram post on Friday, and the story has made headlines since then.
In the Instagram post captioned "Guess what!!?? BOTH couples are pregnant!," Josh and Jeremy wore lifeguard costumes while their brides, now to be mothers, dressed up in one-piece bathing suits that read "Baby Watch," and struck poses that clearly gave off their baby bumps. The rest of the caption also states the fact that their children will be cousins, genetic siblings, and quaternary multiples! Isn't that amazing?
The twin couples hit the spotlight when they appeared on TLC's Our Twinsane Wedding, and this wonderful news only two years after shows how well their journeys as wedded couples has gone. Their joint marriage was officiated by identical twin ministers at the 2018 Twins Days Festival in Twinsburg, Ohio – exactly where they had met only one year ago. The marriage ceremony was themed "Twice Upon a Time" and now they are expecting to add at least two more members to their happy twin family.
Brittany revealed at the marriage ceremony that the idea of living in the same house to raise their children together in harmony made them really happy, and now they get to bring their imaginations into reality. Brittany said, "When we have children, my and Josh's children will be genetic siblings to Briana and Jeremy's Children. We imagine it will be like two moms and two dads all raising our families together."
The sisters share a special bond typical of twins. Before their double pregnancy revelation, Brittany and Briana have always shared the urge to do things the same way- matching outfits, and double dating, which eventually led to their marriage to Josh and Jeremy. Each one of the sisters sees herself as incomplete without the other- something like being two halves of a whole.
From the joint wedding to the joint pregnancies, everything has felt like a fairytale. According to Briana, getting married to identical twins has always been the goal, and they had already foreseen it since their kindergarten days.
They knew the chances of having such a perfect future were really slim. For their dreams to come true, the stars had to align in quintessential harmony, and it seems like they did.
In Brittany's own words, "I get to marry the man of my dreams and at the same time I get to look over next to me and see my twin sister marrying the man of her dreams."
Their fairytale story can get a lot better if they both give birth to twins. Yes, the chances of that happening are like a googolplex to one, but who knows? It just might happen.
Joyous Return of Assumed Extinct Mini Pig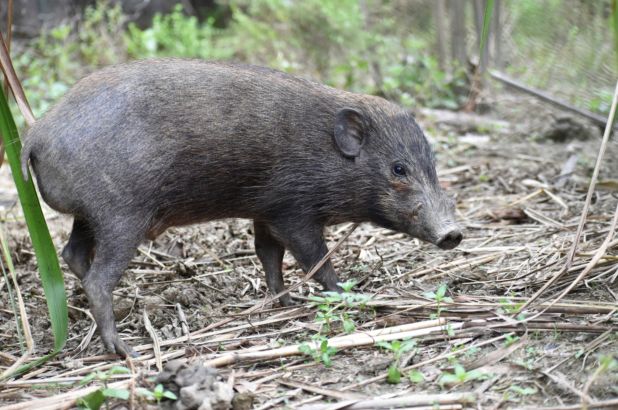 When animals go extinct, they become a footnote in history. The return of an assumed extinct species is not common. In fact, it's downright rare. So, in 1971, when the pygmy pig in India disappeared, many biologists and researchers expected the creature to be done for. The little creature normally lived in the foothills before the Himalayas reach up for the clouds and normally would reach a rocketing 10 inches in height off the ground. Given its natural size, the pygmy pig generally tried to stay out of sight to keep off the dinner menu of predators. It's own diet consisted of bugs and tubers, more than enough to keep the creature fed.
An Amazing Turnaround
However, after 100 years of human intervention and encroachment, by the 1970s the pig was written off. It wasn't until another 20 or so years later, researchers in the area managed to catch a few of the pygmy pigs alive. They nurtured them in captivity until they bred, and then the teams worked to continue increasing the pigs numbers. Finally, enough of a population was raised that the researchers could actually attempt to let the pygmy pigs go. The releases began in Assam, in the northeast part of India. And so began 25 more years of work trying to get the wild pigs to increase their number and avoid a complete wipeout. Today, some 300 to 400 creatures are estimated to be alive, running wild. Another 76 are held in reserve and continue to be raised in captivity, just in case. However, the best news is, the species is living again.
More Than One Colony Makes a Party
In addition to the original release in Assam, additional pigs have been released, with colonies established in Manas as well as Orang, both national parks in India, as well as a pair of animal sanctuaries.
The world can't afford to lose more species to extinction thanks to human development, including pigs. Currently, there are only 17 types of pigs left today. Without the efforts of conservationists, that number would drop further. Each extinction is like someone taking a giant eraser to a chalkboard of millions of years of evolution.
Of course, now the problem is nature itself as well. While the pygmy pig population has stabilized and is growing, the bigger problem is that they are still fragile. Swine flu and similar conditions can easily decimate these pigs before anyone can stop it simply through contagion. So, the conservationists have their hands full trying to keep the populations safe and separated from any carriers with potential viral threats.
Conservationism can be hard, and oftentimes it ends in disappointment trying to save an endangered creature. However, in India, this time the pygmy pig can be considered a win. And, if things stay on track, it should be able to re-establish itself very well.