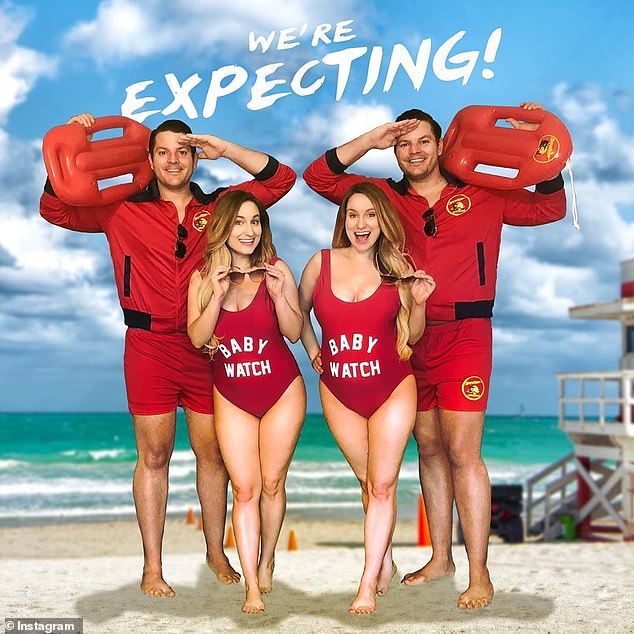 Identical Twin Sisters Married To Identical Twin Brothers Both Announce Pregnancies
No one knows if this was planned, but identical twins Brittany and Briana Salyers, married to Josh and Jeremy Salyers – also identical twins are both expecting at the same time. They broke the news via a Baywatch-themed Instagram post on Friday, and the story has made headlines since then.
In the Instagram post captioned "Guess what!!?? BOTH couples are pregnant!," Josh and Jeremy wore lifeguard costumes while their brides, now to be mothers, dressed up in one-piece bathing suits that read "Baby Watch," and struck poses that clearly gave off their baby bumps. The rest of the caption also states the fact that their children will be cousins, genetic siblings, and quaternary multiples! Isn't that amazing?
The twin couples hit the spotlight when they appeared on TLC's Our Twinsane Wedding, and this wonderful news only two years after shows how well their journeys as wedded couples has gone. Their joint marriage was officiated by identical twin ministers at the 2018 Twins Days Festival in Twinsburg, Ohio – exactly where they had met only one year ago. The marriage ceremony was themed "Twice Upon a Time" and now they are expecting to add at least two more members to their happy twin family.
Brittany revealed at the marriage ceremony that the idea of living in the same house to raise their children together in harmony made them really happy, and now they get to bring their imaginations into reality. Brittany said, "When we have children, my and Josh's children will be genetic siblings to Briana and Jeremy's Children. We imagine it will be like two moms and two dads all raising our families together."
The sisters share a special bond typical of twins. Before their double pregnancy revelation, Brittany and Briana have always shared the urge to do things the same way- matching outfits, and double dating, which eventually led to their marriage to Josh and Jeremy. Each one of the sisters sees herself as incomplete without the other- something like being two halves of a whole.
From the joint wedding to the joint pregnancies, everything has felt like a fairytale. According to Briana, getting married to identical twins has always been the goal, and they had already foreseen it since their kindergarten days.
They knew the chances of having such a perfect future were really slim. For their dreams to come true, the stars had to align in quintessential harmony, and it seems like they did.
In Brittany's own words, "I get to marry the man of my dreams and at the same time I get to look over next to me and see my twin sister marrying the man of her dreams."
Their fairytale story can get a lot better if they both give birth to twins. Yes, the chances of that happening are like a googolplex to one, but who knows? It just might happen.
Brave 12-Year-Old Girl Saves Family from Carbon Monoxide Poisoning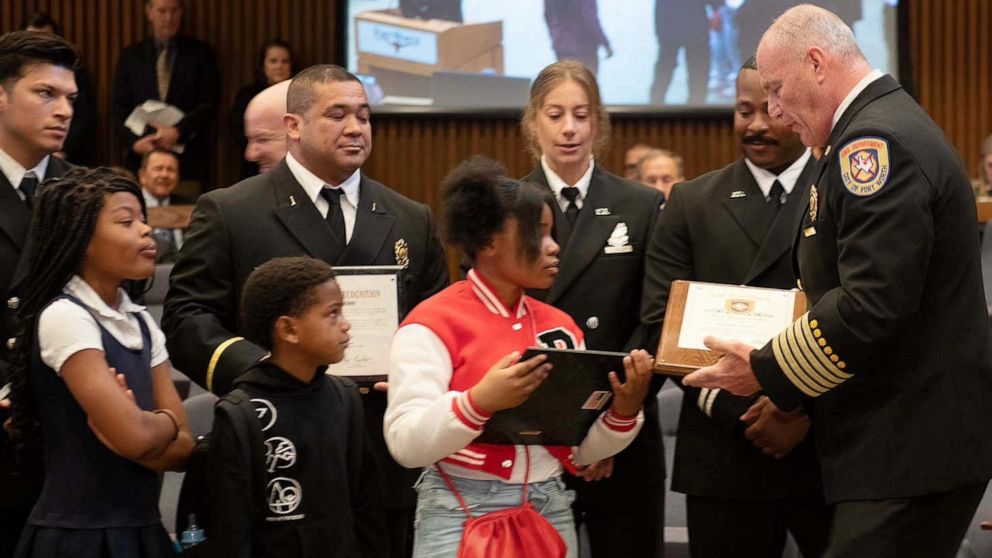 In a remarkable act of courage and quick thinking, 12-year-old Jaziyah Parker from Fort Worth, Texas, became a true hero when she saved her family from a dangerous situation. Jaziyah's keen observation and immediate action prevented a potential tragedy from unfolding.
One day, while Jaziyah was at home, she noticed something was wrong. Her mother and younger brother began to feel sick and lose consciousness. Jaziyah didn't panic but instead sprang into action. She grabbed the phone and dialed 911, desperately seeking help. In the recording of the 911 call, Jaziyah can be heard saying, "Something wrong with my mama. Can you hurry up and come?" Her plea for assistance was a crucial step that would ultimately save her entire family.
Little did Jaziyah know, her family's home was filling up with a silent but deadly gas called carbon monoxide. This odorless and colorless gas can be extremely harmful and even fatal when inhaled. But Jaziyah's sharp instincts and timely call for help prevented a tragic outcome. Her actions ensured that her family received the necessary assistance in time.
The Fort Worth Fire Department recognized Jaziyah's bravery and quick thinking during a special ceremony held on May 23, 2023. The firefighters honored her for her heroic act, commending her for the bravery she displayed in a challenging situation. Jaziyah's actions exemplify the importance of staying calm and taking action during emergencies.
Carbon monoxide poisoning is a serious concern, as it can occur in any home due to faulty appliances, heating systems, or ventilation issues. This incident serves as a reminder for everyone to have carbon monoxide detectors installed in their homes and to be aware of the signs and symptoms of poisoning. Symptoms such as dizziness, headaches, nausea, and confusion should never be ignored, as they could indicate carbon monoxide exposure.
Jaziyah's story is an inspiration to us all. Her courage and quick response saved her family from a potentially fatal situation. She serves as a shining example of how even young individuals can make a significant impact and help those in need. Her actions remind us that heroes can emerge at any age, and we should always be prepared to lend a helping hand in times of crisis.