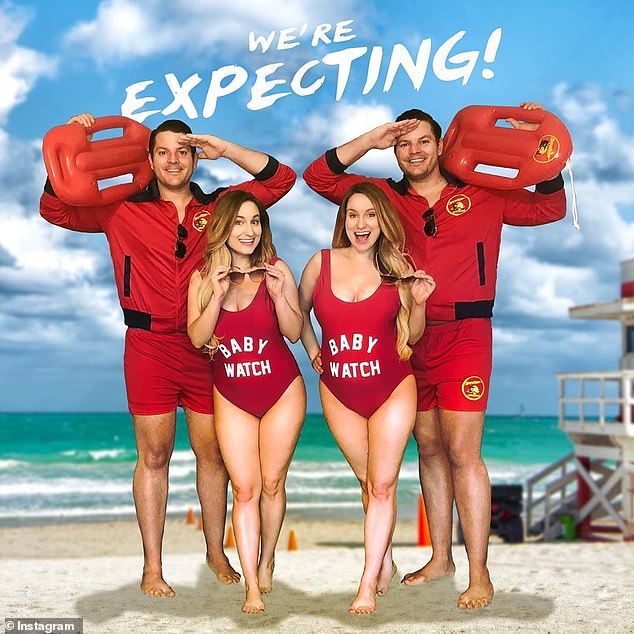 Identical Twin Sisters Married To Identical Twin Brothers Both Announce Pregnancies
No one knows if this was planned, but identical twins Brittany and Briana Salyers, married to Josh and Jeremy Salyers – also identical twins are both expecting at the same time. They broke the news via a Baywatch-themed Instagram post on Friday, and the story has made headlines since then.
In the Instagram post captioned "Guess what!!?? BOTH couples are pregnant!," Josh and Jeremy wore lifeguard costumes while their brides, now to be mothers, dressed up in one-piece bathing suits that read "Baby Watch," and struck poses that clearly gave off their baby bumps. The rest of the caption also states the fact that their children will be cousins, genetic siblings, and quaternary multiples! Isn't that amazing?
The twin couples hit the spotlight when they appeared on TLC's Our Twinsane Wedding, and this wonderful news only two years after shows how well their journeys as wedded couples has gone. Their joint marriage was officiated by identical twin ministers at the 2018 Twins Days Festival in Twinsburg, Ohio – exactly where they had met only one year ago. The marriage ceremony was themed "Twice Upon a Time" and now they are expecting to add at least two more members to their happy twin family.
Brittany revealed at the marriage ceremony that the idea of living in the same house to raise their children together in harmony made them really happy, and now they get to bring their imaginations into reality. Brittany said, "When we have children, my and Josh's children will be genetic siblings to Briana and Jeremy's Children. We imagine it will be like two moms and two dads all raising our families together."
The sisters share a special bond typical of twins. Before their double pregnancy revelation, Brittany and Briana have always shared the urge to do things the same way- matching outfits, and double dating, which eventually led to their marriage to Josh and Jeremy. Each one of the sisters sees herself as incomplete without the other- something like being two halves of a whole.
From the joint wedding to the joint pregnancies, everything has felt like a fairytale. According to Briana, getting married to identical twins has always been the goal, and they had already foreseen it since their kindergarten days.
They knew the chances of having such a perfect future were really slim. For their dreams to come true, the stars had to align in quintessential harmony, and it seems like they did.
In Brittany's own words, "I get to marry the man of my dreams and at the same time I get to look over next to me and see my twin sister marrying the man of her dreams."
Their fairytale story can get a lot better if they both give birth to twins. Yes, the chances of that happening are like a googolplex to one, but who knows? It just might happen.
AI, Childhood Images and a Holocaust Survivor Finding Her History Again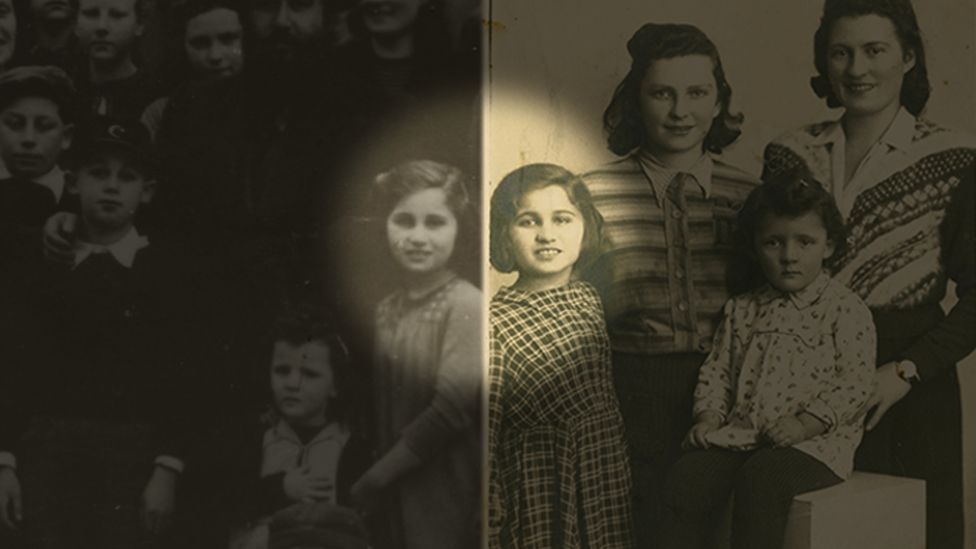 The first half the 20th century was not a good one for Blanche Fixler. As a Jew, she was a target for the Nazis, who succeeded in killing at least 6 million of her countrymen. They were so close to Fixler, at one point she was hiding underneath a bed trying not to breathe. Had she made a noise, the Nazi troops searching the room she was in would have grabbed her in an instant. Through luck, fear, feistiness and perseverance, Fixler survived the Holocaust.
Now, almost some 80 years later, Blanche Fixler is relieving history thanks to artificial intelligence, or AI. A program written by Daniel Pratt, also known as a engineer at Google, has become extremely effective at matching people's faces to their parts in history. In fact, it was so effective, it had a direct impact on Fixler; the software found her face in a historical image from the war period that no one previously knew was Blanche at all. She was just another face of thousands lost until she wasn't.
Dubbed "Numbers to Names," Pratt's program relies on the technology of facial recognition to do its work. While a person's appearance might change over time, their facial structure doesn't. And that makes for a comparable identification when the details are run through the thousands of calculations per second via the software.
In some respects, the software works with the logic of connecting dots. As it makes connections, it builds on that library and makes more connections. Many photos may have one or even two connections, but they still have five or a dozen more than are unknown. By constantly running and making new connections, the software persistently whittles away at the challenge. As it turned out, one of those successes was Blanche Fixler.
Blanche Fixler today is at the ripe age of 86. She is a world away from Germany and Poland and the nightmare she lived through, ensconced in the urban distance of New York. However, thanks to Pratt's program, Fixler has now been identified as a child in two historical photos. Pratt's software did the hard work and connected the dots.
Among the many who were grabbed, rounded up and killed in Poland, Fixler's entire family were victims of the Nazis. At the time, Blanche's name was Bronia to her family, but that was left in the past as she survived the war. Her luck was made possible by an aunt who hid Fixler from the soldiers regularly looking for Jews in hiding. When Fixler saw the photos that had her in them, she also identified her aunt as well as other relatives. That in turn creates more connections that Pratt and those using the software can benefit from in their ongoing work of identification.
The work has been partnered with the U.S. Holocaust Memorial Museum, and it continues to be worked on to provide closure and dignity for the thousands of families related to the victims of the Holocaust. By personalizing the faces of the 6 million, they gain a confirmed history versus being nameless and unknown among the masses lost.