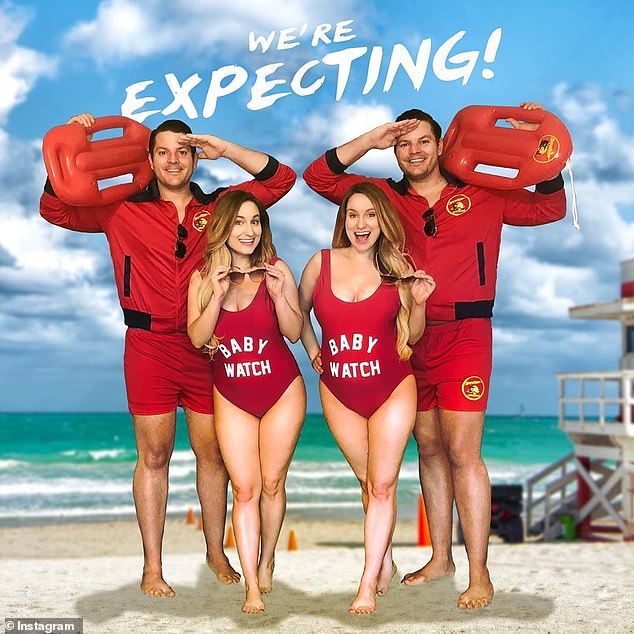 Identical Twin Sisters Married To Identical Twin Brothers Both Announce Pregnancies
No one knows if this was planned, but identical twins Brittany and Briana Salyers, married to Josh and Jeremy Salyers – also identical twins are both expecting at the same time. They broke the news via a Baywatch-themed Instagram post on Friday, and the story has made headlines since then.
In the Instagram post captioned "Guess what!!?? BOTH couples are pregnant!," Josh and Jeremy wore lifeguard costumes while their brides, now to be mothers, dressed up in one-piece bathing suits that read "Baby Watch," and struck poses that clearly gave off their baby bumps. The rest of the caption also states the fact that their children will be cousins, genetic siblings, and quaternary multiples! Isn't that amazing?
The twin couples hit the spotlight when they appeared on TLC's Our Twinsane Wedding, and this wonderful news only two years after shows how well their journeys as wedded couples has gone. Their joint marriage was officiated by identical twin ministers at the 2018 Twins Days Festival in Twinsburg, Ohio – exactly where they had met only one year ago. The marriage ceremony was themed "Twice Upon a Time" and now they are expecting to add at least two more members to their happy twin family.
Brittany revealed at the marriage ceremony that the idea of living in the same house to raise their children together in harmony made them really happy, and now they get to bring their imaginations into reality. Brittany said, "When we have children, my and Josh's children will be genetic siblings to Briana and Jeremy's Children. We imagine it will be like two moms and two dads all raising our families together."
The sisters share a special bond typical of twins. Before their double pregnancy revelation, Brittany and Briana have always shared the urge to do things the same way- matching outfits, and double dating, which eventually led to their marriage to Josh and Jeremy. Each one of the sisters sees herself as incomplete without the other- something like being two halves of a whole.
From the joint wedding to the joint pregnancies, everything has felt like a fairytale. According to Briana, getting married to identical twins has always been the goal, and they had already foreseen it since their kindergarten days.
They knew the chances of having such a perfect future were really slim. For their dreams to come true, the stars had to align in quintessential harmony, and it seems like they did.
In Brittany's own words, "I get to marry the man of my dreams and at the same time I get to look over next to me and see my twin sister marrying the man of her dreams."
Their fairytale story can get a lot better if they both give birth to twins. Yes, the chances of that happening are like a googolplex to one, but who knows? It just might happen.
The Returned Wallet from Antarctica – Half A Decade Later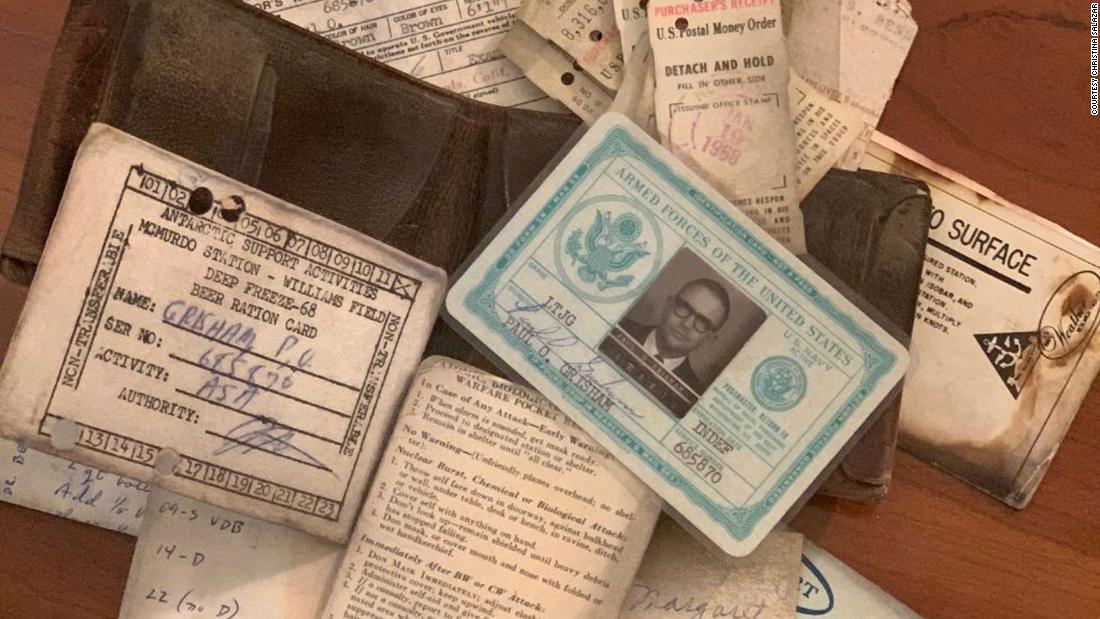 In 1968 a meteorologist was stationed in Antarctica among a number of military personnel. Their role was research as well as, and Paul Grisham's job was to track the weather in the southern pole region. Unfortunately, as crazy as it seems, Grisham managed to lose his wallet while working in the remote location and never did find it before leaving. That wallet sat in Antarctica at the station for another 53 years until it was rediscovered.
When the wallet was returned to Grisham, he felt like he was going back in a mental time machine. The wallet was in exceptionally good condition as well as the cards and materials that were kept in it. At 91 Grisham remarked first about how young he looked in the card photos as well as how far back that part of his life was.
The location, McMurdo Station, was being redesigned along with the demolishing and removal of older buildings. During the work, one of the construction crew found the wallet which had stayed in its place since Grisham had been stationed. Looking back on the cards now, Grisham continues to repeatedly trigger memories when he looks at his own Navy ID card. Last carried in 1968, the card was preserved and never deteriorated except for the edges of the leather. Included in the contents was a beer ration card, a guide card on how to deal with attacks ranging from nuclear to biological. And Grisham even included a recipe folded up in the cards for a liqueur.
The weather monitoring was a big issue at the time. Unlike today with tons of satellites spinning around the planet for watching everything from a farmer in the western side of China eat a sandwich to the weather's minute moves, back then the weather had to be observed in person. Grisham's job was to track the regional patterns so that planes and ships moving through the edge of the southern hemisphere to the station could do so safely and avoid storms. The work shifts were hard; Grisham remembered working a half day on, literally, and the half day off to rest and went straight for five long months.
Things weren't all about work. Grisham remembers they had pretty useful mini bowling alley which never got boring. And an inside gym was handy since jogging outside was off the list everyday of the year. Location-wise, the station was in one of the best locations in Antarctica as well; it would usually get to a balmy 25 degrees Fahrenheit. That was considerably better than other locations a bit further in easily only getting to a tepid minus 65 degrees.
When Grisham left the southern continent, he did so with a promotion, but he never did find his wallet before taking off. He doesn't have any fond wishes to return, still remembering a soda would explode from the cold in under 15 minutes if left outside. However, one thing he did miss was all the IOUs Grisham kept in his wallet from winning an inordinate number of poker games while on duty at McMurdo. It does make one wonder if he can still collect on this plus interest.
Grisham continues to be a name in history, but the rediscovered wallet was not his first entry. Grisham spent two hours talking with Sir Edmund Hillary about weather when Hillary arrived, and Grisham himself also got to reach the South Pole as well, some 850 miles inland. Sitting now at home, he enjoys the San Diego weather a lot more, but the wallet recovery was definitely a nice touch to Memoryville.