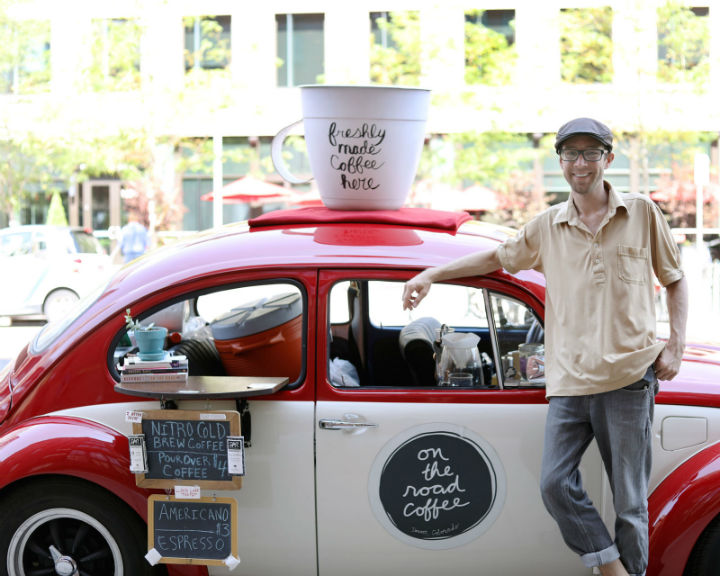 How to Run a Coffee Shop Out of a 1968 Beetle
f you quickly had to name one thing you couldn't live without that was not your phone, what would it be? Without even knowing you, I'm going to guess it's coffee. Coffee lovers out there all have their favorite coffee joint. It could be a small indie type place that specializes in only three drinks, or it can be a hugely marketed chain that promises to make your drink taste the same no matter what store you visit. It doesn't matter because coffee is a way of life for so many. It's the smell and the atmosphere and let's not forget how that warm cup feels in your hands.
One man from Denver, Colorado has completely changed coffee shops. He has his version of the American Dream in his 1968 Volkswagen Beetle. He calls it On the Road Coffee and he is always on the go. Matthew Pendleton sells coffee from him Beetle. He offers an Americano to shots of espresso.
He started this idea in May 2016 and wakes up each day focused on being the best he can be and serving up hot and tasty coffee to the people of Denver. The 36 year old wakes up at 4:30 every morning to greet the Mile High City. He has a Rok Espresso Maker, coffee grinder, manual coffeemaker and of course, the coffee beans. He has everything he needs to help his customers wake up. He has a spot across from Union Station and you will find him there every morning.
He didn't exactly come up with this idea on his own. He was inspired while on a trip to Thailand in 2015. While in Chiang Mai, Thailand, he saw someone doing a similar thing with a VW Bug and coffee. He decided to bring this unique idea back home with him. Matthew is an artist and he uses the earnings from On the Road to support his abstract art.
When he returned home, he found himself a beat up Beetle and before he knew it On the Road was literally on the road. He can't take full credit for the catchy name. Jack Kerouac's novel from 1957 On the Road helped Matthew name his business. Kerouac was known to talk about freedom, travel and finding oneself. He was an original, just like Matthew is.
On the Road has made a name for itself. He does well enough that he's able to run the business full time, but he doesn't have employees, not yet anyway. His customers seem to love it. They continue to come back for more. He gets an average of 15 to 20 people per day, which is just enough to keep him from losing money. Each year, he seems to do better than the one before. He expects the same of next year.
The next time you're in Denver, support a local business and get some great coffee. Be sire to find Matthew and his Beetle. You will be glad you did.
LA Cougar Makes It Over a Freeway Known for Animal Deaths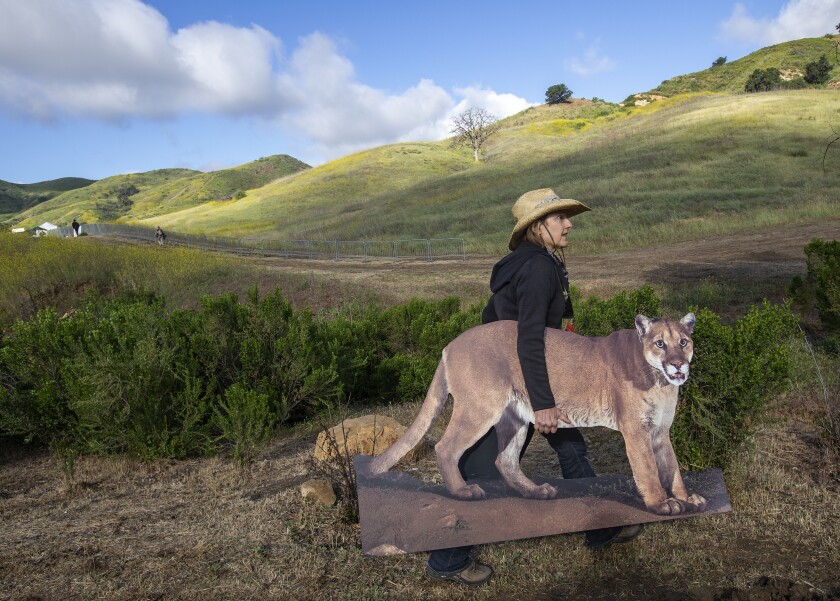 The idea of manmade infrastructure to help wildlife continue to propagate and create new generations has always been a Grand Canyon challenge for conservationists. The cost is usually prohibitive and hard to justify for animals, but the provisioning of the features makes sense as it allows wildlife displaced by development alternative paths and means to re-connect and continue to live. As development continues to spread, most often with highways first, these modern transportation corridors end up being death lines for animals who try to cross but have no idea what the dangers are.
The 101 Freeway that cuts through the Agoura Hills of California is a particularly specific example of a death-line for wildlife. It has repeatedly been a problem, killing animals by impact with cars as they try to forage for food or connect with others for mating. Instead, however, an idea was launched a decade ago to build a safety corridor that animals could use to get across safely. Essentially, the corridor was to be a bridge over the highway, natural in appearance to wildlife but functional and structural to span the highway and keep them away from cars when crossing.
A decade later, on Earth Day 2022, the 101 Freeway Wallis Annenberg Wildlife Crossing was initiated. The idea is not a new one; Europeans have been creating wildlife corridors over or under their highways for years. However, for the U.S. and California, the Annenberg Crossing is one of the first to be created by a municipality over a major traffic conduit.
Additionally, one very distinct wildlife participant will likely have a very strong interest in using the crossing. Mountain lions are extremely long-range roaming animals, directly impacted by highways and infrastructure that makes it too dangerous for them to cross. Along with hundreds of species that will likely use the cross to connect with others of their kind, mountain lions are sure to find the crossing advantageous, particularly at night when they do most of their traveling.
Safety corridors are a game-changer in the conservation world. They allow wildlife to adapt to development and live safely around it versus become blocked and eventually die off from a lack of gene diversity in breeding. They also push society to incorporate conservation impact planning into infrastructure development for the future as well. The Annenberg Crossing will be completed as a partnership between conservancies, charity, non-profit activism and California government.
Spanning over 200 feet long, the Annenberg Crossing will provide local wildlife plenty of room to maneuver across. The width measures at least 165 feet from side to side, will be a natural surface environment, and it will be high enough to keep wildlife entirely safe from passing vehicles below. It will also provide direct land connection for mountain lions who currently survive with small populations in the area and were cut off previously by the freeway.