How to Run a Coffee Shop Out of a 1968 Beetle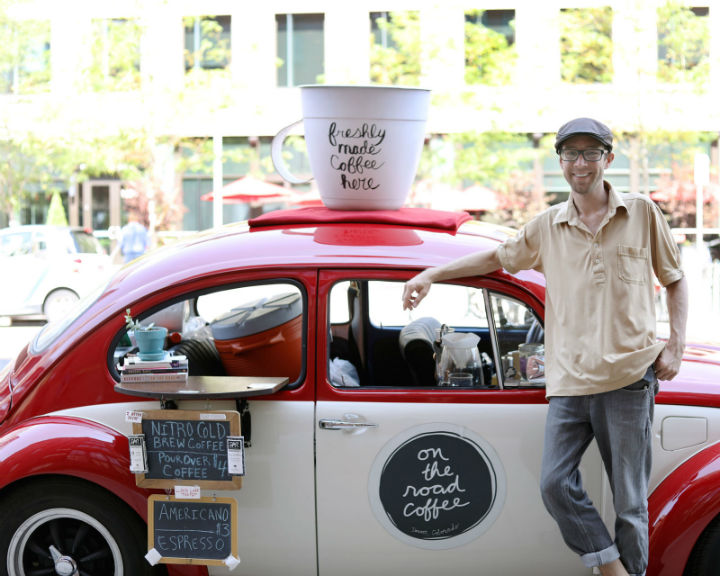 f you quickly had to name one thing you couldn't live without that was not your phone, what would it be? Without even knowing you, I'm going to guess it's coffee. Coffee lovers out there all have their favorite coffee joint. It could be a small indie type place that specializes in only three drinks, or it can be a hugely marketed chain that promises to make your drink taste the same no matter what store you visit. It doesn't matter because coffee is a way of life for so many. It's the smell and the atmosphere and let's not forget how that warm cup feels in your hands.
One man from Denver, Colorado has completely changed coffee shops. He has his version of the American Dream in his 1968 Volkswagen Beetle. He calls it On the Road Coffee and he is always on the go. Matthew Pendleton sells coffee from him Beetle. He offers an Americano to shots of espresso.
He started this idea in May 2016 and wakes up each day focused on being the best he can be and serving up hot and tasty coffee to the people of Denver. The 36 year old wakes up at 4:30 every morning to greet the Mile High City. He has a Rok Espresso Maker, coffee grinder, manual coffeemaker and of course, the coffee beans. He has everything he needs to help his customers wake up. He has a spot across from Union Station and you will find him there every morning.
He didn't exactly come up with this idea on his own. He was inspired while on a trip to Thailand in 2015. While in Chiang Mai, Thailand, he saw someone doing a similar thing with a VW Bug and coffee. He decided to bring this unique idea back home with him. Matthew is an artist and he uses the earnings from On the Road to support his abstract art.
When he returned home, he found himself a beat up Beetle and before he knew it On the Road was literally on the road. He can't take full credit for the catchy name. Jack Kerouac's novel from 1957 On the Road helped Matthew name his business. Kerouac was known to talk about freedom, travel and finding oneself. He was an original, just like Matthew is.
On the Road has made a name for itself. He does well enough that he's able to run the business full time, but he doesn't have employees, not yet anyway. His customers seem to love it. They continue to come back for more. He gets an average of 15 to 20 people per day, which is just enough to keep him from losing money. Each year, he seems to do better than the one before. He expects the same of next year.
The next time you're in Denver, support a local business and get some great coffee. Be sire to find Matthew and his Beetle. You will be glad you did.
North Carolina Teen Bitten by Shark, Unassailed
Paige Winter, 17, was swimming at Atlantic Beach in North Carolina with her sister when she was pulled under in waist-high water. It quickly became clear that it was a shark attack.
Paige initially gave in, perhaps initially not realizing that it was a shark. She'd thought it was a turtle. When she realized what was happening, she fought back hard. It is that tenacity and courage that has continued to aid her in her survival and recovery. She just would not give up.
Paige's Rescue
Witnesses reported screaming and panic. Paige's father, Charlie, is a paramedic, so he immediately jumped to her rescue. He dove underwater and punched at the shark until he was able to wrestle her free from the shark and carry her to the beach. A bystander offered a belt, which her father used as a tourniquet to stop the bleeding on the beach.
Paige was quickly transported via medical helicopter to Vidant Medical Center in Greenville, where her leg was amputated. She underwent additional surgeries for his leg, pelvis, and hand.
No parent ever would dream of seeing their child being dragged underwater by a shark, but her father's quick actions saved Paige's life. Then, bystanders and emergency medical personnel were a part of the rescue, as well as doctors and surgeons who worked to save Paige's life.
Next Steps
What lies ahead for Paige is recovery and rehabilitation as she learns to walk again with a prosthetic limb. She must also re-learn how to function with more limited functionality in her hands.
Paige's resilience is clear, though, despite the severe injuries she sustained, and the body altering surgeries. She remains positive and in good spirits. Her family says that she was groggy but already telling jokes when she first woke up after the shark attack in the hospital. Her continued road to recovery won't be easy, but her will to live and overcome the odds has already gotten her this far.
Doctors and also her father mentioned the serendipitous collision of chance encounters and dumb luck that both brought her to the beach that day but also saved her life. When so much could have gone horribly, impossibly wrong, enough separate events went right that she will someday walk again.
Paige survived. It's not all the "pieces of the puzzle." Some are missing, as she told Washington Post, but "it's okay." She still advocates for marine life and doesn't blame the shark for biting her and shaking her like that. Her message is about education, learning more about sharks and understanding.
Spunky as ever, Paige told the medic, "Don't be mad. Sharks are good people." That positive attitude and that willingness to forgive even in the face of a savage attack is part of what has made her story a viral sensation across media spheres.