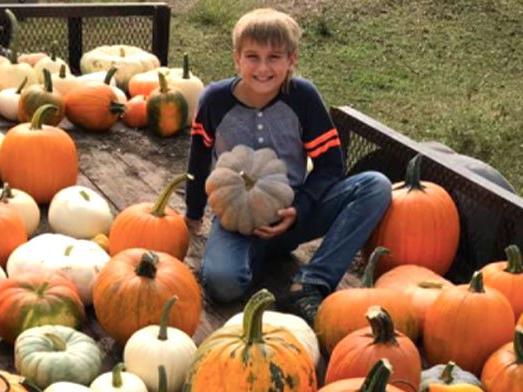 How One Kid Raised Funds For Cancer Patients By Selling Ugly Pumpkins
A kid named Charlie Jones has developed a weird zeal for ugly pumpkins, making a little fortune from selling them and thoughtfully, he's giving away the proceeds.
His act has left even him surprised. The front yard of his family's house can be seen with a display of several pumpkins.
"Ugly pumpkins, pretty pumpkins, jack 'o lantern pumpkins, gourds," he said.
Chris could have opted to planting normal pumpkins which looked nice and beautiful and might even attracted buyers, but it's the abnormal and ugly looking pumpkins that Charlie liked.
"I said, 'I'll keep some crazy pumpkins because not many people are going to stop,'" he explained
Surprisingly, sales trooped in.
"Yeah, a lot of people stopped," Charlie told 13News.
In early April, Charlie was on a tractor, tinkering with the plan of cultivating a large scale pumpkin field. At that time, the whole family with Charlie included had contacted coronavirus and had to isolate and recover.
"I was bored and it was a bummer of a year so far," Charlie said.
How did Charlie grow these weird looking pumpkins? He got seeds from rotten pumpkins.
"I would fill buckets at a time and take them into the house and clean them up," he said. We asked how his mom felt about the process.
"Oh yeah," Charlie replied with a smile. "She was fully thrilled."
Corrie Jones objected to her being excited.
"We might have a different opinion about that," she said with a big smile
The result was overwhelming. The family kept dispatching truckloads of strange looking pumpkins to several customers who patronized enormously.
"This was just amazing, truly amazing, people lining up for ugly pumpkins," Charlie said, shaking his head.
The proceeds, totaling $720 went to Boone County Cancer Society.
"He has a kind heart and a thoughtful, giving nature," Corrie said. "I was incredibly proud of him."
The executive director of the Boone County Cancer Society was thankful as coronavirus had disrupted their fundraising plans.
Charlie won't stop now and has plans to trudge on.
"The people don't stop having cancer, so why should I stop selling pumpkins?" he said.
The Man Who Saved Hundreds of Dogs in a Hurricane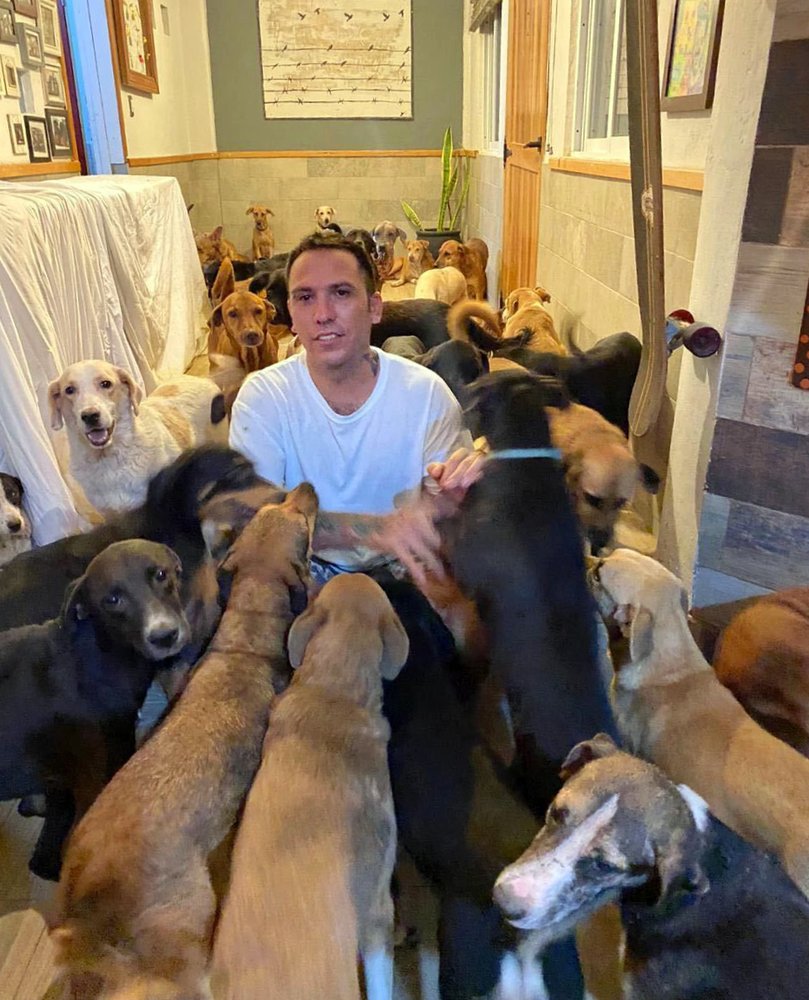 Ricardo Pimentel never expected to be compared to Noah, or a pied-piper, or a dog-whisperer. However, his role in life may have very well been fated for what he was about to do ahead of a big storm that was coming towards his region.
Hurricane Delta was expected to hit the Mexican Yucatan with full force. The area was familiar with tropical storms, but heavy-stage hurricanes were rare. One of the last times a major hurricane hit the area, it ended up leaving major city areas buried waste deep in ocean water pushed inland. Knowing full well what another hurricane could do, Ricardo decided to do his best for the animals nobody else was going to do anything about. As a result, one man managed to save over 300 dogs, more than a handful of chickens, a hedgehog, and even rabbits. And even sheep ended up finding some shelter under his patio roof.
The wind and rain howled against Ricardo's house, but it was going to stand and make it to another day. And for the animals he saved, they too were going to make it and live longer a well. The conditions afterwards were less than ideal. There was a tremendous amount of cleanup and removal of broken items that were needed. That said, the animals all seemed to understand what was going on and none of them attacked each other during the entire affair. They all made it through the hurricane safe, alive, and healthy.
For his neighbors and family, Ricardo's actions were no big surprise, however. The home and surrounding area were already well-known for being an animal sanctuary, a saving place for those creatures that either were not wanted, lost, too old to be adopted or similar. The sanctuary had managed to operate for at least a decade now, located 20 miles to the south of Cancun.
Ricardo needed help, however, during the hurricane. So, with his home computer and a basic Internet connection, he asked for help. Ricardo didn't need to say much; the photo of his room and house looked like a real-life version of a dog farm running free inside a house.
The storm passed, like they all do, but Ricardo still had 300 dogs plus the rest of the barn to take care of, feed, clean up after and relocate. Fortunately, unknown to Ricardo, his social media plea had gone into sharing mode at hyper speed. The photos and his request went viral, and everyone, thousands he never knew or will ever meet, began to help. In addition, his own neighbors chipped in and arrived to help Ricardo clean up the sanctuary as well.
In the big picture, Ricardo hopes the help can go farther and actually produce permanent homes for many of the animals he takes in, making room and allowing him to save additional new arrivals that always come in. It would be wonderful if the hurricane's outcome and attention translated into more, but Ricardo is definitely grateful for what was provided. He saved hundreds of lives among the animals he cared for. And, Ricardo even found a way to adopt one of the dogs he saved for himself as well.