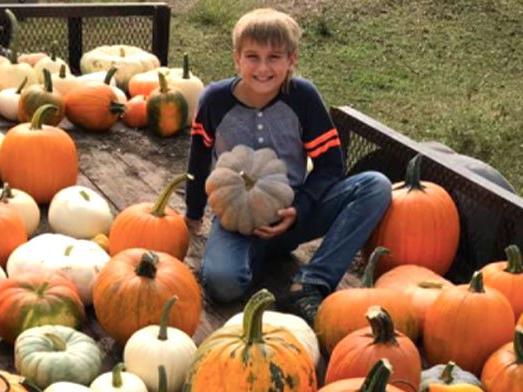 How One Kid Raised Funds For Cancer Patients By Selling Ugly Pumpkins
A kid named Charlie Jones has developed a weird zeal for ugly pumpkins, making a little fortune from selling them and thoughtfully, he's giving away the proceeds.
His act has left even him surprised. The front yard of his family's house can be seen with a display of several pumpkins.
"Ugly pumpkins, pretty pumpkins, jack 'o lantern pumpkins, gourds," he said.
Chris could have opted to planting normal pumpkins which looked nice and beautiful and might even attracted buyers, but it's the abnormal and ugly looking pumpkins that Charlie liked.
"I said, 'I'll keep some crazy pumpkins because not many people are going to stop,'" he explained
Surprisingly, sales trooped in.
"Yeah, a lot of people stopped," Charlie told 13News.
In early April, Charlie was on a tractor, tinkering with the plan of cultivating a large scale pumpkin field. At that time, the whole family with Charlie included had contacted coronavirus and had to isolate and recover.
"I was bored and it was a bummer of a year so far," Charlie said.
How did Charlie grow these weird looking pumpkins? He got seeds from rotten pumpkins.
"I would fill buckets at a time and take them into the house and clean them up," he said. We asked how his mom felt about the process.
"Oh yeah," Charlie replied with a smile. "She was fully thrilled."
Corrie Jones objected to her being excited.
"We might have a different opinion about that," she said with a big smile
The result was overwhelming. The family kept dispatching truckloads of strange looking pumpkins to several customers who patronized enormously.
"This was just amazing, truly amazing, people lining up for ugly pumpkins," Charlie said, shaking his head.
The proceeds, totaling $720 went to Boone County Cancer Society.
"He has a kind heart and a thoughtful, giving nature," Corrie said. "I was incredibly proud of him."
The executive director of the Boone County Cancer Society was thankful as coronavirus had disrupted their fundraising plans.
Charlie won't stop now and has plans to trudge on.
"The people don't stop having cancer, so why should I stop selling pumpkins?" he said.
Joyous Return of Assumed Extinct Mini Pig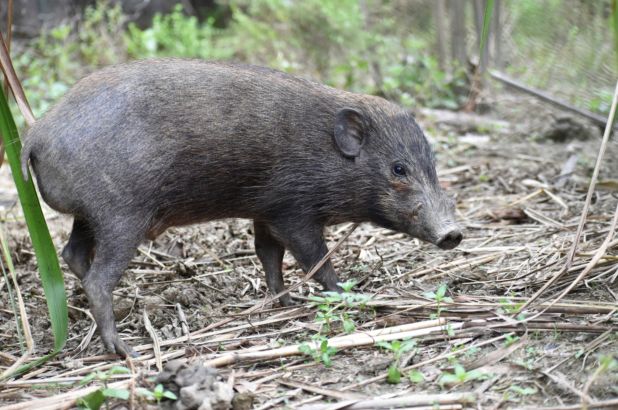 When animals go extinct, they become a footnote in history. The return of an assumed extinct species is not common. In fact, it's downright rare. So, in 1971, when the pygmy pig in India disappeared, many biologists and researchers expected the creature to be done for. The little creature normally lived in the foothills before the Himalayas reach up for the clouds and normally would reach a rocketing 10 inches in height off the ground. Given its natural size, the pygmy pig generally tried to stay out of sight to keep off the dinner menu of predators. It's own diet consisted of bugs and tubers, more than enough to keep the creature fed.
An Amazing Turnaround
However, after 100 years of human intervention and encroachment, by the 1970s the pig was written off. It wasn't until another 20 or so years later, researchers in the area managed to catch a few of the pygmy pigs alive. They nurtured them in captivity until they bred, and then the teams worked to continue increasing the pigs numbers. Finally, enough of a population was raised that the researchers could actually attempt to let the pygmy pigs go. The releases began in Assam, in the northeast part of India. And so began 25 more years of work trying to get the wild pigs to increase their number and avoid a complete wipeout. Today, some 300 to 400 creatures are estimated to be alive, running wild. Another 76 are held in reserve and continue to be raised in captivity, just in case. However, the best news is, the species is living again.
More Than One Colony Makes a Party
In addition to the original release in Assam, additional pigs have been released, with colonies established in Manas as well as Orang, both national parks in India, as well as a pair of animal sanctuaries.
The world can't afford to lose more species to extinction thanks to human development, including pigs. Currently, there are only 17 types of pigs left today. Without the efforts of conservationists, that number would drop further. Each extinction is like someone taking a giant eraser to a chalkboard of millions of years of evolution.
Of course, now the problem is nature itself as well. While the pygmy pig population has stabilized and is growing, the bigger problem is that they are still fragile. Swine flu and similar conditions can easily decimate these pigs before anyone can stop it simply through contagion. So, the conservationists have their hands full trying to keep the populations safe and separated from any carriers with potential viral threats.
Conservationism can be hard, and oftentimes it ends in disappointment trying to save an endangered creature. However, in India, this time the pygmy pig can be considered a win. And, if things stay on track, it should be able to re-establish itself very well.