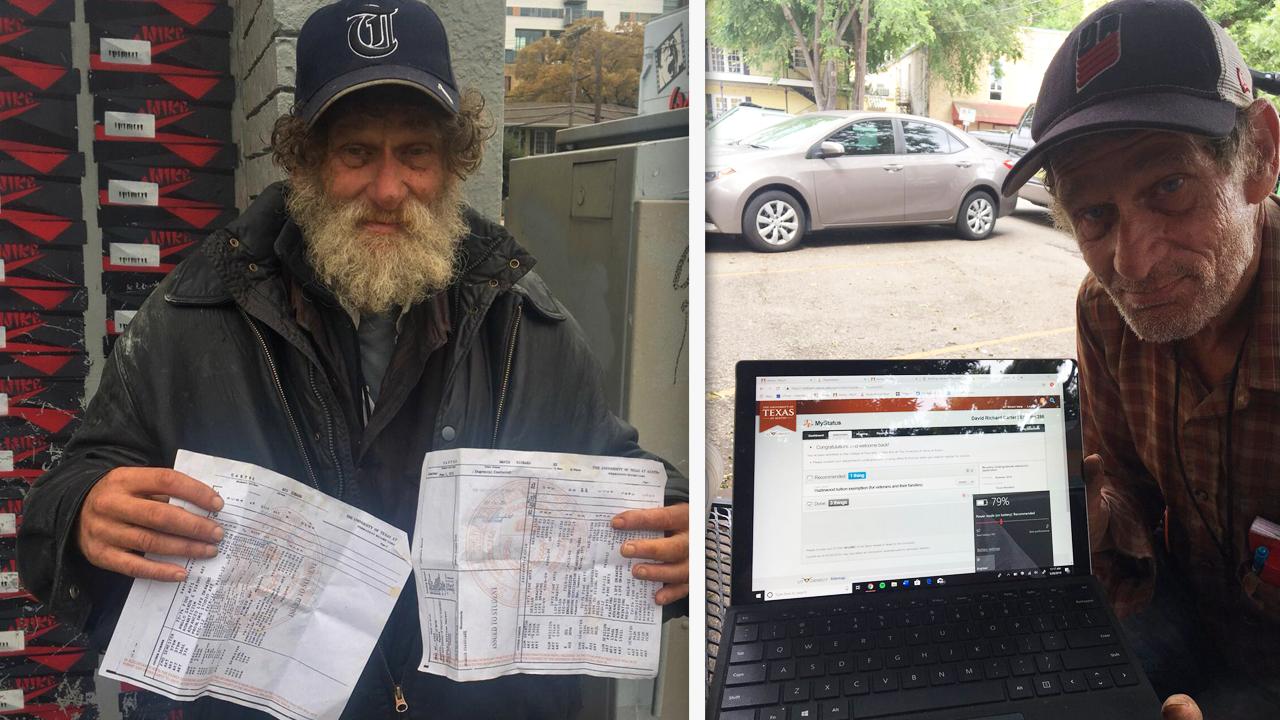 Homeless Texas Man Returns to College 40 Years Later
David Carter, 68, was homeless until the efforts of a Univerity of Texas student turned his life upside down.
Carter frequented the UT campus as a panhandler until a Junior-level Journalism student, Ryan Chandler, decided to interview him as part of an assignment on homelessness for the Daily Texan. What Chandler learned was shocking and timely. Not only was Carter a student in the College of Fine Arts back in 1971, but he'd dropped out of school when an alcohol-related accident put a swift end to his dreams of becoming an artist and writer.
In the interview, Carter detailed how the subsequent years had been a roller coaster ride with mental illness, substance abuse, and homelessness all playing a part. He'd hitchhiked cross-country, and then he'd returned to Austin to care for his parents.
David Carter's Return to College
Perhaps the most poignant part of the story was the part where Carter admitted that he'd been hanging around campus as a panhandler for the last six years in the hopes that he might someday return to the campus as a student to finish his degree in the College of Fine Arts. His story is part of an American-Dream-gone-wrong. He stands as a very real representation of so many Americans who have fallen on bad luck, triggered perhaps by a series of circumstances beyond his control. He had just one semester left before graduating with his degree when he dropped out of school.
The story went viral, and it really took on a life of its own. Then Chandler helped Carter navigate the complexities of reapplying for entrance into UT, and an anonymous donor helped out too. So Carter is returning to college to complete his degree, and this may just be the beginning of what could literally be a whole new chapter for him. He plans to research and write, which would seem to offer his own perspective on what it is to be homeless. He puts a unique face to the issues of homelessness and mental illness, with the intervening influences and tie-ins with substance abuse, family struggles and beyond.
The Rest of the Story
Now, since more than 40 years have intervened since Carter dropped out of school, his one-semester requirement until completion has expanded to at least four semesters at UT. The first tentative forays into college classes, U.S. History and Black Political Thought, are already underway this month. Summer session is just the first step toward immersion in a course load, as he works to realize the dream he's had for so many years.
The College of Fine Arts at UT announced that they would help Carter in any way that they could. Carter's persistent pursuit of higher education has been admired, applauded and supported by former Longhorns and community members. The story does inspire and it stands as a real-life reminder that it's never too late to go back to school and finish a degree, even when decades have intervened.
Africa's White Rhino Population Rebounds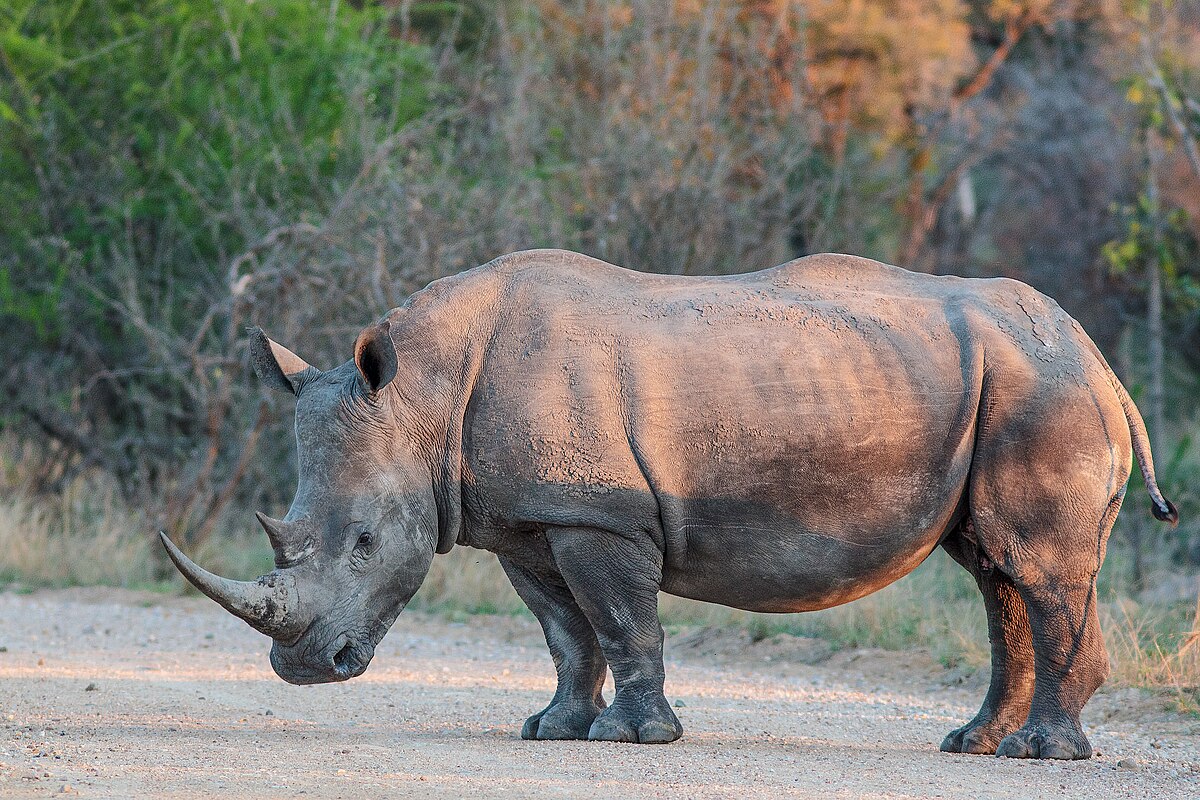 In a exciting turn of events, Africa's white rhino population has experienced a resurgence for the first time in a decade. At the close of 2022, there were 23,290 rhinos in total, marking a significant 5.2% increase from the previous year.
Rhinos are among the planet's most iconic and endangered creatures. These massive herbivores are known for their distinctive horns, which have unfortunately made them prime targets for poachers seeking to profit from the illegal wildlife trade. There are two main species of African rhinos: the white rhino and the black rhino. Both face grave threats to their survival.
The primary reason behind the perilous decline of rhino populations is poaching. Rhino horn, made of keratin (the same substance as human hair and nails), is mistakenly believed by some to have medicinal properties, and it is also highly sought after for its use in ornamental carvings. This misguided demand has led to a tragic increase in poaching activities, with rhinos being killed for their horns at an alarming rate.
Habitat loss is another significant threat to rhino populations. As human populations grow and expand, rhino habitats are encroached upon, leaving these animals with less space to roam and find food.
Despite these challenges, the recent increase in rhino populations is cause for celebration and renewed hope. The protection and biological management initiatives implemented by conservation organizations have played a pivotal role in this positive trend. Both black and white rhino populations have shown promising signs of recovery, with black rhinos increasing by 4.2% and white rhinos by 5.6%.
Dr. Michael Knight, chair of the IUCN's Rhino Specialist Group (AfRSG), expressed his relief, saying, "With this good news, we can take a sigh of relief for the first time in a decade. However, it is imperative to further consolidate and build upon this positive development and not drop our guard."
Nina Fascione, Executive Director at the International Rhino Foundation, emphasized that this rebound in rhino populations is not only a triumph for the rhinos themselves but also for the countless other species that share their ecosystems and the dedicated people who protect these lands.
The resurgence of rhino populations underscores the effectiveness of collaborative conservation efforts across Africa. Protected areas like Kruger National Park in South Africa have significantly boosted security measures to deter poachers, resulting in a decline in poaching incidents on their land. However, poachers have shifted their focus to smaller areas, such as the province-run Hluhluwe Imfolozi Game Reserve, which has borne the brunt of South Africa's rhino poaching in recent years.
Efforts to combat rhino poaching extend beyond national borders. U.S. Treasury Secretary Janet Yellen, during her visit to South Africa's Dinokeng Game Reserve, emphasized the need to follow the money trail associated with poaching, treating it as seriously as other crimes. This approach can help disrupt the illegal wildlife trade networks that drive rhino poaching.
While the increase in rhino populations is undoubtedly promising, significant challenges remain on the horizon. Competition over water resources and the resulting conflicts between communities and wildlife may bring humans and rhinos into closer contact, potentially leading to more poaching incidents. Poverty resulting from the loss of crops and livestock can also drive individuals to poaching as a means of income.
To ensure the continued recovery of Africa's rhino populations, it is vital to address these underlying issues and maintain unwavering commitment to conservation efforts. The rebounding rhino populations serve as a testament to what can be achieved when dedicated individuals, organizations, and governments work together to protect these magnificent creatures and the ecosystems they call home.