Homeless Texas Man Returns to College 40 Years Later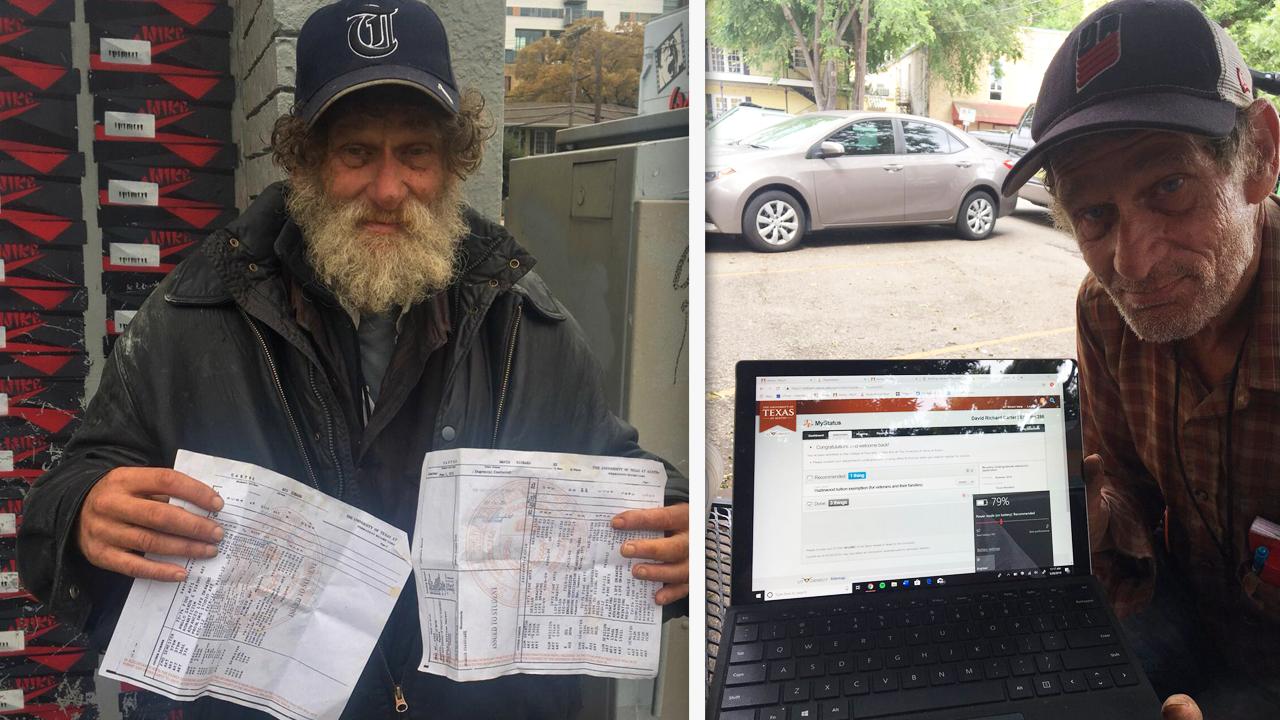 David Carter, 68, was homeless until the efforts of a Univerity of Texas student turned his life upside down.
Carter frequented the UT campus as a panhandler until a Junior-level Journalism student, Ryan Chandler, decided to interview him as part of an assignment on homelessness for the Daily Texan. What Chandler learned was shocking and timely. Not only was Carter a student in the College of Fine Arts back in 1971, but he'd dropped out of school when an alcohol-related accident put a swift end to his dreams of becoming an artist and writer.
In the interview, Carter detailed how the subsequent years had been a roller coaster ride with mental illness, substance abuse, and homelessness all playing a part. He'd hitchhiked cross-country, and then he'd returned to Austin to care for his parents.
David Carter's Return to College
Perhaps the most poignant part of the story was the part where Carter admitted that he'd been hanging around campus as a panhandler for the last six years in the hopes that he might someday return to the campus as a student to finish his degree in the College of Fine Arts. His story is part of an American-Dream-gone-wrong. He stands as a very real representation of so many Americans who have fallen on bad luck, triggered perhaps by a series of circumstances beyond his control. He had just one semester left before graduating with his degree when he dropped out of school.
The story went viral, and it really took on a life of its own. Then Chandler helped Carter navigate the complexities of reapplying for entrance into UT, and an anonymous donor helped out too. So Carter is returning to college to complete his degree, and this may just be the beginning of what could literally be a whole new chapter for him. He plans to research and write, which would seem to offer his own perspective on what it is to be homeless. He puts a unique face to the issues of homelessness and mental illness, with the intervening influences and tie-ins with substance abuse, family struggles and beyond.
The Rest of the Story
Now, since more than 40 years have intervened since Carter dropped out of school, his one-semester requirement until completion has expanded to at least four semesters at UT. The first tentative forays into college classes, U.S. History and Black Political Thought, are already underway this month. Summer session is just the first step toward immersion in a course load, as he works to realize the dream he's had for so many years.
The College of Fine Arts at UT announced that they would help Carter in any way that they could. Carter's persistent pursuit of higher education has been admired, applauded and supported by former Longhorns and community members. The story does inspire and it stands as a real-life reminder that it's never too late to go back to school and finish a degree, even when decades have intervened.
A baby bear, tiger, and a lion found in a basement 12 years ago are now best friends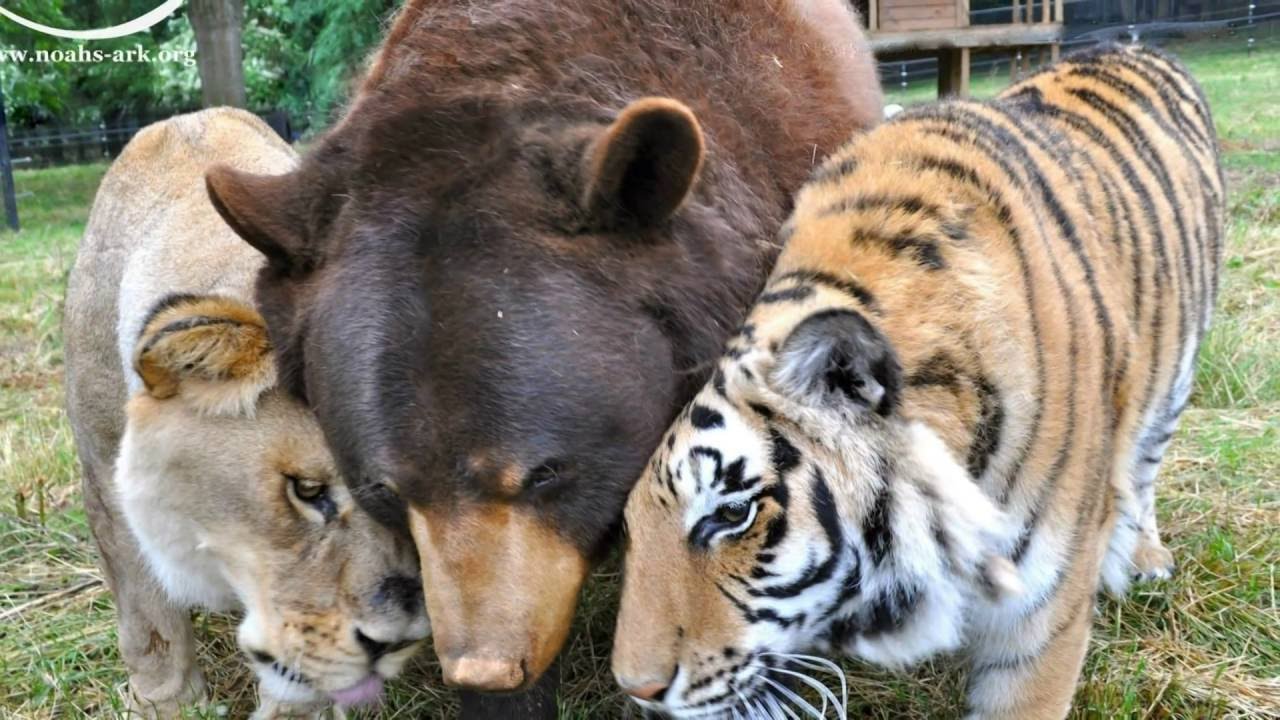 Wild animals try to stick to their natural habitat and they also tend to follow their natural social characteristics. For example, leopards are known to be very reclusive creatures and often prefer a solitary life. Bears and tigers are also not very social too.
In this fascinating story, a bear, a tiger, and a lion have grown up to become best buddies. In a video posted online, a 12-year-old Black Bear, named Baloo, walks over to his friend, Shere Khan, a Bengal Tiger, and cuddles with him as if they are brothers. Tigers don't even get along with their kin. So this friendship between the bear and tiger is even beyond kinship. To make things even more unbelievable, they have another friend, named Leo. You guessed it right, Leo is a lion.
What might explain this unusual friendship is their common history. 12 years ago, when these three animals were babies, they were being kept in terrible conditions in a basement. Fortunately, they were recovered by the police and bought to Noah's Ark Sanctuary in Locust Grove, GA. The three animals have cared for their entire life at the Sanctuary.
The staff at Noah's Ark Sanctuary have never heard of such friendship between a big cat and a bear. They do share the same habitat, especially in the Fat East, but any encounters between them as most aggressive or they just ignore each other and keep out of the way of the other. They don't walk up and cuddle each other. The staff at the sanctuary does point out that out of these three, Shere Khan has kept a little bit of natural wild mannerism but he is still very friendly. When it is sleep time, the trio shares the same room and cuddle together. They were kept as pets in that basement, which was legally not allowed. The owner of the basement was a drug dealer. They were confiscated and bought the sanctuary. Since then the owner of the sanctuary has looked after these three.
Unfortunately, Leo has passed away, leaving his loved ones with wonderful memories of him. He was 15 years of age when he passed away. He had been feeling sick and during surgery, his doctor found 80% of his liver was damaged. He could not have survived in such a condition. The difficult decision to let him go had to be made so that he does not suffer. His end in the world was peaceful.
Leo's best friends, Shere Khan and Baloo, were able to say a final goodbye to him. They have been doing all right since their best friend's departure. The staff at the sanctuary keeps a close eye to check off any worrisome signs of depression or change in behavior. The staff believes these two already knew Leo was terminally ill long before the staff was able to find out.
Leo's final resting place is located by the clubhouse at the sanctuary. Such compassion and bond in animals of different species are very rare. In the wild, they might have been foes, but at the sanctuary they were brothers. Their story is an example of when nurture overtakes nature. They grew up together and build a bond that went beyond the design of nature. Humans do not fully understand the communication or relationship dynamics of the animals. This story is an example of how wild animals can get along in the right environment.