Homeless Texas Man Returns to College 40 Years Later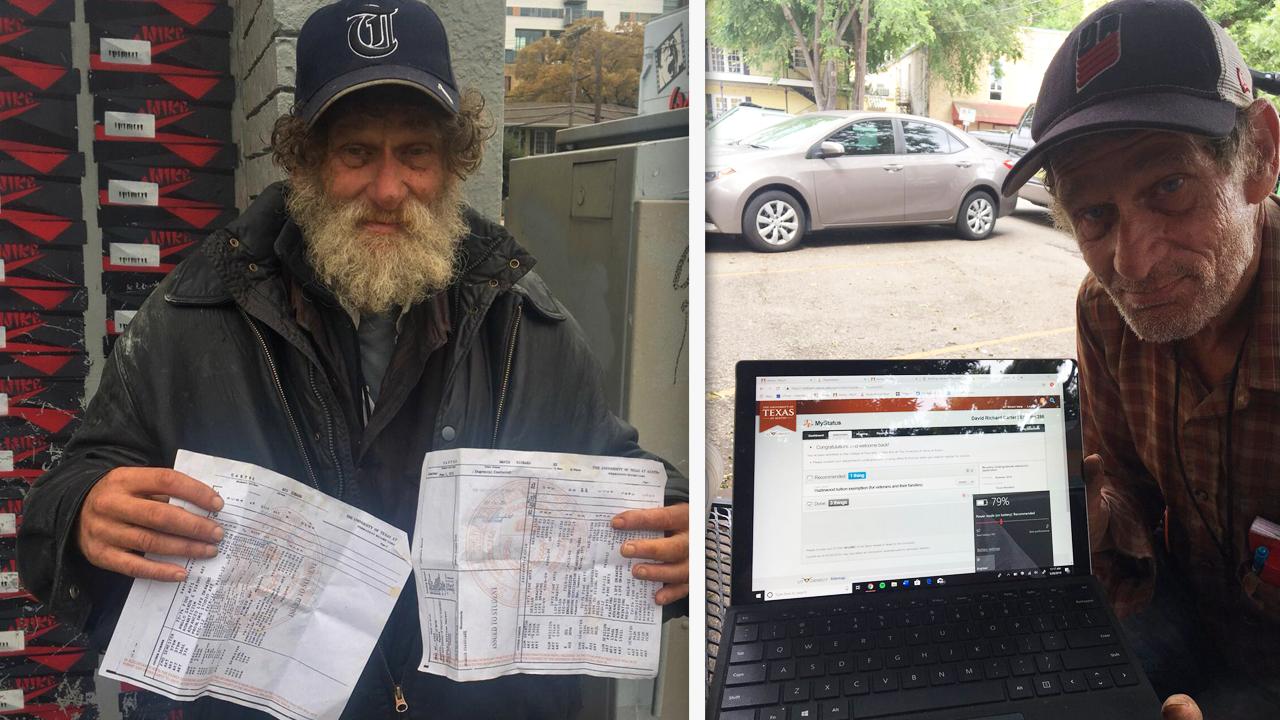 David Carter, 68, was homeless until the efforts of a Univerity of Texas student turned his life upside down.
Carter frequented the UT campus as a panhandler until a Junior-level Journalism student, Ryan Chandler, decided to interview him as part of an assignment on homelessness for the Daily Texan. What Chandler learned was shocking and timely. Not only was Carter a student in the College of Fine Arts back in 1971, but he'd dropped out of school when an alcohol-related accident put a swift end to his dreams of becoming an artist and writer.
In the interview, Carter detailed how the subsequent years had been a roller coaster ride with mental illness, substance abuse, and homelessness all playing a part. He'd hitchhiked cross-country, and then he'd returned to Austin to care for his parents.
David Carter's Return to College
Perhaps the most poignant part of the story was the part where Carter admitted that he'd been hanging around campus as a panhandler for the last six years in the hopes that he might someday return to the campus as a student to finish his degree in the College of Fine Arts. His story is part of an American-Dream-gone-wrong. He stands as a very real representation of so many Americans who have fallen on bad luck, triggered perhaps by a series of circumstances beyond his control. He had just one semester left before graduating with his degree when he dropped out of school.
The story went viral, and it really took on a life of its own. Then Chandler helped Carter navigate the complexities of reapplying for entrance into UT, and an anonymous donor helped out too. So Carter is returning to college to complete his degree, and this may just be the beginning of what could literally be a whole new chapter for him. He plans to research and write, which would seem to offer his own perspective on what it is to be homeless. He puts a unique face to the issues of homelessness and mental illness, with the intervening influences and tie-ins with substance abuse, family struggles and beyond.
The Rest of the Story
Now, since more than 40 years have intervened since Carter dropped out of school, his one-semester requirement until completion has expanded to at least four semesters at UT. The first tentative forays into college classes, U.S. History and Black Political Thought, are already underway this month. Summer session is just the first step toward immersion in a course load, as he works to realize the dream he's had for so many years.
The College of Fine Arts at UT announced that they would help Carter in any way that they could. Carter's persistent pursuit of higher education has been admired, applauded and supported by former Longhorns and community members. The story does inspire and it stands as a real-life reminder that it's never too late to go back to school and finish a degree, even when decades have intervened.
Experts Warn Pet Owners About The Dangers Of Himalayan Salt Lamps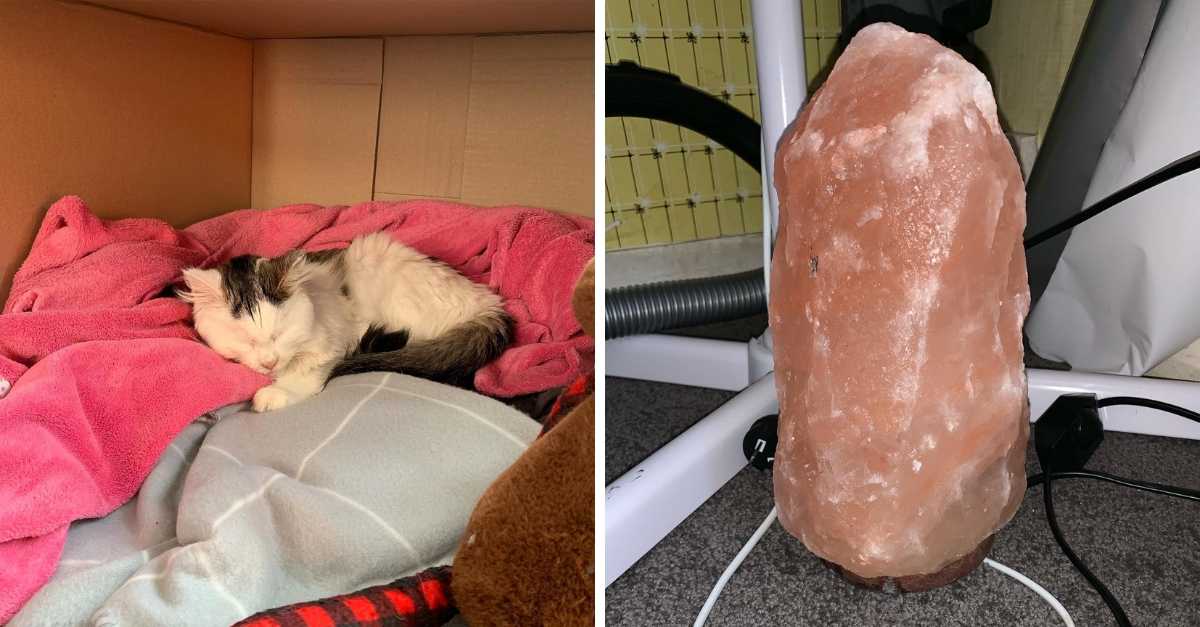 Pet owners are always looking to make sure that their four legged friends are safe and sound. It only makes sense, right? Our pets look to us for food, shelter and care. If we are not going to look out for them, who will? Now that Himalayan salt lamps are steadily rising in popularity, pet owners have been looking into the potential benefits that they have to offer.
These benefits are numerous to the owner but are these salt lamps truly safe for the pet? It is a question that certainly deserves answering. They might be a great addition to the home but these advantages could come at a cost to your pet. In a best case scenario, the lamps clean the air in the home and allow us to get a good night's sleep.
They are also said to offer a marked improvement to our serotonin levels. One woman has a horror story to offer about her cat and it is disconcerting, to say the least. The hidden dangers of these lamps need to be exposed, so that no other pets are forced to suffer from a similar fate. That's what makes this story such an important one to pass along and share with fellow pet owners.
After all, there are no shortage of people out there who are probably blissfully unaware of the issues that these lamps present. They reside at the intersection between home decoration and vital self care. It is easy to see why so many pet owners have already fallen under their spell. Maddie Smith was forced to wake up to a pet owner's worst nightmare recently.
Her cat was not behaving in her usual manner. Something was wrong with poor Ruby but Maddie was not sure what it was. Initially, she believed that the cat was simply feeling chilly. She tried her best to warm up Ruby and left for work. Unfortunately, the cat's condition slowly started to worsen. By the time Maddie was able to come back home, she could tell that something was seriously wrong with the cat.
When she took the animal to the vet's office, the connection between her condition and the Himalayan salt lamp that was being used had been revealed. Humans must avoid excessive exposure to salt and pets experience the same risk factors. These lamps release a sizable amount of salt into the air, causing pets to go through all sorts of harmful side effects.
If Maddie had not brought her pet to the vet's office when she had, we shudder to think of what may have happened next. Lamp owners need to take the proper precautions going forward. It all starts with proper lamp storage. The lamp cannot and should not be kept in an area that pets have easy access to. The owner should be storing the salt lamp far away from their animal.
Maddie's Facebook post about the matter was shared far and wide. She wanted to make sure that other pet owners did not make the same mistake as she did. It is easy to see how these errors happen, though. We mean well and we try our best to keep our homes looking and feeling nice. The last thing that any pet owner wants is to hurt their best friend.
Please do your part to assist other pet owners who might be experiencing similar issues by sharing this story. If you know someone who owns a pet and a Himalyan salt lamp, this is your chance to set things right. Ruby may have been licking this lamp excessively but she is going to be OK now! Let's do our part to make sure that other pet owners do not have to learn this lesson the hard way.