"Homeless Hero" Saves Multiple People from Fiery Highway Crash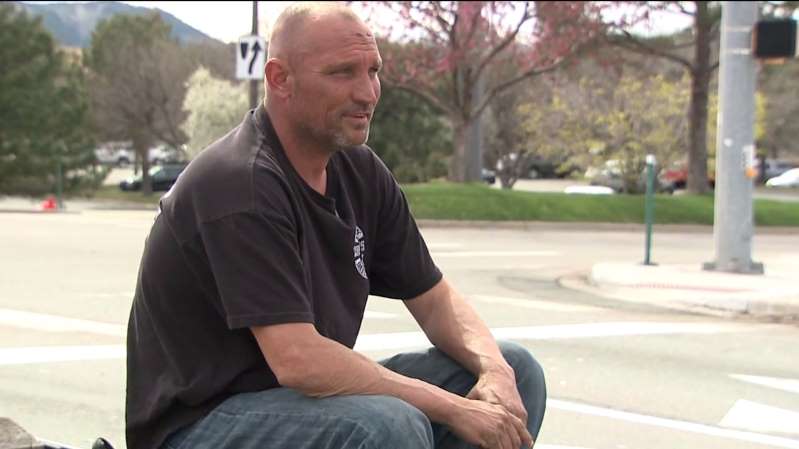 Just two short days ago a man named Darin Barton, who the people and news are calling the "Homeless Hero," saved multiple people from a fiery car crash on Colorado's Interstate 70.
Reports say the late April crash was caused by a truck driver that had lost control of his vehicle and collided with oncoming traffic. The same company has a bad history of problems with their vehicles. There are multiple reports letting trucks in need of repair on the road—including vehicles with break problems.
Luckily for the survivors of the crash, Darin Barton just happened to be passing by. Barton, a local homeless man, saw the crash happen and immediately sprang into action. He was able to pull several victims from the wreckage before emergency services arrived on the scene. The survivors of the crash are all lucky to have had the "Homeless Hero" passing by in their time of need.
Interestingly, this isn't the first time Barton has been a hero to the victims of a traffic accident. Two years ago, Barton saved a woman named Valerie Blease from a flaming car wreck. Blease describes how the collision left her confused and unable to escape her burning car when the "Homeless Hero" arrived and pulled her from the fire. She recalls that in the moment, she didn't know what was happening, only that someone was telling her there was a fire and she needed to get out.
Barton has become something of a local celebrity in Colorado despite his homelessness. He has appeared several times on the local news. Each of these appearances have been stories covering his heroics and even interviews with the "Homeless Hero" and the people he has saved. One of the victims of April's pileup said she "wasn't surprised" to learn that Barton had saved people from these kinds of wrecks before.
Not to leave this selfless hero unrewarded, the local community has banded together and raised thousands of dollars to help Barton in his time of need. Just like he has helped save people from car crashes on multiple occasions, the people of Colorado have come together to help Barton. Local news agencies have started a fundraising effort that has, so far, raised thousands of dollars to help cover Barton's costs as he finds work and a place to live. There have been some concerns that Barton may be the target of robbery given his insecure living situation and sudden rush to local fame, but a few local news agencies said they are working with local authorities to help ensure Barton's safety.
Darin Barton, the "Homeless Hero," is an inspiration reminder that even those of us with the least to give can still help people in the time of need. When interviewed, Barton said he was just helping people in need and hopes that others will be inspired to do the same.
North Carolina Teen Bitten by Shark, Unassailed
Paige Winter, 17, was swimming at Atlantic Beach in North Carolina with her sister when she was pulled under in waist-high water. It quickly became clear that it was a shark attack.
Paige initially gave in, perhaps initially not realizing that it was a shark. She'd thought it was a turtle. When she realized what was happening, she fought back hard. It is that tenacity and courage that has continued to aid her in her survival and recovery. She just would not give up.
Paige's Rescue
Witnesses reported screaming and panic. Paige's father, Charlie, is a paramedic, so he immediately jumped to her rescue. He dove underwater and punched at the shark until he was able to wrestle her free from the shark and carry her to the beach. A bystander offered a belt, which her father used as a tourniquet to stop the bleeding on the beach.
Paige was quickly transported via medical helicopter to Vidant Medical Center in Greenville, where her leg was amputated. She underwent additional surgeries for his leg, pelvis, and hand.
No parent ever would dream of seeing their child being dragged underwater by a shark, but her father's quick actions saved Paige's life. Then, bystanders and emergency medical personnel were a part of the rescue, as well as doctors and surgeons who worked to save Paige's life.
Next Steps
What lies ahead for Paige is recovery and rehabilitation as she learns to walk again with a prosthetic limb. She must also re-learn how to function with more limited functionality in her hands.
Paige's resilience is clear, though, despite the severe injuries she sustained, and the body altering surgeries. She remains positive and in good spirits. Her family says that she was groggy but already telling jokes when she first woke up after the shark attack in the hospital. Her continued road to recovery won't be easy, but her will to live and overcome the odds has already gotten her this far.
Doctors and also her father mentioned the serendipitous collision of chance encounters and dumb luck that both brought her to the beach that day but also saved her life. When so much could have gone horribly, impossibly wrong, enough separate events went right that she will someday walk again.
Paige survived. It's not all the "pieces of the puzzle." Some are missing, as she told Washington Post, but "it's okay." She still advocates for marine life and doesn't blame the shark for biting her and shaking her like that. Her message is about education, learning more about sharks and understanding.
Spunky as ever, Paige told the medic, "Don't be mad. Sharks are good people." That positive attitude and that willingness to forgive even in the face of a savage attack is part of what has made her story a viral sensation across media spheres.