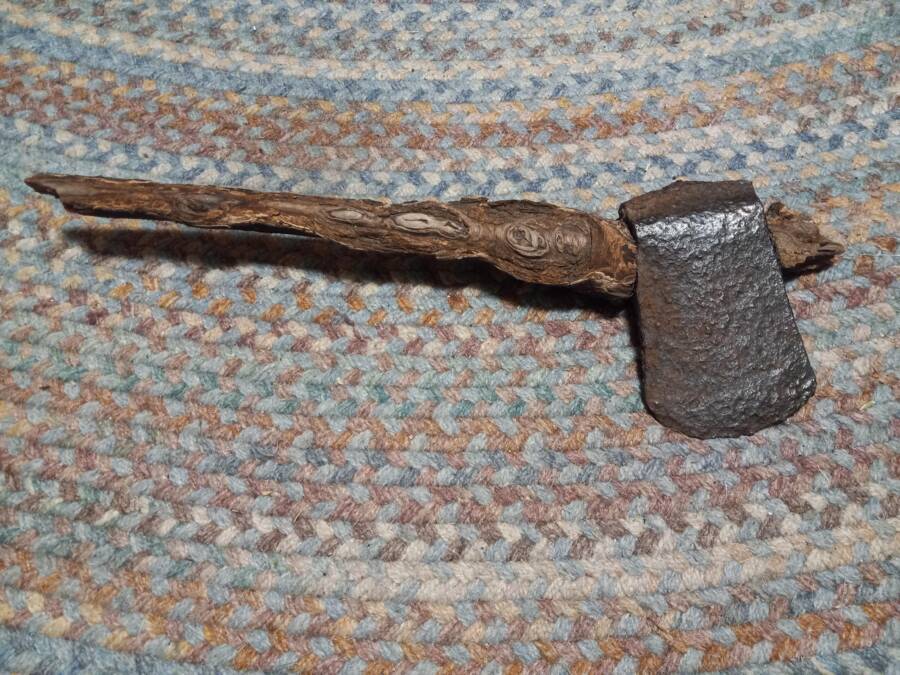 Historic Axe Head With a Root for a Handle Found In Kansas Yard
Storms are notorious for tearing things up, causing damage, and generally creating a big mess. However, in Kansas, they are also known for uncovering things that have been buried for decades, maybe even centuries. During one such downpour and blowing mess, Matthew Decker noted something out of place. As if it had been put in front of Decker's path immaculately, there was an axe head with a tree root for a handle.
Stopping in his tracks to figure out what exactly he was looking at, Decker used his foot to uncover the odd finding and expose it. Instead, even more of the root came up, essentially providing the length of a naturally made tool handle. The whole assembly looked like something out of a movie, making Decker think for a moment about when Thor or Odin were going to show up and claim their lost property any second later.
The weight of the root and axe head was notable. As he held it, the surprise of the whole thing had the man standing in the middle of the gale, and all he could think about was how crazy, amazing the whole discovery was. It helped that Decker already had a primed imagination from his long-time interest in the Lord of the Rings storyline and the video game, Elder Scrolls: Skyrim.
Once he got inside and dried off, Decker took photos of his axe discovery and posted them on Reddit, practically launching the whole event from his backyard into digital Sputnik orbit. The photo and comments took off like wildfire with kerosene added for good measure. Decker simply summed up the photo as a tree root grown through an axe he found in his yard.
Of course, given popular themes, lots of folks compared the axe head to Nordic myths and Hollywood replicas of Asgardian weaponry. One reader even went so far as to tell Decker he could rightfully take the title of Thor as a joke. The combination of being out in a storm when finding the axe head added to its Internet mythology.
However, others noted that Decker should run with the event and add to its story, give the event some embellishment and make the most of his 15 minutes of fame. Instead, Decker has decided to be a bit more practical; the axe head and root are for sale if there is a willing buyer. It's not out of greed though; the funds could really help Decker take care of his sick cat and the related vet bills. The animal's recent downturn hasn't helped its owner's finances, which were already tight. Ideally, Decker hopes a museum or similar venue wants to buy the axe head.
In the meantime, Decker is enjoying his claim to fame and all the attention it's been getting. He knows the fuss won't last forever. That said, the axe head itself has done a pretty good job of outlasting history so far, even when taken over by a tree.
A Boy Expected to Never Write Shows the World What 12 Fingers Can Do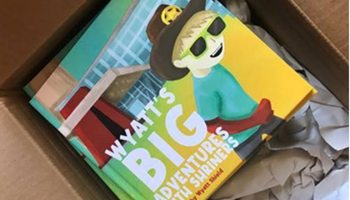 When Wyatt Shield was born, doctors immediately knew they had a developmental mutation case on their hands, no pun intended. The newborn boy was born with 12 fingers. Specifically, each hand came with an additional thumb. Technically known as thumb polydactyly, Wyatt was going to be able to live and function, but the use of hands for dexterity work like writing was going to be limited or none. Like many children with extra parts due to development mutations, Wyatt's extra thumbs were removed a year later thanks to the support and help of the Shriners Children's Hospital, located in St. Louis.
However, regardless of what the medical experts and doctors thought at the time, Wyatt wasn't keen on agreeing with their conclusion about his recovery. Instead, some five years later, Wyatt decided to become an author and write his first book. The story was about his experience at the Shriners' Hospital, from what he could remember, and what he was told about what occurred there to help him. Even more surprising, the book gained enough support to be published, and it's now in circulation.
The story of Wyatt's surgery trip covers all the different procedures he had to go through as well as his perspective of the doctors. It's a kid's view of the world clearly, and Wyatt wanted to show other kids not only could he prove medical experts wrong, but write a book doing so as well. His parents think Wyatt just rocks something huge. It's a classic outcome of what a child can pursue if he's not stopped first and prevented from achieving the "impossible."
The Shriner impact is a family thing for Wyatt and his parents as well. Wyatt's grandfather on his mother's side was a Shriner for a half century. Seeing the program give back personally to the family was a work effort coming full circle because of all the years of volunteering and support his grandfather provided Shriners before Wyatt was ever born. In the same vein, some of the profits from Wyatt's book sales will go right back to the Shriners, as Wyatt and his family wanted. It's a sense of paying forward for the next child that needs help like what Wyatt received for his hands.
And, as for Wyatt, he's off to his next adventure and challenge. His hands are doing just fine, and he's taking on new ideas for his next books as well.