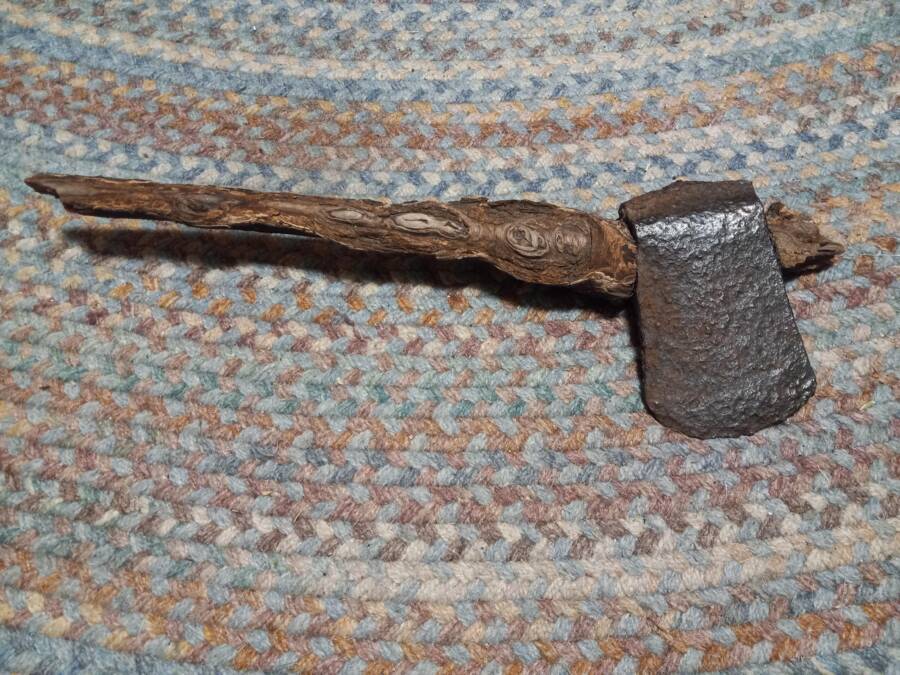 Historic Axe Head With a Root for a Handle Found In Kansas Yard
Storms are notorious for tearing things up, causing damage, and generally creating a big mess. However, in Kansas, they are also known for uncovering things that have been buried for decades, maybe even centuries. During one such downpour and blowing mess, Matthew Decker noted something out of place. As if it had been put in front of Decker's path immaculately, there was an axe head with a tree root for a handle.
Stopping in his tracks to figure out what exactly he was looking at, Decker used his foot to uncover the odd finding and expose it. Instead, even more of the root came up, essentially providing the length of a naturally made tool handle. The whole assembly looked like something out of a movie, making Decker think for a moment about when Thor or Odin were going to show up and claim their lost property any second later.
The weight of the root and axe head was notable. As he held it, the surprise of the whole thing had the man standing in the middle of the gale, and all he could think about was how crazy, amazing the whole discovery was. It helped that Decker already had a primed imagination from his long-time interest in the Lord of the Rings storyline and the video game, Elder Scrolls: Skyrim.
Once he got inside and dried off, Decker took photos of his axe discovery and posted them on Reddit, practically launching the whole event from his backyard into digital Sputnik orbit. The photo and comments took off like wildfire with kerosene added for good measure. Decker simply summed up the photo as a tree root grown through an axe he found in his yard.
Of course, given popular themes, lots of folks compared the axe head to Nordic myths and Hollywood replicas of Asgardian weaponry. One reader even went so far as to tell Decker he could rightfully take the title of Thor as a joke. The combination of being out in a storm when finding the axe head added to its Internet mythology.
However, others noted that Decker should run with the event and add to its story, give the event some embellishment and make the most of his 15 minutes of fame. Instead, Decker has decided to be a bit more practical; the axe head and root are for sale if there is a willing buyer. It's not out of greed though; the funds could really help Decker take care of his sick cat and the related vet bills. The animal's recent downturn hasn't helped its owner's finances, which were already tight. Ideally, Decker hopes a museum or similar venue wants to buy the axe head.
In the meantime, Decker is enjoying his claim to fame and all the attention it's been getting. He knows the fuss won't last forever. That said, the axe head itself has done a pretty good job of outlasting history so far, even when taken over by a tree.
Safe Haven for Pets Who's Owners Enter Rehab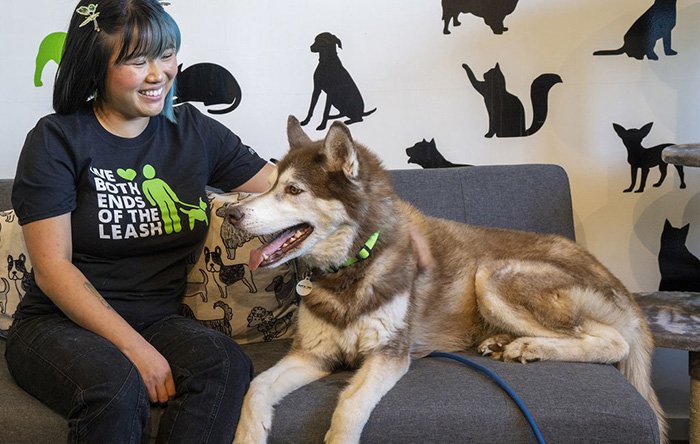 No pet owner likes to leave their pets for extended periods, no matter the reason for leaving. It's no different for people who may have drug or alcohol issues and might need to go for rehabilitation.
Not knowing who to leave the pet with or the level of care it will receive can lead to anxiety. However, there's a new resolve for people faced with that situation. Read on…
Bella was skeptical as she put her head up from inside the carrier she was being transported on to the boarding house.
A volunteer massaged the little black-and-white cat's hair to calm her fear of the dogs barking at the boarding facility's back.
The cat goes by the alias Bella since her owner, who's dealing with a tough time at home, wants to keep her cat's real name a secret. Pets in need of emergency shelter can stay with a foster family at Ruff Haven Crisis Sheltering, which provides short-term, no-cost accommodation for animals whose owners are homeless or fleeing domestic abuse.
Odyssey House, Utah's largest integrated addiction treatment center, and the foundation have just teamed up to offer three months of no-fee pet lodging to those who need it most.
"This is truly person-based, like person-led," said Beth Henry, Ruff Haven's foster coordinator. Pets are returned to their owners once treatment is complete and they have achieved a sense of security and well-being.
Enrollment and documenting of the owner's present status, followed by a brief examination of the pet (weight and overall health), immunizations, and ensuring that the animal is either fixed or is scheduled to be treated, are the first steps in the process of adoption.
The pet then gets connected with a foster home, and the owner receives weekly SMS updates on the progress of their animal. When a client and their pet are apart, Ruff Haven's fosters send videos and pictures of the pet to the client.
Several clients have the option of having their dogs dropped off for the Dogs All Day program by their foster parents, and their owners can come to meet them.
Henry stated, "It's a terrific confidence boost for them." In some cases, dogs are kept at the Dogs All Day center since their owners prefer to be able to visit them every day… It's rare for them to be greeted by their loved ones every single day. The stress of living with a cat is very hard on them.
In a press release, Adam Cohen, CEO of Odyssey, stated that pets can be a motivation for people to stay in difficult situations because they are worried about how their animals will be cared for if they are not there.
However, Ruff Haven Crisis Sheltering, which launched in June 2020, has already aided 320 families and almost hundreds of animals since then.
Owners often worry that they'll forget their pets during this time, but "the pets don't ever forget their owner," according to Kristina Pulsipher, the executive director at Ruff Havens. We do this for the reunions. And many of our former clients are now either volunteers or foster parents for us.