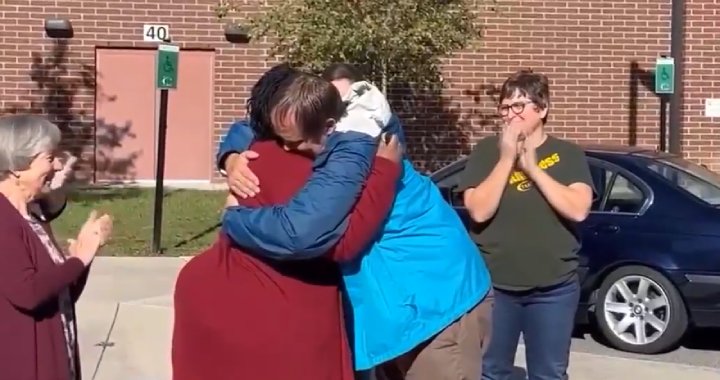 High School Auto Tech Students Gift Car to Single Mother of Six: A Life-Changing Surprise
In an inspiring act of kindness, a group of high school auto tech students in Virginia has banded together to gift a car to a single mother of six children, Michelle Mendez. The heartwarming gesture, the result of a year-long endeavor, has made a profound impact on the recipient, transforming her life for the better.
Michelle Mendez, a resilient single mother, found herself facing the daily challenges of raising six children, navigating life's hurdles with admirable strength. The gift she received was not just any car but a lifeline to ease her everyday struggles.
"They've really been helping me to get this car. It's just been hard," Michelle expressed, reflecting on the difficulties she faced. "I really appreciate everything to make this happen."
The auto tech students, under the banner of a program named "Giving Words," had dedicated themselves to an entire year's worth of hard work to restore a car for this noble purpose. Their dedication and commitment to making a positive difference in Michelle's life is a testament to their compassion and selflessness.
The heartwarming act garnered further support from the Rappahannock Electric Cooperative, which awarded Giving Words a generous sum of $10,200 to help secure the vehicle for Michelle. The cooperative's Casey Hollins, who could empathize as a single mother herself, recognized the magnitude of this gift, saying, "I was also a single mom, so I can completely relate to what this mom's needs are, and it's a really moving experience."
The "Giving Words" initiative was founded by Eddie Brown and his wife with the aim of making a tangible difference in the lives of single mothers. The impact of their work goes beyond the surface; it instills hope and transforms the recipients' futures, particularly in this case where Michelle Mendez and her six children have seen their lives brightened by the generosity of the auto tech students and the cooperative.
Eddie Brown emphasized the profound impact this gift has had, stating, "The component that I look at is just the hope, and just seeing that in her eyes as she received this car and just the excitement – and what it means for her boys, too."
The story of Michelle Mendez and the high school auto tech students serves as a powerful reminder of the incredible impact that kindness, teamwork, and empathy can have in transforming lives. It's a testament to the strength of communities coming together to make the world a better place, one act of kindness at a time.
Jughead's Journey: A Dog Is Rescued After Surviving With Jug On Head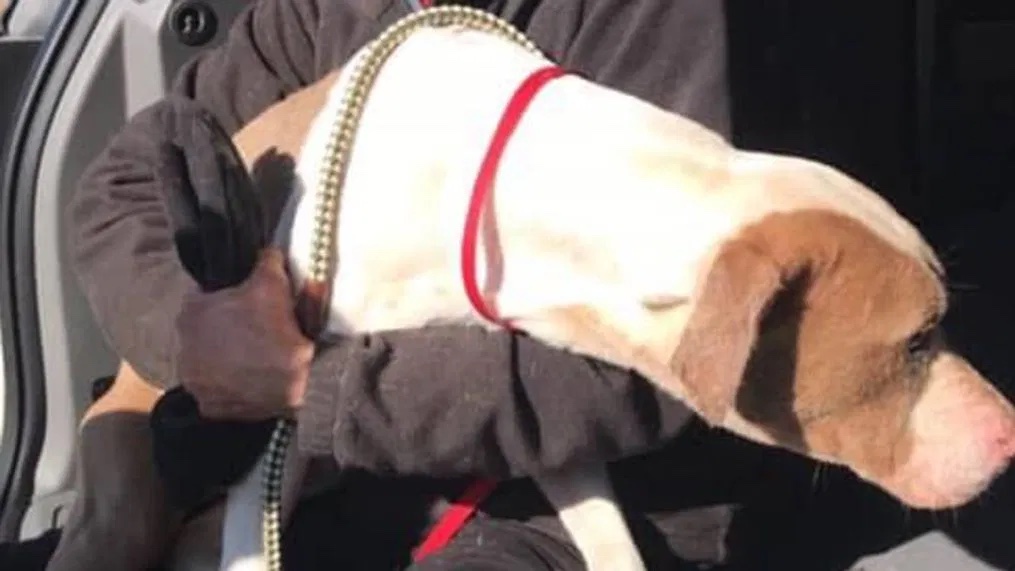 In the quiet neighborhoods of Montgomery County, Texas, a furry friend named Jughead found himself in a tight spot—literally. This courageous canine had inadvertently stuck his head inside a jug, turning a simple act of scavenging for food into a perilous predicament. Little did he know, a compassionate woman named Teri Goodnight would become his guardian angel.
Jughead, a stray dog with a name as unique as his misadventure, was affectionately dubbed after the container that caused his troubles. The jug, which turned out to be a cat feeder, became a makeshift helmet for poor Jughead, restricting his vision and creating a challenging barrier to eating and drinking. Enter Teri Goodnight, a woman with a heart full of compassion and a determination to make a difference.
Teri spent an entire month, investing not only time and effort but also several hundred dollars in fuel, on a mission to rescue Jughead. His elusive nature made the task a formidable challenge, as he roamed the neighborhoods near FM 1314 and Lazy Lane in the Porter area. But Teri refused to give up.
"We took wire cutters and cut all the way around it and pulled it off of his head. So this was the only way he was able to eat and drink or see," Teri explained. Despite the initial fear that Jughead couldn't breathe, it became clear that he could still manage essential functions. Yet, Teri's determination to free him from his plastic prison only intensified.
Jughead's story is not one of despair but of resilience and triumph. Teri's tireless efforts paid off, and Jughead, along with his friend Red, was finally captured and rescued. The jug was removed, unveiling a grateful pup who could now enjoy the simple pleasures of life without hindrance.
Reflecting on the emotional moment, Teri shared, "I literally cried for 10 minutes after I caught him, I just broke down started crying. I was relieved it was over." Jughead's rescue was not just a personal victory; it represented the power of kindness and the difference one person can make in the life of an innocent creature.
Now under the care of the East Texas Hoof and Paw Animal Rescue, Jughead and Red have a chance at a brighter future. Teri expressed her hope that they would find loving homes, breaking free from the challenges of street life.
"These two had a foster, they are now with a rescue so they will be vetted and adopted out and go to loving homes and not have to be street dogs anymore," Teri joyfully shared, emphasizing the transformative impact of compassion and dedication in the world of animal rescue.
Jughead's journey from a jug-bound wanderer to a hopeful candidate for a forever home is a testament to the remarkable bond between humans and animals, proving that sometimes, all it takes is one person with a big heart to change a life.