Here's How To Successfully Introduce Your Dog To The New Baby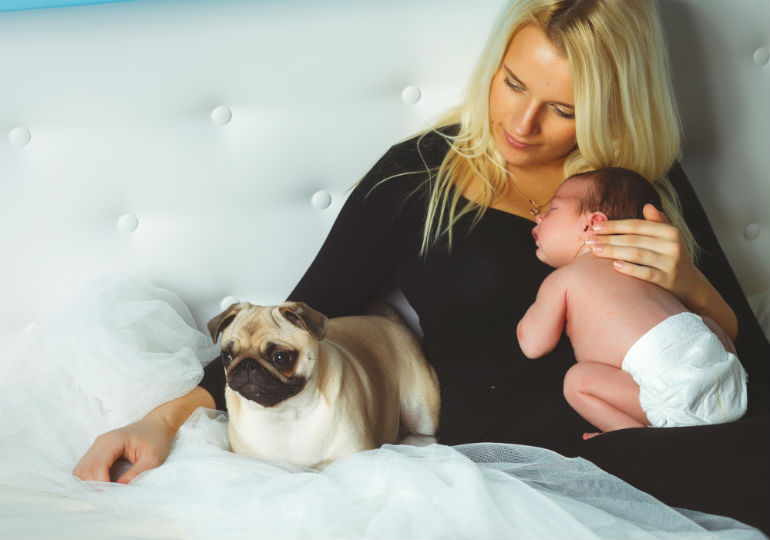 Introducing Your Dog and Your Baby: Two Future Best Friends
You know this relationship has the potential to be one of the best your child will ever get to experience, but that first introduction can be difficult. You want to make sure both your baby and your pet are happy and safe, so their first introduction needs to go well. Sometimes your dog will be jealous of your baby, but with a little preparation, you can make sure everything goes well. Here are some tips for helping your dog and baby have a great first meeting.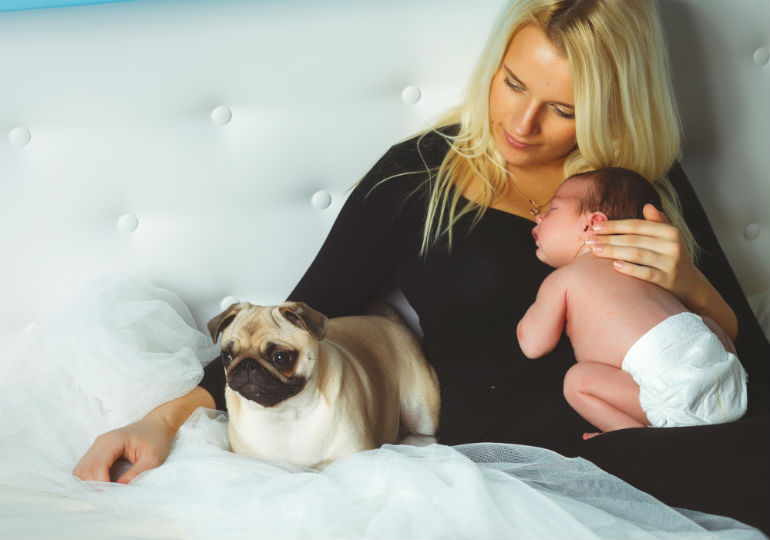 Mix Up Your Routine
You don't have any idea what kind of schedule your baby will be on in the beginning, and that could make things rough on your dog. Dogs get used to a routine, expecting you to feed them and walk them at certain times. Pets will even watch for you when they know it's time for you to be done at work and come home. For a month or two before the baby comes, get ready by mixing up the schedule, so it won't be as hard on your dog when there is a big new change. It may seem difficult, but if you give your pet less attention leading up to the big day, they are less likely to blame it on the baby later.
Practice Your Training
It may seem silly, but get your dog to practice all of his commands. Dogs tend to have a short attention span and poor impulse control, and you can help your pet cope by practicing those skills that build self-control. Also, work on other habits, like making sure your dog knows not to jump all over you or any other new people.
Limits and Boundaries
Some people treat their pets as other members of the family, allowing them on all the furniture and in their beds at night. While that is perfectly acceptable, you may want to start practicing some rules and boundaries well before the baby comes. In fact, it is a good idea to make the baby's room off limits in the beginning while your pet gets used to the new member of the family. Make sure your dog gets to sniff around, but don't let him in the room at first.
Wait Until a Calm Time Before Actual Introductions
Again, dogs can be nervy and lack impulse control. Prepare for the first meeting by having a high energy walk or game, so your pet is tired and satisfied with the attention. Have one person hold the baby, and make sure everyone is calm and speaking in low, soothing voices. Watch how the dog interacts with the baby; it doesn't hurt to go slow. The first time they meet might just involve some sniffing, and you can gradually increase their contact as they get to know each other.
If Your Dog Becomes Aggressive
Don't allow aggression at all. Separate your baby immediately, and wait a little while to try again. There is nothing more important than your baby's safety, and it's all right to be patient and take your time. Sometimes you can't solve the problem yourself, but there are plenty of professionals who can help.
Good luck with the new member of your family, and hopefully they can become best friends for life.

Dirt Biking Couple Reunites Stray Dog With His Family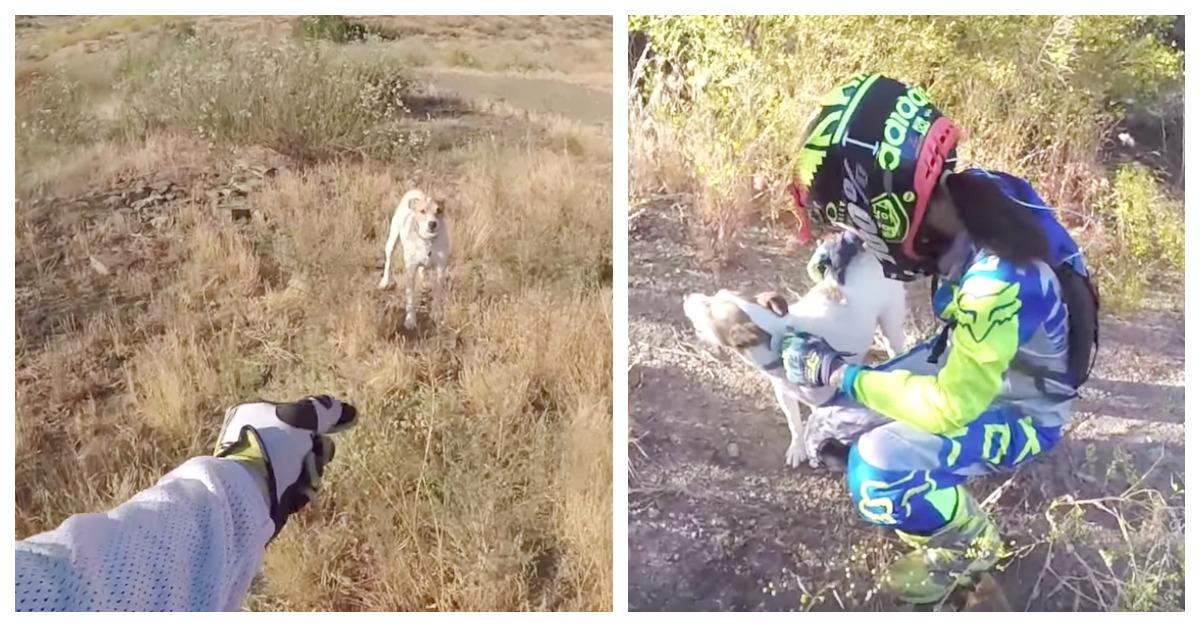 Southern California is a hotbed for people watching, But it is also a place where escaped dogs roam freely. One was reunited with his family thanks to the efforts of a couple out for a dirt bike ride. Gina and Dan were minding their own business, enjoying the Southern California weather. They took a video of their encounter with a dog that was out to have his own adventure.
When Gina and Dan first spotted the dog, they tried to approach him gently. Riding their dirt bikes, they began to trail behind the dog. Just as Dana was approaching him to grab him, he began to bark and promptly took off ahead of them. This didn't deter the couple, and they continued to trail him. When they eventually caught him, Dana read his dog tags to determine who his owner was.
Finding his name and a phone number on his tags, she promptly called it and left a voicemail message for the recipient. In the meantime, they took a seatbelt from their dirt bike and repurposed it to be a leash so that he couldn't run away from them again. They also gave Max some of their bottled water so the dog could keep cool and stay hydrated. The dog was so thirsty he drank the entire bottle, much to Gina's utter delight.
Gina and Dan looked after Max until his owner contacted them. Arrangements were then made for Max's owner to get him back. In the meantime, Max had made friends with Gina and Dan. Max liked them so much he promptly made the leap from the ground to the back of Gina's truck. Max is one dog with a strong intuition of his own, and that intuition told him when his owner was approaching Gina's truck to take Max back home.
This story illustrates how easy it is for people to bond with their dogs. It also shows that considerate people like Gina and Dan look out for others. With dogs getting away from their owners virtually every day, people are encouraged by stories such as this one. Anyone who has ever lost a dog knows how important it is to look out for others. Many stray dogs have been reunited with their owners due to the kindness of strangers. That kindness is something that dogs bring to the world, as dogs bring people together as nothing else can.
Max's story is an inspiring one with a happy ending. Seeing a lost dog reunited with his or her owner is something that everyone can appreciate. It tugs at the heartstrings of those who understand how important pets are to people. As members of the family, pets deserve to be looked after as much as anyone else does. People like Dan and Gina are invaluable in helping others reunite with the pets they love so much.