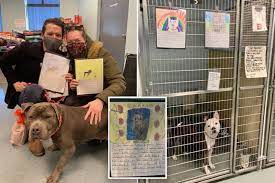 Heartfelt letters from Virginia students help Locate Homes for Pups
Nothing moves the heart as quickly as when a child makes a genuine plea. This is even more so if the child's plea is related to something that could impact lives. That's exactly what happened when several second graders realized that some unwanted pups were in desperate need of homes. The genuine innocent pleas for help reached many homes and sparked quick responses.
Shelter animals in need of a new home are being promoted by a team of primary school kids.
In Richmond, Virginia, students in second grade at St. Michael's Episcopal School have produced artwork as well as accompanying letters written from the viewpoints of cats and dogs to possible "parents."
"Hello! Potato Chip is my name. One such anecdote began, "I'm a Pitbull!" If you don't mind my kissing you a million times a day, I promise not to injure you." Slurp! Animal shelters are great, but I'd rather live with you!!
Christie Peters, the Richmond Animal Care & Control (RACC), Director, told the media that she and her son's teacher, Kensey Jones, collaborated on the initiative.
Peters said that Jones was the "inspiration" behind the lovely letters.
According to Peters, "the students were concentrating on persuasive writing and they produced pieces as though they were advocating in favor of the shelter dog that is seeking to get adopted". So, "That's the coolest idea… we should do it." "I said,"
Students at St. Michael's were given a cat or dog from RACC, according to a school spokesman.
As a result, they were "briefed" on the animals' history and disposition.
To encourage people to adopt an animal, these stories and images were tacked on the exterior of kennels and placed in the hands of passersby.
Jones, who is also a volunteer at the RACC, noted in a press release that this classroom project partnership allows her to combine her two greatest passions: children's reading and aiding animals in need."
As one teacher put it, "I am very proud of my pupils for rising to the challenge and writing excellent persuasive essays from the perspective of a RACC dog."
"All dogs, particularly Snow [the puppy ambassador], deserve a happy home." Danielle Petroski, a second-grader at St. Michael's Catholic School, expressed her joy at being able to help rescued animals find new homes.
According to Peters, there were around 24 stories concerning dogs and one about a cat.
Students were instructed by Peters and Jones to focus on RACC's oldest residents, as well as those who had lived there the longest, as well as creatures in need of "a little additional attention."
Once their narrative was written and then read, eight animals were swiftly adopted, according to Jones.
This is such an innovative way of bringing exposure to this school, and I hope it's something other shelters throughout the nation do to promote their shelter animals, Jones added.

American Couple's Kindness Shines in Snowy Adventure with South Korean Tourists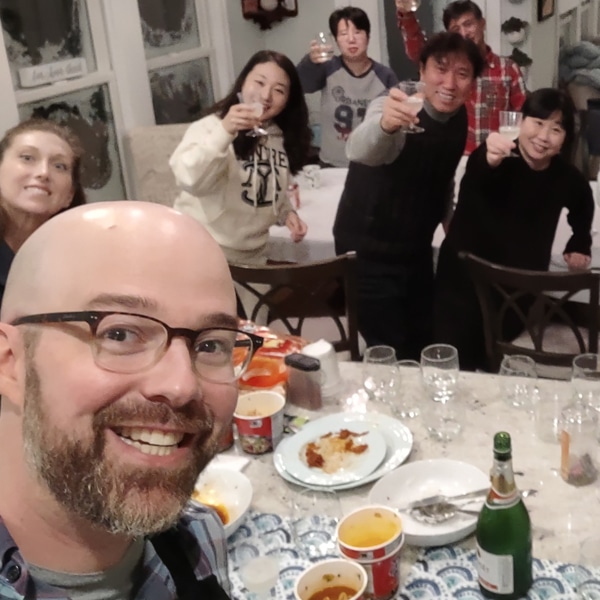 In a heartwarming tale of kindness and friendship, an American couple from Buffalo, New York, opened their home to a group of stranded South Korean tourists during a severe blizzard on December 23rd. What started as a simple request for shovels turned into a heartwarming story that went viral, bringing people together across borders. The couple's act of compassion not only provided shelter but also sparked an enduring bond that led to a special reunion in South Korea. Let's delve into this remarkable story and explore the lasting impact of their selfless act.
As the blizzard raged outside, ten South Korean tourists found themselves stuck in their van, unable to move through the heavy snow. Seeking assistance, they approached a nearby house and requested shovels to dig themselves out. However, they received much more than they had anticipated. The couple, who had prepared for a quiet Christmas at home, welcomed the strangers with open arms and invited them inside.
The storm had brought these strangers together, creating an opportunity for cultural exchange and friendship. During the two nights and three days they spent together, the couple and their unexpected guests bonded over stories, shared meals, and even watched American football. The couple, who had a deep appreciation for Korean cuisine, surprised their guests with an array of Korean food ingredients. The South Korean visitors were amazed to find soy sauce, mirin, chili powder, chili paste, a rice cooker, and Korean cookbooks, as if the couple had been preparing for their arrival.
News of the couple's kindness quickly spread across the internet, captivating hearts around the world. Social media platforms buzzed with messages of admiration and appreciation for their selfless act. Many people were inspired by their story and were motivated to perform acts of kindness themselves. The couple received an outpouring of support, with kind messages, cards, and generous gifts from various Korean groups, including a year of free fried chicken at Genesis BBQ.
Months later, in May, the couple embarked on a 10-day tour of Seoul, graciously invited by the Korea Tourism Organization. This visit was not merely a sightseeing adventure but a chance to reunite with the guests they had sheltered during the blizzard. Andrea, the wife, expressed her gratitude and joy, saying, "To see everyone in Korea again is such a blessing." The couple had always held an appreciation and interest in Korean culture, and their chance encounter had brought them closer to this beautiful country.
The bond forged during their time together in Buffalo proved to be strong and lasting. The couple and their South Korean guests became lifelong friends. The experience inspired not only the couple but also their guests, who felt compelled to pay it forward and spread kindness to others. Through their act of compassion, the American couple created a ripple effect of goodwill, reminding us of the power of empathy and humanity.