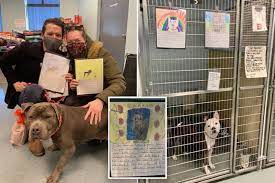 Heartfelt letters from Virginia students help Locate Homes for Pups
Nothing moves the heart as quickly as when a child makes a genuine plea. This is even more so if the child's plea is related to something that could impact lives. That's exactly what happened when several second graders realized that some unwanted pups were in desperate need of homes. The genuine innocent pleas for help reached many homes and sparked quick responses.
Shelter animals in need of a new home are being promoted by a team of primary school kids.
In Richmond, Virginia, students in second grade at St. Michael's Episcopal School have produced artwork as well as accompanying letters written from the viewpoints of cats and dogs to possible "parents."
"Hello! Potato Chip is my name. One such anecdote began, "I'm a Pitbull!" If you don't mind my kissing you a million times a day, I promise not to injure you." Slurp! Animal shelters are great, but I'd rather live with you!!
Christie Peters, the Richmond Animal Care & Control (RACC), Director, told the media that she and her son's teacher, Kensey Jones, collaborated on the initiative.
Peters said that Jones was the "inspiration" behind the lovely letters.
According to Peters, "the students were concentrating on persuasive writing and they produced pieces as though they were advocating in favor of the shelter dog that is seeking to get adopted". So, "That's the coolest idea… we should do it." "I said,"
Students at St. Michael's were given a cat or dog from RACC, according to a school spokesman.
As a result, they were "briefed" on the animals' history and disposition.
To encourage people to adopt an animal, these stories and images were tacked on the exterior of kennels and placed in the hands of passersby.
Jones, who is also a volunteer at the RACC, noted in a press release that this classroom project partnership allows her to combine her two greatest passions: children's reading and aiding animals in need."
As one teacher put it, "I am very proud of my pupils for rising to the challenge and writing excellent persuasive essays from the perspective of a RACC dog."
"All dogs, particularly Snow [the puppy ambassador], deserve a happy home." Danielle Petroski, a second-grader at St. Michael's Catholic School, expressed her joy at being able to help rescued animals find new homes.
According to Peters, there were around 24 stories concerning dogs and one about a cat.
Students were instructed by Peters and Jones to focus on RACC's oldest residents, as well as those who had lived there the longest, as well as creatures in need of "a little additional attention."
Once their narrative was written and then read, eight animals were swiftly adopted, according to Jones.
This is such an innovative way of bringing exposure to this school, and I hope it's something other shelters throughout the nation do to promote their shelter animals, Jones added.

A Funny-Named Bat Gets Australian Top Honors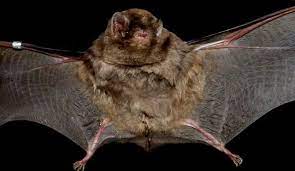 When winning an election, it helps be popular. That was the case for one particular mammal. Over the period of a month and a half, or six weeks, a massive voting event occurred. Some 50,000 animals were included on the ballot. And only one of them was going to be the winner. If selected, the particular animal would be voted as the Australian Mammal of the Year, and the 2022 selection would be the first one of the event in history, a pretty hefty title even if that particular mammal had no clue about its significance.
As it turned out, with a whole lot of voting and wondering and finally a selection, the winner turned out to be, hold tight, the Southern Bent-Wing Bat. Yes, a flying animal won the honors for being the inaugural mammal chosen for the title above.
The dingo was assumed to be a favorite, but that contender fell by the wayside pretty quickly in the early weeks. Day after day, week after week, the Bat just kept climbing the ranks and holding on, almost as if playing out a voting version of what it's been doing in nature, surviving as a microbat and an endangered species.
In real life, the Southern Bent-wing Bat doesn't live in such a glamorous hallway or venue as the voting podium online. Instead, it's a cave-dweller, making a home in the stretch between the southeast part of South Australia as well as Victoria. Sizewise, the Bat is extremely small too, only measuring some 5 centimeters in terms of body length. It's practically a feather in terms of weight.
Like other bats, the Southern Bent-wing Bat uses its ears and echo-location to find its way while flying, as well as to hunt. The Bat can definitely see, but all of its primary sensory work happens with ears and listening. It's also a long-distance flyer, usually traveling well over 70 kilometers at night to find insects for dinner.
While they are extremely proficient at using body heat and consolidation of numbers to create the perfect breeding and maternity environments in caves, easily boosting the humidity and heat for new pups, the Bat species in general has been significantly harmed by encroachment of development and the loss of viable cave systems for homes. The population is at serious risk of decline, with a 97 percent collapse expected over the next two or three decades without serious protection.
The goal of the contest is to boost awareness of the most endangered animals worldwide, an Australia has a significant share of them, found nowhere else and in short number where they are. As a result, by boosting people's awareness through the contest, the hope is that it will also increase conservation efforts for the species that are endangered, ideally reversing the trend if possible.