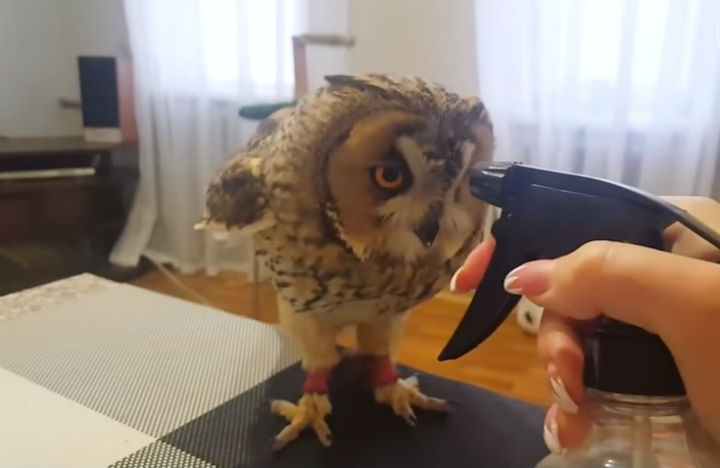 Have You Ever Seen An Owl Taking A Bath?
Watching an owl taking a bath is something very strange and rare to see. This instance was actually caught on tape and the results were hilarious.
Of course, owls outside of captivity is rarely seen in this light. They are nocturnal predators and in-person encounters seem rather frigid and frightening. Their gaze is very intense, as one might expect from a predator, so it usually is not a desirable animal to keep around the house.
In the case of Charlie, he is a rescued animal that is around humans all the time. Because of this, he is able to show his funny personality that we wouldn't have expected.
Just like any other animal that lives in captivity, their hygiene is kept up to a high standard. In order to lure the owl to get wet, the owner plays a game with a squirt bottle.
From this bottle, the owl takes a drink of water to quench his immediate thirst. Afterward, he is in the mood to play with his water. He allowed the owner to take a few quick sprays to excite him and then the owner interacted with the owl as if it were a game.
After getting used to the temperature change and wetness, the owl was finally ready for a bath. This time, the owner was going to grab it on her cellphone.
This fierce bird spread its wings with the expectation that every nook and cranny was going to get washed. The owner sprayed some water in the tough to reach spots and exfoliated with a brush. If these areas were left neglected, there might be a few bacteria building up.
The owner continued to wash in the more obvious locations, making the bath come together into a job-well-done. Every feather ended up being soaked, cleansed of dirt, and germ-free. The owl even posed in various positions so the owner may wash his back a rear end.
In the wild, they actually do bathe regularly to keep their feathers clean. The difference is that they don't have the guiding hand of a human to make the experience go quickly. They also prefer to have plenty of free space to bathe, otherwise, they might not be in a good mood like Charlie.
Once the bath was complete, there wasn't a better way to dry off than take off for a flight. While a wild owl may have resisted such an experience, Charlie was more than happy to partake in this playful activity. It goes to show that well-behaved animals are a product of a positive environment rather than instinct.
Of course, one must be dedicated to the animal if one wants an owl as a pet. They must be fed a specialized diet to accommodate their digestion and one needs a lot of patience as they are independent animals. They also need to roam freely with indoor and outdoor access, which should be within a carefully planned structure so that they will be happy.
Mayor Max III: The Golden Retriever Who Leads with Love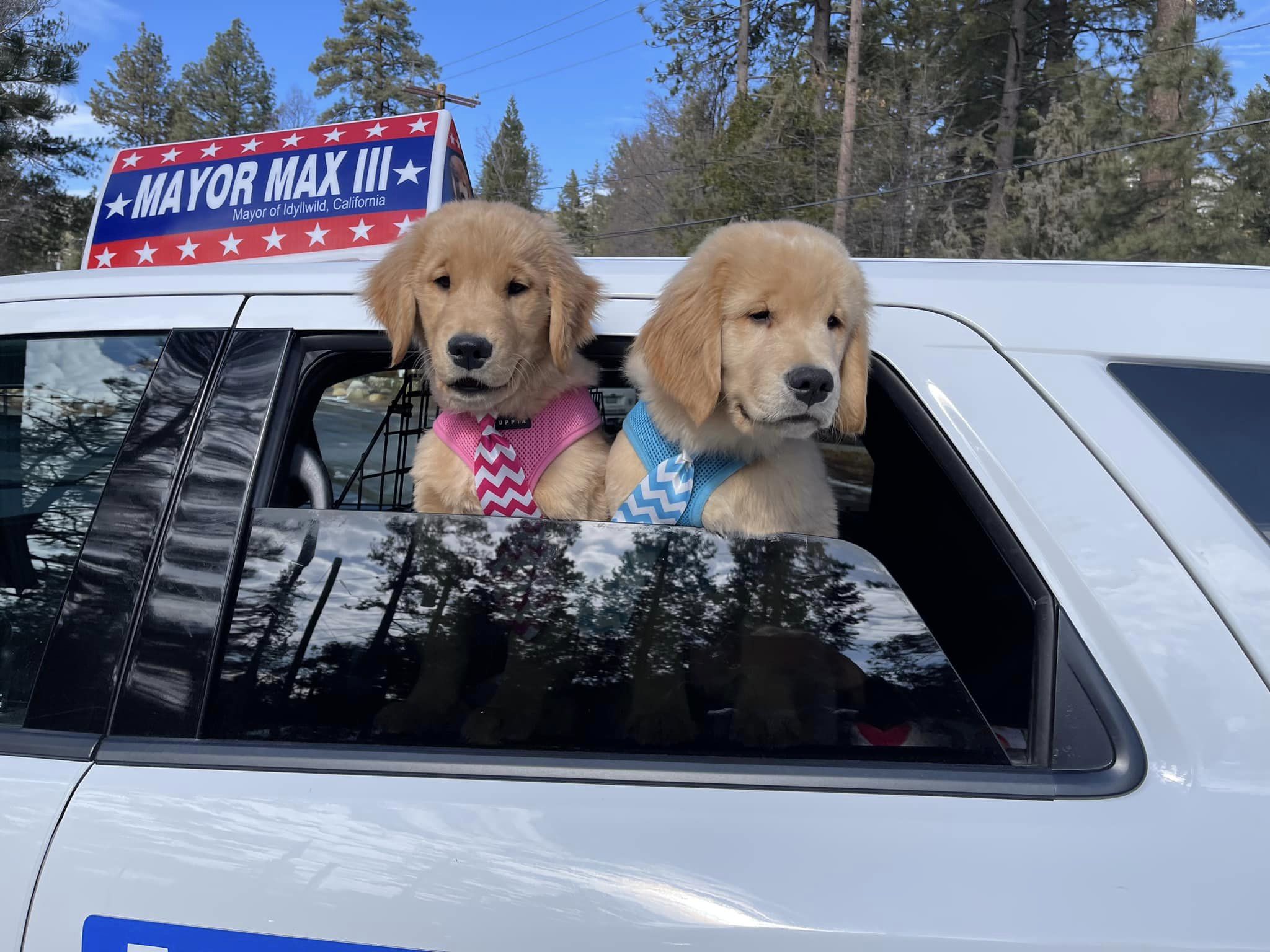 In the picturesque unincorporated mountain town of Idyllwild, nestled in the heart of Southern California, an extraordinary political figure has been making waves for the past year. But this isn't your typical politician; this is Mayor Max III, a lovable and charismatic golden retriever who has celebrated a year in office as the town's mayor. In a town known for its unique and quirky traditions, Max III has carved out a special place in the hearts of the residents.
The legacy of golden retriever mayors in Idyllwild began in 2012 when Mayor Max I took office, followed by Mayor Max II. These remarkable dogs were more than just pets; they were symbols of unity and positivity in a world sometimes marked by division and strife. Max III proudly continues this legacy, and some say he possesses a unique talent passed down from his predecessors—a charming "mouth-closing trick."
Phyllis Mueller, Max III's owner, attests to the magic of this trick. "I just held the treat above his mouth, and he knew exactly what to do, without any instruction," she says with a proud smile. This special skill has become a signature move during his public appearances in the center of town, where Max III has embraced his role with enthusiasm.
Mayor Max III's duties extend beyond his charming tricks. He is a dog on a mission to bring joy and comfort to the people of Idyllwild. His calendar is filled with visits to schools, nursing homes, and hospitals, where he spreads cheer and offers a welcome distraction from life's challenges. "It's a fun way to do politics because we don't do anything divisive, ever," Mueller explains.
Max's journey to becoming the mayor of Idyllwild is a heartwarming tale. Phyllis Mueller, a successful owner of a full-service marketing agency, always maintained a commitment to living on a smaller budget with the intention of giving back to the community. When she adopted Max, she realized that golden retrievers were the perfect ambassadors for her mission to achieve world peace through love and compassion.
Several golden retrievers later, Mueller, along with her husband Warren and their elderly dog Max, made a life-changing move from Pasadena to Idyllwild in the summer of 2011. Fate seemed to be on their side when the town's animal rescue center announced that it would be holding its first-ever election for a non-human mayor. This was the opportunity they had been waiting for.
In their cozy mountain home, Mayor Max III enjoys the perks of his position. Mueller proudly showcases one of two tie closets for the mayor, where Max's collection boasts an impressive 3,000 ties. However, being a mischievous pup at heart, Max couldn't resist indulging in a few of his ties, devouring three of them during his first month in office.
But beyond the ties and the charming tricks, Mayor Max III serves as a reminder to the people of Idyllwild that there is still goodness in the world. "Every day, people do good things," says Mueller, "and these dogs here, they are living angels, and they love you with all their heart."
As Mayor Max III continues his reign, the town of Idyllwild remains a shining example of how love, unity, and the unbreakable bond between humans and their four-legged companions can make the world a better place—one adorable golden retriever at a time.