Have You Ever Seen An Owl Taking A Bath?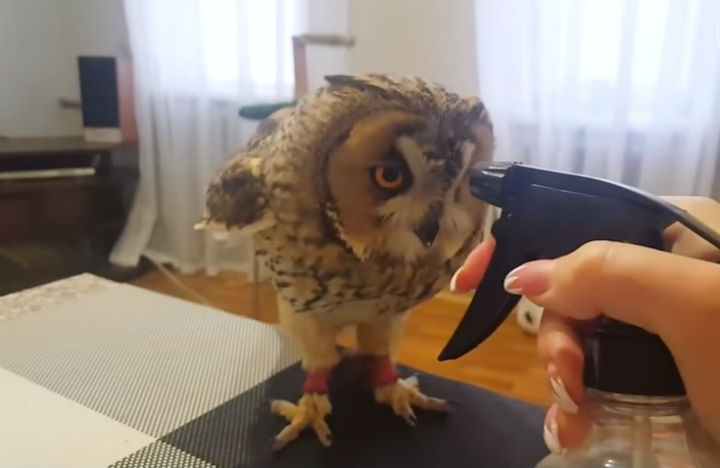 Watching an owl taking a bath is something very strange and rare to see. This instance was actually caught on tape and the results were hilarious.
Of course, owls outside of captivity is rarely seen in this light. They are nocturnal predators and in-person encounters seem rather frigid and frightening. Their gaze is very intense, as one might expect from a predator, so it usually is not a desirable animal to keep around the house.
In the case of Charlie, he is a rescued animal that is around humans all the time. Because of this, he is able to show his funny personality that we wouldn't have expected.
Just like any other animal that lives in captivity, their hygiene is kept up to a high standard. In order to lure the owl to get wet, the owner plays a game with a squirt bottle.
From this bottle, the owl takes a drink of water to quench his immediate thirst. Afterward, he is in the mood to play with his water. He allowed the owner to take a few quick sprays to excite him and then the owner interacted with the owl as if it were a game.
After getting used to the temperature change and wetness, the owl was finally ready for a bath. This time, the owner was going to grab it on her cellphone.
This fierce bird spread its wings with the expectation that every nook and cranny was going to get washed. The owner sprayed some water in the tough to reach spots and exfoliated with a brush. If these areas were left neglected, there might be a few bacteria building up.
The owner continued to wash in the more obvious locations, making the bath come together into a job-well-done. Every feather ended up being soaked, cleansed of dirt, and germ-free. The owl even posed in various positions so the owner may wash his back a rear end.
In the wild, they actually do bathe regularly to keep their feathers clean. The difference is that they don't have the guiding hand of a human to make the experience go quickly. They also prefer to have plenty of free space to bathe, otherwise, they might not be in a good mood like Charlie.
Once the bath was complete, there wasn't a better way to dry off than take off for a flight. While a wild owl may have resisted such an experience, Charlie was more than happy to partake in this playful activity. It goes to show that well-behaved animals are a product of a positive environment rather than instinct.
Of course, one must be dedicated to the animal if one wants an owl as a pet. They must be fed a specialized diet to accommodate their digestion and one needs a lot of patience as they are independent animals. They also need to roam freely with indoor and outdoor access, which should be within a carefully planned structure so that they will be happy.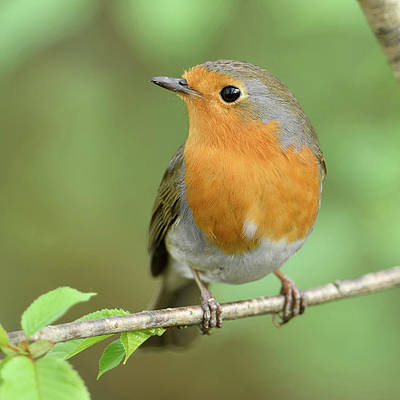 The color peach is most associated with the fruit of the same name. Apart from the fruit and a few flowers, the color peach is not commonly found in nature. There are certainly very few animals that have any shades of peach. However, there is one breed in birds that do display the color peach on its chest. The Eurasian Bullfinch is a small-size but bulky looking bird that is native to Europe and certain regions of Asia. Their range of travel is estimated to be around ten million square kilometers. Their preferred habitat parks, gardens, hedges, trees, and agricultural areas. They get their name from the bull-shaped head. Parts of the upper body are colored grey while the feathers are a mixture of black and white. The legs and feet are pinkish-brown in color. Juvenile bullfinch birds have the same shape as adult birds but they don't have the same colors. The young ones are mostly grey and brown.
For breeding purposes, the Eurasian Bullfinch nests in tall bushes. They lay about 4-7 eggs. The chest is often mistakenly described as red, but it is as peach as it gets. The males have brighter colors, while the females have a slightly beige color on their chest. Their unique color makes them easily recognizable from other birds with similar size and shape. Although the bird has a bulky shape, it is considered a small to medium-sized bird.
They are social creatures and are often found in pairs or groups. They are mostly found busy looking for seeds. Only 10% of BTO Garden BirdWatch gardens have the Bullfinch. Their shy and reclusive personality makes them a rare bird to fine. Although they mostly eat seeds, for their young ones do they occasionally feed on insects. Initially, they were mostly found in woodlands but have now slowly moved to gardens too. Although they migrate during winter months, mostly they stay in the same spot throughout their lives. If you are looking to spot one, try to look for them in a suburban garden with scrubs or thick hedgerows. They prefer to find a thick cover for the nests. As food supply has become more scattered, it has forced the bullfinch to travel more often.
There are reclusive in personality and shy away from human contact. During colder months, they migrate to southern regions of Europe and Asia. Their diet mostly consists of seeds from plants such as ash, elm, and nettle. Their liking for flower buds made them be considered as a pest of fruit trees. Although they are not considered to be an endangered species, their population has seen a decline due to the loss of arable weeds and new agricultural practices.
One of the unique features of the Eurasian Bullfinch is its ability to store seeds in a small sac at the bottom of their mouths. This feature is useful when they have to bring back seeds from long distances for their young ones. Amongst the finch species of bird, the Bullfinch is the only bird that has evolved into adapting this remarkable sac in the mouth.
Another stunning feature of the Eurasian Bullfinch is their singing ability. They have a beautiful soft and subtle call. When the male seeks to attract the females, it uses a soft tone mostly audible to other bullfinch birds only. The call from the male is a polite descending set of notes, repeated at specific intervals. The bullfinch is also skillful in mimicry and is popular birds to keep as pets. They are even able to follow tunes played to them.