Have You Ever Seen An Owl Taking A Bath?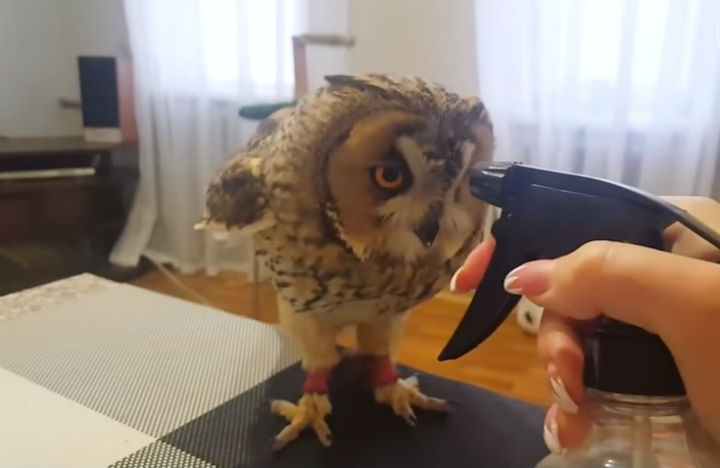 Watching an owl taking a bath is something very strange and rare to see. This instance was actually caught on tape and the results were hilarious.
Of course, owls outside of captivity is rarely seen in this light. They are nocturnal predators and in-person encounters seem rather frigid and frightening. Their gaze is very intense, as one might expect from a predator, so it usually is not a desirable animal to keep around the house.
In the case of Charlie, he is a rescued animal that is around humans all the time. Because of this, he is able to show his funny personality that we wouldn't have expected.
Just like any other animal that lives in captivity, their hygiene is kept up to a high standard. In order to lure the owl to get wet, the owner plays a game with a squirt bottle.
From this bottle, the owl takes a drink of water to quench his immediate thirst. Afterward, he is in the mood to play with his water. He allowed the owner to take a few quick sprays to excite him and then the owner interacted with the owl as if it were a game.
After getting used to the temperature change and wetness, the owl was finally ready for a bath. This time, the owner was going to grab it on her cellphone.
This fierce bird spread its wings with the expectation that every nook and cranny was going to get washed. The owner sprayed some water in the tough to reach spots and exfoliated with a brush. If these areas were left neglected, there might be a few bacteria building up.
The owner continued to wash in the more obvious locations, making the bath come together into a job-well-done. Every feather ended up being soaked, cleansed of dirt, and germ-free. The owl even posed in various positions so the owner may wash his back a rear end.
In the wild, they actually do bathe regularly to keep their feathers clean. The difference is that they don't have the guiding hand of a human to make the experience go quickly. They also prefer to have plenty of free space to bathe, otherwise, they might not be in a good mood like Charlie.
Once the bath was complete, there wasn't a better way to dry off than take off for a flight. While a wild owl may have resisted such an experience, Charlie was more than happy to partake in this playful activity. It goes to show that well-behaved animals are a product of a positive environment rather than instinct.
Of course, one must be dedicated to the animal if one wants an owl as a pet. They must be fed a specialized diet to accommodate their digestion and one needs a lot of patience as they are independent animals. They also need to roam freely with indoor and outdoor access, which should be within a carefully planned structure so that they will be happy.
These Hermit Crabs Will Blow Your Mind With Stunning Natural Ritual.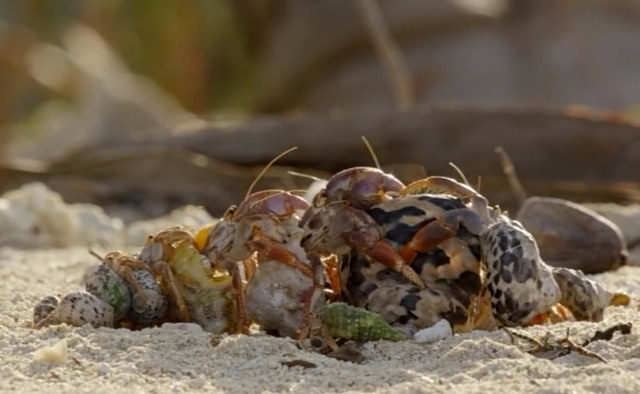 If you are like most people then you are likely fascinated with the ocean and all the creatures inside it. While we can talk forever about massive whales, scuttling squids, and scary sharks, we'd rather highlight a cute little crustacean known as the hermit crab. Now, you've likely heard of the hermit crab and, perhaps, you even know what it looks like. As a member of the superfamily known as the Paguroidea, hermit crabs manage to stand out all on their own. In fact, after learning about this natural ritual that hermit crabs complete, you might even want one of your own!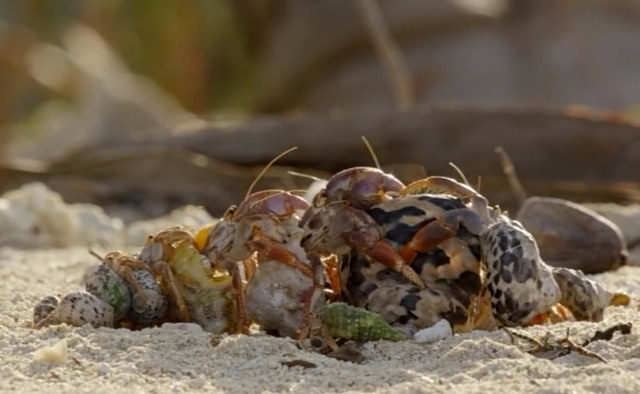 In a post shared on Facebook by a user named Melody Flowers, it was revealed that hermit crabs are always looking for bigger shells to live in. While you probably knew this already, what you didn't realize about this ritual is far more fascinating. According to the post, which has since been backed up by other scientific journals, hermit crabs like to line up next to shells that happen to be too big for them. Hermit crabs can wait for up to eight hours for another crab to come along and try the shell out. Why do these crabs wait next to shells that are too large for them? As it turns out, the first hermit crab is simply waiting for the second crab in line to discard its shell.
So we outlined a natural ritual that hermit crabs undertake when finding a new home. Why is this so fascinating? While you may have summoned up an image of two hermit crabs swapping shells, that isn't entirely accurate. As the second crab lines up behind the shell, more will come to follow. Before long, observers would be able to watch as dozens of hermit crabs all trade shells with one another to ensure that everyone has a comfortable home to live in. The smallest shell of the bunch gets left behind while the shell that started the queue will go to the largest hermit crab of the lot. That's pretty amazing, isn't it? The coordination and cooperation that these hermit crabs have to deploy is nothing short of impressive. If only humans could get along so well when it comes to making to sure everyone is comfortable and safe within their home.
Even though hermit crabs will work together in order to find homes, they are still a competitive species. Gastropod shells can become a limited resource due to a variety of natural and unnatural factors, such as climate change and pollution. When hermit crabs are of a similar size, they are more competitive and violent with one another. When hermit crabs vary dramatically in size, there are more resources available for every member of the group. Hermit crabs are a fascinating sort of creature because they can come in varying sizes with a lifespan ranging between 12 and 70 years. The next time that you see a hermit crab, make sure it has the perfect shell to call home. Maybe it will remember you a couple of decades later!