Have You Ever Seen An Owl Taking A Bath?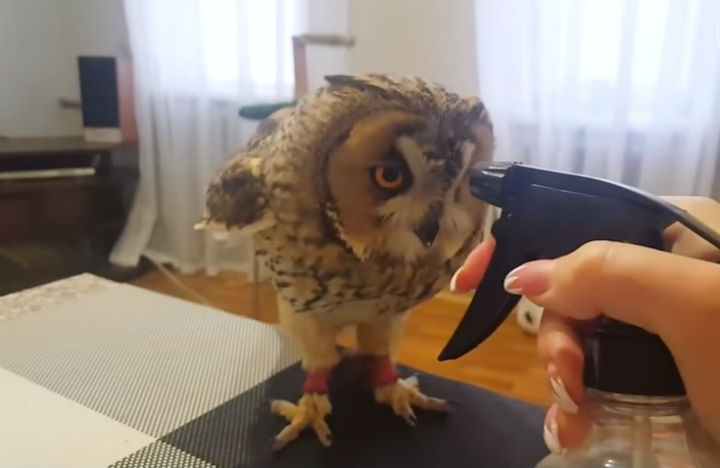 Watching an owl taking a bath is something very strange and rare to see. This instance was actually caught on tape and the results were hilarious.
Of course, owls outside of captivity is rarely seen in this light. They are nocturnal predators and in-person encounters seem rather frigid and frightening. Their gaze is very intense, as one might expect from a predator, so it usually is not a desirable animal to keep around the house.
In the case of Charlie, he is a rescued animal that is around humans all the time. Because of this, he is able to show his funny personality that we wouldn't have expected.
Just like any other animal that lives in captivity, their hygiene is kept up to a high standard. In order to lure the owl to get wet, the owner plays a game with a squirt bottle.
From this bottle, the owl takes a drink of water to quench his immediate thirst. Afterward, he is in the mood to play with his water. He allowed the owner to take a few quick sprays to excite him and then the owner interacted with the owl as if it were a game.
After getting used to the temperature change and wetness, the owl was finally ready for a bath. This time, the owner was going to grab it on her cellphone.
This fierce bird spread its wings with the expectation that every nook and cranny was going to get washed. The owner sprayed some water in the tough to reach spots and exfoliated with a brush. If these areas were left neglected, there might be a few bacteria building up.
The owner continued to wash in the more obvious locations, making the bath come together into a job-well-done. Every feather ended up being soaked, cleansed of dirt, and germ-free. The owl even posed in various positions so the owner may wash his back a rear end.
In the wild, they actually do bathe regularly to keep their feathers clean. The difference is that they don't have the guiding hand of a human to make the experience go quickly. They also prefer to have plenty of free space to bathe, otherwise, they might not be in a good mood like Charlie.
Once the bath was complete, there wasn't a better way to dry off than take off for a flight. While a wild owl may have resisted such an experience, Charlie was more than happy to partake in this playful activity. It goes to show that well-behaved animals are a product of a positive environment rather than instinct.
Of course, one must be dedicated to the animal if one wants an owl as a pet. They must be fed a specialized diet to accommodate their digestion and one needs a lot of patience as they are independent animals. They also need to roam freely with indoor and outdoor access, which should be within a carefully planned structure so that they will be happy.
Dirt Biking Couple Reunites Stray Dog With His Family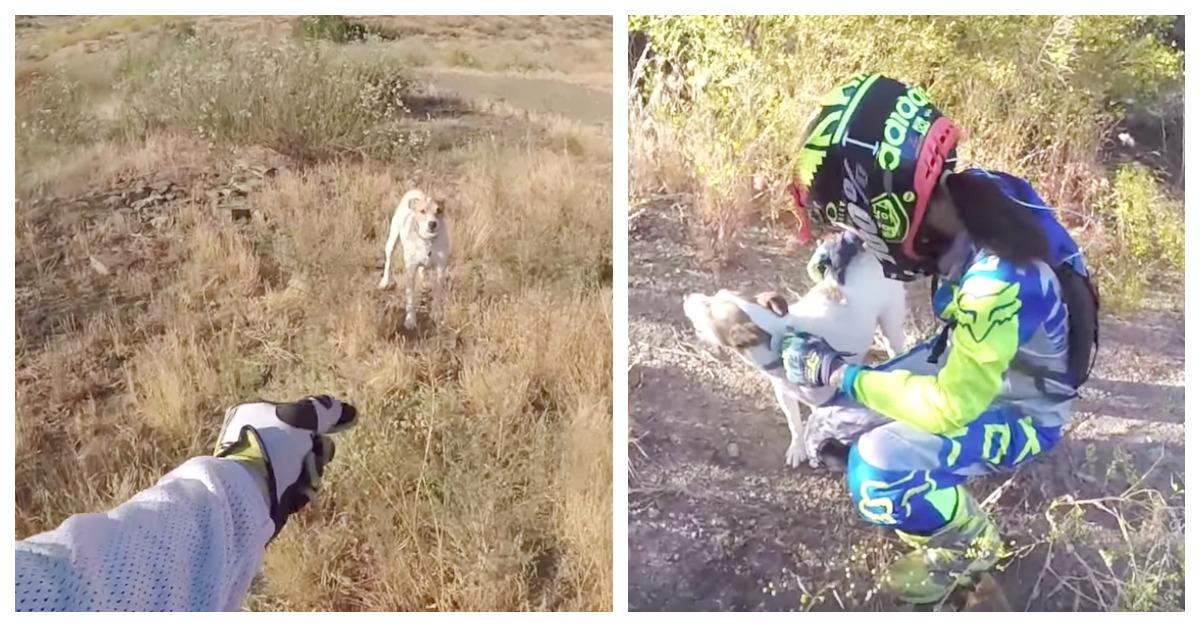 Southern California is a hotbed for people watching, But it is also a place where escaped dogs roam freely. One was reunited with his family thanks to the efforts of a couple out for a dirt bike ride. Gina and Dan were minding their own business, enjoying the Southern California weather. They took a video of their encounter with a dog that was out to have his own adventure.
When Gina and Dan first spotted the dog, they tried to approach him gently. Riding their dirt bikes, they began to trail behind the dog. Just as Dana was approaching him to grab him, he began to bark and promptly took off ahead of them. This didn't deter the couple, and they continued to trail him. When they eventually caught him, Dana read his dog tags to determine who his owner was.
Finding his name and a phone number on his tags, she promptly called it and left a voicemail message for the recipient. In the meantime, they took a seatbelt from their dirt bike and repurposed it to be a leash so that he couldn't run away from them again. They also gave Max some of their bottled water so the dog could keep cool and stay hydrated. The dog was so thirsty he drank the entire bottle, much to Gina's utter delight.
Gina and Dan looked after Max until his owner contacted them. Arrangements were then made for Max's owner to get him back. In the meantime, Max had made friends with Gina and Dan. Max liked them so much he promptly made the leap from the ground to the back of Gina's truck. Max is one dog with a strong intuition of his own, and that intuition told him when his owner was approaching Gina's truck to take Max back home.
This story illustrates how easy it is for people to bond with their dogs. It also shows that considerate people like Gina and Dan look out for others. With dogs getting away from their owners virtually every day, people are encouraged by stories such as this one. Anyone who has ever lost a dog knows how important it is to look out for others. Many stray dogs have been reunited with their owners due to the kindness of strangers. That kindness is something that dogs bring to the world, as dogs bring people together as nothing else can.
Max's story is an inspiring one with a happy ending. Seeing a lost dog reunited with his or her owner is something that everyone can appreciate. It tugs at the heartstrings of those who understand how important pets are to people. As members of the family, pets deserve to be looked after as much as anyone else does. People like Dan and Gina are invaluable in helping others reunite with the pets they love so much.