Happy Endings Come in All Shapes, Sizes, and Breeds
This adorable rescue dog went from shelter resident to the star of a beloved classic remake in the blink of an eye.
As a young girl, I loved watching the fairy tales about finding Prince Charming and living happily ever after. I would sneak my older sister's prom dresses from her closet and dance around as though I was Cinderella or Belle- the beauty in the center of the ballroom. The dresses may have been ten sizes too big for me, but in my mind, they were just the right size as I waited for my prince to arrive. I was still waiting until the day I was told to get my head out of the clouds because fairy tales are not real.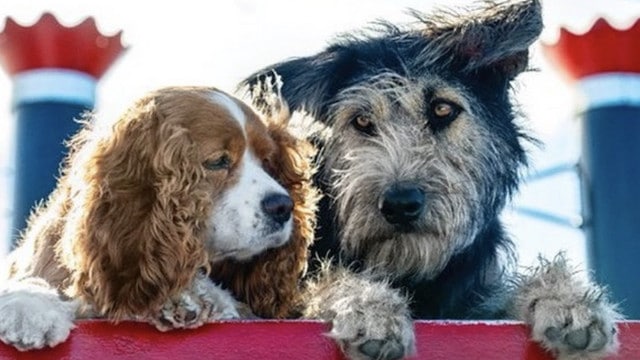 From that day forward, I tried to start dreaming more realistically, but I secretly continued to watch and hope for proof that fairy tales do exist. And after a couple of decades full of hope, the proof has finally come in the form of four legs, a tail, and shaggy fur. This rescue dog's story is literally something from a fairy tale. One day Monte is walking around, unwanted and seemingly unloved, in a kill shelter in Phoenix, AZ. The next, he finds himself on the way to the big screen for a starring role in the live-action remake of Lady and the Tramp, the well-loved classic from 1955.
Surrendered along with five other dogs by a family who could no longer care for them, Monte's future was looking drab and dreary. In about a week, though, he was walking back out of Halo Animal Rescue to a brand-new life full of hope and stardom. Playing alongside Rose, a lovely cocker spaniel, Monte depicts Tramp- the scrappy street mutt who- despite being abandoned and feeling unwanted- found his way into the heart of Lady and her family. Is it merely a coincidence that the animated Tramp and our new lovable star Monte have a similar backstory, or was that a clever decision on the part of the producers? Either way, it is always exciting to see the underdog win.
Who was it that told me to stop dreaming? I cannot remember now, but Monte's incredible story clearly shows that fairy tales really do come true, after all. It gives the discouraged and those who feel unworthy hope that we all have a purpose in life, even our furry, four-legged friends. It tells us that no matter how unloved or unwanted we may feel, there is always someone out there who is looking for someone just like us. With such encouragement, we can dream again. Forget about being realistic. Who decides what qualifies as realistic, anyway? Dream all you want, and when you feel like you are losing hope, remember Monte's story, and his second chance at life and love.
Get ready to support the underdog and check Monte out in his on-screen debut this November on Disney Plus- a new streaming service provided by Disney.
The little boy shares a special moment with a police officer during a protest rally for George Floyd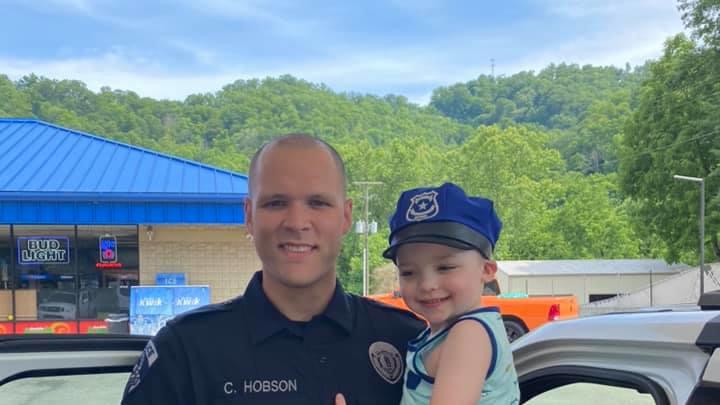 The ruthless killing of George Floyd has caused a thunderous uproar and rage throughout the world. In Winston-Salem, NC, hundreds of people gathered to protest against the killing of Floyd. They took to one knee for 8 minutes and 46 seconds that is the exact length of time former police officer Derek Chauvin had shoved his knee onto Floyd's neck which resulted in Floyd's death. The killing of George Floyd has become a symbol of injustice not only in American society but throughout the world. "Say no to racism" has been the most trending topic in all regions of the globe. In this particular incident, it was a black man who was the victim and this is not the only time it has happened. Several cases have occurred which demonstrated the lack of compassion and justice in the way law enforcement has dealt with individuals from minority racial groups.
Yolanda Williams Dickey, a resident of Winston-Salem, NC, was driving by the protest when she decided she wanted her family to be part of this protest as a sign of solidarity against discrimination against the minority groups. She went home to pick up her husband and son, who were glad they got a chance to be part of this historic protest. For her little son, Kamari it was quite the experience. He had never seen a protest rally before this. He saw a lot of anger and pain in the faces of the protestors. He could also see his parents being very emotional too. His parents had told him what the protest was about and how Floyd had been murdered. Kamari couldn't understand why the former police officer did what he did to George Floyd.
Kamari's attention went to the police officers on the sidelines. He watched them very closely as they stood by making sure there was no violence at the protest. Kamari had always wanted to a police officer himself but now his mother was concerned that after this incident, maybe he would not want to be one. Most of the toys that Kamari had were related to the police and he spent most of his days playing with them. He often told his parents that when he grows up he wanted to be a police officer so he could catch the bad guys. This unfortunate killing of George Floyd might have shattered the dreams of the little boy. At the protest, as the family moved closer to the police officers, Kamari approached Sgt. Dan Battjes, who was sitting on his motorcycle.
Kamari formally introduced himself to the police officer, who was very kind and friendly to the boy. After a few minutes of talking, Kamari said goodbye to the officer by a friendly fist pump. While the citizens of the country are demonstrating against the police and there is an unbelievable level of anger toward law enforcement, this little boy kept no hatred in his heart. The innocence of the little boy showed the resilience of the American community. One incident cannot dismantle years of peaceful coexistence. Yes, there have been cases where the minority communities have been discriminated and there should be strict actions and reforms against such incident but Americans still need to live together. The dream of Kamari to become a police officer might still be alive. The question remains, is the dream of a multi-racial America living with each other with love, compassion, and tolerance still alive? Only time will tell if this dream is alive.