Group of Dolphins Saves Adorable Doberman after It Falls into Canal and Almost Drowns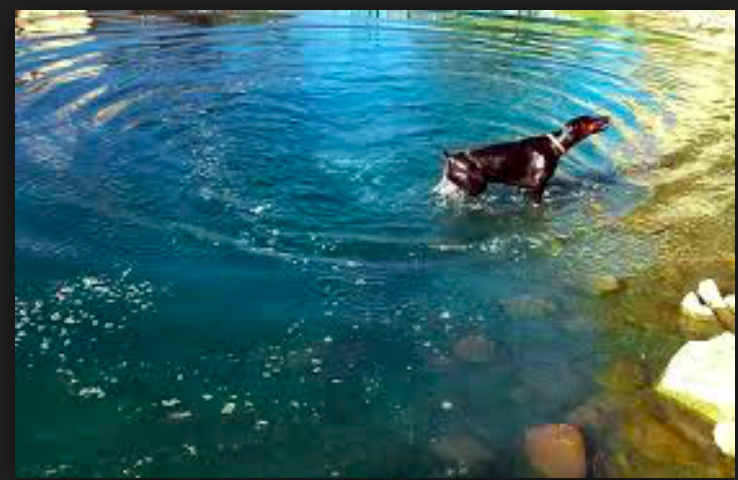 Animals are truly amazing and for many people it doesn't take long to be in the presence of an animal to start feeling better. This story of a group of dolphins and a Doberman will remind you that even sea life can be amazing.
In Florida on Marco Island, a Doberman named Turbo was wandering around when he landed in a canal after falling off a wall separating his home from the canal. While this may not seem like a big deal, since many dogs know how to swim and the term doggy paddling didn't come from nowhere, in this case these circumstances weren't ideal.
The owner, Cindy Burnett, said that she was out when this incident took place until 2 a.m. When she returned she wasn't able to find Turbo and went looking for him after more than 15 hours.
The Doberman fell in a bad position and he was stuck between a sandbar and the land. The sandbar was so high that he wouldn't have been able to be seen by humans on shore.
His instincts kicked in and he did keep paddling to stay above water. Fifteen hours later, he was still in the canal and his owner was still frantically looking for him. Burnett said that they searched and drove through the street at least five or six times calling out his name. At this point, he was reaching exhaustion. The dog was dehydrated and hungry, and his muscles were not going to be able to keep him going. Fortunately, at this time dolphins were swimming by.
The dolphins began to make high-pitched screeching noises and flapped their fins in the water as they started circling the dog. The dolphins made it their mission that they weren't going to stop until someone noticed them. Soon neighbors started to figure out what was wrong with the dolphins, once they heard loud splashing coming from the canal. There they found the dog and, yes, he was surrounded by a group of dolphins.
Firefighters were able to lift the puppy over the sandbar and return him back to his owners. The puppy lived and the dolphins saved his life. Burnett said that her pet was in a lot of distress and shivering, but was so happy that he was found alive. She said that she didn't think he would have been able to tread water the rest of the night if he had to, and that he was at his max. Besides shivering and some distress, Turbo only had a few scratches and cuts on his legs and feet.
Burnett thinks that Turbo went missing around 8 p.m. the previous evening when the gate had accidentally been left open, and he could have spent the entire night in the canal if it weren't for the friendly dolphins. She said that it may have been possible that Turbo could find a shallow spot once the tide came out where he could stand in two and a half feet of water, so he may have not had to keep doggy paddling for the entire time. Both the people who found him and Burnett credit the assistance of the dolphins in helping save Turbo.
There are other reports of dolphins showing concern toward other species in distress, including humans. Dolphins have been known for their intelligence and some even think that they are man's remote ancestors, given how smart they are. Other news stories involving dolphins and dogs show a dolphin teaching a dog how to surf and enjoying the water.
A baby bear, tiger, and a lion found in a basement 12 years ago are now best friends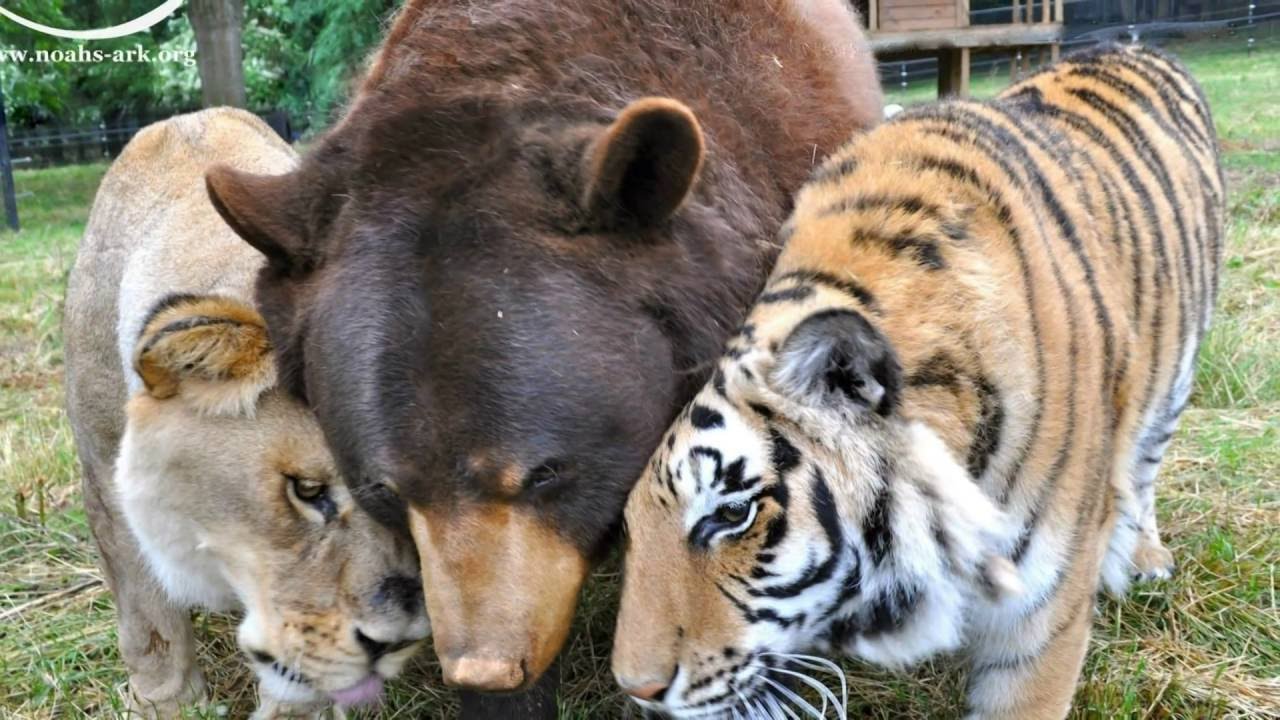 Wild animals try to stick to their natural habitat and they also tend to follow their natural social characteristics. For example, leopards are known to be very reclusive creatures and often prefer a solitary life. Bears and tigers are also not very social too.
In this fascinating story, a bear, a tiger, and a lion have grown up to become best buddies. In a video posted online, a 12-year-old Black Bear, named Baloo, walks over to his friend, Shere Khan, a Bengal Tiger, and cuddles with him as if they are brothers. Tigers don't even get along with their kin. So this friendship between the bear and tiger is even beyond kinship. To make things even more unbelievable, they have another friend, named Leo. You guessed it right, Leo is a lion.
What might explain this unusual friendship is their common history. 12 years ago, when these three animals were babies, they were being kept in terrible conditions in a basement. Fortunately, they were recovered by the police and bought to Noah's Ark Sanctuary in Locust Grove, GA. The three animals have cared for their entire life at the Sanctuary.
The staff at Noah's Ark Sanctuary have never heard of such friendship between a big cat and a bear. They do share the same habitat, especially in the Fat East, but any encounters between them as most aggressive or they just ignore each other and keep out of the way of the other. They don't walk up and cuddle each other. The staff at the sanctuary does point out that out of these three, Shere Khan has kept a little bit of natural wild mannerism but he is still very friendly. When it is sleep time, the trio shares the same room and cuddle together. They were kept as pets in that basement, which was legally not allowed. The owner of the basement was a drug dealer. They were confiscated and bought the sanctuary. Since then the owner of the sanctuary has looked after these three.
Unfortunately, Leo has passed away, leaving his loved ones with wonderful memories of him. He was 15 years of age when he passed away. He had been feeling sick and during surgery, his doctor found 80% of his liver was damaged. He could not have survived in such a condition. The difficult decision to let him go had to be made so that he does not suffer. His end in the world was peaceful.
Leo's best friends, Shere Khan and Baloo, were able to say a final goodbye to him. They have been doing all right since their best friend's departure. The staff at the sanctuary keeps a close eye to check off any worrisome signs of depression or change in behavior. The staff believes these two already knew Leo was terminally ill long before the staff was able to find out.
Leo's final resting place is located by the clubhouse at the sanctuary. Such compassion and bond in animals of different species are very rare. In the wild, they might have been foes, but at the sanctuary they were brothers. Their story is an example of when nurture overtakes nature. They grew up together and build a bond that went beyond the design of nature. Humans do not fully understand the communication or relationship dynamics of the animals. This story is an example of how wild animals can get along in the right environment.