Group of Dolphins Saves Adorable Doberman after It Falls into Canal and Almost Drowns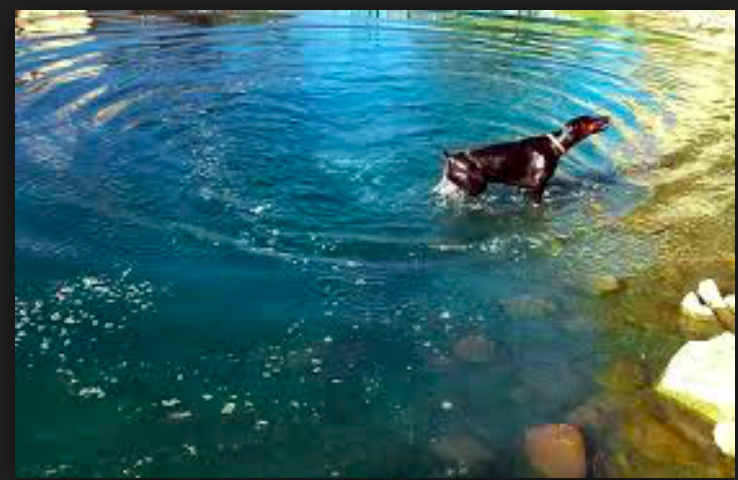 Animals are truly amazing and for many people it doesn't take long to be in the presence of an animal to start feeling better. This story of a group of dolphins and a Doberman will remind you that even sea life can be amazing.
In Florida on Marco Island, a Doberman named Turbo was wandering around when he landed in a canal after falling off a wall separating his home from the canal. While this may not seem like a big deal, since many dogs know how to swim and the term doggy paddling didn't come from nowhere, in this case these circumstances weren't ideal.
The owner, Cindy Burnett, said that she was out when this incident took place until 2 a.m. When she returned she wasn't able to find Turbo and went looking for him after more than 15 hours.
The Doberman fell in a bad position and he was stuck between a sandbar and the land. The sandbar was so high that he wouldn't have been able to be seen by humans on shore.
His instincts kicked in and he did keep paddling to stay above water. Fifteen hours later, he was still in the canal and his owner was still frantically looking for him. Burnett said that they searched and drove through the street at least five or six times calling out his name. At this point, he was reaching exhaustion. The dog was dehydrated and hungry, and his muscles were not going to be able to keep him going. Fortunately, at this time dolphins were swimming by.
The dolphins began to make high-pitched screeching noises and flapped their fins in the water as they started circling the dog. The dolphins made it their mission that they weren't going to stop until someone noticed them. Soon neighbors started to figure out what was wrong with the dolphins, once they heard loud splashing coming from the canal. There they found the dog and, yes, he was surrounded by a group of dolphins.
Firefighters were able to lift the puppy over the sandbar and return him back to his owners. The puppy lived and the dolphins saved his life. Burnett said that her pet was in a lot of distress and shivering, but was so happy that he was found alive. She said that she didn't think he would have been able to tread water the rest of the night if he had to, and that he was at his max. Besides shivering and some distress, Turbo only had a few scratches and cuts on his legs and feet.
Burnett thinks that Turbo went missing around 8 p.m. the previous evening when the gate had accidentally been left open, and he could have spent the entire night in the canal if it weren't for the friendly dolphins. She said that it may have been possible that Turbo could find a shallow spot once the tide came out where he could stand in two and a half feet of water, so he may have not had to keep doggy paddling for the entire time. Both the people who found him and Burnett credit the assistance of the dolphins in helping save Turbo.
There are other reports of dolphins showing concern toward other species in distress, including humans. Dolphins have been known for their intelligence and some even think that they are man's remote ancestors, given how smart they are. Other news stories involving dolphins and dogs show a dolphin teaching a dog how to surf and enjoying the water.
North Carolina Teen Bitten by Shark, Unassailed
Paige Winter, 17, was swimming at Atlantic Beach in North Carolina with her sister when she was pulled under in waist-high water. It quickly became clear that it was a shark attack.
Paige initially gave in, perhaps initially not realizing that it was a shark. She'd thought it was a turtle. When she realized what was happening, she fought back hard. It is that tenacity and courage that has continued to aid her in her survival and recovery. She just would not give up.
Paige's Rescue
Witnesses reported screaming and panic. Paige's father, Charlie, is a paramedic, so he immediately jumped to her rescue. He dove underwater and punched at the shark until he was able to wrestle her free from the shark and carry her to the beach. A bystander offered a belt, which her father used as a tourniquet to stop the bleeding on the beach.
Paige was quickly transported via medical helicopter to Vidant Medical Center in Greenville, where her leg was amputated. She underwent additional surgeries for his leg, pelvis, and hand.
No parent ever would dream of seeing their child being dragged underwater by a shark, but her father's quick actions saved Paige's life. Then, bystanders and emergency medical personnel were a part of the rescue, as well as doctors and surgeons who worked to save Paige's life.
Next Steps
What lies ahead for Paige is recovery and rehabilitation as she learns to walk again with a prosthetic limb. She must also re-learn how to function with more limited functionality in her hands.
Paige's resilience is clear, though, despite the severe injuries she sustained, and the body altering surgeries. She remains positive and in good spirits. Her family says that she was groggy but already telling jokes when she first woke up after the shark attack in the hospital. Her continued road to recovery won't be easy, but her will to live and overcome the odds has already gotten her this far.
Doctors and also her father mentioned the serendipitous collision of chance encounters and dumb luck that both brought her to the beach that day but also saved her life. When so much could have gone horribly, impossibly wrong, enough separate events went right that she will someday walk again.
Paige survived. It's not all the "pieces of the puzzle." Some are missing, as she told Washington Post, but "it's okay." She still advocates for marine life and doesn't blame the shark for biting her and shaking her like that. Her message is about education, learning more about sharks and understanding.
Spunky as ever, Paige told the medic, "Don't be mad. Sharks are good people." That positive attitude and that willingness to forgive even in the face of a savage attack is part of what has made her story a viral sensation across media spheres.