Group of Dolphins Saves Adorable Doberman after It Falls into Canal and Almost Drowns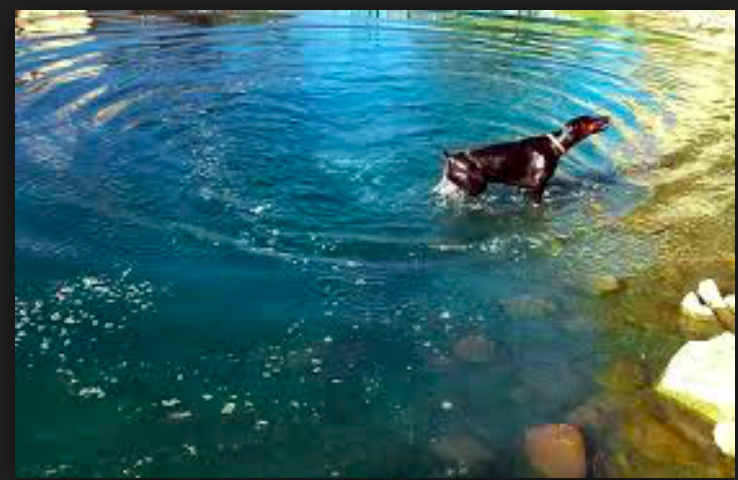 Animals are truly amazing and for many people it doesn't take long to be in the presence of an animal to start feeling better. This story of a group of dolphins and a Doberman will remind you that even sea life can be amazing.
In Florida on Marco Island, a Doberman named Turbo was wandering around when he landed in a canal after falling off a wall separating his home from the canal. While this may not seem like a big deal, since many dogs know how to swim and the term doggy paddling didn't come from nowhere, in this case these circumstances weren't ideal.
The owner, Cindy Burnett, said that she was out when this incident took place until 2 a.m. When she returned she wasn't able to find Turbo and went looking for him after more than 15 hours.
The Doberman fell in a bad position and he was stuck between a sandbar and the land. The sandbar was so high that he wouldn't have been able to be seen by humans on shore.
His instincts kicked in and he did keep paddling to stay above water. Fifteen hours later, he was still in the canal and his owner was still frantically looking for him. Burnett said that they searched and drove through the street at least five or six times calling out his name. At this point, he was reaching exhaustion. The dog was dehydrated and hungry, and his muscles were not going to be able to keep him going. Fortunately, at this time dolphins were swimming by.
The dolphins began to make high-pitched screeching noises and flapped their fins in the water as they started circling the dog. The dolphins made it their mission that they weren't going to stop until someone noticed them. Soon neighbors started to figure out what was wrong with the dolphins, once they heard loud splashing coming from the canal. There they found the dog and, yes, he was surrounded by a group of dolphins.
Firefighters were able to lift the puppy over the sandbar and return him back to his owners. The puppy lived and the dolphins saved his life. Burnett said that her pet was in a lot of distress and shivering, but was so happy that he was found alive. She said that she didn't think he would have been able to tread water the rest of the night if he had to, and that he was at his max. Besides shivering and some distress, Turbo only had a few scratches and cuts on his legs and feet.
Burnett thinks that Turbo went missing around 8 p.m. the previous evening when the gate had accidentally been left open, and he could have spent the entire night in the canal if it weren't for the friendly dolphins. She said that it may have been possible that Turbo could find a shallow spot once the tide came out where he could stand in two and a half feet of water, so he may have not had to keep doggy paddling for the entire time. Both the people who found him and Burnett credit the assistance of the dolphins in helping save Turbo.
There are other reports of dolphins showing concern toward other species in distress, including humans. Dolphins have been known for their intelligence and some even think that they are man's remote ancestors, given how smart they are. Other news stories involving dolphins and dogs show a dolphin teaching a dog how to surf and enjoying the water.
The little boy shares a special moment with a police officer during a protest rally for George Floyd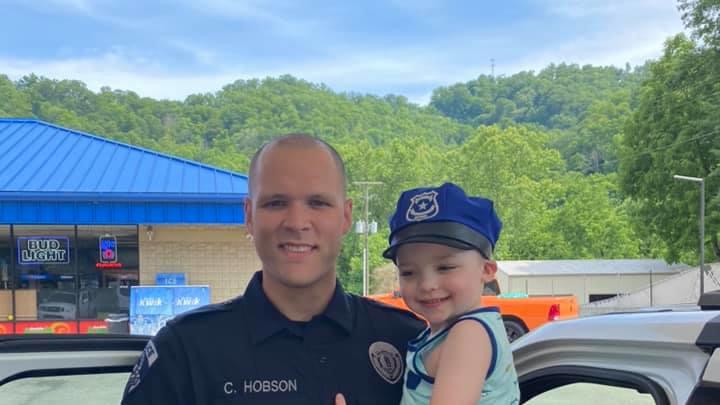 The ruthless killing of George Floyd has caused a thunderous uproar and rage throughout the world. In Winston-Salem, NC, hundreds of people gathered to protest against the killing of Floyd. They took to one knee for 8 minutes and 46 seconds that is the exact length of time former police officer Derek Chauvin had shoved his knee onto Floyd's neck which resulted in Floyd's death. The killing of George Floyd has become a symbol of injustice not only in American society but throughout the world. "Say no to racism" has been the most trending topic in all regions of the globe. In this particular incident, it was a black man who was the victim and this is not the only time it has happened. Several cases have occurred which demonstrated the lack of compassion and justice in the way law enforcement has dealt with individuals from minority racial groups.
Yolanda Williams Dickey, a resident of Winston-Salem, NC, was driving by the protest when she decided she wanted her family to be part of this protest as a sign of solidarity against discrimination against the minority groups. She went home to pick up her husband and son, who were glad they got a chance to be part of this historic protest. For her little son, Kamari it was quite the experience. He had never seen a protest rally before this. He saw a lot of anger and pain in the faces of the protestors. He could also see his parents being very emotional too. His parents had told him what the protest was about and how Floyd had been murdered. Kamari couldn't understand why the former police officer did what he did to George Floyd.
Kamari's attention went to the police officers on the sidelines. He watched them very closely as they stood by making sure there was no violence at the protest. Kamari had always wanted to a police officer himself but now his mother was concerned that after this incident, maybe he would not want to be one. Most of the toys that Kamari had were related to the police and he spent most of his days playing with them. He often told his parents that when he grows up he wanted to be a police officer so he could catch the bad guys. This unfortunate killing of George Floyd might have shattered the dreams of the little boy. At the protest, as the family moved closer to the police officers, Kamari approached Sgt. Dan Battjes, who was sitting on his motorcycle.
Kamari formally introduced himself to the police officer, who was very kind and friendly to the boy. After a few minutes of talking, Kamari said goodbye to the officer by a friendly fist pump. While the citizens of the country are demonstrating against the police and there is an unbelievable level of anger toward law enforcement, this little boy kept no hatred in his heart. The innocence of the little boy showed the resilience of the American community. One incident cannot dismantle years of peaceful coexistence. Yes, there have been cases where the minority communities have been discriminated and there should be strict actions and reforms against such incident but Americans still need to live together. The dream of Kamari to become a police officer might still be alive. The question remains, is the dream of a multi-racial America living with each other with love, compassion, and tolerance still alive? Only time will tell if this dream is alive.