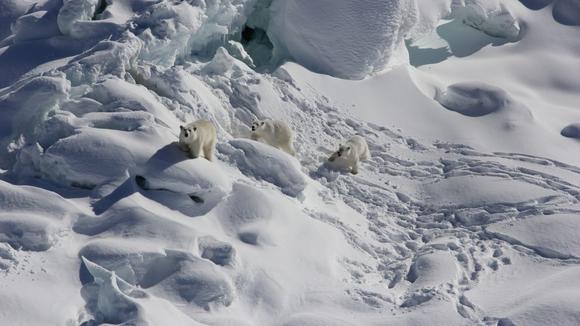 Greenland Polar Bears Secretly Found Living Inland from Coast
Polar bears for centuries have been a resilient species, surviving and thriving in remote locations of extreme cold. However, as their environment has changed, there have been numerous instances of these creatures starving as well as interacting far more with human development while looking for food. Little did anyone expect, they would also adapt and hide in plain site when it came to bears in Greenland.
The Greenland contingency of polar bears faced the same challenges as their cousins, shrinking territory with melting ice and less ability to hunt on floating ice platforms to look for food. However, on Greenland, the polars seem to have adapted far better to living on solid land, working and hunting for food via inlets on the coastal edges versus being on the glaciers and ice flows directly. This adjustment has allowed the Greenland bears to thrive, as well as be confused with other pods and groups that were purely arctic and North Pole groupings instead.
The Greenland population of polar bears hasn't been a recent change either. Instead, this particular contingent has been around for centuries, using the fjords as launching points to engage with the ocean and then return. The lack of ice on the ocean in some areas has simply forced them to be on land more, which finally caught the notice of researchers.
Biologists believe they are watching evolution at work. Those bears that are adapting to land are surviving, while those that rely on the ice floats and similar for traditional hunting are limited and eventually dying out as their floating territory becomes scarcer and scarcer. Adaption and survival of the fittest again seems to rule based on savviness as well.
A total of 19 different subgroups roam the arctic in terms of polar bear territory. Of those, at least one of them covers a 2,000 mile stretch of coastal land on Greenland itself. However, once the census counting really got under way, the scientists realized they were really looking at two different subgroups on the coast, not just one. This was based on 36 years of data tracking, using animal GPS monitoring, and individually identified bears. Additionally, genetic sampling has also helped narrow down individuals and their offspring.
Of course, critics can argue that the population is just a mix of temporary and visiting bears, just following the local food availability. This criticism is proven wrong by the heredity and genetic data collection on each of the bears involved, clearly showing they are a distinct coastal subgroup separate and different from the other arctic polar bears, a key factor in their recognition. In total, the distinct grouping measures about 300 different animals.
Some argue that the Greenland bears may very well have the better part of the deal. Being able to take advantage of the confluence of fjord water with the ocean, coastal ice and land, and glacier activity, the bears have a robust source of food to dive after in the water, ranging from fish to mammals and more. And that particular mix is contributing to their strength versus other parts of the arctic. In effect, they have found the sweet spot for polar bear living. Add in the fact that the area is so remote, humans effectively can't access it, and the bears have their coastal zone to themselves. Ironically, however, their birth rate is low, something that scientists are guessing is caused by the geographic challenges in the area connecting bears with bears consistently. So, it turns out, nothing is perfect.
400-Pound Black Bear Rescued From Waterway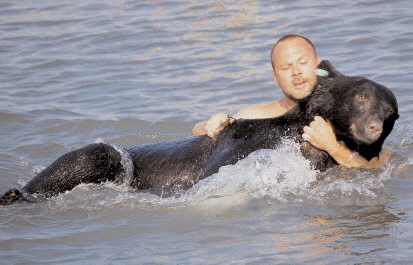 A Florida man recently became a hero after saving a 400lb black bear from drowning. Black bears are known to be excellent swimmers and are athletic animals, but the bear in question was not in its usual state when it jumped into the water. The bear had been tranquilized after walking into a residential neighborhood, and when the tranquilizer started to take effect, it ran towards the water and eventually began to sink.
Wildlife biologist Adam Warwick immediately sprang into action, jumping into the water to save the bear. Despite the bear's massive size, Adam was able to keep its head above water and pull it to safety. Although he suffered only a scratch in the process, Adam's bravery was a testament to the care and dedication of wildlife officials in protecting and preserving the natural world.
Black bears are found in various parts of North America, including Florida, and are excellent swimmers. They are known for their athletic ability and can easily swim across rivers and lakes in search of food and territory. However, when the bear in question was tranquilized, it was not in its natural state, and its swimming abilities were significantly compromised.
The incident highlights the importance of wildlife officials in preserving natural habitats and protecting animals from harm. Despite the risks involved, these officials put their lives on the line to ensure that animals receive the care and protection they need. The successful rescue of the black bear is a reminder of the importance of caring for the environment and all its inhabitants, no matter how large or small.