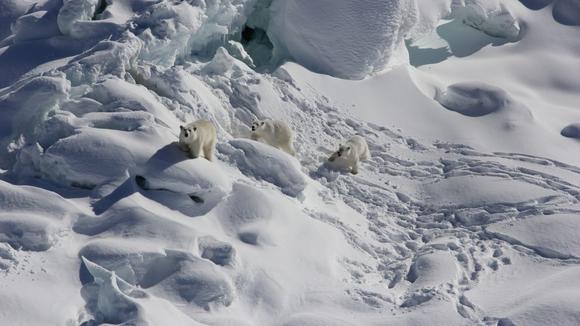 Greenland Polar Bears Secretly Found Living Inland from Coast
Polar bears for centuries have been a resilient species, surviving and thriving in remote locations of extreme cold. However, as their environment has changed, there have been numerous instances of these creatures starving as well as interacting far more with human development while looking for food. Little did anyone expect, they would also adapt and hide in plain site when it came to bears in Greenland.
The Greenland contingency of polar bears faced the same challenges as their cousins, shrinking territory with melting ice and less ability to hunt on floating ice platforms to look for food. However, on Greenland, the polars seem to have adapted far better to living on solid land, working and hunting for food via inlets on the coastal edges versus being on the glaciers and ice flows directly. This adjustment has allowed the Greenland bears to thrive, as well as be confused with other pods and groups that were purely arctic and North Pole groupings instead.
The Greenland population of polar bears hasn't been a recent change either. Instead, this particular contingent has been around for centuries, using the fjords as launching points to engage with the ocean and then return. The lack of ice on the ocean in some areas has simply forced them to be on land more, which finally caught the notice of researchers.
Biologists believe they are watching evolution at work. Those bears that are adapting to land are surviving, while those that rely on the ice floats and similar for traditional hunting are limited and eventually dying out as their floating territory becomes scarcer and scarcer. Adaption and survival of the fittest again seems to rule based on savviness as well.
A total of 19 different subgroups roam the arctic in terms of polar bear territory. Of those, at least one of them covers a 2,000 mile stretch of coastal land on Greenland itself. However, once the census counting really got under way, the scientists realized they were really looking at two different subgroups on the coast, not just one. This was based on 36 years of data tracking, using animal GPS monitoring, and individually identified bears. Additionally, genetic sampling has also helped narrow down individuals and their offspring.
Of course, critics can argue that the population is just a mix of temporary and visiting bears, just following the local food availability. This criticism is proven wrong by the heredity and genetic data collection on each of the bears involved, clearly showing they are a distinct coastal subgroup separate and different from the other arctic polar bears, a key factor in their recognition. In total, the distinct grouping measures about 300 different animals.
Some argue that the Greenland bears may very well have the better part of the deal. Being able to take advantage of the confluence of fjord water with the ocean, coastal ice and land, and glacier activity, the bears have a robust source of food to dive after in the water, ranging from fish to mammals and more. And that particular mix is contributing to their strength versus other parts of the arctic. In effect, they have found the sweet spot for polar bear living. Add in the fact that the area is so remote, humans effectively can't access it, and the bears have their coastal zone to themselves. Ironically, however, their birth rate is low, something that scientists are guessing is caused by the geographic challenges in the area connecting bears with bears consistently. So, it turns out, nothing is perfect.
Indiana Man Saves Children During House Fire, Footage Caught on Police Body Camera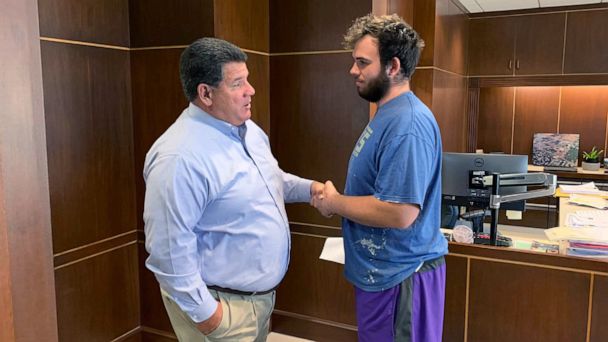 There are moments in life when we can decide to become a hero or to fade into the background. For Nicholas Bostic, a young man from Indiana, the choice was thrust upon his shoulders without much time to think. Bostic had been driving home around 12:30 in the morning when he noticed a fire billowing from the balcony of a home. A moment later, the driver was slamming on his brakes, running up a hill, and vanishing into a house engulfed in flame. Moments later, Bostic would re-appear with four saved lives.
However, there was someone still missing.
Tragedy Averted, Stunning Moments Caught on Camera
When police officers and fire response teams arrived at the Indiana home that was ablaze, they didn't know what they were walking into. However, moments after officers arrived on the scene, video footage from police body-worn cameras would reveal a stunning image of Bostic emerging from the flames with a young girl in his arms. Moments later, the two would collapse onto the sidewalk, wheezing and injured, asking for oxygen.
After initially beating law enforcement to the scene, Bostic would run into the home where he would find four young children as well as their oldest sister. After getting the small group out of the home, they would reveal that another child was still stuck inside.
Bostic didn't hesitate. In an interview with Fox 59, Bostic revealed his return to the home, "The smoke just came out of nowhere. It was pitch black, pitch black. The heat was excruciating."
Despite the billowing smoke, excruciating heat, and blinding particulates, Bostic was able to find the young child trapped in the home. Listening to her faint cries, Bostic was able to find the child on the second story of the building. The duo would jump out of the window only to appear dramatically before the waiting law enforcement officials.
Bostic and the child would both survive the incident, though Bostic would suffer from blisters, burns, and other abrasions. The entire family was uninjured.
When asked about his experience, Bostic replied, "I'd be hoping that the guy driving would consider doing the same if they were able to."
Honoring a Local Hero: Thanks From a City
According to a report by fire department officials, the fire began on the front porch and had been caused by ashes that had not been extinguished before they were emptied. Bostic's minor injuries would be treated at Eskenazi Hospital in nearby Indianapolis.
Lt. Randy Sherer of the local Lafayette Police Department cited Bostic's actions as being brave, selfless, and heroic. Lt. Sherer stated, "He has impressed many with his courage, tenacity, and steadfast calmness in the face of such perilous danger."
Local police officers stated that Bostic would be honored by the community during a local baseball game for the Aviators in August. Lafayette Mayor Tony Roswarski was also quick to thank Bostic for his actions. All proceeds earned from tickets at the local baseball game will be given to a fundraising campaign on the internet for Bostic.
As far as Bostic is concerned, his actions were just an extension of his personal faith. Bostic told the local station News 18, "I have something to remind me of why I'm here, still alive. Why God keeps me here. He used me like his instrument that night."