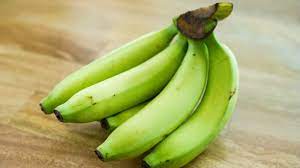 Green Bananas are Good for You!
How often have you eaten a green banana? Probably not much. Most people wait until the banana is just the right shade of yellow to consume, and just before it starts to develop brown spots signalling it is over-ripe. However, you might want to reconsider that thinking. It turns out, green bananas pack a full serious delivery of anti-cancer benefits.
Eating bananas is a bit of a cultural thing, like a lot of foods. People are trained from childhood to eat bananas at a certain time, when they have the correct ripeness and texture, usually just a bit soft but not mushy. However, when bananas are still green, they are chock full of a certain type of starch that provides big defenses against cancer development. The primary area most benefitting from the ingredient is the upper part of the digestive tract.
Now, for anyone who has had a stomach ache, they're probably familiar with the idea that a banana is a good natural remedy for a stomach ache. And that is true, but in more ways than one. While ripe bananas help solve gas and cramping, green bananas provide "resistant starch." That same type of starch has been studied with sufferers of Lunch syndrome, a type of condition that triggers a higher probability of upper digestive tract cancer. The subjects were expected to eat green bananas for up to two years' time. While there was no advantage to the lower gut, the subjects did realize a significant defense for the upper part. Rates of cancer dropped by half. Even better, the protection lasted for up to a decade after the steady ingestion of the green bananas.
For the researchers, the findings were conclusive. A 60 percent decrease in the amount of cancer normally occurring otherwise was observed. And the solution was simple; eat one green banana a day before it starts to ripen. That in turn protects the starch, it gets into the upper digestive tract, and the influence directly reforms the internal bacteria in that part of the body.
Of course, green bananas are not the only source of resistant starch. It can be consumed in starchy cereals, peans, oats, beans and similar. Green bananas are just a lot easier being already packaged by nature. The actual chemical reaction in the body is literally fermentation, which the internal bacteria thrive on. The exact effect on the digestive system is a bit up for conjecture, but the reaction is clearly dampening whatever would otherwise cause damage over time, which then ends up leading to cellular mutations and tumors.
The overall study involved lasted a decade, spanning from 1995 to 2005 and included 1,000 subjects. Given the fact that the work covered a total period of 20 years with the additional followup after the original ending in 2005, the results have caught a lot of attention. As for everyone else, the message is simple: eat a green banana once a day. It might help you live longer, much longer.
Doubling-Up Solar Use and Protecting Water Simultaneously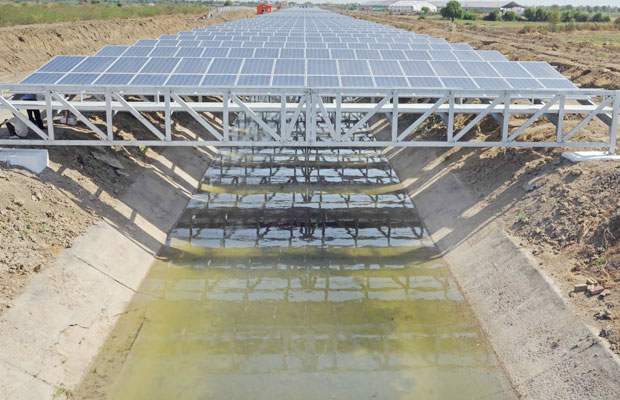 Put water out in the hot sun, and it will eventually disappear. Evaporation causes water to turn into gas and the same dissipates upward until it becomes condensate and rains back down. While this is part of how nature recycles moisture, for farming and water supplies, evaporation is a serious loss.
California is ground zero for agricultural drought and strained water systems, especially in 2022, facing another drought period in less than a decade. Much of the state's water is moved through a canal system, taking the moisture from the wetter north to provide water supply to the Central Valley and the Southern California region. However, while a tremendous amount of water moves everyday through the statewide canal system, a good portion of it is lost to evaporation as well as being directly exposed to the sun.
To solve the water loss problem partially as well as create a solar farm that generates easy energy, Turlock Irrigation District has invested some $20 million in creating serious solar panel covers for water canals traveling through the Turlock area. Two locations will have the construction applied, one being a 500-foot long section, and the other a much bigger stretch measuring a mile in distance. The project is being watched closely for success. If it works, there's a significant interest in keeping it going and adding to the effort.
California as a state is criss-crossed by 4,000 miles of water canals. Just on a space-basis alone, covering that network with solar panels could generate at least thirteen gigawatts of new energy daily. That would generate enough electricity for almost 10 million homes (9.75 million to be exact). The energy generation would be huge; right now there are 13.1 million homes statewide.
California won't be the first to apply solar panels over its water canals; that honor goes to India. However, if the project is successful, California will definitely hold the title to the biggest related project globally if the second mile-long part gets completed. Dubbed Project Nexus for both parts combined, Turlock's goal is to build and apply solar panel covers or canopies over the water canals themselves, as well as hooking them up to the power grid. The project is to start this year in Fall 2022 and expected completion is in 2024.
The panels are expected to have a direct impact on evaporation as well in a two-fold manner. First, their function as a cover breaks up the heat effect of the sun directly on the water in the canal. Second, the structures break up the wind factor, which can also create a drying effect as well. That means more water stays in liquid form and gets to its destination by traveling through the canal system. The difference matters; some 80 percent of water that is sourced in California goes to Southern California to sustain that region, after already providing sufficient supply for folks up north. Just from the hot sun exposure alone, up to 2 percent of the total is lost before the water arrives in the South. Adding some of that back in can be a gamechanger in supply, to the tune of 65 billion gallons a year.
The benefits are big stakes. If the project works, it could be the impetus to covering all of California's canals. And that could save and that could produce some 50,000 acres of hydrated farming soil or supply water to another 2 million people. That is in addition to the electricity benefits noted above. The world is changing, and folks visiting California and driving down Interstate 5 and other areas may see it first hand with Project Nexus and more.