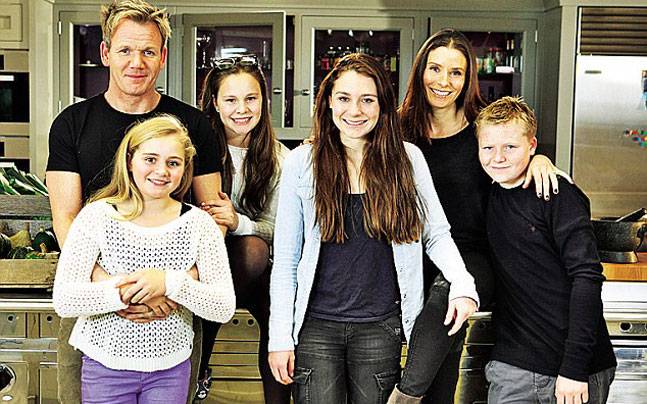 Gordon Ramsay's Kids Cook For Him And HE Surprisingly Loves It
Everyone knows the name Gordon Ramsay. His reputation for being a hard nosed food critics. He is the host of the famous Hell's Kitchen and known to be the cooking world's hot head slinging insults at everyone. He is, after all, the man who created the term 'idiot sandwich'. When he doesn't like your food, he has no problem letting you know. Surprising to most who don't know him, off camera, Ramsay is an incredibly nice man.
Imagine trying to cook at birthday dinner for your father, but your father is a famous chef. Ramsay's children were up to the challenge as the pulled off a surprise multiple course meal for his 50th birthday. While he had no clue what his children were planning, he knew they were up to something when Megan, his 20 year old daughter, drove him and Tana, his wife to a secret location. His parents and younger children, Holly and Jack, age 18 and Matilda, age 16 were already there when he arrived.
Matilda, known as Tilly, and Jack cooked the impressive meal. Ramsay couldn't help but make a joke before the meal when he confirmed with his kids that they were actually allowed in the kitchen. But, when the first course of homemade ravioli was served, Ramsay was nothing but complimentary. He commented that the beautiful pasta was nice and thin.
Many know that Ramsay is famous for tearing apart chefs for the way the cook their meat. In his eyes, it is always cooked improperly. That didn't concern his children as they served a second course of filet de boeuf. Ramsay continued to be surprised with his children's cooking ability. The filet was perfect with a nice sear on the outside and pink in the middle, which is the only way to eat filet.
Not to be outdone by the first two courses, Tilly and Jack ended the meal by serving a last course of a decadent chocolate ball topped with warm sauce, which was all served over dry ice. It's rare for a world class chef to be able to sit down and have a meal prepared for him. This couldn't have been a better meal, or birthday gift. Ramsay was so moved by this gesture from him children, he almost started crying. That is an emotion we aren't used to seeing from Ramsay.
One would think that most parents praise their children's cooking no matter how it tastes. Ramsay isn't known for being gentle in the kitchen. Tilly admitted to her father that she was nervous about cooking for him, because he is who he is. Based on the praises she and her brother received throughout the entire meal, it seems they had no concern for worry. The dessert alone received five wows from the chef.
It must feel amazing to receive that kind of praise from Gordon Ramsay about your cooking, even if he is your dad. Is it really a surprise to anyone that his children are competent chefs that know their way around the kitchen?
Bobcat Visits Homeowner, Brings Her Five Excited Kittens!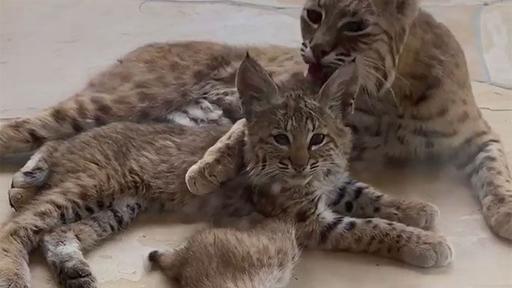 Would you consider yourself a cat person? Do you find yourself drawn to petting or cuddling with just about anything furry? If so, this story might be right up your alley! Earlier this year, a homeowner in the Midwest opened her front porch to find a massive female bobcat on her deck. As bobcats are the most populous wildcat in all of North America, this in and of itself wasn't a shock or a revelation. What came next, however, was as exciting as anything you could hope to find on your porch in the morning.
Before we dive into this exciting story, let's peel back our understanding of wildcats and bobcats. Bobcats are roughly double the size of a traditional house cat and many times more dangerous than their domesticated counterparts. Female bobcats tend to be smaller than their male counterparts, though both genders hover around three feet in length and roughly 20 to 30 pounds in weight. These polygamous animals mate during the winter and will give birth to up to six kittens in roughly two months. From there, the kittens will continue to nurse for an additional two months before eventually leaving home behind after a year.
During their youth, bobcat kittens are blind and as such will stay really close to their parents. After about eight weeks, bobcat kittens are significantly larger and more active. When this mama Bobcat came back to visit the homeowner in question, she brought along her entire litter! If you are a cat person, having a litter of bobcat kittens on your deck has to be a dream come true. Thankfully, the owner of the home went overboard on capturing photographs and we couldn't be happier if we wanted to. Just look at these small beans!
While wildcats aren't exactly rare or reclusive creatures, it is pretty unusual for people to get this close to wild animals. Thanks to the glass screen between the door and the deck, the owner of the home was able to get the kind of pictures that we can only dream of. The homeowner, one Kathy Maniscalco, considered herself as lucky as anyone when the mama Bobcat chose her porch to settle in on. As Kathy watched the kittens, she realized that there were five of them with the young Bobcat — this meant that the mother had nearly a full litter!
Bobcats are crepuscular animals that live relatively solitary lives when they are not mating or raising kittens. Living upwards of 12 to 13 years, bobcats are natural prey to wolves and cougars with bobcat kittens preyed upon by both owls and coyotes. Bobcats don't really have a history of attacking humans because they are fickle and easy to scare. If a bobcat does seem willing to attack a human, it means that they have rabies or are potentially near their kittens. In either situation, creating space is the safest course of action.
How would you react if you found a litter of bobcat kittens on your deck?