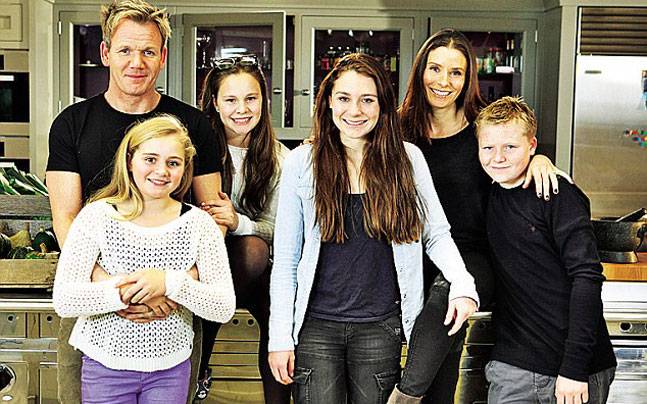 Gordon Ramsay's Kids Cook For Him And HE Surprisingly Loves It
Everyone knows the name Gordon Ramsay. His reputation for being a hard nosed food critics. He is the host of the famous Hell's Kitchen and known to be the cooking world's hot head slinging insults at everyone. He is, after all, the man who created the term 'idiot sandwich'. When he doesn't like your food, he has no problem letting you know. Surprising to most who don't know him, off camera, Ramsay is an incredibly nice man.
Imagine trying to cook at birthday dinner for your father, but your father is a famous chef. Ramsay's children were up to the challenge as the pulled off a surprise multiple course meal for his 50th birthday. While he had no clue what his children were planning, he knew they were up to something when Megan, his 20 year old daughter, drove him and Tana, his wife to a secret location. His parents and younger children, Holly and Jack, age 18 and Matilda, age 16 were already there when he arrived.
Matilda, known as Tilly, and Jack cooked the impressive meal. Ramsay couldn't help but make a joke before the meal when he confirmed with his kids that they were actually allowed in the kitchen. But, when the first course of homemade ravioli was served, Ramsay was nothing but complimentary. He commented that the beautiful pasta was nice and thin.
Many know that Ramsay is famous for tearing apart chefs for the way the cook their meat. In his eyes, it is always cooked improperly. That didn't concern his children as they served a second course of filet de boeuf. Ramsay continued to be surprised with his children's cooking ability. The filet was perfect with a nice sear on the outside and pink in the middle, which is the only way to eat filet.
Not to be outdone by the first two courses, Tilly and Jack ended the meal by serving a last course of a decadent chocolate ball topped with warm sauce, which was all served over dry ice. It's rare for a world class chef to be able to sit down and have a meal prepared for him. This couldn't have been a better meal, or birthday gift. Ramsay was so moved by this gesture from him children, he almost started crying. That is an emotion we aren't used to seeing from Ramsay.
One would think that most parents praise their children's cooking no matter how it tastes. Ramsay isn't known for being gentle in the kitchen. Tilly admitted to her father that she was nervous about cooking for him, because he is who he is. Based on the praises she and her brother received throughout the entire meal, it seems they had no concern for worry. The dessert alone received five wows from the chef.
It must feel amazing to receive that kind of praise from Gordon Ramsay about your cooking, even if he is your dad. Is it really a surprise to anyone that his children are competent chefs that know their way around the kitchen?
Jacksonville Man Spreads Love and Positivity at the Beach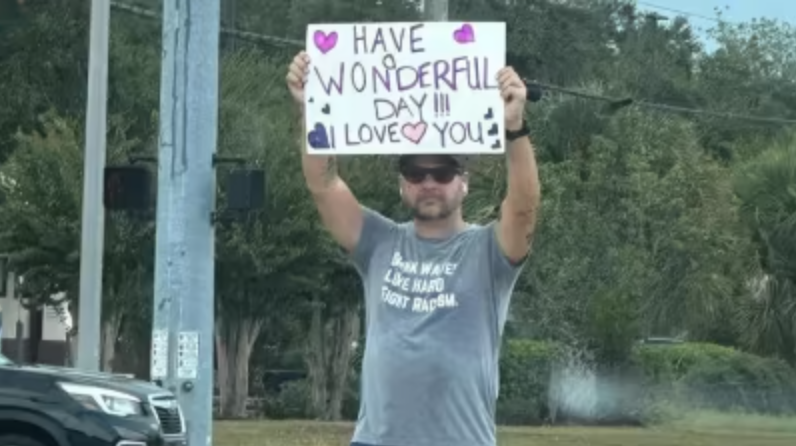 In Jacksonville, Florida, a man has been making waves of positivity and spreading kindness at the Beach Boulevard and San Pablo Road South intersection. With handmade signs that read, "Have a wonderful Day!! I Love You" and "You are Relevant," this man is on a mission to uplift the spirits of those who pass by. His heartwarming gestures have not gone unnoticed, and his actions are especially poignant during National Suicide Prevention Month.
Rika, a local resident, had a unique encounter with this compassionate individual. She was on her way to pick up her lunch when she saw a man standing in the median of the road, holding these uplifting signs. Most of us would just glance and continue on our way, but Rika decided to take a closer look. As she stopped at a red light, she took a few pictures to capture the moment. To her surprise, the man approached her car and handed her a sunflower.
"So picture this… you're out going to pick up your lunch, and there's this random guy walking by with a handmade sign," Rika recounted. "I'm sure like most of us, we'd glance and keep it moving, but I decided to read his sign since I was at a stop light. I snapped a few pictures because why not, but as I was doing this, he approached my car door to hand me a sunflower! Don't forget to appreciate the small things."
This simple act of kindness had a profound impact on Rika, as it has on many others who have encountered this man and his signs. His message of love and importance reminds us all to appreciate the small joys in life and to acknowledge our worth.
The man's efforts are not just a random act of kindness; they hold special significance during National Suicide Prevention Month. September is a time when people and organizations across the country work to raise awareness about mental health and suicide prevention. This Jacksonville man's compassionate actions align perfectly with the spirit of this month, as he strives to remind people that they matter and that there is goodness in the world.