Gordon Ramsay's Kids Cook For Him And HE Surprisingly Loves It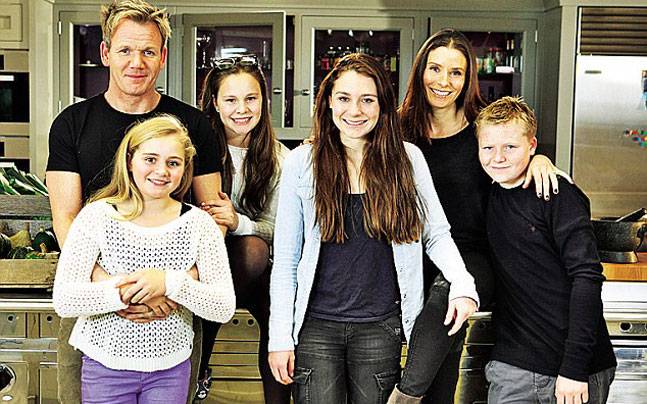 Everyone knows the name Gordon Ramsay. His reputation for being a hard nosed food critics. He is the host of the famous Hell's Kitchen and known to be the cooking world's hot head slinging insults at everyone. He is, after all, the man who created the term 'idiot sandwich'. When he doesn't like your food, he has no problem letting you know. Surprising to most who don't know him, off camera, Ramsay is an incredibly nice man.
Imagine trying to cook at birthday dinner for your father, but your father is a famous chef. Ramsay's children were up to the challenge as the pulled off a surprise multiple course meal for his 50th birthday. While he had no clue what his children were planning, he knew they were up to something when Megan, his 20 year old daughter, drove him and Tana, his wife to a secret location. His parents and younger children, Holly and Jack, age 18 and Matilda, age 16 were already there when he arrived.
Matilda, known as Tilly, and Jack cooked the impressive meal. Ramsay couldn't help but make a joke before the meal when he confirmed with his kids that they were actually allowed in the kitchen. But, when the first course of homemade ravioli was served, Ramsay was nothing but complimentary. He commented that the beautiful pasta was nice and thin.
Many know that Ramsay is famous for tearing apart chefs for the way the cook their meat. In his eyes, it is always cooked improperly. That didn't concern his children as they served a second course of filet de boeuf. Ramsay continued to be surprised with his children's cooking ability. The filet was perfect with a nice sear on the outside and pink in the middle, which is the only way to eat filet.
Not to be outdone by the first two courses, Tilly and Jack ended the meal by serving a last course of a decadent chocolate ball topped with warm sauce, which was all served over dry ice. It's rare for a world class chef to be able to sit down and have a meal prepared for him. This couldn't have been a better meal, or birthday gift. Ramsay was so moved by this gesture from him children, he almost started crying. That is an emotion we aren't used to seeing from Ramsay.
One would think that most parents praise their children's cooking no matter how it tastes. Ramsay isn't known for being gentle in the kitchen. Tilly admitted to her father that she was nervous about cooking for him, because he is who he is. Based on the praises she and her brother received throughout the entire meal, it seems they had no concern for worry. The dessert alone received five wows from the chef.
It must feel amazing to receive that kind of praise from Gordon Ramsay about your cooking, even if he is your dad. Is it really a surprise to anyone that his children are competent chefs that know their way around the kitchen?
These Hermit Crabs Will Blow Your Mind With Stunning Natural Ritual.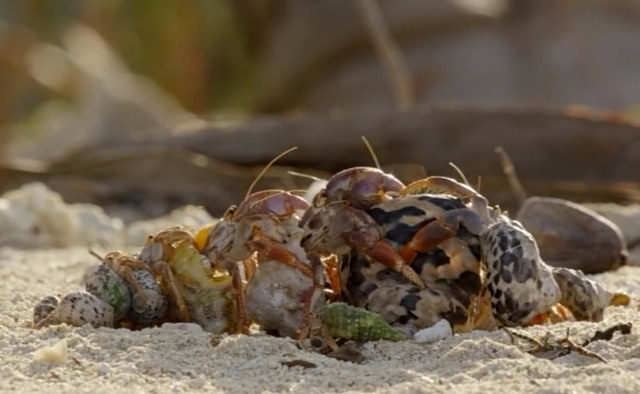 If you are like most people then you are likely fascinated with the ocean and all the creatures inside it. While we can talk forever about massive whales, scuttling squids, and scary sharks, we'd rather highlight a cute little crustacean known as the hermit crab. Now, you've likely heard of the hermit crab and, perhaps, you even know what it looks like. As a member of the superfamily known as the Paguroidea, hermit crabs manage to stand out all on their own. In fact, after learning about this natural ritual that hermit crabs complete, you might even want one of your own!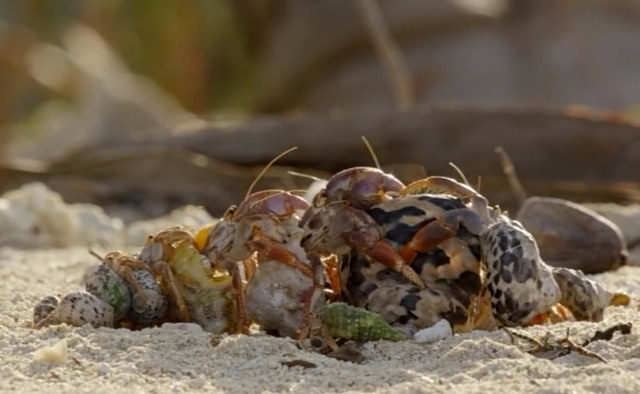 In a post shared on Facebook by a user named Melody Flowers, it was revealed that hermit crabs are always looking for bigger shells to live in. While you probably knew this already, what you didn't realize about this ritual is far more fascinating. According to the post, which has since been backed up by other scientific journals, hermit crabs like to line up next to shells that happen to be too big for them. Hermit crabs can wait for up to eight hours for another crab to come along and try the shell out. Why do these crabs wait next to shells that are too large for them? As it turns out, the first hermit crab is simply waiting for the second crab in line to discard its shell.
So we outlined a natural ritual that hermit crabs undertake when finding a new home. Why is this so fascinating? While you may have summoned up an image of two hermit crabs swapping shells, that isn't entirely accurate. As the second crab lines up behind the shell, more will come to follow. Before long, observers would be able to watch as dozens of hermit crabs all trade shells with one another to ensure that everyone has a comfortable home to live in. The smallest shell of the bunch gets left behind while the shell that started the queue will go to the largest hermit crab of the lot. That's pretty amazing, isn't it? The coordination and cooperation that these hermit crabs have to deploy is nothing short of impressive. If only humans could get along so well when it comes to making to sure everyone is comfortable and safe within their home.
Even though hermit crabs will work together in order to find homes, they are still a competitive species. Gastropod shells can become a limited resource due to a variety of natural and unnatural factors, such as climate change and pollution. When hermit crabs are of a similar size, they are more competitive and violent with one another. When hermit crabs vary dramatically in size, there are more resources available for every member of the group. Hermit crabs are a fascinating sort of creature because they can come in varying sizes with a lifespan ranging between 12 and 70 years. The next time that you see a hermit crab, make sure it has the perfect shell to call home. Maybe it will remember you a couple of decades later!