Gordon Ramsay's Kids Cook For Him And HE Surprisingly Loves It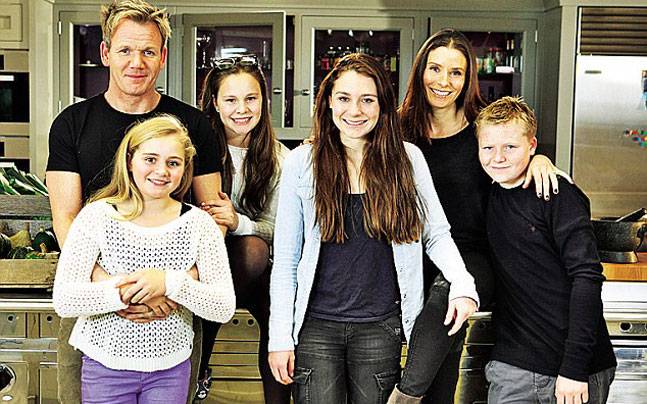 Everyone knows the name Gordon Ramsay. His reputation for being a hard nosed food critics. He is the host of the famous Hell's Kitchen and known to be the cooking world's hot head slinging insults at everyone. He is, after all, the man who created the term 'idiot sandwich'. When he doesn't like your food, he has no problem letting you know. Surprising to most who don't know him, off camera, Ramsay is an incredibly nice man.
Imagine trying to cook at birthday dinner for your father, but your father is a famous chef. Ramsay's children were up to the challenge as the pulled off a surprise multiple course meal for his 50th birthday. While he had no clue what his children were planning, he knew they were up to something when Megan, his 20 year old daughter, drove him and Tana, his wife to a secret location. His parents and younger children, Holly and Jack, age 18 and Matilda, age 16 were already there when he arrived.
Matilda, known as Tilly, and Jack cooked the impressive meal. Ramsay couldn't help but make a joke before the meal when he confirmed with his kids that they were actually allowed in the kitchen. But, when the first course of homemade ravioli was served, Ramsay was nothing but complimentary. He commented that the beautiful pasta was nice and thin.
Many know that Ramsay is famous for tearing apart chefs for the way the cook their meat. In his eyes, it is always cooked improperly. That didn't concern his children as they served a second course of filet de boeuf. Ramsay continued to be surprised with his children's cooking ability. The filet was perfect with a nice sear on the outside and pink in the middle, which is the only way to eat filet.
Not to be outdone by the first two courses, Tilly and Jack ended the meal by serving a last course of a decadent chocolate ball topped with warm sauce, which was all served over dry ice. It's rare for a world class chef to be able to sit down and have a meal prepared for him. This couldn't have been a better meal, or birthday gift. Ramsay was so moved by this gesture from him children, he almost started crying. That is an emotion we aren't used to seeing from Ramsay.
One would think that most parents praise their children's cooking no matter how it tastes. Ramsay isn't known for being gentle in the kitchen. Tilly admitted to her father that she was nervous about cooking for him, because he is who he is. Based on the praises she and her brother received throughout the entire meal, it seems they had no concern for worry. The dessert alone received five wows from the chef.
It must feel amazing to receive that kind of praise from Gordon Ramsay about your cooking, even if he is your dad. Is it really a surprise to anyone that his children are competent chefs that know their way around the kitchen?
Dirt Biking Couple Reunites Stray Dog With His Family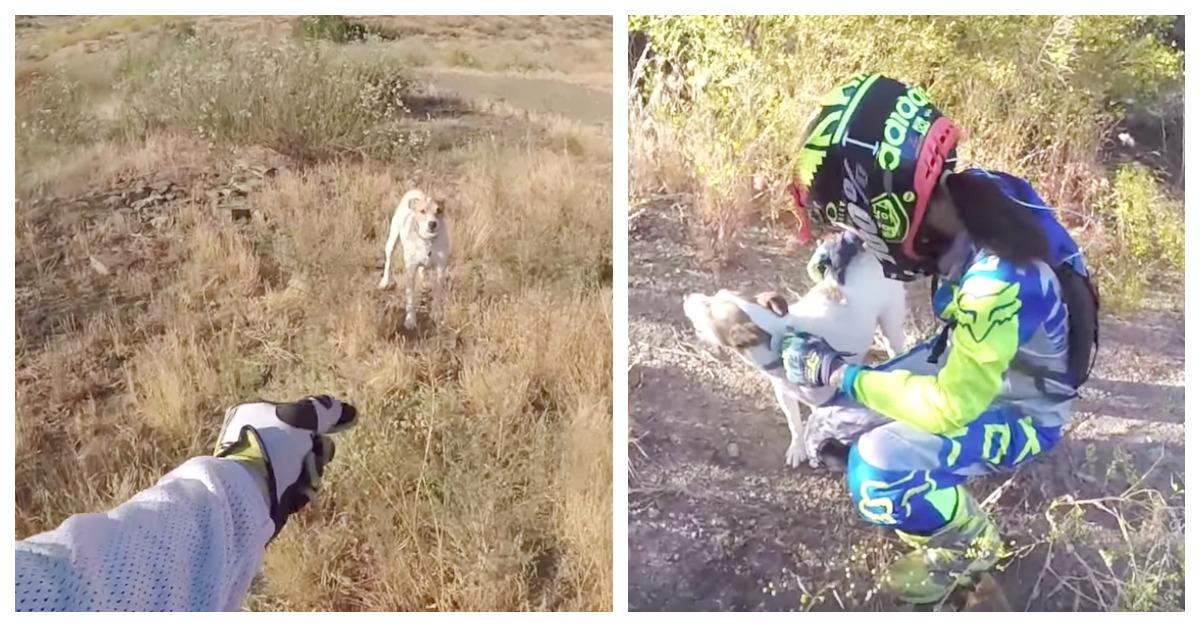 Southern California is a hotbed for people watching, But it is also a place where escaped dogs roam freely. One was reunited with his family thanks to the efforts of a couple out for a dirt bike ride. Gina and Dan were minding their own business, enjoying the Southern California weather. They took a video of their encounter with a dog that was out to have his own adventure.
When Gina and Dan first spotted the dog, they tried to approach him gently. Riding their dirt bikes, they began to trail behind the dog. Just as Dana was approaching him to grab him, he began to bark and promptly took off ahead of them. This didn't deter the couple, and they continued to trail him. When they eventually caught him, Dana read his dog tags to determine who his owner was.
Finding his name and a phone number on his tags, she promptly called it and left a voicemail message for the recipient. In the meantime, they took a seatbelt from their dirt bike and repurposed it to be a leash so that he couldn't run away from them again. They also gave Max some of their bottled water so the dog could keep cool and stay hydrated. The dog was so thirsty he drank the entire bottle, much to Gina's utter delight.
Gina and Dan looked after Max until his owner contacted them. Arrangements were then made for Max's owner to get him back. In the meantime, Max had made friends with Gina and Dan. Max liked them so much he promptly made the leap from the ground to the back of Gina's truck. Max is one dog with a strong intuition of his own, and that intuition told him when his owner was approaching Gina's truck to take Max back home.
This story illustrates how easy it is for people to bond with their dogs. It also shows that considerate people like Gina and Dan look out for others. With dogs getting away from their owners virtually every day, people are encouraged by stories such as this one. Anyone who has ever lost a dog knows how important it is to look out for others. Many stray dogs have been reunited with their owners due to the kindness of strangers. That kindness is something that dogs bring to the world, as dogs bring people together as nothing else can.
Max's story is an inspiring one with a happy ending. Seeing a lost dog reunited with his or her owner is something that everyone can appreciate. It tugs at the heartstrings of those who understand how important pets are to people. As members of the family, pets deserve to be looked after as much as anyone else does. People like Dan and Gina are invaluable in helping others reunite with the pets they love so much.