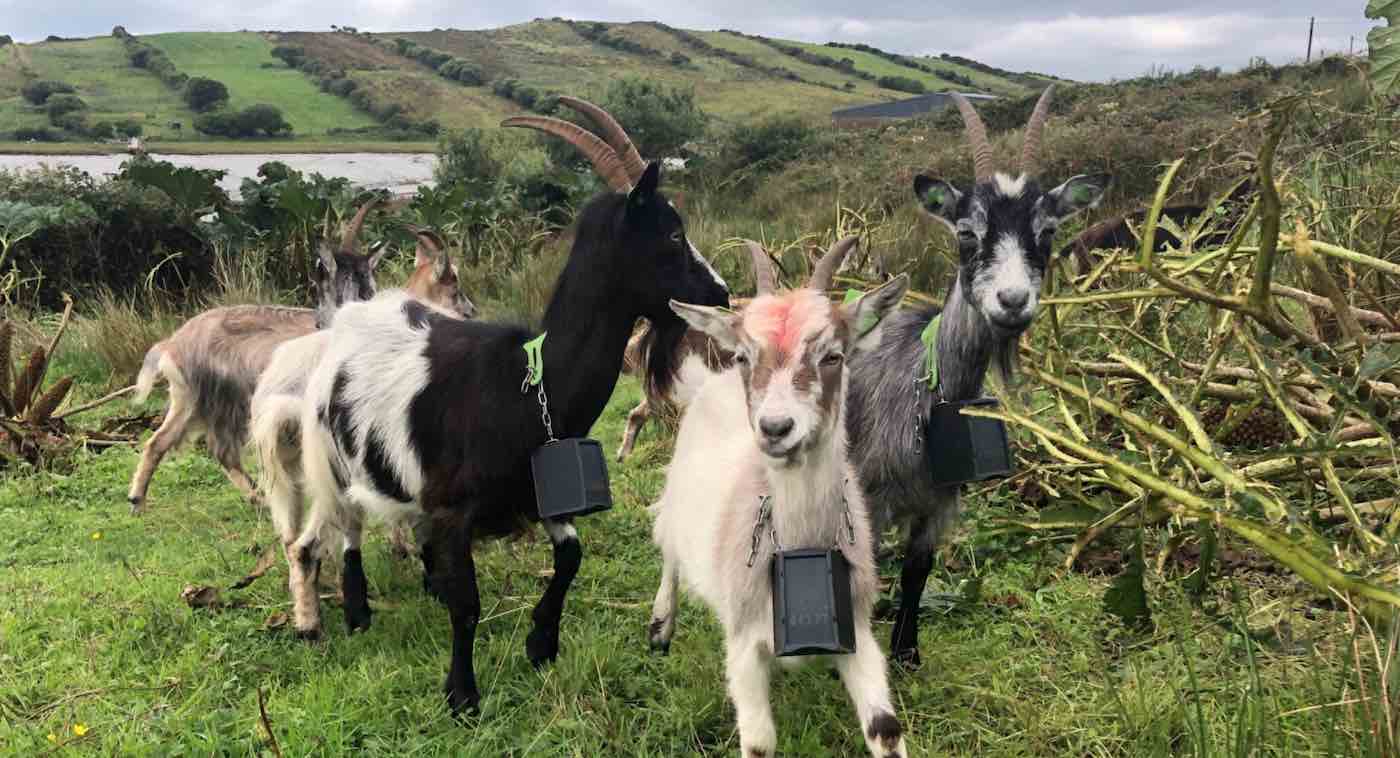 Goats to the Rescue for Dublin's Fire Risk
Working in the fields around Dublin, Melissa Jeuken has one of the most effective wildfire crews under her direction. Her team are focused, dedicated to their work, and produce amazing results with fire breaks and fire prevention. They're goats.
Melissa might chalk the synergy up to being a good leader for her team, but the reality is, her goats just go along with her wherever she takes them because there's always a good amount of food for each. Aside from the errant individual who likes to jump into Melissa's arms for a lift, most of her four-legged friends get along pretty well and understand Melissa's role as the herder of the team. And, when let loose on the Irish countryside, they don't waste any time trimming down a local hillside to reduce its fire risk, especially during the drier part of the year.
One wouldn't expect to see goats at work in the particular area of Dublin that they operate in. Howth has an elevated vantage point over Dublin downtown, and most of its residents hum around the tech centers of Google as well as the local Facebook corporate campus as well.
The goats have a straightforward job. Their task is to cut down on vegetation and wild growth so the locals don't have a repeat of the 65 acre fire that blackened the sky over Dublin earlier in July 2021. While it might not seem to have been a big fire on a grand scale, the burn was a wakeup call on how difficult it was for local firefighters and air brigade to put out a wildfire incident in their backyard.
Goatherding isn't for everyone, however. The animals are very picky about whom they accept as a herder. Melissa realized early on the animals had a mind of their own and were not just going to be poked and prodded around. Gaining their trust was key and a primary reason why she works so well with the goats now.
Originally, the Howth Council tried a modern approach to the issue, using mechanical vehicles and tractors to churn up the surrounding area and provide for a fire break.
For Melissa, experience and animal knowledge were her advantage for the herder job. She had prior experience working on a farm and with goats before, she was studying veterinarian science, and as it turned out (no surprise), Melissa was a woman, which the goats prefer over a man. Animals can in fact be sexist towards humans. The job does require Melissa to live on site at the home base for the goats, but it all works out with an enjoyable job and projects that have her outside all over greater Dublin.

The Mother Doberman and the Kitten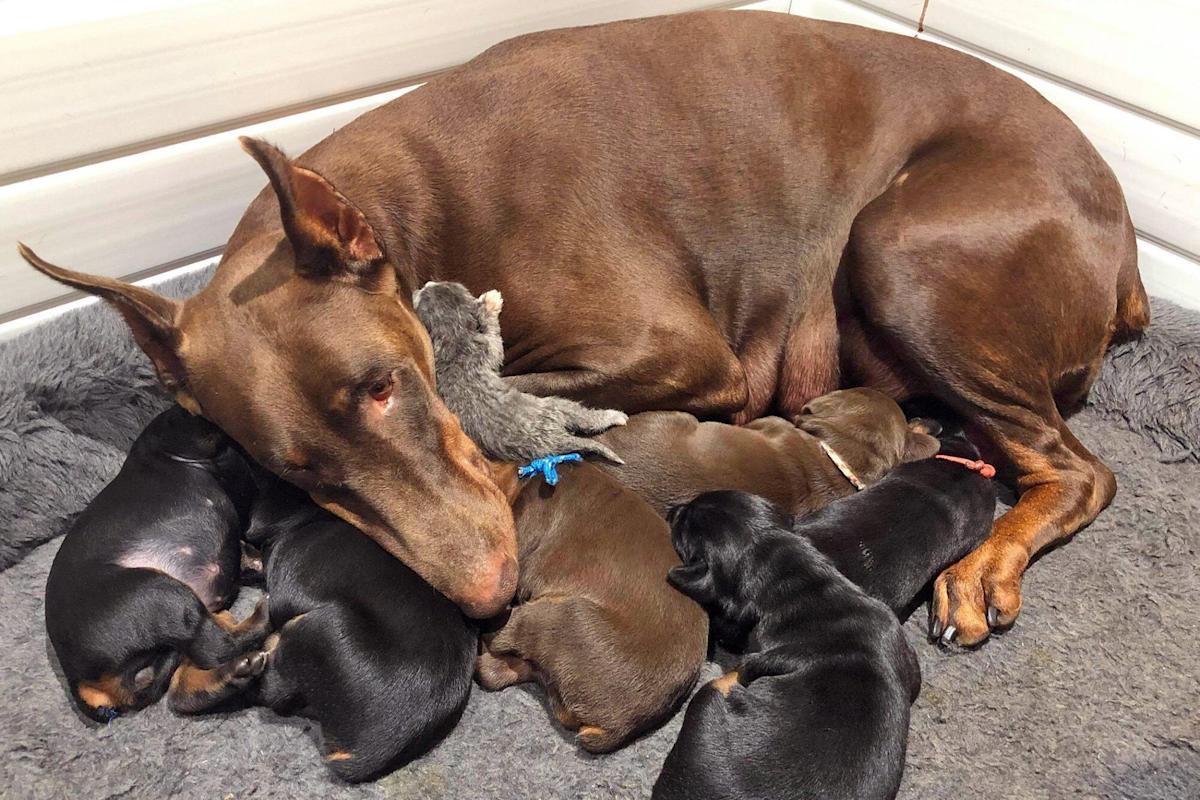 The idea of one animal raising a baby of a different species has long been part of human folklore. After all, the ancient myth of how Rome was created started with Romulus and Remus, twin babies, kept alive by a mother wolf. In far more modern times, Dr. Seuss books also took the same theme and reflected the story line with Horton the Elephant helping to hatch a baby bird. And then, of course, there is Dumbo the Elephant, Disney's version, flying after being raised and taught by crows.
Of course, in real life, cross-species care rarely happens. However, once in a while, animals do show empathy and go beyond their norms to help a young one in need. Koko the Gorilla, famous for learning sign language, raised a kitten. And a big-sized Doberman, Ruby, did the same with a little kitten she found herself with. Ruby was already in mother mode, which probably helped the situation; she had six puppies of her own nursing at the time, so the idea of a newborn kitten being added to the mix didn't seem that far-fetched, even to a big dog.
The human taking care of Ruby and her brood, Brittany Callan, normally manages the raising of Dobermans as her occupation. It helps that she lives on a farm, with plenty of room and facilities to manage animal husbandry. Given that background, when Callan happened to find a baby kitten without her mother and sure to end up passing away exposed, Callan immediately wondered whether Ruby could help. Ruby had just given birth to her own puppies just a few days before, so if anything, the dog would likely be in a prime maternal mood. It was worth a chance to save the cat.
It took a few minutes for Ruby to be comfortable with the new feline introduction, but once the nursing mother deemed the kitten no apparent threat, she was fine with taking care of one more baby in the melee of her puppies clamoring for food. Ruby was quite accommodating, actually, according to Callan. The Doberman was already used to being on the farm and surrounded by multiple species and sizes, so another kitten wasn't going to be much of a shock to her compared to how a city dog might act.
Is inter-species motherhood common? Not really, but it does happen. Russian ookeepers trying to save two tiger cubs were able to depend on the help of a Shar-Pei that nursed the two cubs long enough that they would survive. And in Ireland, a similar situation occurred with a cat raising three ducklings along with her regular kittens. In Callan's opinion and experience on the farm, the maternal instinct is so strong, it drives animals to become sympathetic to the plight of young ones needing care. And being around other animals regularly helps a lot with that trend of adoption.
As it turned out, Ruby's new kitten puppy, Ramblin' Rose, ended up doing just fine. The baby cat even got protective care from mom when the puppies started getting a bit too rough for the cat. The kitten ended up growing strong and taking on weight and will likely be just fine around dogs on the farm as a result of her rearing by Ruby.