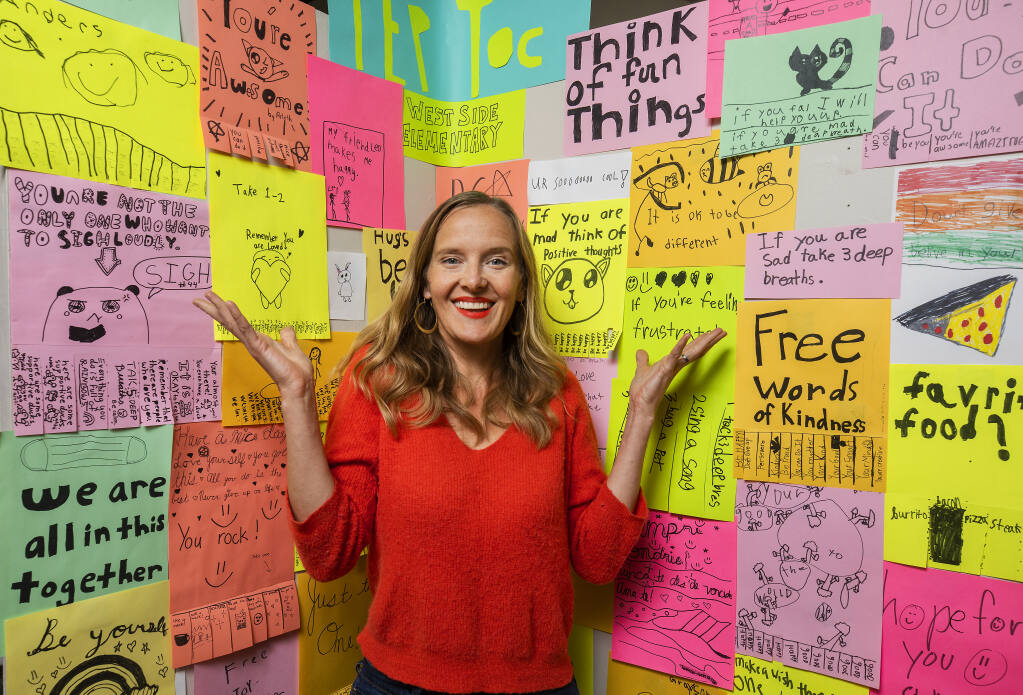 Giving a Peptalk, Gradeschool Style
Young kids in grade school don't really have the ability to do a lot of big things to help their community. Most times, they are relegated to producing artwork, singing videos and other feel-good tasks that are doable in a single class session or with a small amount of effort. However, one grade school in California decided their kids could do a bit more – they decided to become a pep talk counseling resource for anyone who wanted to listen to them.
The creative idea involves the kids providing positive messaging by phone. Given a snappy name like Peptoc Hotline, West Side Elementary School students, located in the rural town of Healdsburg, provide by phone positive statements, phrases and sayings for the listener, intended to give callers a mental boost, especially right now with so much angst going on. The idea of positive messaging resonates even louder in 2022 with a disturbing war going on in the Ukraine, everyone still feeling the effects of the recent pandemic, and life's challenges in general not taking a break after such a rough two prior years.
Jessica Martin helped think up the Healdsburg phone hotline idea. Being a known artist in the rural town, she also teaches art at West Side Elementary. The goal was to at least give the local community a bit of a boost and smile, but no one expected it was going to have a further reach. In fact, the Peptoc Hotline ended up generating over 5,000 calls daily. People were all bottled up for so long. Once word got out,the Peptoc Hotline went viral!
None of the discussions or statements are live though. All of the kids' positive messaging is recorded and then put on standby waiting to be played when a caller dials in. Callers can choose what category of messaging they want, and they get positive encouragement from one of the gradeschoolers recorded into the program. The call line works in both English and Spanish, and the translations are also provided by the kids. Some options are just sounds that make people happy, such as a bunch of kids laughing their heads off and nothing else.
One of the most popular options is the kindergartner pep talk choice. The pithy statements are short and to the point, nothing complex. But for many, it's exactly the kind of encouragement they need sometimes, which seems to be why the phone line is so popular. While the line idea may not last in the long-run, it gave the kids a great lesson on the power of communication, and Peptoc Hotline clearly also helped out a lot of people who needed a pick-me-up, even if just from kindergarteners.

The Library Cat of Port Austin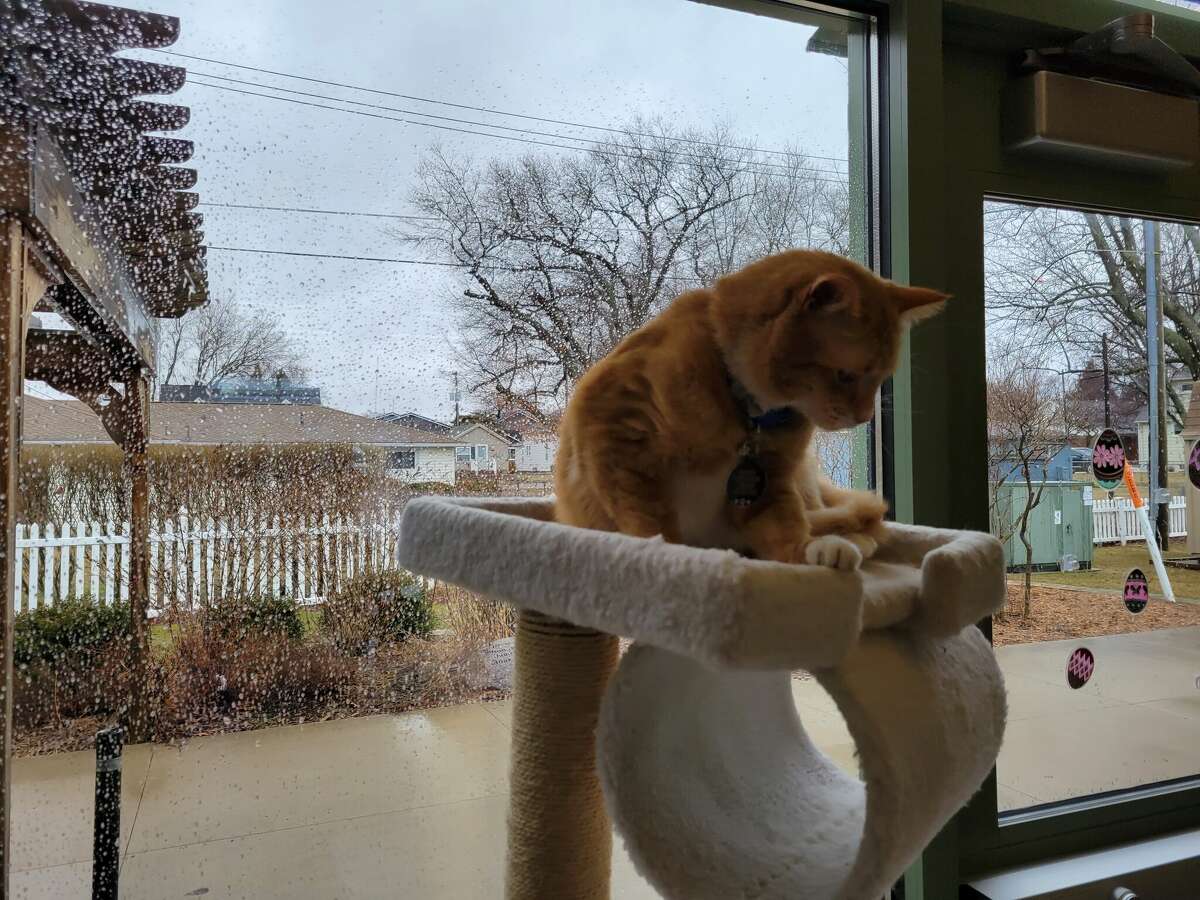 Library regulars expect to see books, computers, magazines, posters, notices, bulletin boards and even seminars at the local library building or community center adjacent to such facilities. However, they typically don't expect to see a dedicated house cat and standard equipment. However, for Port Austin, a feline accompaniment is exactly what's on order for book lovers and library fans in the local town.
Named Booker, which oddly seems to be similar to books, the orange feline wasn't a planned acquisition for the library. Instead, the cat decided to make the place home all on its own. It helped that once the cat became a regular, the patrons and staff made a point of taking care of the cat as well. Good things happen when you're regularly fed at the same location daily.
This September 2022 will be a solid three years since the cat showed up, and Booker isn't making any bones about leaving. Mary Jaworski was the original discoverer of Booker. She originally found the cat had somehow snuck into her garage at home, half-blind, and unable to eat on its own. Jaworski tried to find someone to take in the cat, but nobody was volunteering or available. As the library director for Port Austin, Jaworski ended up watching and caring for the orange feline both at home and at work. It helped that the library board was also fond of cats as well. So, as it turned out, Booker was charmed; the cat not only had a home to roam around, it had multiple fans to take care of the cat as well throughout the day.
As it turned out, the patrons liked the idea of a home cat lounging around and roaming the Port Austin library on a regular basis. It made the library homey and comfortable. That helped Booker's transition inside the library as well, after the cat was up to date on all his shots and safe around all of the patrons, including kids.
Booker wasn't lacking anything inside the library, and there was no worry he was going to start exercising his claws on the book inventory. Instead, the cat has its own cat tree, carpet for claws, appropriate amenities for personal business, and plenty of cat toys and areas to escape when it gets busy and the cat just wants to be left alone. Booker actually became so popular, he started to develop a collection of donated toys and cat food from the locals. And if he happened to be out of sight longer than normal, everybody would start asking where he was and if everything was alright with the animal.
Celebrity status probably wasn't in the cat's original plans, but Booker seems to have adapted quite fine to all the attention he gets on a regular basis. The kids play with the cat when he wants activity, and, in turn, Booker has been an attraction to bring more kids to the facility and into reading in general. And Booker is quite good at hamming it up for the crowd. He loves the petting, getting held, sitting next to patrons on the furniture and is not easily spooked by the human activity going on daily. In fact, Booker is probably one of the best behaved cats most people will meet.
Finally, Jaworski notes, Booker has a habit of wanting to sound out any new arrivals he hasn't seen or smelled before. If there are bags or belongings, he's all over the stuff before the patron realizes what's going on. That said, Booker isn't about to have a team under his leadership. One cat seems to be more than enough for the library and its customers for now. Ironically, Jaworski herself is allergic to cats, but she tolerates Booker. Ultimately, the cat earns his keep attracting more than the normal flow of patrons to the Port Austin library, easily justifying the operations and helping the library grow.