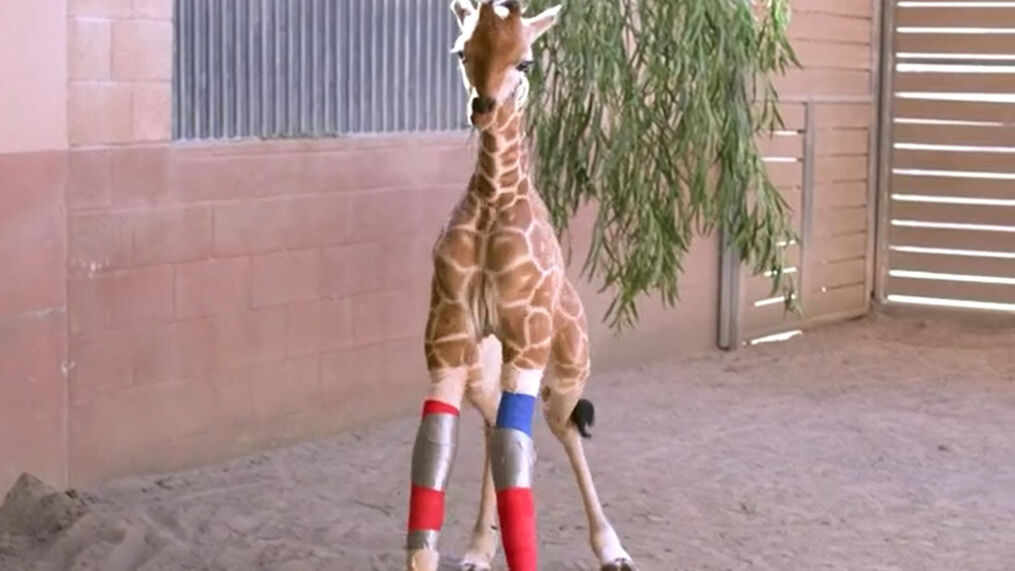 Giraffe Happily Hops Around After Getting Suited With A Brace
Ara Mirzaian has been given lots of titles, including miracle worker. However, Mirzaian probably never expected to also gain the title of "giraffe bracemaker" as well, at least not until Mirzaian answered the call for the San Diego Zoo Safari Park.
The Zoo was celebrating the birth of a newborn giraffe until it was realized there was something wrong; the newborn couldn't stand properly. This was a huge issue for a giraffe; if the newborn couldn't stand up properly, it would not be able to nurse and feed. And that could result in certain death for the animal before it had a chance to grow. The problem was the giraffe's front limb not bending correctly. Instead, due to a genetic defect, the leg was bending improperly, making it impossible for the giraffe to stand correctly or for any length of time. So it was Mirzaian's task to solve the problem via a leg brace for stability.
The specialist was perplexed. While there was no question about how to fit all types of people, Mirzaian had no prior experience working with animals, much less a baby giraffe. Already at 5 feet 10 inches and growing dramatically each day, Mirzaian had to think quickly. So, while in transit, the brace expert literally absorbed everything possible about giraffe motion mechanics and related animal behavior.
Similar to other unique brace systems, Mirzaian started with a casting of the giraffe's leg. This gave the correct dimensions so that the custom-made brace would fit exactly, providing key support for the giraffe as it moved and put weight on the leg. Had the problem been unaddressed, the animal's increasing weight and over-stress on other joints as it compensated for the bad leg would have created a cascading effect, eventually hobbling the animal entirely. Instead, the custom-made brace provided strength that allowed the baby giraffe to use its leg as normal, taking the stress off the other joints and instead healing faster.
Mirzaian's work proved to only be necessary for one leg as the giraffe's other legs adapted and healed quickly. Within a few days, the baby animal was moving around its pen easily and growing correctly. And, among other things, Mirzaian got the unique chance of being able to hug a giraffe, something not everyone can claim as their own experience. Ultimately, it took about 40 days in specialized braces for the baby giraffe to recover. While the mother never acknowledged the child giraffe on return, the rest of the zoo herd did and adopted her.
For Mirzaian, the experience was a unique one, and he keeps a photograph of the giraffe in his office as a reminder. Even better, he knows he had a direct role in saving the baby giraffe's life as well.
A Boy Expected to Never Write Shows the World What 12 Fingers Can Do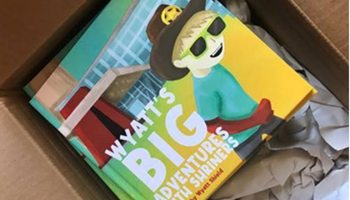 When Wyatt Shield was born, doctors immediately knew they had a developmental mutation case on their hands, no pun intended. The newborn boy was born with 12 fingers. Specifically, each hand came with an additional thumb. Technically known as thumb polydactyly, Wyatt was going to be able to live and function, but the use of hands for dexterity work like writing was going to be limited or none. Like many children with extra parts due to development mutations, Wyatt's extra thumbs were removed a year later thanks to the support and help of the Shriners Children's Hospital, located in St. Louis.
However, regardless of what the medical experts and doctors thought at the time, Wyatt wasn't keen on agreeing with their conclusion about his recovery. Instead, some five years later, Wyatt decided to become an author and write his first book. The story was about his experience at the Shriners' Hospital, from what he could remember, and what he was told about what occurred there to help him. Even more surprising, the book gained enough support to be published, and it's now in circulation.
The story of Wyatt's surgery trip covers all the different procedures he had to go through as well as his perspective of the doctors. It's a kid's view of the world clearly, and Wyatt wanted to show other kids not only could he prove medical experts wrong, but write a book doing so as well. His parents think Wyatt just rocks something huge. It's a classic outcome of what a child can pursue if he's not stopped first and prevented from achieving the "impossible."
The Shriner impact is a family thing for Wyatt and his parents as well. Wyatt's grandfather on his mother's side was a Shriner for a half century. Seeing the program give back personally to the family was a work effort coming full circle because of all the years of volunteering and support his grandfather provided Shriners before Wyatt was ever born. In the same vein, some of the profits from Wyatt's book sales will go right back to the Shriners, as Wyatt and his family wanted. It's a sense of paying forward for the next child that needs help like what Wyatt received for his hands.
And, as for Wyatt, he's off to his next adventure and challenge. His hands are doing just fine, and he's taking on new ideas for his next books as well.