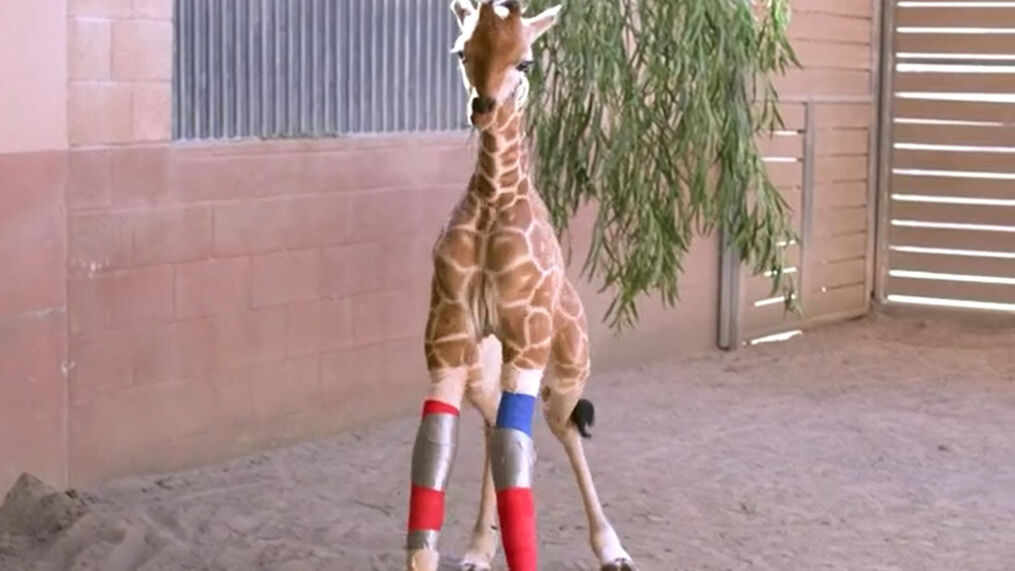 Giraffe Happily Hops Around After Getting Suited With A Brace
Ara Mirzaian has been given lots of titles, including miracle worker. However, Mirzaian probably never expected to also gain the title of "giraffe bracemaker" as well, at least not until Mirzaian answered the call for the San Diego Zoo Safari Park.
The Zoo was celebrating the birth of a newborn giraffe until it was realized there was something wrong; the newborn couldn't stand properly. This was a huge issue for a giraffe; if the newborn couldn't stand up properly, it would not be able to nurse and feed. And that could result in certain death for the animal before it had a chance to grow. The problem was the giraffe's front limb not bending correctly. Instead, due to a genetic defect, the leg was bending improperly, making it impossible for the giraffe to stand correctly or for any length of time. So it was Mirzaian's task to solve the problem via a leg brace for stability.
The specialist was perplexed. While there was no question about how to fit all types of people, Mirzaian had no prior experience working with animals, much less a baby giraffe. Already at 5 feet 10 inches and growing dramatically each day, Mirzaian had to think quickly. So, while in transit, the brace expert literally absorbed everything possible about giraffe motion mechanics and related animal behavior.
Similar to other unique brace systems, Mirzaian started with a casting of the giraffe's leg. This gave the correct dimensions so that the custom-made brace would fit exactly, providing key support for the giraffe as it moved and put weight on the leg. Had the problem been unaddressed, the animal's increasing weight and over-stress on other joints as it compensated for the bad leg would have created a cascading effect, eventually hobbling the animal entirely. Instead, the custom-made brace provided strength that allowed the baby giraffe to use its leg as normal, taking the stress off the other joints and instead healing faster.
Mirzaian's work proved to only be necessary for one leg as the giraffe's other legs adapted and healed quickly. Within a few days, the baby animal was moving around its pen easily and growing correctly. And, among other things, Mirzaian got the unique chance of being able to hug a giraffe, something not everyone can claim as their own experience. Ultimately, it took about 40 days in specialized braces for the baby giraffe to recover. While the mother never acknowledged the child giraffe on return, the rest of the zoo herd did and adopted her.
For Mirzaian, the experience was a unique one, and he keeps a photograph of the giraffe in his office as a reminder. Even better, he knows he had a direct role in saving the baby giraffe's life as well.
Safe Haven for Pets Who's Owners Enter Rehab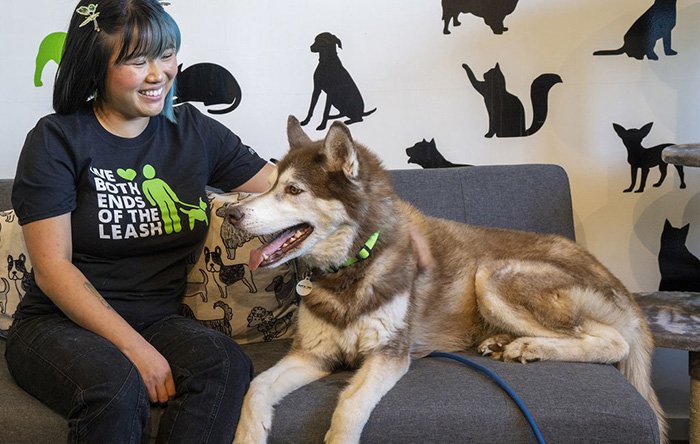 No pet owner likes to leave their pets for extended periods, no matter the reason for leaving. It's no different for people who may have drug or alcohol issues and might need to go for rehabilitation.
Not knowing who to leave the pet with or the level of care it will receive can lead to anxiety. However, there's a new resolve for people faced with that situation. Read on…
Bella was skeptical as she put her head up from inside the carrier she was being transported on to the boarding house.
A volunteer massaged the little black-and-white cat's hair to calm her fear of the dogs barking at the boarding facility's back.
The cat goes by the alias Bella since her owner, who's dealing with a tough time at home, wants to keep her cat's real name a secret. Pets in need of emergency shelter can stay with a foster family at Ruff Haven Crisis Sheltering, which provides short-term, no-cost accommodation for animals whose owners are homeless or fleeing domestic abuse.
Odyssey House, Utah's largest integrated addiction treatment center, and the foundation have just teamed up to offer three months of no-fee pet lodging to those who need it most.
"This is truly person-based, like person-led," said Beth Henry, Ruff Haven's foster coordinator. Pets are returned to their owners once treatment is complete and they have achieved a sense of security and well-being.
Enrollment and documenting of the owner's present status, followed by a brief examination of the pet (weight and overall health), immunizations, and ensuring that the animal is either fixed or is scheduled to be treated, are the first steps in the process of adoption.
The pet then gets connected with a foster home, and the owner receives weekly SMS updates on the progress of their animal. When a client and their pet are apart, Ruff Haven's fosters send videos and pictures of the pet to the client.
Several clients have the option of having their dogs dropped off for the Dogs All Day program by their foster parents, and their owners can come to meet them.
Henry stated, "It's a terrific confidence boost for them." In some cases, dogs are kept at the Dogs All Day center since their owners prefer to be able to visit them every day… It's rare for them to be greeted by their loved ones every single day. The stress of living with a cat is very hard on them.
In a press release, Adam Cohen, CEO of Odyssey, stated that pets can be a motivation for people to stay in difficult situations because they are worried about how their animals will be cared for if they are not there.
However, Ruff Haven Crisis Sheltering, which launched in June 2020, has already aided 320 families and almost hundreds of animals since then.
Owners often worry that they'll forget their pets during this time, but "the pets don't ever forget their owner," according to Kristina Pulsipher, the executive director at Ruff Havens. We do this for the reunions. And many of our former clients are now either volunteers or foster parents for us.