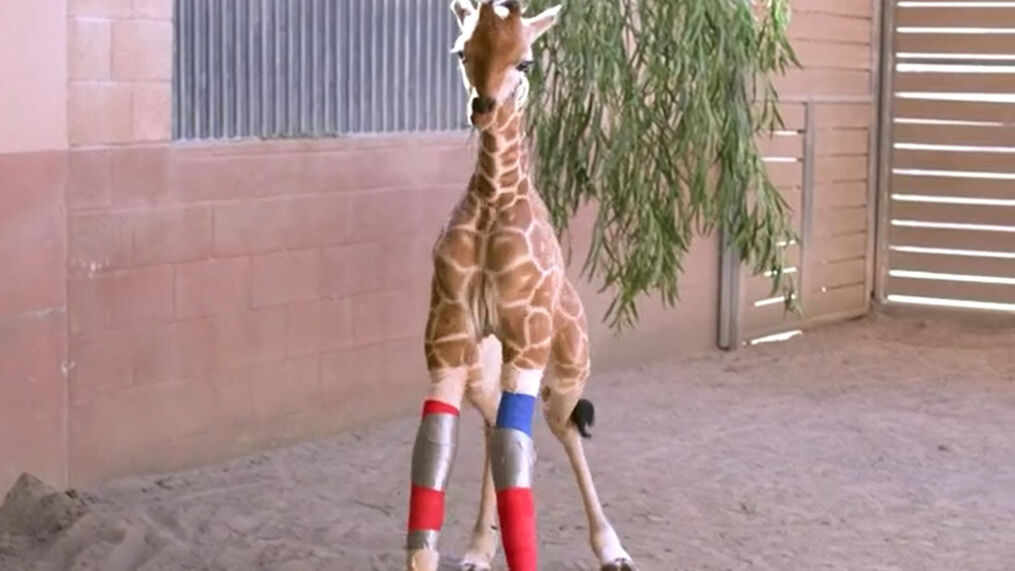 Giraffe Happily Hops Around After Getting Suited With A Brace
Ara Mirzaian has been given lots of titles, including miracle worker. However, Mirzaian probably never expected to also gain the title of "giraffe bracemaker" as well, at least not until Mirzaian answered the call for the San Diego Zoo Safari Park.
The Zoo was celebrating the birth of a newborn giraffe until it was realized there was something wrong; the newborn couldn't stand properly. This was a huge issue for a giraffe; if the newborn couldn't stand up properly, it would not be able to nurse and feed. And that could result in certain death for the animal before it had a chance to grow. The problem was the giraffe's front limb not bending correctly. Instead, due to a genetic defect, the leg was bending improperly, making it impossible for the giraffe to stand correctly or for any length of time. So it was Mirzaian's task to solve the problem via a leg brace for stability.
The specialist was perplexed. While there was no question about how to fit all types of people, Mirzaian had no prior experience working with animals, much less a baby giraffe. Already at 5 feet 10 inches and growing dramatically each day, Mirzaian had to think quickly. So, while in transit, the brace expert literally absorbed everything possible about giraffe motion mechanics and related animal behavior.
Similar to other unique brace systems, Mirzaian started with a casting of the giraffe's leg. This gave the correct dimensions so that the custom-made brace would fit exactly, providing key support for the giraffe as it moved and put weight on the leg. Had the problem been unaddressed, the animal's increasing weight and over-stress on other joints as it compensated for the bad leg would have created a cascading effect, eventually hobbling the animal entirely. Instead, the custom-made brace provided strength that allowed the baby giraffe to use its leg as normal, taking the stress off the other joints and instead healing faster.
Mirzaian's work proved to only be necessary for one leg as the giraffe's other legs adapted and healed quickly. Within a few days, the baby animal was moving around its pen easily and growing correctly. And, among other things, Mirzaian got the unique chance of being able to hug a giraffe, something not everyone can claim as their own experience. Ultimately, it took about 40 days in specialized braces for the baby giraffe to recover. While the mother never acknowledged the child giraffe on return, the rest of the zoo herd did and adopted her.
For Mirzaian, the experience was a unique one, and he keeps a photograph of the giraffe in his office as a reminder. Even better, he knows he had a direct role in saving the baby giraffe's life as well.
Drew Carey's Beyond Generous Gesture to Support Striking Writers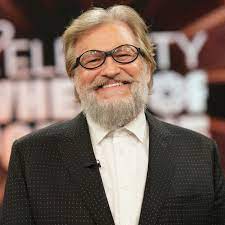 In times of struggle, acts of kindness and generosity can bring hope and relief to those in need. Drew Carey, a well-known television personality, has once again shown his compassion by providing daily lunches for members of the Writer's Guild of America (WGA) who are currently on strike. This remarkable gesture is helping to alleviate some of the financial strain faced by these hardworking individuals.
Drew Carey is graciously covering the expenses at two local businesses for WGA members who show their guild card. The two restaurants involved in this endeavor are Bob's Big Boy in Burbank and Swingers Diner on Beverly. With every meal, Drew is estimated to be spending thousands of dollars per day to ensure that these writers are well-fed during this challenging time.
This is not the first time that Drew Carey has demonstrated his support for the WGA. During the 2007 strike, he generously provided lunches to struggling writers for two consecutive months. His commitment to helping others in need has not wavered over the years, and he continues to be a beacon of kindness.
The gratitude expressed by the WGA members for Drew's actions is overwhelming. Many writers have taken to social media to share their appreciation and to highlight the impact of his generosity. One writer tweeted, "Drew bought me lunch for two months straight in '07 when I was struggling with that WGA strike. In a better place now, but Drew continues to be a good dude." The outpouring of thanks and support from the WGA community is a testament to the positive effect that Drew's kind gestures have on their lives.
The participating restaurants have become a gathering place for WGA members, who are not only enjoying the delicious meals but also feeling the love and support from Drew. The writers express their gratitude repeatedly, and the staff at the restaurants are grateful to be part of this compassionate act. They feel privileged to play a role in facilitating Drew's generosity and witness the joy it brings to those in need.
Being a writer can be challenging, with periods of financial uncertainty and limited opportunities. The current strike has exacerbated these difficulties, making every complimentary meal a significant relief for the writers. As one member explained, "They're very, very happy and they're very, very thankful to Drew." The impact of Drew's support goes beyond a single meal—it represents a lifeline for those facing financial hardships during the strike.
Drew Carey's unwavering commitment to supporting the WGA and his genuine care for those in need is truly commendable. His actions remind us of the power of kindness and the difference one person can make in the lives of others. As the strike continues, the lunches provided by Drew serve as a ray of hope and a reminder that the writing community is not alone in their fight.
In times of hardship, it is heartwarming to see individuals like Drew Carey step forward and offer their support. His kindness and generosity are an inspiration to us all, and his contributions to the well-being of the WGA members are deeply appreciated.