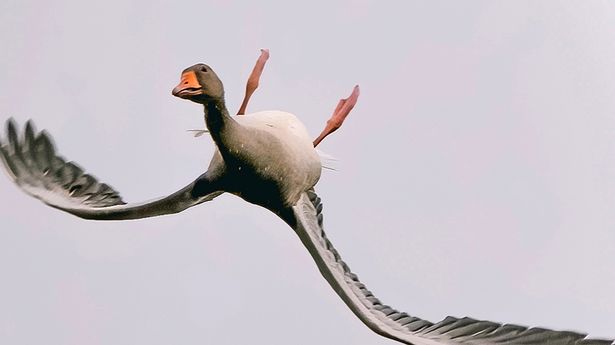 Geese Showing Off By Flying Upside Down
Amateur photographers love to get great shots, especially given that sometimes they seem random, and the trick to reaching professional status is to produce great shots consistently versus every once in a while. So, for photographers in Holland watching geese fly near Arnhem, the opportunity to catch a goose flying upside down was a bit out of the norm and eye-catching. As it turned out, the goose was showing off.
Geese in the region have regularly been seen flying upside down, which might seem somewhat odd to the bystander seeing the behavior for the first time. Locally referred to as "whiffling," upside-down geese flying occurs on a regular basis when the bird manages to twist its belly up in the air and keep flying while the head is also twisted right side up. No one is quite sure why geese do this, but some guesses are it helps distract would-be predator birds from attacking when something looks odd, or it slows the goose's flight to the ground. Geese are not the only birds to perform whiffling either; lapwings and godwits have been seen doing the same in flight.
Vincent Cornelissen was the lucky photographer who was able to snap a wonderfully clear shot of a goose near Arnhem, and it was his image that ended up triggering the latest online debate and interest in geese whiffling. Cornelissen had posted the image to his Facebook page to show off the photograph, and it ended up expanding his audience to some 10,000 different followers as a result. One particular fellow in Turkey turned out to be an aerodynamics professor at Istanbul University and used Cornelissen's image as an example for students studying flight capabilities.
The upside-down goose was not Cornelissen's first bird shot either. The photographer has been watching and catching images of birds since childhood, and his library of photographs over the years has grown expansive. However, the odd goose flight could arguably be Cornelissen's most famous photograph by far. It was pure accident that he even got the shot, simply noticing that one of the birds was flying weirdly at the time. The odd flight approach wasn't fully noticed until Cornelissen was working on post-processing of his images when he realized what the bird was doing.
At first, Cornelissen thought his audience would accuse the amateur of photoshopping the image, the practice of making a fake image with Adobe Photoshop, a highly powerful post-processing image editing program. However, Cornelissen was soon buffered by those in other countries who confirmed the behavior as being real and accurate.
As it turns out, when young geese become accomplished in flight, they do dumb stuff, most notably, flying upside down to apparently "show off." It works great until the goose runs into trouble and then has to adjust for a potential flight mishap and crash on the ground. The whiffling has been confirmed by other photographers after Cornelissen's image was produced, but his image remains the greatest clarity so far of the goose's flight behavior.
Punk Kid Goes From Homeless to Opening A Quirky Barbershop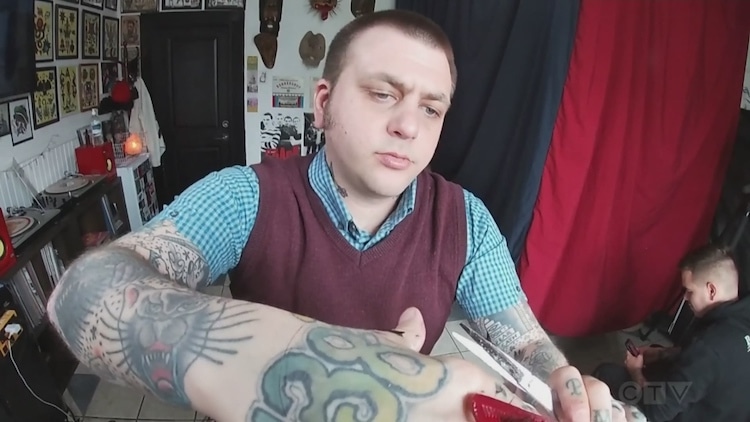 If you've ever seen the musical movie, Sweeney Todd: The Demon Barber of Fleet Street, starring Johnny Depp and Helena Bonham-Carter, then you could be forgiven for thinking twice before stepping into a barbershop for a straight-razor shave. However, many people have that reaction as well when stepping into Daryl Bidner's Little Barbershop of Horrors in today's Vancouver Island.
Bidner himself was never one for being mainstream. Growing up as a punk kid in his teen years, the barber today is a close-cropped fellow, arms blazoned with tattoos, and a late 1960s skinhead-style outfit décor via collared shirt, sleeveless sweater matched to his jeans and boots. However, when it comes to cutting hair, Bidner is all the professional and about business.
Starting off definitely wanting his barbershop to stand out and apart from the competition locally, Bidner modeled the entire theme of his haircutting venue around the movie, Little Shop of Horrors. He parlayed his interest in cutting hair for friends with mohawks into a bona fide skill, and now enjoys regular business as a barber for clientele young and old.
However, life wasn't always peachy-keen for Bidner. He was a school drop-out, had been in and out of drug addiction, and reached his own personal bottom after being homeless for an extended period. Ironically, it was a tattoo that finally seemed to put the young man back on track. His first tattoo allowed Bidner to skip the usual downspin of wasting the night high on something, and he sobered up. A number of days later, he did it again, using tattoos to get clean. By the 40th inking, Bidner was fundamentally off his addictions and broke his need to use mindlessly.
The tattooing was cathartic for Bidner, and he finally began to think about tomorrow instead of the next binge today. That in turn got him into thinking what Bidner could do for a proper living. Obviously, the young man was not going to go and wear a corporate suit the following Monday. So, he looked around at what made sense. Being a tattoo artist was logical, but then haircutting and being a barber appealed even more.
Bidner knuckled down, figured out how to get himself into barbering school, and after three years of grinding to perfect his skill, he had a license and started his own business with a single barber chair. Since that major breakthrough, Bidner has been at it as a barber for over five years, and he's been involved with community help drives and giving free haircuts to the homeless at local shelters as well. No surprise, Bidner credits his profession for saving his life and giving him direction, but it has also been a living lesson to others that no matter how bad it gets, people can pull themselves out and up again.