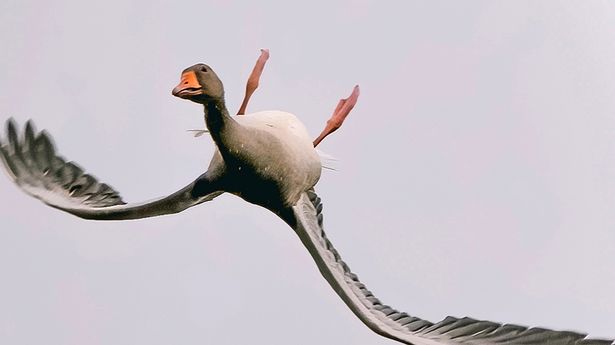 Geese Showing Off By Flying Upside Down
Amateur photographers love to get great shots, especially given that sometimes they seem random, and the trick to reaching professional status is to produce great shots consistently versus every once in a while. So, for photographers in Holland watching geese fly near Arnhem, the opportunity to catch a goose flying upside down was a bit out of the norm and eye-catching. As it turned out, the goose was showing off.
Geese in the region have regularly been seen flying upside down, which might seem somewhat odd to the bystander seeing the behavior for the first time. Locally referred to as "whiffling," upside-down geese flying occurs on a regular basis when the bird manages to twist its belly up in the air and keep flying while the head is also twisted right side up. No one is quite sure why geese do this, but some guesses are it helps distract would-be predator birds from attacking when something looks odd, or it slows the goose's flight to the ground. Geese are not the only birds to perform whiffling either; lapwings and godwits have been seen doing the same in flight.
Vincent Cornelissen was the lucky photographer who was able to snap a wonderfully clear shot of a goose near Arnhem, and it was his image that ended up triggering the latest online debate and interest in geese whiffling. Cornelissen had posted the image to his Facebook page to show off the photograph, and it ended up expanding his audience to some 10,000 different followers as a result. One particular fellow in Turkey turned out to be an aerodynamics professor at Istanbul University and used Cornelissen's image as an example for students studying flight capabilities.
The upside-down goose was not Cornelissen's first bird shot either. The photographer has been watching and catching images of birds since childhood, and his library of photographs over the years has grown expansive. However, the odd goose flight could arguably be Cornelissen's most famous photograph by far. It was pure accident that he even got the shot, simply noticing that one of the birds was flying weirdly at the time. The odd flight approach wasn't fully noticed until Cornelissen was working on post-processing of his images when he realized what the bird was doing.
At first, Cornelissen thought his audience would accuse the amateur of photoshopping the image, the practice of making a fake image with Adobe Photoshop, a highly powerful post-processing image editing program. However, Cornelissen was soon buffered by those in other countries who confirmed the behavior as being real and accurate.
As it turns out, when young geese become accomplished in flight, they do dumb stuff, most notably, flying upside down to apparently "show off." It works great until the goose runs into trouble and then has to adjust for a potential flight mishap and crash on the ground. The whiffling has been confirmed by other photographers after Cornelissen's image was produced, but his image remains the greatest clarity so far of the goose's flight behavior.
Man Sets Guinness World Record For TALLEST Stack of M&M's — EVER!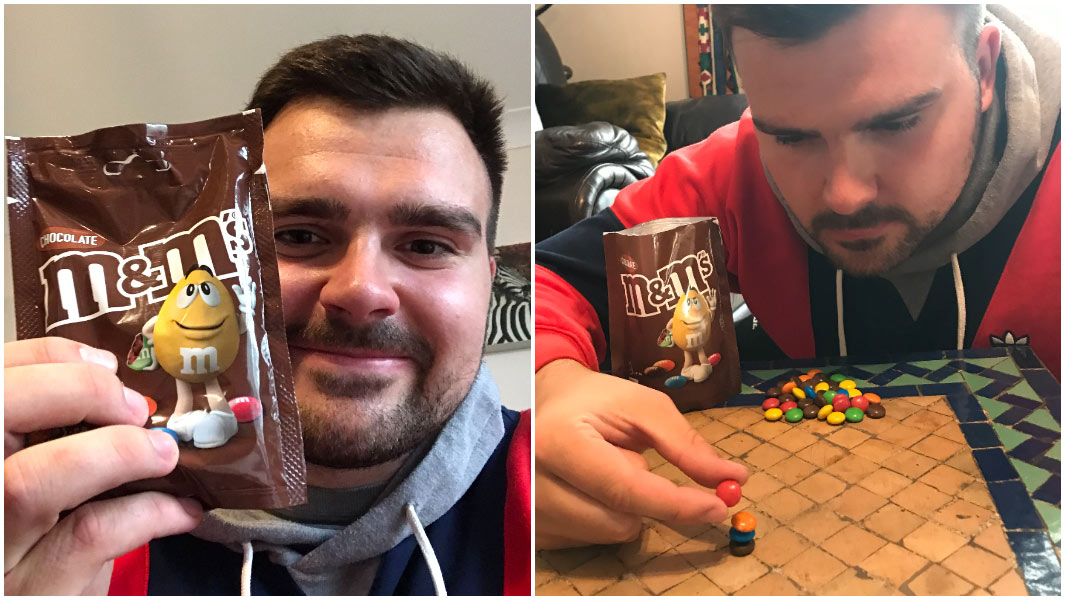 Where were you when you had your first bite of M&Ms? These multi-colored chocolate buttons were first introduced to the world by Mars, Incorporated on September 10, 1941 – more than 79 years ago! Sold around the planet, M&Ms have become one of the most popular sugary candies on the planet, gaining ground with its catchy slogan, "Melts in your mouth, not in your hand."
More than just a sweet treat for chocolate lovers everywhere, one man turned to his favorite candy to land within the Guinness Book of World Records. That man, named Will Cutbill of the U.K., would do so by managing to balance five M&M sweets atop one another, bursting through the record of four held by Brendan Kelbie of Australia and Silvio Sabba of Italy.
Snacking and World Records
When we think of accomplishing a world record, most of us probably consider all of the work that likely goes into the equation. We certainly don't anticipate beating a world record while relaxing in front of the television with our favorite snack. For Will and his bag of M&Ms, it turned out that sitting around was the EXACT recipe for success that would push him to victory. Will said, "One day in lockdown I was mixing up my confectionary choice (…) and this time the bag of M&Ms called me, and boy am I glad they did!"
Will had been sitting on his couch with his snacks when he felt possessed to try and stack them atop one another. At the time, Will thought that he was just killing time with his candies. He didn't realize that he was practicing and preparing to break a world record! After seeing how good he was at stacking the M&Ms initially, he decided to go for as many as possible.
Will said before breaking his record, "One day I thought, right, let's crack this. So I sat down determined to complete it."
The future M&Ms world record holder would film his attempts to stack five M&Ms atop one another and in doing so, Will would capture his success as it happened. Will said, "I've had a lifelong ambition to break a world title. I've always wanted one." Will would go on to admit that he had been purchasing the Guinness books every single year, hoping one day to add his name to its pages.
After breaking the record from the comfort of his living room, Will would submit the recording for review. Claiming that the moment felt 'absolutely amazing', Will would wait until the video was verified to actually celebrate. "It's madness. I can now say I'm a Guinness World Records title holder!"
Despite earning the record for his ability to balance chocolate candies, Will admits that he himself isn't very athletic. "I can barely stand on one leg, but I have a talent for chocolate!"
While he is happy to hold onto his record, for now, the U.K. native admitted that he's already planning on future challenges. Will said that he was inspired and that his "creative juices" were flowing.