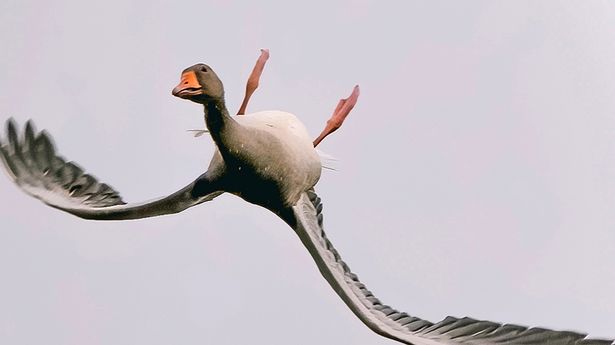 Geese Showing Off By Flying Upside Down
Amateur photographers love to get great shots, especially given that sometimes they seem random, and the trick to reaching professional status is to produce great shots consistently versus every once in a while. So, for photographers in Holland watching geese fly near Arnhem, the opportunity to catch a goose flying upside down was a bit out of the norm and eye-catching. As it turned out, the goose was showing off.
Geese in the region have regularly been seen flying upside down, which might seem somewhat odd to the bystander seeing the behavior for the first time. Locally referred to as "whiffling," upside-down geese flying occurs on a regular basis when the bird manages to twist its belly up in the air and keep flying while the head is also twisted right side up. No one is quite sure why geese do this, but some guesses are it helps distract would-be predator birds from attacking when something looks odd, or it slows the goose's flight to the ground. Geese are not the only birds to perform whiffling either; lapwings and godwits have been seen doing the same in flight.
Vincent Cornelissen was the lucky photographer who was able to snap a wonderfully clear shot of a goose near Arnhem, and it was his image that ended up triggering the latest online debate and interest in geese whiffling. Cornelissen had posted the image to his Facebook page to show off the photograph, and it ended up expanding his audience to some 10,000 different followers as a result. One particular fellow in Turkey turned out to be an aerodynamics professor at Istanbul University and used Cornelissen's image as an example for students studying flight capabilities.
The upside-down goose was not Cornelissen's first bird shot either. The photographer has been watching and catching images of birds since childhood, and his library of photographs over the years has grown expansive. However, the odd goose flight could arguably be Cornelissen's most famous photograph by far. It was pure accident that he even got the shot, simply noticing that one of the birds was flying weirdly at the time. The odd flight approach wasn't fully noticed until Cornelissen was working on post-processing of his images when he realized what the bird was doing.
At first, Cornelissen thought his audience would accuse the amateur of photoshopping the image, the practice of making a fake image with Adobe Photoshop, a highly powerful post-processing image editing program. However, Cornelissen was soon buffered by those in other countries who confirmed the behavior as being real and accurate.
As it turns out, when young geese become accomplished in flight, they do dumb stuff, most notably, flying upside down to apparently "show off." It works great until the goose runs into trouble and then has to adjust for a potential flight mishap and crash on the ground. The whiffling has been confirmed by other photographers after Cornelissen's image was produced, but his image remains the greatest clarity so far of the goose's flight behavior.
Dolls Mysteriously Take Up Residence In Michigan Man's Mailbox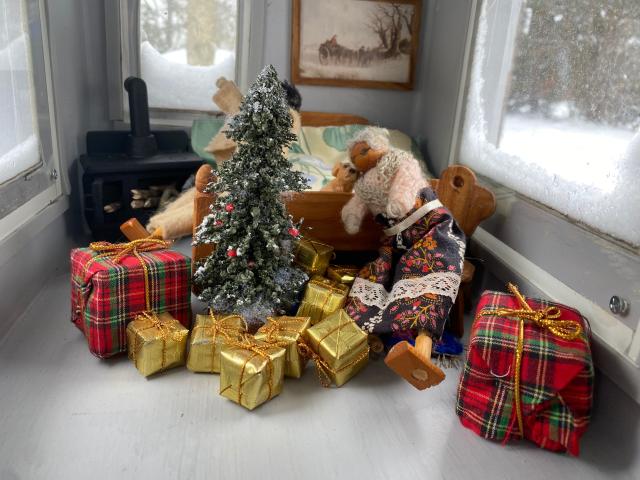 A man in Michigan, Don Powell, was left completely puzzled when he discovered two small wooden dolls in his mailbox one day, along with a note that read, "We decided to live here." The dolls were named Mary and Shelley, and they came with little pieces of furniture too.
Initially, Don was a bit confused by the whole thing, but he admits that he kind of enjoyed the mystery and intrigue of it all. He went around to the other homes on his cul-de-sac to see if anyone else had received similar dolls, but nobody had. He even asked a neighbor named Shelly, but she denied having anything to do with it.
At first, Don thought about getting rid of the dolls, but something stopped him. Instead, he decided to let them stay in the mailbox, which was custom-built to look like his house, complete with details such as windows that let in light.
As the story began to spread, more and more items began to appear in the mailbox with the dolls, including a rug, art, and even a bed. Someone even swapped the dolls for little skeletons on Halloween, but the dolls returned by Christmas with presents by their side.
Don Powell still doesn't know who put the dolls in his mailbox or why, but he's grateful for the mystery and the joy it has brought to his life. He says that every day, he looks forward to seeing what new surprises the dolls and their mysterious benefactors have in store for him.
This story is a great example of how a simple act of kindness or a random act of whimsy can have a big impact on someone's life. It's also a reminder that sometimes, the greatest joys in life come from the unexpected and the unexplainable.
Whether it was a neighbor with a sense of humor, a stranger passing through town, or something else entirely, the mystery of the dolls in Don Powell's mailbox has captured the imaginations of people all over the world. It's a reminder that there is still magic and wonder in the world, and that sometimes, the most meaningful things in life are the ones that can't be easily explained.