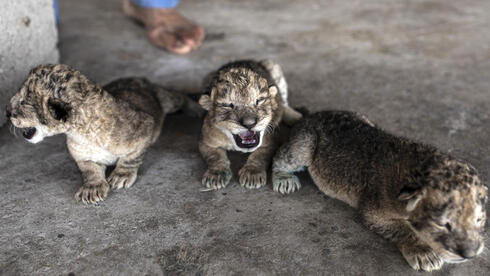 Gaza Lion Cubs are a Rare New Sight
The Gaza Strip is known internationally as a place of ongoing conflict and strife between Israelis and Palestinians. However, in 2022, it's now also known as the home to three brand new lion cubs as well. Born in Gaza City's own zoo, located in Nama, the three cubs didn't even have their eyes fully open during their display. Everyone locally came to see the new arrivals, even with air bombings and rockets flying in the background.
Unlike the typical zoo presentation in big cities, where typically the new animals are showcased in protective clear plastic zones with lots of fancy lights and similar, the Gaza City Zoo has to make do with what's available. So, the lion cubs were presented in a cardboard box to protect them and make sure they didn't wander off.
The fact that three cubs were born is considered a huge miracle. The continuing smattering of explosions rocked the area and stressed out the zoo animals. The lion mother had previously had multiple miscarriages as a result. However, each of the latest cubs shows a healthy sign of life, weighing in at 700 grams each. While outside the fighting between military forces continued, in the zoo it was a special day.
Born on a Friday, the three cubs arrived during a ceasefire period with some relative calm. Given the amount of risk and damage going on all around, it's amazing that a zoo even operates in Gaza these days, and the fact that the lion cubs arrived is even a greater miracle beating the odds. The only way the zoo has been able to operate has been through charity support. And it's been a fight. A number of other zoos have folded out of a basic inability to function or even provide food for the animals contained; most starved to death, unable to be moved anywhere safe. Add in the fact there isn't much sympathy for trapped animals when some 2.3 million people are also effectively trapped as refugees in the Gaza zone as well.
However, for at least one day, all the above was forgotten. Instead, people and their kids just wanted to marvel at seeing the new lion cubs. They will join a population of animals supported by the local community helping run the zoo, including birds, monkeys, wolves, foxes and a small pack of hyenas as well. It's not much in comparison to other cities, but it is the Gaza City Zoo.
Buzz Aldrin Finally Marries Long-Term Love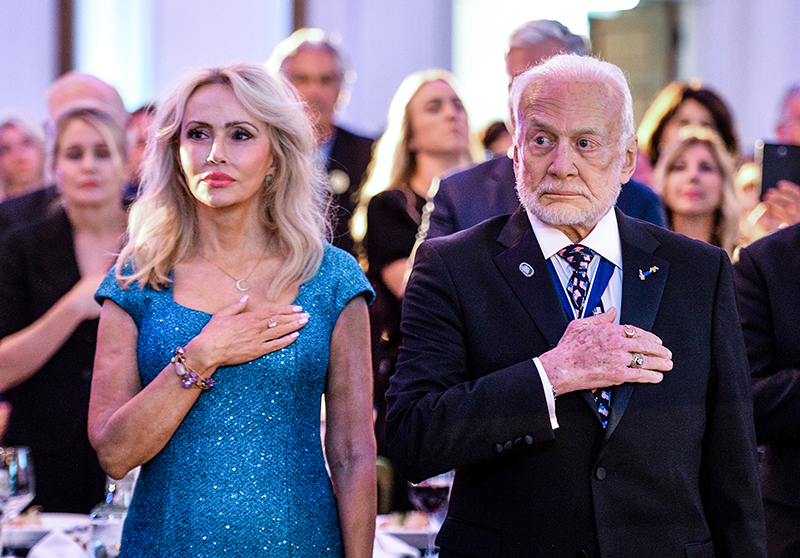 Buzz Aldrin, the second man to walk on the moon, recently married his longtime love, Lois Driggs Cannon. The couple, who have been together for more than a decade, married in a private ceremony in Los Angeles, California.

Aldrin, who is now 93 years old, first met Cannon at a gala event in Los Angeles in the late 1990s. They quickly became friends and began dating. They've been together ever since, and their love has only grown stronger over time.

Aldrin is best known for his involvement in the Apollo 11 mission, which saw him and astronaut Neil Armstrong become the first humans to walk on the moon in 1969. Since then, he has devoted his life to promoting space exploration and education. He is also a published author, having written several books about his astronaut experiences, including "Return to Earth" and "Magnificent Desolation: The Long Journey Home from the Moon."

Cannon, a retired businesswoman, has been an unwavering supporter of Aldrin throughout his career. She has accompanied him on many of his public appearances and speaking engagements. She has also been a strong supporter of space exploration and education, and the two have frequently collaborated to advance these causes.

The couple's wedding was a small and intimate affair attended by only close family and friends. The wedding took place at a private residence in Los Angeles, and the couple exchanged vows in a stunning outdoor setting. The ceremony was followed by a reception with food, drinks, and music for the guests.

The wedding of Aldrin and Cannon is a testament to the power of love and the value of companionship in life. Despite the difficulties and challenges they have faced, their love for one another has remained strong. The couple's marriage serves as an example to others and a reminder that love knows no age limit.
Aldrin is an American hero not only for his role in the Apollo 11 mission but also for his adventurous spirit and unyielding passion for space exploration. The news of his marriage serves as a reminder that love and companionship are important aspects of human life, even after achieving great heights and facing challenges. Marriage is a celebration of love, commitment, and a lifetime of shared adventures and experiences for the couple.