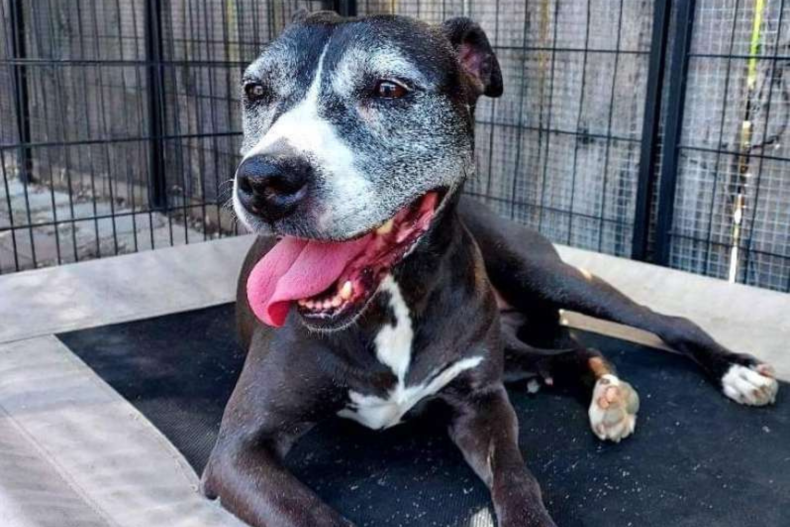 From Shelter to Forever Home: The Heartwarming Tale of Vanessa the Senior Pitbull
Meet Vanessa, a sweet and resilient pitbull who has captured the hearts of many with her incredible journey from a shelter to her forever home. This brave pup was surrendered to the Villalobos Rescue Center in Louisiana back in July 2012 when she was just a tiny puppy. Little did she know that her stay at the shelter would stretch into a whopping 11 years.
As the years went by, Vanessa patiently waited for someone to take her home, but sadly, no one came forward to adopt her. Tia Torres, the compassionate founder of the Villalobos Rescue Center, shared the heartbreaking story of Vanessa's arrival. She was brought in the back of a moving truck by her owner, who no longer wanted to care for her during a move. Abandoned and unwanted, this poor pup faced the danger of scorching heat inside the truck.
The Villalobos Rescue Center started as a wolf and wolfdog rescue in the 90s but later expanded to include pit bulls and other misunderstood canines. After relocating from California to Louisiana in 2011, they became an all-breed rescue due to the overwhelming number of dogs in need of help in the South. With approximately 500 dogs under their care, the center works tirelessly to find loving homes for each one of them.
Despite being crate-trained, friendly, and well-behaved, Vanessa struggled to catch the attention of potential adopters. Tia Torres expressed her sadness over the fact that no one applied to adopt Vanessa, even though she was an amazing companion. This situation is not uncommon, as many dogs in shelters often get overlooked for reasons beyond their control.
But after a long wait, Vanessa's luck finally turned around. Last week, she received the news she had been waiting for – a former two-time adopter had chosen her to be a part of their family. Both of the adopter's previous dogs, who were also from Villalobos Rescue Center, had passed away from old age. Now, Vanessa was getting her chance to shine and find a loving home in Delaware.
The Villalobos Rescue Center's senior dog program covers all of Vanessa's medical needs, ensuring that her new family can focus solely on showering her with love and attention. Tia Torres emphasized that adoption decisions can sometimes be unpredictable, and even being featured on TV, as Villalobos Rescue Center's dogs were, didn't guarantee quick adoptions.
Jacksonville Man Spreads Love and Positivity at the Beach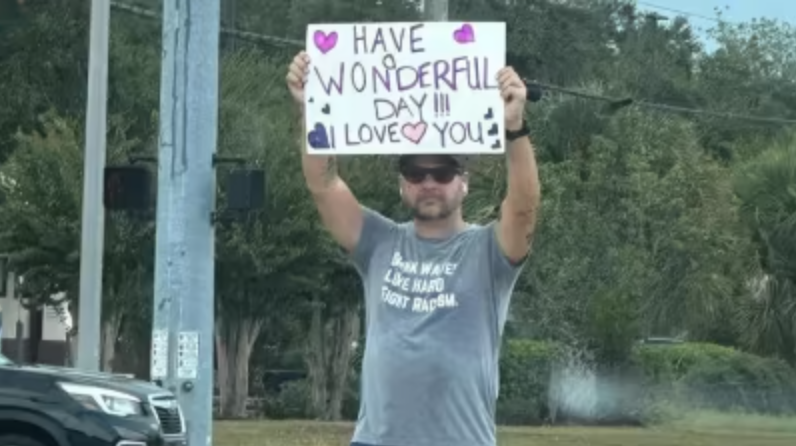 In Jacksonville, Florida, a man has been making waves of positivity and spreading kindness at the Beach Boulevard and San Pablo Road South intersection. With handmade signs that read, "Have a wonderful Day!! I Love You" and "You are Relevant," this man is on a mission to uplift the spirits of those who pass by. His heartwarming gestures have not gone unnoticed, and his actions are especially poignant during National Suicide Prevention Month.
Rika, a local resident, had a unique encounter with this compassionate individual. She was on her way to pick up her lunch when she saw a man standing in the median of the road, holding these uplifting signs. Most of us would just glance and continue on our way, but Rika decided to take a closer look. As she stopped at a red light, she took a few pictures to capture the moment. To her surprise, the man approached her car and handed her a sunflower.
"So picture this… you're out going to pick up your lunch, and there's this random guy walking by with a handmade sign," Rika recounted. "I'm sure like most of us, we'd glance and keep it moving, but I decided to read his sign since I was at a stop light. I snapped a few pictures because why not, but as I was doing this, he approached my car door to hand me a sunflower! Don't forget to appreciate the small things."
This simple act of kindness had a profound impact on Rika, as it has on many others who have encountered this man and his signs. His message of love and importance reminds us all to appreciate the small joys in life and to acknowledge our worth.
The man's efforts are not just a random act of kindness; they hold special significance during National Suicide Prevention Month. September is a time when people and organizations across the country work to raise awareness about mental health and suicide prevention. This Jacksonville man's compassionate actions align perfectly with the spirit of this month, as he strives to remind people that they matter and that there is goodness in the world.