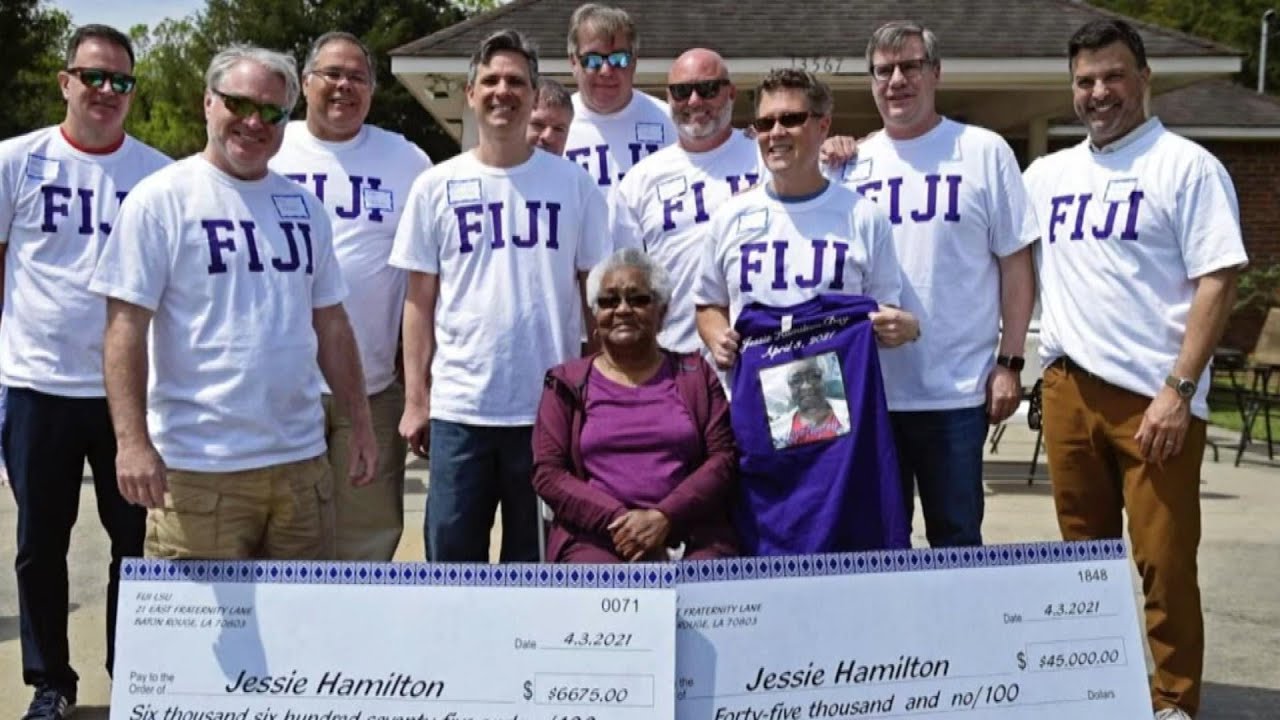 Fraternity Brothers Honor Former Cook/Motivator By Paying Off Her Mortgage
People build houses, but they live in homes where they are cherished. Family ties can also have nothing to do with genetics. Which is why, when a team of fraternity brothers heard that their "second mother" wanted assistance with her retirement, she didn't have to ask.
From 1982 to 1996, Jessie Hamilton served as a chef at the Phi Gamma Delta frat house (also known as Fiji) on the Louisiana State University campus. Despite having three children of her own, the single mother regarded the young men in her charge as surrogate children, actively listening, offering advice, and occasionally bringing them to doctor's visits or transporting them to the supermarket.
"I had a good time doing it. The Washington Post quoted Hamilton as saying, "They liked my cooking." "I was still there for them to talk things over with. They'd come in and squat on top of the counter, telling me about their problems."
In the late 1980s, Andrew Fusaiotti, now 52 years old, was a Fiji brother. He told the Post, "She was really like a mother to us." "She handled us like her own. She was constantly on the lookout for us.")
Hamilton had to work several jobs after graduating from LSU in order to stay afloat financially. It wasn't a new concept. She'd been stuck in the loop since she was 14 years old.
But, pining for a home of her own, in 2006, Hamilton obtained a 30-year mortgage, at the age of sixty, for the house she wanted to live in someday.k
Hamilton kept in contact with other fraternity brothers over the years, including Fusaiotti, who is now a motor vehicle dealership operator in Mobile, Alabama.
When the pandemic first broke out, Fusaiotti called Hamilton to check in on her wellbeing. During the chat, he was disappointed to find that she was already working several jobs which hindered any immediate plans for her to retire.
It wasn't a consideration for him to do nothing about the circumstance.
Fusaiotti contacted Hamilton's family to determine how big a financial target he'd need to set, and then began begging his frat buddies for financial contributions to close her mortgage as well as provide her with a buffer. Fusaiotti's campaign garnered $51,765 in total, with donations ranging from $600 to $1,000 from 91 alumni.
Just days before her 74th birthday, the boys of Fiji proclaimed April 3 "Jessie Hamilton Day," honoring her with a catered party that included the presentation of two large checks, one for forty-five thousand dollars to clear her mortgage and the other for $6,675 specifically for Hamilton, as well as souvenir T-shirts and koozies—plus a lot of heart and warm nostalgia.
Hamilton can now finally turn in her notice(s) for the last time.
As Fusaiotti as well as the other men and boys whose lives Hamilton impacted will attest, guardian angels can appear in the most unexpected ways, such as the fraternity kitchen, where they dish out liberal amounts of fried chicken, kidney beans, and warmth that extends far beyond home cooking.
Fusaiotti told The Advocate, "She is the kind of individual that encourages me, people who don't have a ton but give a great deal." "She is the most generous girl you have ever encountered."
Mysterious Buyer Orders HUGE Girl Scout Order to Save Troop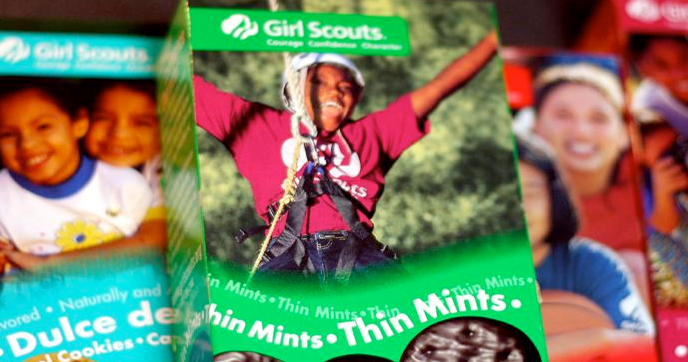 When Kayla Dillard and her daughter went gathered with their troop to sell Girl Scout Cookies, they had no idea what was in store for them. If you only have a brief understanding of the Girl Scouts, you likely know that they are revered for the delicious snacks sold outside of stores and parking lots every year. One mystery man in Greenville, South Carolina, apparently loved the cookies so much that he decided to buy the entire stock from Dillard and her troop. This heartwarming story had a rather mysterious ending, however, with nobody knowing who the man was.
Let's peel this story back and start from the beginning, and maybe we'll learn more about the mysterious hero!
Troop 1574: Selling Cookies to Make a Difference
Kayla Dillard manages the cookie sales offered by Troop 1574. As part of her job, Dillard helps the scouts to advertise their cookies while making sales, using the received money to further support the troop. Dillard had been managing the station on a regular Friday night when a mystery man approached the table. Dillard relayed the story on social media at a later time saying, "This man purchased seven packs of cookies and gave the girls $40 and said to keep the change."
A large order and not at all out of the ordinary, Dillard thought that she had made a great sale to a kind soul. Little did she know, the night was only getting started. The man would return shortly after making his first purchase before telling the troop, "Pack up all of your cookies – I'm taking them!"
According to Dillard, the man had wanted to help the troop while also getting the kids out of the cold. Apparently, the weather was bitter and cold, leaving the troop more than a little uncomfortable. Needless to say, the entire troop was ecstatic when they heard that their mystery buyer was taking the rest of the lot. Dillard would go on to say of the mystery buyer, "$540 he spent on cookies. What an amazing soul!!!!"
Despite the story going viral, Dillard and her scout troop have been unable to identify the man. Numerous reporters and local news agencies have tried to contact the mystery buyer in order to highlight his story. As it turns out, this is one hero who has decided to remain unidentified.
History of the Girl Scouts
The Girl Scouts were founded by Juliette Gordon Low in 1912, during the middle of what we now call the Progressive Era. It was at this point in American history that women couldn't vote and this was something that frustrated the nearly deaf Juliette Gordon Low to no end. In order to fight back against this oppressive, Juliette would host events with fellow women, playing games, hiking, camping, and learning about the world around them.
Juliette and her girls would learn different languages, how to lend a helping hand, and how to read the stars. Thanks to these early efforts, the Girl Scouts Club would grow by leaps and bounds over the years, potentially to a level that Juliette never could have imagined. At the time of this writing, and according to the Girl Scouts, there are more than 1.7 m million girls and 750,000 adults within the organization across 92 countries.