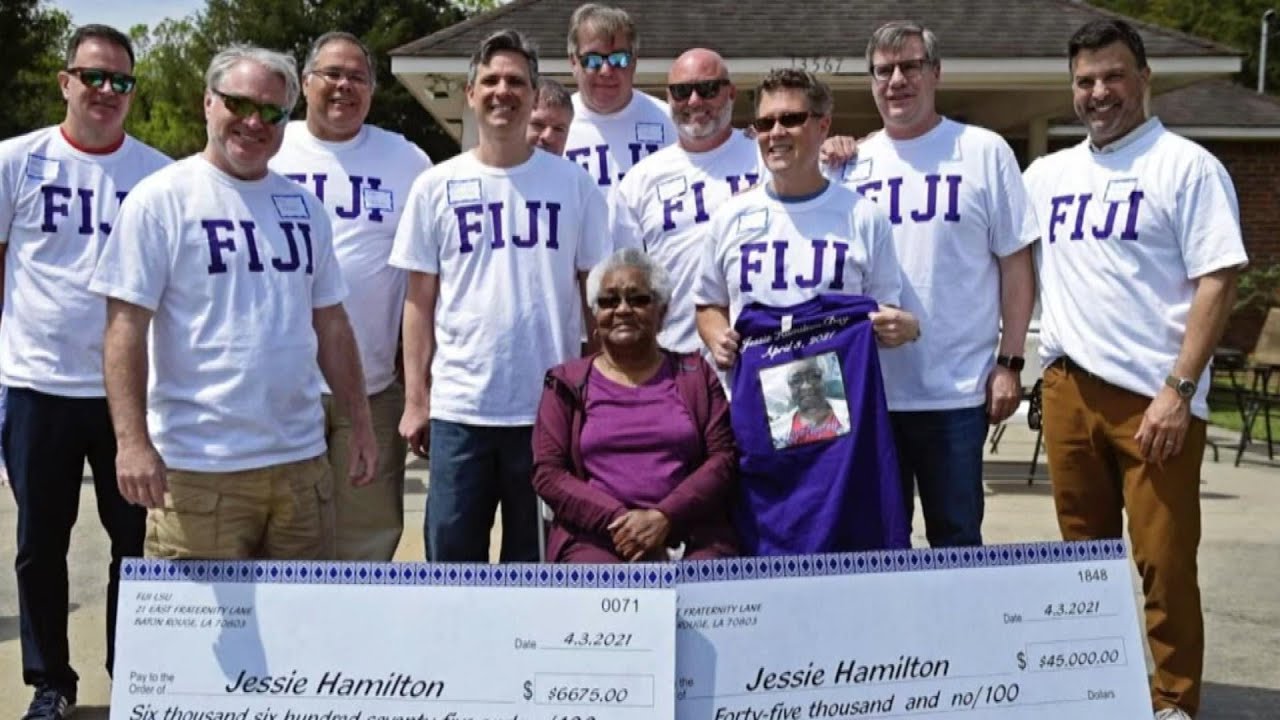 Fraternity Brothers Honor Former Cook/Motivator By Paying Off Her Mortgage
People build houses, but they live in homes where they are cherished. Family ties can also have nothing to do with genetics. Which is why, when a team of fraternity brothers heard that their "second mother" wanted assistance with her retirement, she didn't have to ask.
From 1982 to 1996, Jessie Hamilton served as a chef at the Phi Gamma Delta frat house (also known as Fiji) on the Louisiana State University campus. Despite having three children of her own, the single mother regarded the young men in her charge as surrogate children, actively listening, offering advice, and occasionally bringing them to doctor's visits or transporting them to the supermarket.
"I had a good time doing it. The Washington Post quoted Hamilton as saying, "They liked my cooking." "I was still there for them to talk things over with. They'd come in and squat on top of the counter, telling me about their problems."
In the late 1980s, Andrew Fusaiotti, now 52 years old, was a Fiji brother. He told the Post, "She was really like a mother to us." "She handled us like her own. She was constantly on the lookout for us.")
Hamilton had to work several jobs after graduating from LSU in order to stay afloat financially. It wasn't a new concept. She'd been stuck in the loop since she was 14 years old.
But, pining for a home of her own, in 2006, Hamilton obtained a 30-year mortgage, at the age of sixty, for the house she wanted to live in someday.k
Hamilton kept in contact with other fraternity brothers over the years, including Fusaiotti, who is now a motor vehicle dealership operator in Mobile, Alabama.
When the pandemic first broke out, Fusaiotti called Hamilton to check in on her wellbeing. During the chat, he was disappointed to find that she was already working several jobs which hindered any immediate plans for her to retire.
It wasn't a consideration for him to do nothing about the circumstance.
Fusaiotti contacted Hamilton's family to determine how big a financial target he'd need to set, and then began begging his frat buddies for financial contributions to close her mortgage as well as provide her with a buffer. Fusaiotti's campaign garnered $51,765 in total, with donations ranging from $600 to $1,000 from 91 alumni.
Just days before her 74th birthday, the boys of Fiji proclaimed April 3 "Jessie Hamilton Day," honoring her with a catered party that included the presentation of two large checks, one for forty-five thousand dollars to clear her mortgage and the other for $6,675 specifically for Hamilton, as well as souvenir T-shirts and koozies—plus a lot of heart and warm nostalgia.
Hamilton can now finally turn in her notice(s) for the last time.
As Fusaiotti as well as the other men and boys whose lives Hamilton impacted will attest, guardian angels can appear in the most unexpected ways, such as the fraternity kitchen, where they dish out liberal amounts of fried chicken, kidney beans, and warmth that extends far beyond home cooking.
Fusaiotti told The Advocate, "She is the kind of individual that encourages me, people who don't have a ton but give a great deal." "She is the most generous girl you have ever encountered."
Dog Trainer and Dog Groomer Get Married Accompanied By Their Best Friends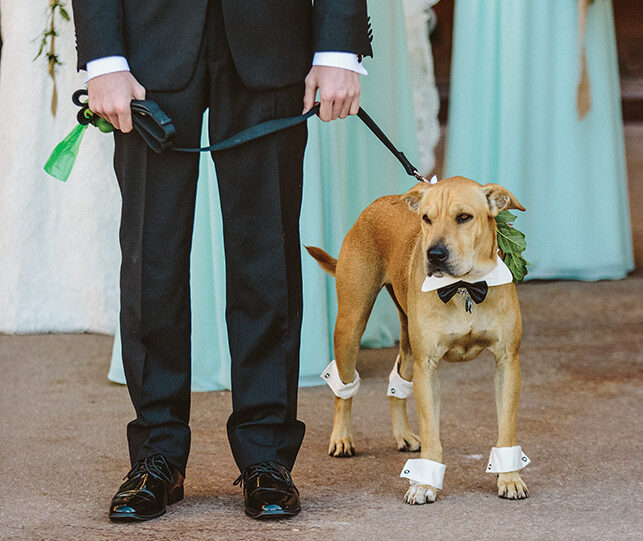 Weddings Are for Sharing With Loved Ones
When people get married, they spend one perfect day with their most loved friends and family. While many people only think about their human friends and family, there are a lot of people who could never imagine starting this important new chapter in their lives without their beloved pets. In fact, many people might have to admit, if they were being honest, that they loved their pets more than some of the relatives who came to the wedding, especially if they felt obligated to invite some relatives they rarely see and barely know.
Some People Already Spend Their Lives With Pets
Anyone who works full-time as a dog trainer or groomer already spends most of their working days with animals. They see dogs all day long, and they make the choice to do so because of many reasons. Working with pets is rewarding on many levels. Especially if you see the same dogs again and again, you form a close bond. Communicating with pets is therapeutic and generally far less stressful than dealing with humans. The people who work with dogs don't get sick of dogs and try to go home to a quiet house; they tend to have larger pet families than average.
A Dog Trainer and a Dog Groomer Tie the Knot
Paul and Annette Anthony are typical in that they work with dogs as a profession, and they have a large pet family. On the day they got married, their family consisted of 2 humans and 9 canines. Both Paul and Annette admitted that their pets were more to them than just fun — their beloved dogs also helped them get through rough times in their lives, including personal tragedies. Annette's German Shepherd Pesci is even an emotional support animal, helping her to deal with severe anxiety and depression. There was no way that their pets were going to be left out of the most important day of their lives going forward.
Canine Best Man
Paul's service dog Finn has earned his retirement. Finn has competed in over 40 events, earning titles and even setting records. He was also there for Paul when Paul developed PTSD after being at the scene of the deadliest plane crash in Pennsylvania's history. Finn was the one who helped with the proposal, giving Annette the ring with a note asking her to marry his dad. It was only fitting that Finn ended up being one of the best men at the wedding too.
A Family Affair
All 9 dogs walked down the aisle and stayed throughout the ceremony. Annette's dog Pesci even came to comfort her during the ceremony when she started to cry from happiness because he wanted to make sure his momma was all right. Whether you want to use your dogs in the ceremony as ring bearers, best men, or flower girls, or if you just want them to be present, it makes sense to have your pets help you celebrate such an important day in your life.