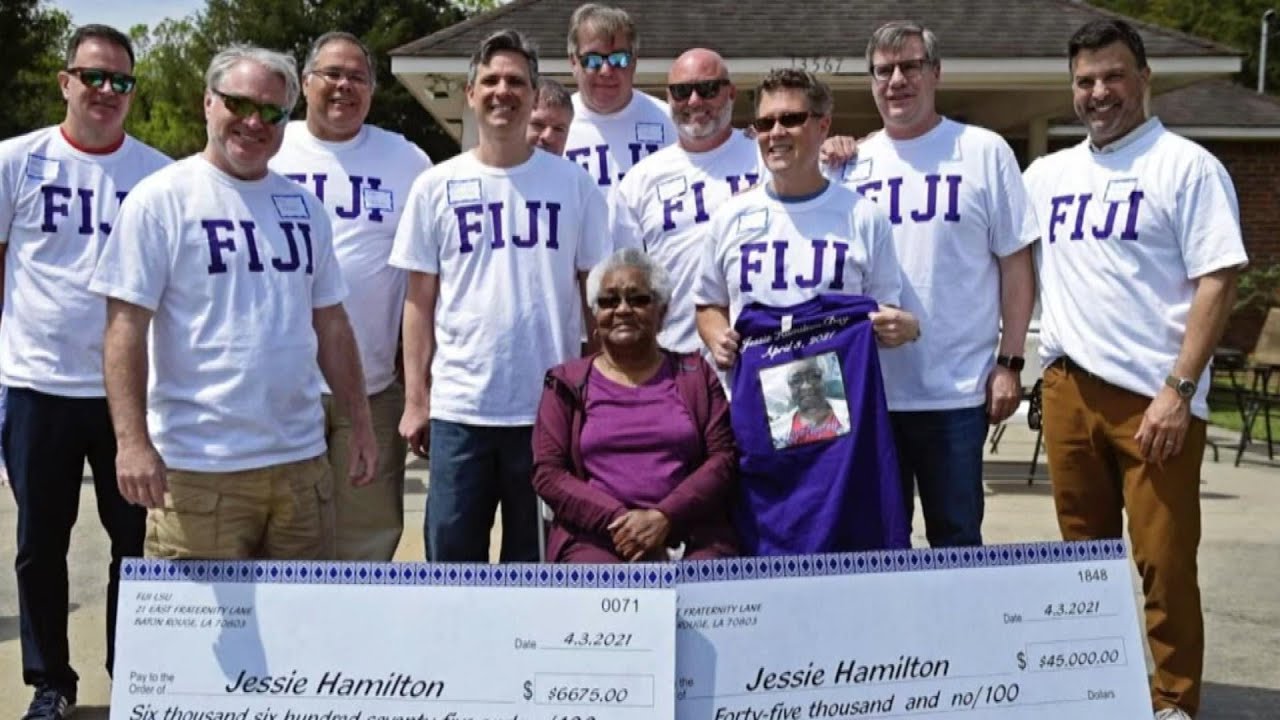 Fraternity Brothers Honor Former Cook/Motivator By Paying Off Her Mortgage
People build houses, but they live in homes where they are cherished. Family ties can also have nothing to do with genetics. Which is why, when a team of fraternity brothers heard that their "second mother" wanted assistance with her retirement, she didn't have to ask.
From 1982 to 1996, Jessie Hamilton served as a chef at the Phi Gamma Delta frat house (also known as Fiji) on the Louisiana State University campus. Despite having three children of her own, the single mother regarded the young men in her charge as surrogate children, actively listening, offering advice, and occasionally bringing them to doctor's visits or transporting them to the supermarket.
"I had a good time doing it. The Washington Post quoted Hamilton as saying, "They liked my cooking." "I was still there for them to talk things over with. They'd come in and squat on top of the counter, telling me about their problems."
In the late 1980s, Andrew Fusaiotti, now 52 years old, was a Fiji brother. He told the Post, "She was really like a mother to us." "She handled us like her own. She was constantly on the lookout for us.")
Hamilton had to work several jobs after graduating from LSU in order to stay afloat financially. It wasn't a new concept. She'd been stuck in the loop since she was 14 years old.
But, pining for a home of her own, in 2006, Hamilton obtained a 30-year mortgage, at the age of sixty, for the house she wanted to live in someday.k
Hamilton kept in contact with other fraternity brothers over the years, including Fusaiotti, who is now a motor vehicle dealership operator in Mobile, Alabama.
When the pandemic first broke out, Fusaiotti called Hamilton to check in on her wellbeing. During the chat, he was disappointed to find that she was already working several jobs which hindered any immediate plans for her to retire.
It wasn't a consideration for him to do nothing about the circumstance.
Fusaiotti contacted Hamilton's family to determine how big a financial target he'd need to set, and then began begging his frat buddies for financial contributions to close her mortgage as well as provide her with a buffer. Fusaiotti's campaign garnered $51,765 in total, with donations ranging from $600 to $1,000 from 91 alumni.
Just days before her 74th birthday, the boys of Fiji proclaimed April 3 "Jessie Hamilton Day," honoring her with a catered party that included the presentation of two large checks, one for forty-five thousand dollars to clear her mortgage and the other for $6,675 specifically for Hamilton, as well as souvenir T-shirts and koozies—plus a lot of heart and warm nostalgia.
Hamilton can now finally turn in her notice(s) for the last time.
As Fusaiotti as well as the other men and boys whose lives Hamilton impacted will attest, guardian angels can appear in the most unexpected ways, such as the fraternity kitchen, where they dish out liberal amounts of fried chicken, kidney beans, and warmth that extends far beyond home cooking.
Fusaiotti told The Advocate, "She is the kind of individual that encourages me, people who don't have a ton but give a great deal." "She is the most generous girl you have ever encountered."
'Trail Angel' Leaves Behind Good Deeds For Other Hikers to Find
A marked route stretching between the Eastern United States and into Maine, the Appalachian Trail offers hikers the chance to experience the longest hiking-only trail on the planet. As a one-of-a-kind destination, the Appalachian Trail brings in more than 2 million visitors every single year. Reaching heights of 6,643 feet and extending for more than 2,200 total miles, the Appalachian Trail is as challenging as it is inviting, a testament both to nature and those willing to overcome it.
Due to the intensity of the trail and its large coverage area, Trail Angels have begun to leave behind little gifts to help others follow in their path. Michele Staudenmaier had been hiking on the Appalachian Trail (A.T.) in March alongside her son, Zach. While walking the trail, Zach and Michele got to talking about gifts left behind for the hikers. Apparently, the hiking community has always appreciated donated gifts and drinks alongside trail markers, lovingly referring to these individuals as Trail Angels.
Understanding how important food and drink can be to a wilderness hike that ranges from easy to strenuous, Michel decided that she would become a Trail Angel herself alongside her husband, Dave.
Becoming a Trail Angel
When Michel and Zach had their discussion regarding trail angels, they were in the middle of a fun family trip. Michel's husband, Dave, had already booked several Airbnb's along their route through the A.T., with booked stops in Georgia, Tennessee, Vermont, Maine, West Virginia, and Pennsylvania. The trip was scheduled to take roughly six months, crossing through many significantly remote and rural places. Some of these rural areas end up featuring a small oasis of hikers, and finding these areas is known as stumbling upon Trail Magic.
Michel and her family ran into a group of Trail Angels during their work. Michele said, "I realized there was a massive community of volunteers that spend their time and money to support A.T. hikers." Michele went on to say, "I had no idea!"
While an average hike will knock out nearly 600 calories per hour, it can be hard to normalize this average. Many hikers will carry packs weighing upwards of 30 to 50lbs, adding a tremendous amount of stress to their physical efforts. To help keep these folks fed and energized, Michele would cook and pack foods like hot dogs, chips, sweet treats, Gatorade, and even sodas. One such Trail Magic event saw Michele arrive with several buckets of Kentucky Fried Chicken, leading to more than 30 hikers eating well and sharing their stories.
One event showed Michele the true stakes pertaining to Trail Angels as well as the importance of her own work. Michele had fueled a trail marker with food when a hiker arrived. After talking to the weakened hiker, he revealed that he had run out of food completely. Had he not found Michele and her food, there is no telling what could have happened.
According to Michele and many of the hiking enthusiasts that she has met, it is rare to have any food leftover after a long hike. For that reason, unexpected hot meals waiting in the middle of the A.T. will always be seen and enjoyed as a magical moment!