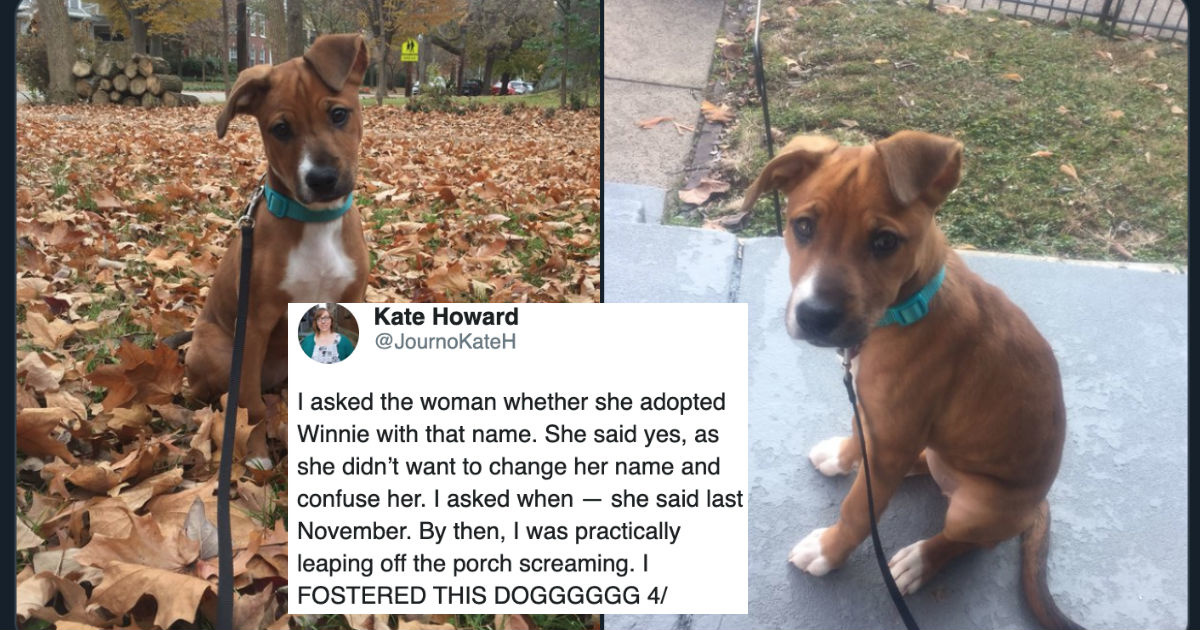 Foster Dog and Woman Reunite, Enchanting Twitter
Thousands of dogs are fosters by loving pet parents every year and, fortunately, most of those dogs find forever homes, leaving their foster parents behind forever. Or not. In the case of Kate Howard and Winnie, however, their reunion left all of Twitter reaching for tissues to wipe their eyes.
And no wonder. According to the American Humane Association, one tenth of all dogs adopted from shelters or rescues are returned. About 1.2 million dogs are euthanized each year simply because they cannot find a forever home.
A Puppy Named Winnie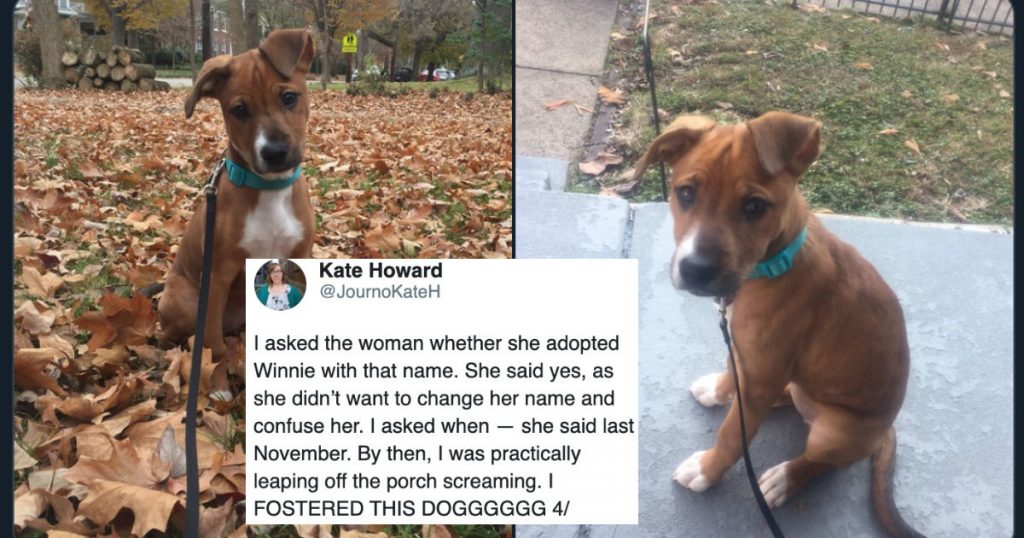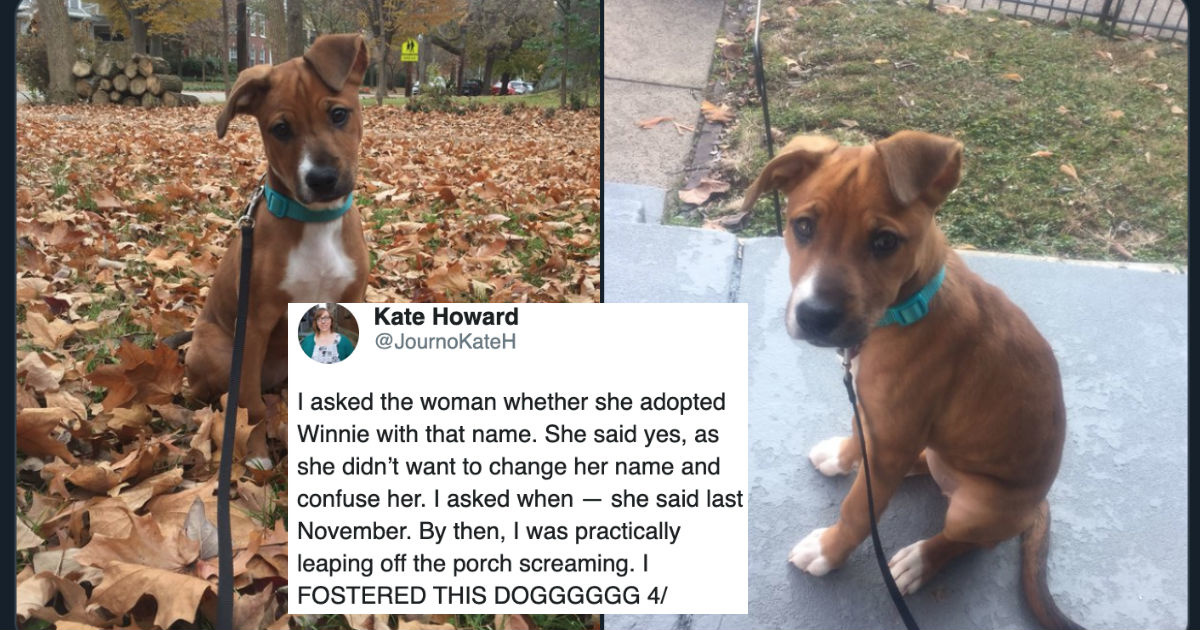 Kate Howard, a managing editor, took in a small brown and white mixed breed puppy named Winnie in November of 2018. Since puppies are more adoptable than adult dogs, Winne was quickly adopted. Howard states on Twitter that she cried for three days after Winnie left her for her forever home, even though Howard knew that Winnie was getting a good home. Howard was all too aware of the statistics.
Meanwhile, Howard tried to get on with her life without Winne. She went on to help other pets. In August of 2019, Howard moved into a new home. She adopted a toy dog named Foxy.
On October 14, 2019, a sleek brown and white female dog with one ear ran onto her new yard and lay down. Howard was curious as to what this strange dog was doing. Then, she heard a woman cry out, "Winnie!" and wondered if this one-eared wonder was the puppy she fostered, now all grown up.
When the woman came up to get Winne, Howard eagerly asked her for particulars of when and where she got the dog. It was clear –- this dog was indeed the puppy Howard had fostered and cried three days for. Winnie's Mom was adamant that she would never return Winnie to the shelter. Winnie had lost an ear but won a home and family. Just why Winnie lost an ear was not revealed, but dogs can lose their outer ears for a variety of medical reasons, including frostbite, injury or getting torn in fights or rough play with other dogs.
Twitter Sensation
The news was too good for Howard to keep to herself. Armed with plenty of pictures, she posted the whole story up on Twitter. She also noted that Winnie loved meeting Foxy, but Foxy was not so thrilled. Very soon, Howard discovered that her story racked up more than 13,300 retweets. The story was just so doggone captivating in a sea of bad news. Soon, she had over 3,000 comments to read. Her tweets kept getting shared and re-shared and Howard could not keep up with all of the kind comments sent to her.
Winne's current owner wishes to remain anonymous. It turns out she and Winnie live only two blocks away from Howard and Foxy. The reunion will last for many years to come.
Africa's White Rhino Population Rebounds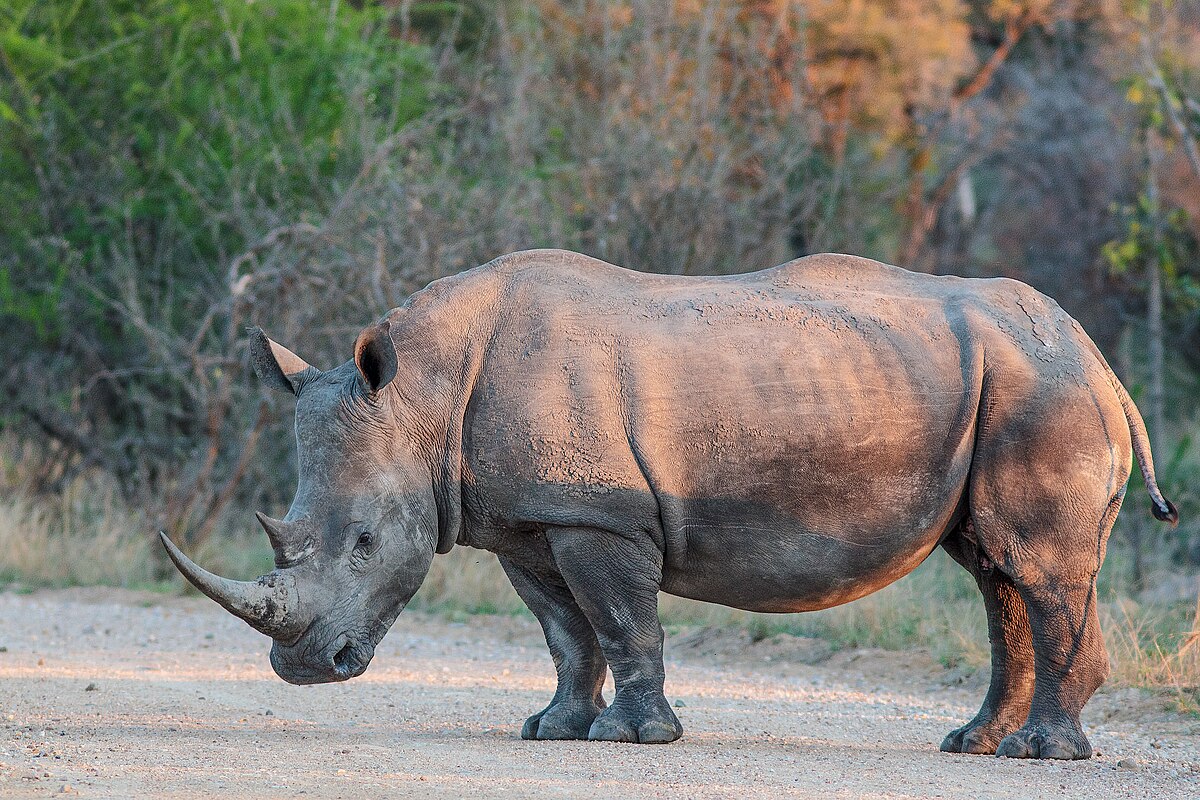 In a exciting turn of events, Africa's white rhino population has experienced a resurgence for the first time in a decade. At the close of 2022, there were 23,290 rhinos in total, marking a significant 5.2% increase from the previous year.
Rhinos are among the planet's most iconic and endangered creatures. These massive herbivores are known for their distinctive horns, which have unfortunately made them prime targets for poachers seeking to profit from the illegal wildlife trade. There are two main species of African rhinos: the white rhino and the black rhino. Both face grave threats to their survival.
The primary reason behind the perilous decline of rhino populations is poaching. Rhino horn, made of keratin (the same substance as human hair and nails), is mistakenly believed by some to have medicinal properties, and it is also highly sought after for its use in ornamental carvings. This misguided demand has led to a tragic increase in poaching activities, with rhinos being killed for their horns at an alarming rate.
Habitat loss is another significant threat to rhino populations. As human populations grow and expand, rhino habitats are encroached upon, leaving these animals with less space to roam and find food.
Despite these challenges, the recent increase in rhino populations is cause for celebration and renewed hope. The protection and biological management initiatives implemented by conservation organizations have played a pivotal role in this positive trend. Both black and white rhino populations have shown promising signs of recovery, with black rhinos increasing by 4.2% and white rhinos by 5.6%.
Dr. Michael Knight, chair of the IUCN's Rhino Specialist Group (AfRSG), expressed his relief, saying, "With this good news, we can take a sigh of relief for the first time in a decade. However, it is imperative to further consolidate and build upon this positive development and not drop our guard."
Nina Fascione, Executive Director at the International Rhino Foundation, emphasized that this rebound in rhino populations is not only a triumph for the rhinos themselves but also for the countless other species that share their ecosystems and the dedicated people who protect these lands.
The resurgence of rhino populations underscores the effectiveness of collaborative conservation efforts across Africa. Protected areas like Kruger National Park in South Africa have significantly boosted security measures to deter poachers, resulting in a decline in poaching incidents on their land. However, poachers have shifted their focus to smaller areas, such as the province-run Hluhluwe Imfolozi Game Reserve, which has borne the brunt of South Africa's rhino poaching in recent years.
Efforts to combat rhino poaching extend beyond national borders. U.S. Treasury Secretary Janet Yellen, during her visit to South Africa's Dinokeng Game Reserve, emphasized the need to follow the money trail associated with poaching, treating it as seriously as other crimes. This approach can help disrupt the illegal wildlife trade networks that drive rhino poaching.
While the increase in rhino populations is undoubtedly promising, significant challenges remain on the horizon. Competition over water resources and the resulting conflicts between communities and wildlife may bring humans and rhinos into closer contact, potentially leading to more poaching incidents. Poverty resulting from the loss of crops and livestock can also drive individuals to poaching as a means of income.
To ensure the continued recovery of Africa's rhino populations, it is vital to address these underlying issues and maintain unwavering commitment to conservation efforts. The rebounding rhino populations serve as a testament to what can be achieved when dedicated individuals, organizations, and governments work together to protect these magnificent creatures and the ecosystems they call home.