Foster Dog and Woman Reunite, Enchanting Twitter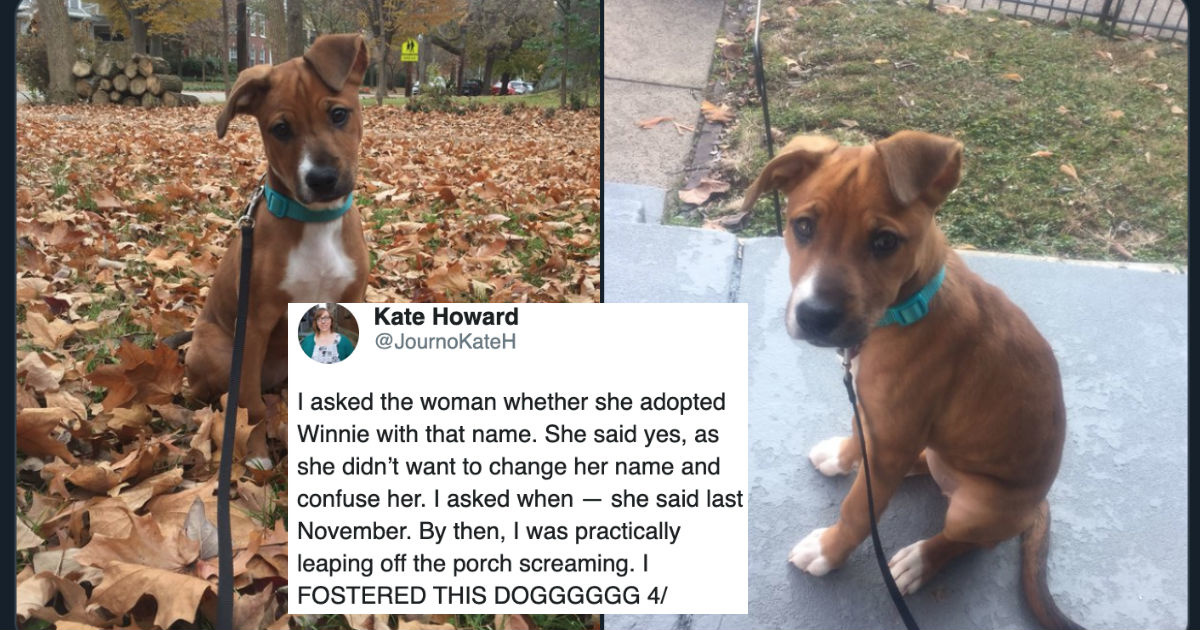 Thousands of dogs are fosters by loving pet parents every year and, fortunately, most of those dogs find forever homes, leaving their foster parents behind forever. Or not. In the case of Kate Howard and Winnie, however, their reunion left all of Twitter reaching for tissues to wipe their eyes.
And no wonder. According to the American Humane Association, one tenth of all dogs adopted from shelters or rescues are returned. About 1.2 million dogs are euthanized each year simply because they cannot find a forever home.
A Puppy Named Winnie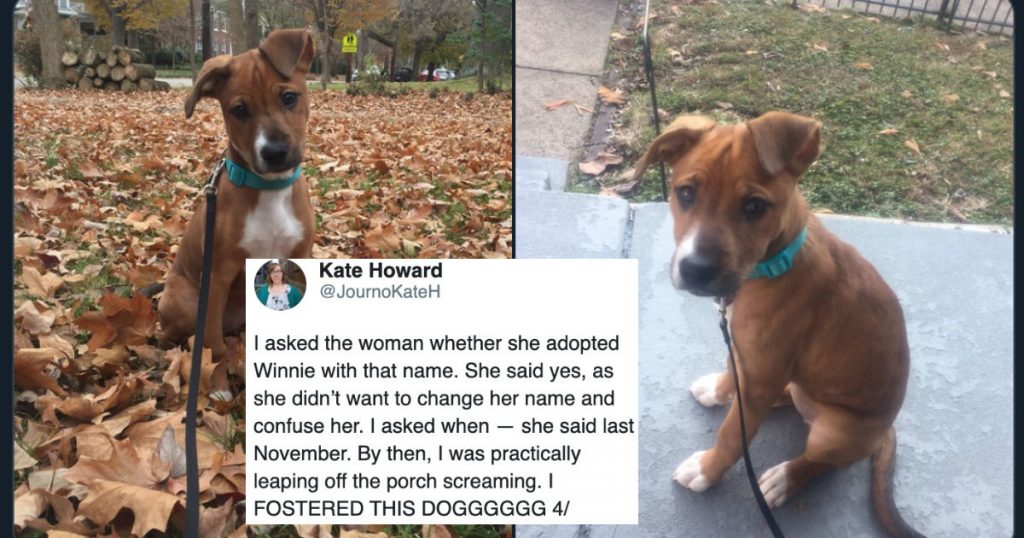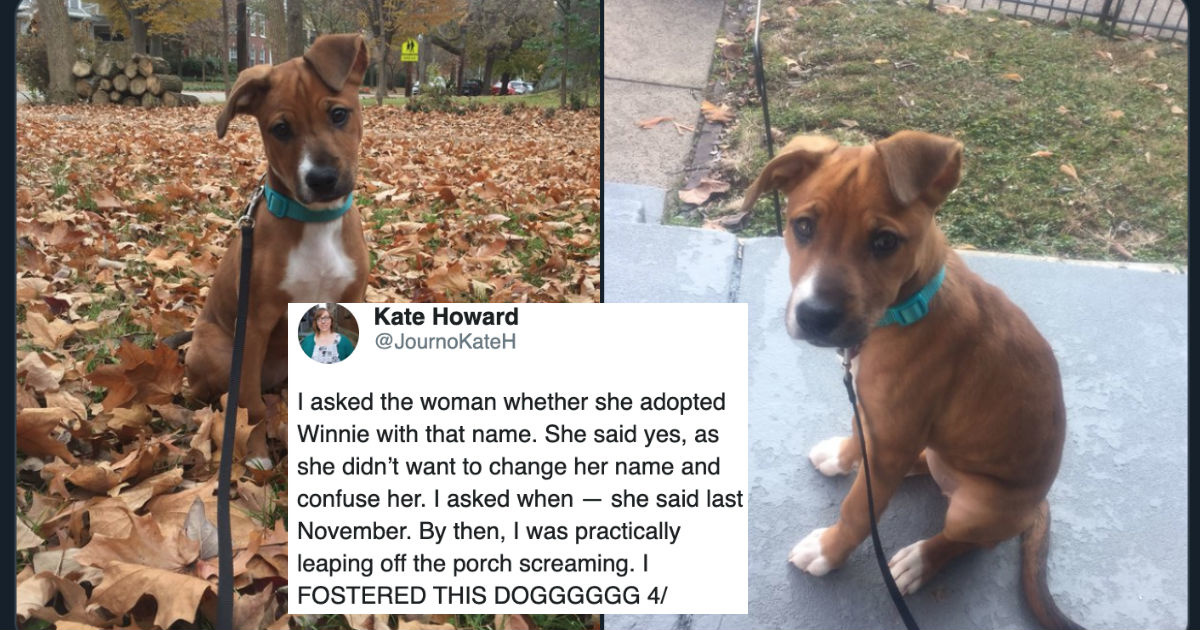 Kate Howard, a managing editor, took in a small brown and white mixed breed puppy named Winnie in November of 2018. Since puppies are more adoptable than adult dogs, Winne was quickly adopted. Howard states on Twitter that she cried for three days after Winnie left her for her forever home, even though Howard knew that Winnie was getting a good home. Howard was all too aware of the statistics.
Meanwhile, Howard tried to get on with her life without Winne. She went on to help other pets. In August of 2019, Howard moved into a new home. She adopted a toy dog named Foxy.
On October 14, 2019, a sleek brown and white female dog with one ear ran onto her new yard and lay down. Howard was curious as to what this strange dog was doing. Then, she heard a woman cry out, "Winnie!" and wondered if this one-eared wonder was the puppy she fostered, now all grown up.
When the woman came up to get Winne, Howard eagerly asked her for particulars of when and where she got the dog. It was clear –- this dog was indeed the puppy Howard had fostered and cried three days for. Winnie's Mom was adamant that she would never return Winnie to the shelter. Winnie had lost an ear but won a home and family. Just why Winnie lost an ear was not revealed, but dogs can lose their outer ears for a variety of medical reasons, including frostbite, injury or getting torn in fights or rough play with other dogs.
Twitter Sensation
The news was too good for Howard to keep to herself. Armed with plenty of pictures, she posted the whole story up on Twitter. She also noted that Winnie loved meeting Foxy, but Foxy was not so thrilled. Very soon, Howard discovered that her story racked up more than 13,300 retweets. The story was just so doggone captivating in a sea of bad news. Soon, she had over 3,000 comments to read. Her tweets kept getting shared and re-shared and Howard could not keep up with all of the kind comments sent to her.
Winne's current owner wishes to remain anonymous. It turns out she and Winnie live only two blocks away from Howard and Foxy. The reunion will last for many years to come.
Routine Traffic Stop Turns into Heartwarming Occasion Thanks to Officer's Kind Gesture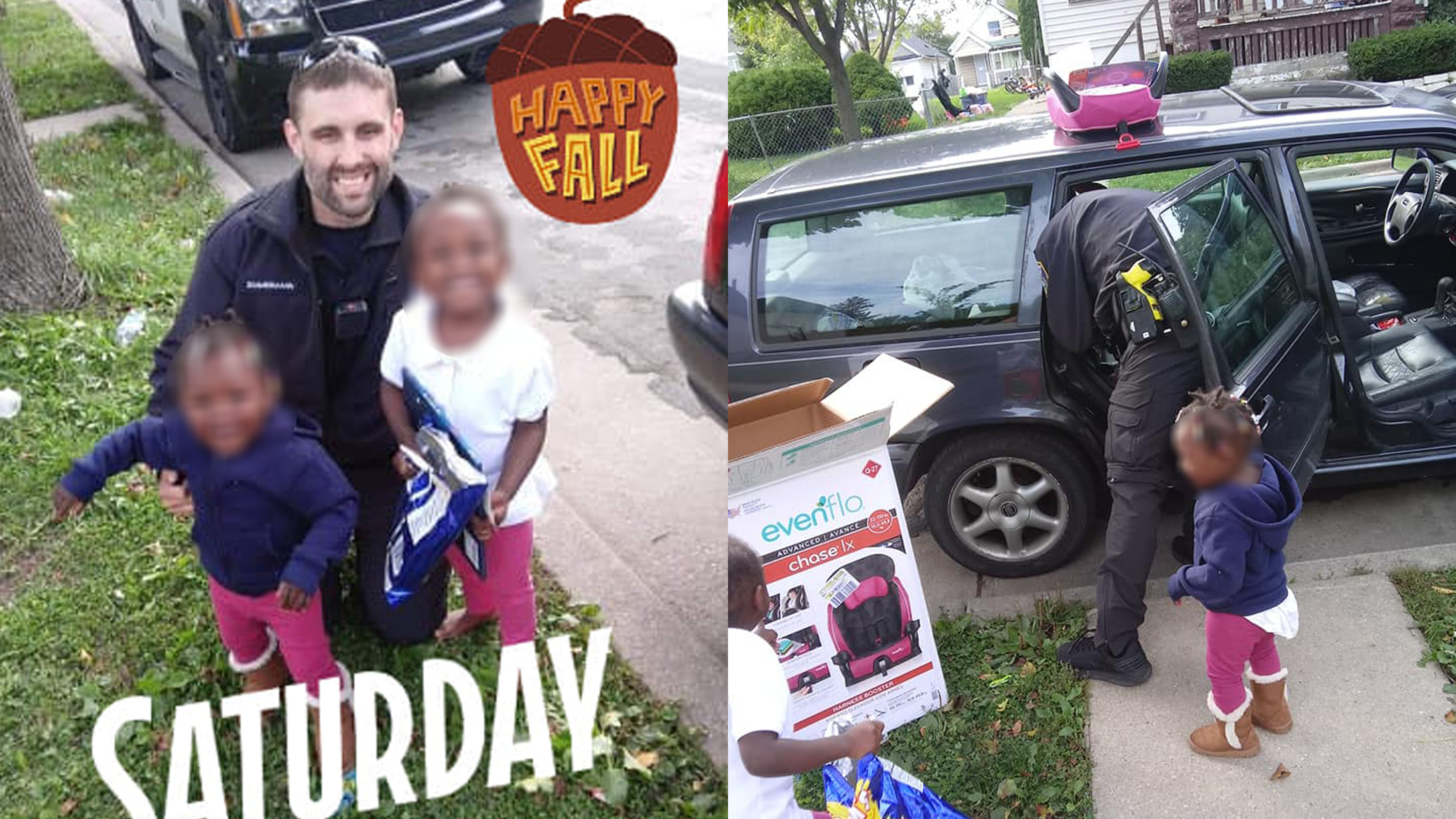 Getting pulled over can be a stressful situation. You may not know right away why you were asked to stop, but you probably have a good hunch that it's not for a good reason.
More often than not, that premonition we have about being pulled over turns out to be accurate and we have to be involved in a less than ideal situation. It's why many of us dread stopping to talk to an officer so much.
Andrella Jackson may now have different thoughts about being asked to stop by an officer though.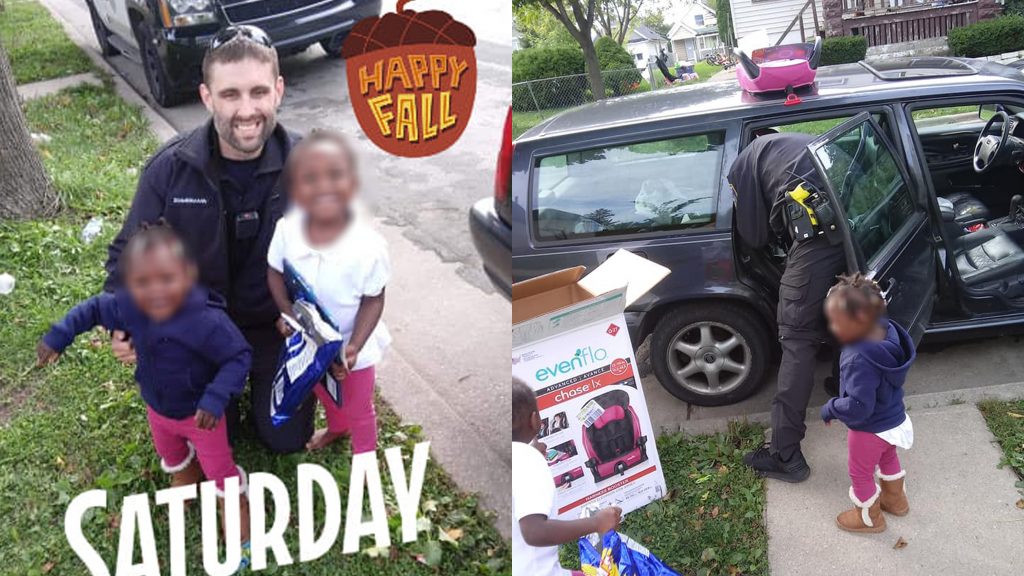 Not too long ago, Jackson was spotted by Milwaukee police officer Kevin Zimmerman and was asked to pull over. Officer Zimmerman requested that Jackson stop because she had the wrong registration for her car.
As he approached the vehicle though, something else caught the eye of Officer Zimmerman. To be more specific, he saw that there were three kids in the backseat of Jackson's car and two of them were still very small, WTMJ-TV reported. He also noticed that the two small children in question were not in car seats.
Officer Zimmerman then asked Jackson why the small kids were not placed in car seats and she said that she did not have the money to pay for those essential pieces of safety equipment at that time. Jackson mentioned that with winter on the way, she was saving up to buy her children new coats and boots.
A shortage of money is the same reason why Jackson had failed to get her vehicle registered properly.
Per the American Automobile Association (AAA), there are laws in every state dictating that children should be in car seats or restraints.
It would have been easy for Officer Zimmerman to issue Jackson tickets for her violations, but he opted to handle things a different way. Instead of adding to her problems, he went about solving one of them.
Officer Zimmerman soon made his way to a nearby Walmart, and after learning how much the kids weighed from Jackson, he went ahead and purchased two car seats using money out of his own pocket. He even stuck around to install the car seats himself.
By the way, the police officer did more than just give Jackson and her kids new car seats. According to this report from CNN, Officer Zimmerman also made a stop at the police department to pick up a few things – children's books and stickers – that he also gifted to Jackson's kids.
The police officer explained why he went the extra mile to help out Jackson. Officer Zimmerman shared that he has kids of his own. He hinted at how frightening the thought is of his own kids moving around in a vehicle with no car seats and how they can be placed in grave danger if an accident occurs.
Officer Zimmerman also said that he was always taught to "do the right thing even if no one is looking." In this case, both Jackson and the Milwaukee Police Department wanted to make sure that Officer Zimmerman would receive the recognition he deserved even if he wasn't looking for that.
The generous act touched Jackson, prompting her to shower Officer Zimmerman with numerous "thank yous." Her kids got in on the chorus of generosity as well.
Jackson called Officer Zimmerman "awesome" and that she is appreciative of the kindness he showed. She added that with the car seats now purchased and installed, she will be able to allocate a bigger budget that will then be used to buy those new coats and boots that her kids need.
What could have turned into an even more trying situation for Jackson and her kids became a shining example of humanity at its best and that is thanks to the generosity exhibited by Officer Zimmerman.