Foster Dog and Woman Reunite, Enchanting Twitter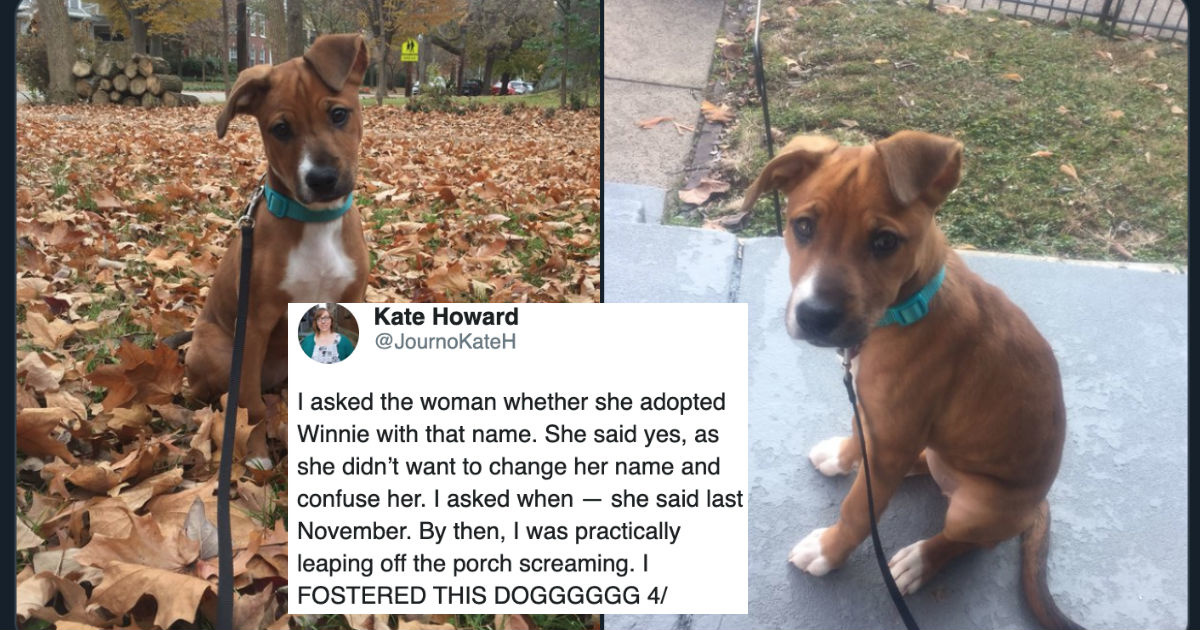 Thousands of dogs are fosters by loving pet parents every year and, fortunately, most of those dogs find forever homes, leaving their foster parents behind forever. Or not. In the case of Kate Howard and Winnie, however, their reunion left all of Twitter reaching for tissues to wipe their eyes.
And no wonder. According to the American Humane Association, one tenth of all dogs adopted from shelters or rescues are returned. About 1.2 million dogs are euthanized each year simply because they cannot find a forever home.
A Puppy Named Winnie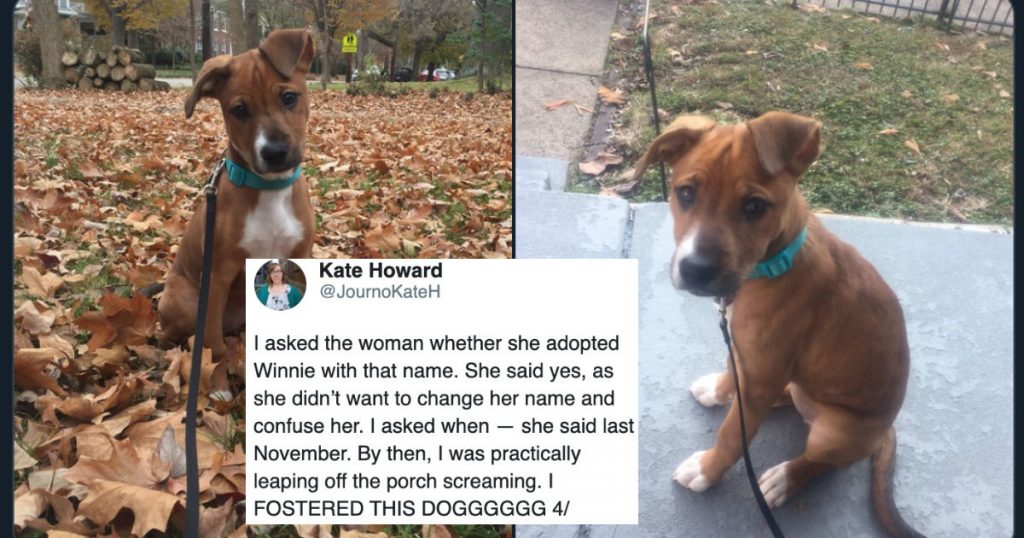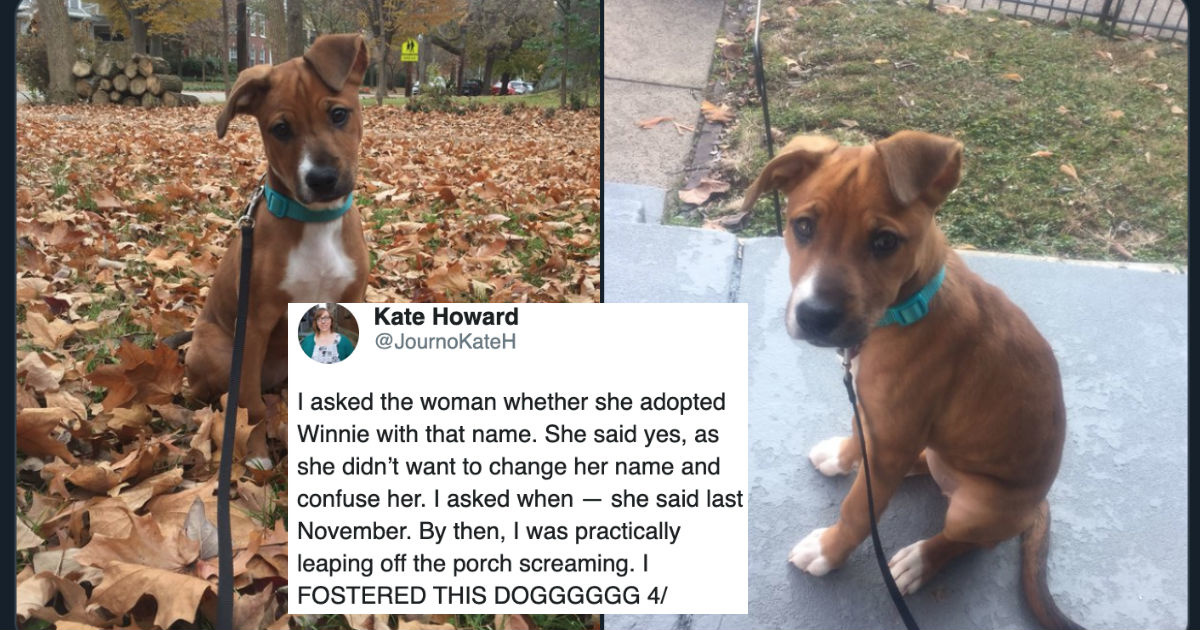 Kate Howard, a managing editor, took in a small brown and white mixed breed puppy named Winnie in November of 2018. Since puppies are more adoptable than adult dogs, Winne was quickly adopted. Howard states on Twitter that she cried for three days after Winnie left her for her forever home, even though Howard knew that Winnie was getting a good home. Howard was all too aware of the statistics.
Meanwhile, Howard tried to get on with her life without Winne. She went on to help other pets. In August of 2019, Howard moved into a new home. She adopted a toy dog named Foxy.
On October 14, 2019, a sleek brown and white female dog with one ear ran onto her new yard and lay down. Howard was curious as to what this strange dog was doing. Then, she heard a woman cry out, "Winnie!" and wondered if this one-eared wonder was the puppy she fostered, now all grown up.
When the woman came up to get Winne, Howard eagerly asked her for particulars of when and where she got the dog. It was clear –- this dog was indeed the puppy Howard had fostered and cried three days for. Winnie's Mom was adamant that she would never return Winnie to the shelter. Winnie had lost an ear but won a home and family. Just why Winnie lost an ear was not revealed, but dogs can lose their outer ears for a variety of medical reasons, including frostbite, injury or getting torn in fights or rough play with other dogs.
Twitter Sensation
The news was too good for Howard to keep to herself. Armed with plenty of pictures, she posted the whole story up on Twitter. She also noted that Winnie loved meeting Foxy, but Foxy was not so thrilled. Very soon, Howard discovered that her story racked up more than 13,300 retweets. The story was just so doggone captivating in a sea of bad news. Soon, she had over 3,000 comments to read. Her tweets kept getting shared and re-shared and Howard could not keep up with all of the kind comments sent to her.
Winne's current owner wishes to remain anonymous. It turns out she and Winnie live only two blocks away from Howard and Foxy. The reunion will last for many years to come.
Why women make capable firefighters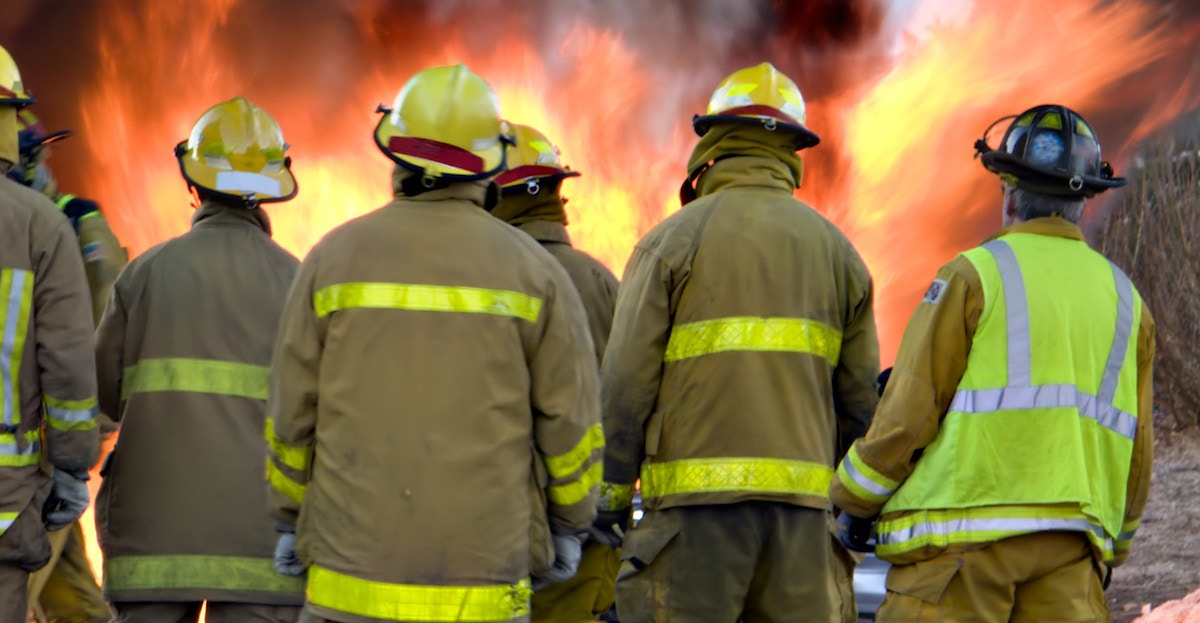 It's unfortunate that the idea persists in society that women are not capable of working as firefighters. As women have become increasingly prominent in other industries that have been traditionally dominated by males such as construction and logging, their numbers on the ranks of firefighting squads continue to remain low.
Take the Fire Department of New York as an example. In 2018, five women succeeded in graduating from New York City's Fire Academy. While some progress has been made for women in the FDNY since the fire department lost a gender discrimination lawsuit back in 1982, there are still fewer than one percent of firefighters for the department who are female. While fire departments in cities such as Seattle, Minneapolis, and Miami have more women, the average for fire departments across the nation is only about five percent female.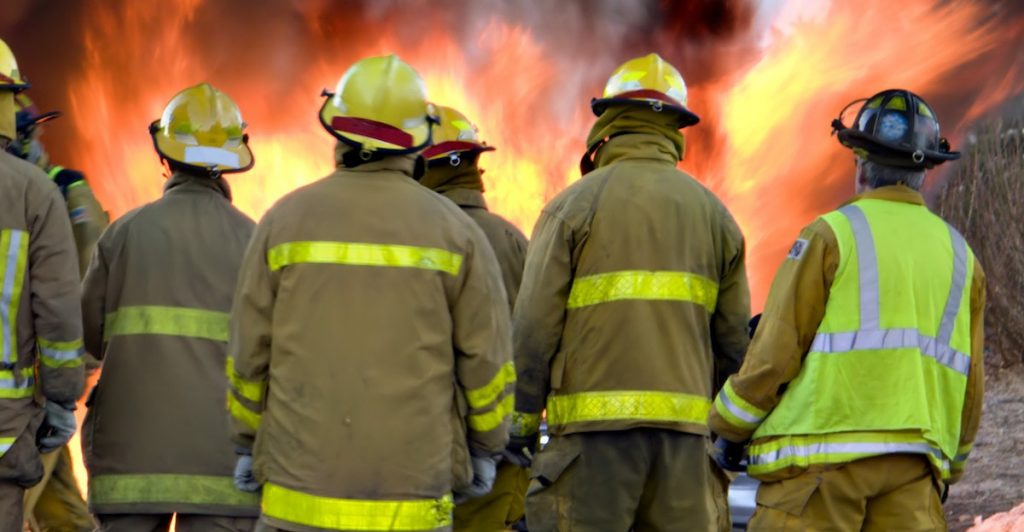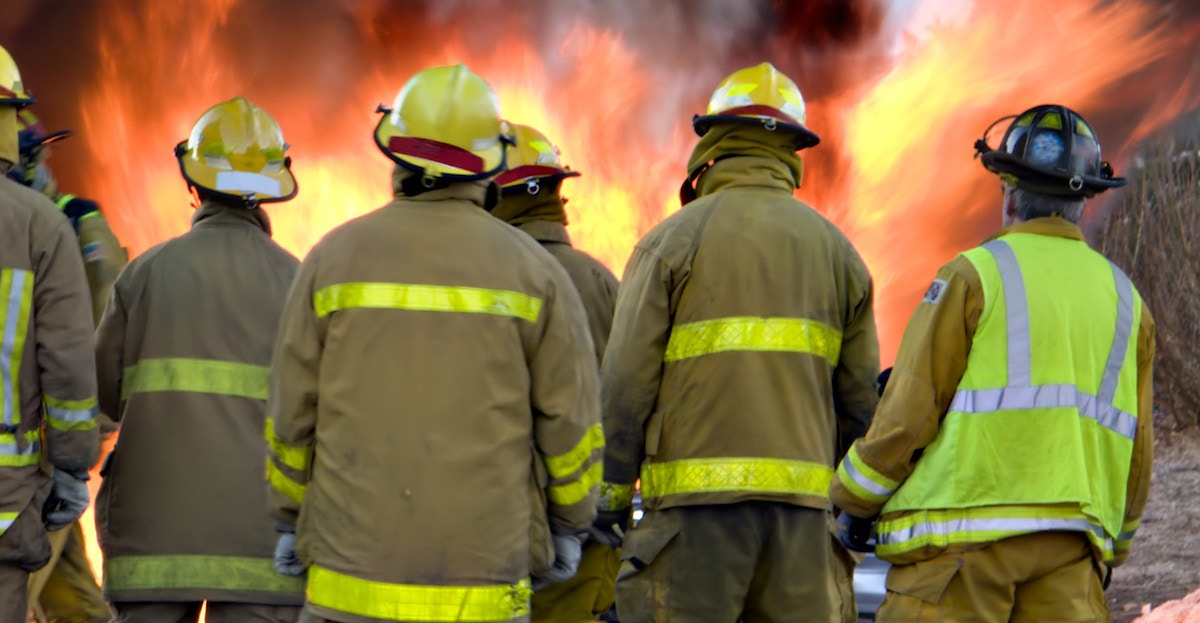 Historically, women have long been successfully putting out fires in this country. Back in 1815, Molly Williams volunteered to serve at the firehouse fo New York City's Oceanus Engine Company No. 11. Williams was a female slave working with a company that was not only all male, but all white as well. Williams was offered a job after she single-handedly handled a call when every man in the company was unable to handle the call because of being infected by the flu.
Another early female firefighter in the US was Emma Vernell. She was 50 years old when she became the first woman to work as a firefighter in the state of New Jersey.
Some people continue to wonder if women are really capable of working as firefighters. One needs only look at statistics to find an answer to this quandary. Consider statistics from the national Candidate Physical Abilities Test that firefighters need to pass. In 2008, 70 percent of all women who took the exam passed. This figure is not significantly far behind the percentage of men who passed the exam. In the same year, 75 percent of men passed. This shows that women are not statistically far behind men in taking the exam and passing or failing is more a matter of individual capabilities than a question of gender.
It's likely that women remain underrepresented in the firefighting profession because of traditionally perceived gender roles. Fire departments all over the country have been found to have testing and qualification procedures that not only discriminate against women, but also against minorities as well. Available equipment is often designed to fit men rather than women. Also, harassment toward women is rampant in some departments.
Nevertheless, women succeed in careers as firefighters. In fact, hundreds of women have attained the rank of captain or lieutenant in their careers as firefighters. In fact, the city of San Francisco fire department was led by a woman, Chief JoAnne Hayes-White, as of 2004.
It's important that people realize that females are perfectly capable of serving as firefighters because, as a female Wisconsin firefighter once remarked, "No one cares if you're a woman when their house is on fire".