Fleetwood Mac Makes Horse Dance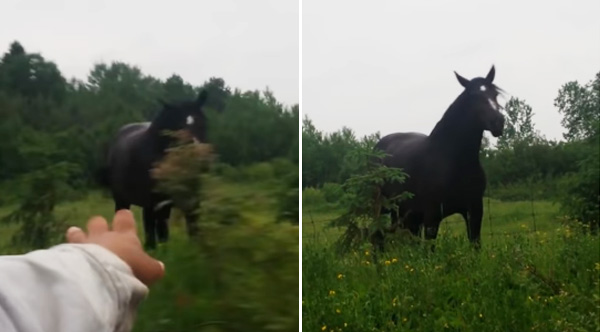 We all love Fleetwood Mac. You'll be hard pressed to find someone who doesn't jam out when a classic Fleetwood Mac song comes on. But as it turns out, the fan base of this legendary band isn't limited to humankind. One horse, in particular, seemed to love one of their classic hits. Aspiring filmmakers Victoria Anderson-Gardner and Morningstar Derosier — who also happen to be cousins — came across this majestic stallion on their way back home from a documentary shoot.
The horse was grazing by the side of the road, alone, and so they decided to pull over and say hi. Fleetwood Mac's classic hit 'Dreams' was blasting on the car stereo and they thought the lonesome stallion would love a bit of serenade. They could use a bit of entertainment themselves, it'd been a long day at work. The couple turned up the volume and started singing along to the tune and it didn't take long for the horse to catch up with the beat and start nodding along and become more invested as they cranked up the volume.
'Serenading' a Curious Horse
The cousins were coming from Ontario, Canada, where they'd been filming a documentary about indigenous youths taking part in a tribal ceremony known as the Sun Dance when they rolled past the curious horse. As you know, Canada is filled with adventurous domestic animals and exceptional wildlife — not to forget the incredible cultural groups. The horse seemed interested but the girls didn't want to disturb him in his environment.
After minutes of deliberation, the film students decided that it would do no harm to play the curious stallion some music. They blasted Fleetwood Mac's iconic tune and were shocked by how fast the horse got into the jam. The horse started to bop its head to the massive tune as soon as Stevie's voice hit its massive ears. The creature seemed to get more pumped as the volume increased. Without evidence, this would probably sound like a made up story but the girls were lucky enough to get it all on camera.
Excellent Taste in Music
The cousins posted the video of the horse dancing and probably singing along to the Fleetwood Mac on Twitter and it went viral. There were a lot of social media cheers for the invested horse, the sceptical bunch argued that the horse was just rubbing himself against the fence but if you watch the video, it clearly looks like a horse appreciating and bobbing along to the awesome Fleetwood Mac tune. If that's the case, many will agree that the horse has excellent taste in music.
So, does the horse just nod along or can he sing? Perhaps he can lip sync. Maybe we'll get an answer next year when Victoria Anderson-Gardner and Morningstar Derosier go back to see the Sun Dancers next year. They promised to check on their new best friend on their way to Ontario for the shoot. Let's hope they find him safe and sound and see if he can bust some moves to 80s-style rap or he can only dance to Fleetwood Mac.
Zookeepers Set Up Camera And Capture Pregnant Rhino Giving Birth Without Any Assistance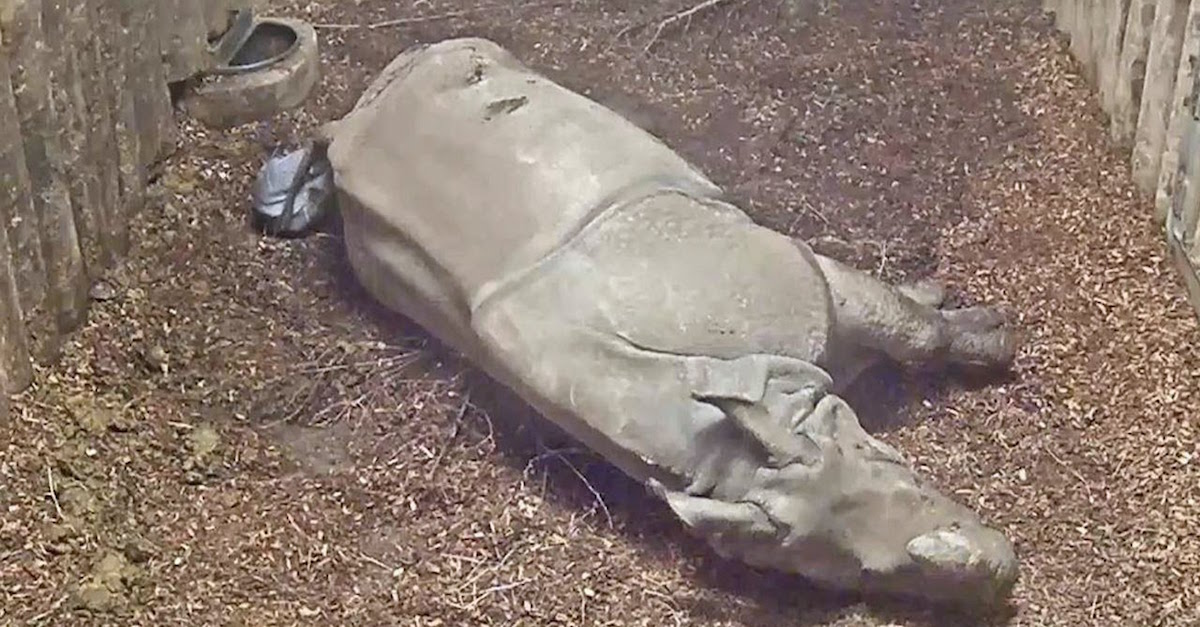 For a whopping sixteen months, Asha carried her baby in her womb. Asha, a rare greater one-horned rhinoceros, lives at the Chester Zoo in Cheshire, England. Luckily, her labor and delivery were much quicker than the gestational period was for her baby Rhino to come into the world.
After only about 20 minutes of labor, Asha successfully delivered a healthy male calf in the early morning hours on May 3, 2018, at her home at the Chester Zoo. The staff at the zoo were able to capture Asha's labor and delivery on video. The mama had an easy delivery on the floor of her enclosure and did not require assistance from the staff as she labored and brought her 132-pound baby boy. Once he is fully grown, Asha's son will balloon to an eye-popping two tons plus in weight!
Guests of the Chester Zoo were excited to visit the little rhino and his mama in their exhibit. Asha's baby is named Akeno which means "beautiful sunrise." Along with his birth, Akeno's first steps were also caught on tape along with snuggles with his 11-year-old mother Asha. They are a hit at the zoo and seem to be getting along well.
The staff at the well-visited zoo have been working towards keeping beautiful animals like Asha and baby Akeno together and better protected. One-horned rhinos are one-horned rhinos that are endangered at this point in a critical way and the staff is hoping the miraculous birth will not only attract visitors to the zoo but will draw attention to their work on this front. Animals like Asha and baby Akeno are the object of hunters who illegally poach them to be able to obtain their horns and sell them. There is a market for them as they are used in traditional Chinese medicine. A hunter can sell a single horn on the Asian black market for around $65,000 United States dollars. Even more offensive is the fact that wealthy hunters simply want the horns to hang on their walls and show off to friends as a status symbol of wealth and popularity.
According to a staff member of the Chester Zoo, not long ago there were less than 200 greater one-horned rhinoceros in the wild.
"They were hunted almost to extinction. Just in time steps were taken to protect them. Now there are about 2,600, but they still face threats in India and Nepal… it's important we do all we can to stop their numbers going down to critical levels again."
As the staff and many others work hard to fight against the illegally poaching of these beautiful animals, Asha and Akeno, who appears like he is dressed in a dark gray suit of armor, are enjoying their stay at the zoo and the many delighted visitors they come into contact with each day. The birth of Akeno on video has drawn more new visitors to the Chester Zoo and everyone seems to be happy with this new situation.