Fleetwood Mac Makes Horse Dance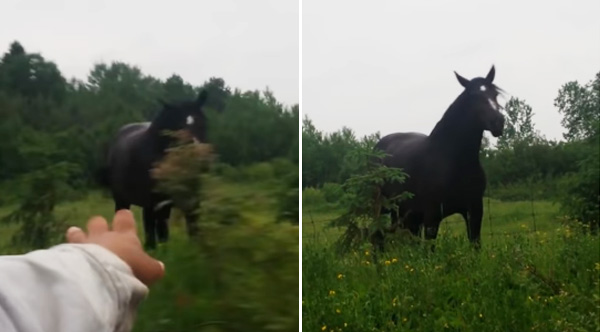 We all love Fleetwood Mac. You'll be hard pressed to find someone who doesn't jam out when a classic Fleetwood Mac song comes on. But as it turns out, the fan base of this legendary band isn't limited to humankind. One horse, in particular, seemed to love one of their classic hits. Aspiring filmmakers Victoria Anderson-Gardner and Morningstar Derosier — who also happen to be cousins — came across this majestic stallion on their way back home from a documentary shoot.
The horse was grazing by the side of the road, alone, and so they decided to pull over and say hi. Fleetwood Mac's classic hit 'Dreams' was blasting on the car stereo and they thought the lonesome stallion would love a bit of serenade. They could use a bit of entertainment themselves, it'd been a long day at work. The couple turned up the volume and started singing along to the tune and it didn't take long for the horse to catch up with the beat and start nodding along and become more invested as they cranked up the volume.
'Serenading' a Curious Horse
The cousins were coming from Ontario, Canada, where they'd been filming a documentary about indigenous youths taking part in a tribal ceremony known as the Sun Dance when they rolled past the curious horse. As you know, Canada is filled with adventurous domestic animals and exceptional wildlife — not to forget the incredible cultural groups. The horse seemed interested but the girls didn't want to disturb him in his environment.
After minutes of deliberation, the film students decided that it would do no harm to play the curious stallion some music. They blasted Fleetwood Mac's iconic tune and were shocked by how fast the horse got into the jam. The horse started to bop its head to the massive tune as soon as Stevie's voice hit its massive ears. The creature seemed to get more pumped as the volume increased. Without evidence, this would probably sound like a made up story but the girls were lucky enough to get it all on camera.
Excellent Taste in Music
The cousins posted the video of the horse dancing and probably singing along to the Fleetwood Mac on Twitter and it went viral. There were a lot of social media cheers for the invested horse, the sceptical bunch argued that the horse was just rubbing himself against the fence but if you watch the video, it clearly looks like a horse appreciating and bobbing along to the awesome Fleetwood Mac tune. If that's the case, many will agree that the horse has excellent taste in music.
So, does the horse just nod along or can he sing? Perhaps he can lip sync. Maybe we'll get an answer next year when Victoria Anderson-Gardner and Morningstar Derosier go back to see the Sun Dancers next year. They promised to check on their new best friend on their way to Ontario for the shoot. Let's hope they find him safe and sound and see if he can bust some moves to 80s-style rap or he can only dance to Fleetwood Mac.
You Want a Capybara as a Pet? Isn't it a Giant Rat?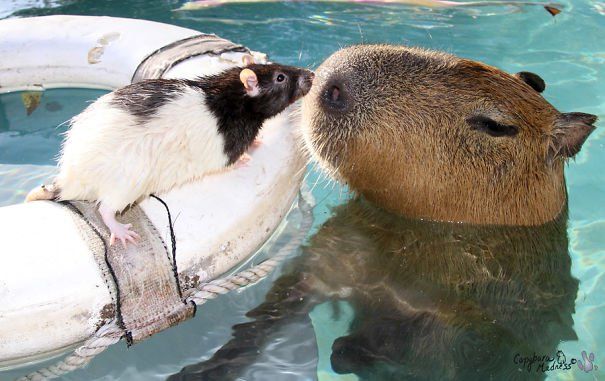 What in the world is a Capybara?
Take a small to medium size pig, turn it into a guinea pig with longer legs, give it clawed feet, and add in an absolutely loving attitude towards anything that pays it attention. Technically, the Capybara is a rodent, a very large rodent. These creatures can easily get up to 4 feet in length and up to two feet tall. They range in weight, with various specimens coming in anywhere from 70 lbs to as much as 150 lbs in size. Most folks first faced with one would likely back up from a Capybaras at first, but these creatures are absolutely affectionate regardless of what they are facing.
They Eat a Lot!
In terms of feed, the Capybara counts as an herbivore. It will easily consume up to eight pounds of food and they love to splash around in water, often leaving near creeks and rivers in the wild. And then they have this cuddling thing. They love to get up close with anything that pays them attention and doesn't try to eat them. The Capybara will do fine with dogs, cats, cattle and they even be seen giving a monkey a ride around the yard. They have a reputation for being used as a couch by a lot of other animals ranging from birds to other rodents, even when walking around.
The Party Hugger
Tame Capybaras will make friends will all kinds of animals most folks would never assume could hang out with these creatures. Rabbits are often seen snoozing with them when saddled in the same pen, and if there's a kiddie pool made available you can be these oversized rodents are going to play king of the mountain and park themselves right in the center of it. They not only have the ability to function as natural swimmers, a Capybara will frequently be found sleeping in water as well. It's not uncommon to see one slip underwater asleep and come back up in a splutter. They also have the ability to dive and stay under water up to 5 minutes long, easily getting away from danger on land if needed.
Natural Capabilities
Interestingly, Capybaras are no slow or easy to catch. They can run as fast as 35 kilometers per hour, easily keeping up with a typical horse. They tend to live in herds ranging from 10 to 20 in the wild, and at one point there was a concern they were going to become rare. However, domestic farm-raising of Capybaras solved the problem, and now there are plenty of the rodents available again.
It's not likely that a Capybara will be allowed as a pet in most jurisdictions in the U.S. Many states have laws barring the entry of non-native species to prevent them from causing environmental damage and wiping out a native species. However, if you ever get a chance, spend some time with these creatures in a tame setting. Their willingness to be friendly and inquisitive makes them absolutely interesting to watch, observe and interact with.