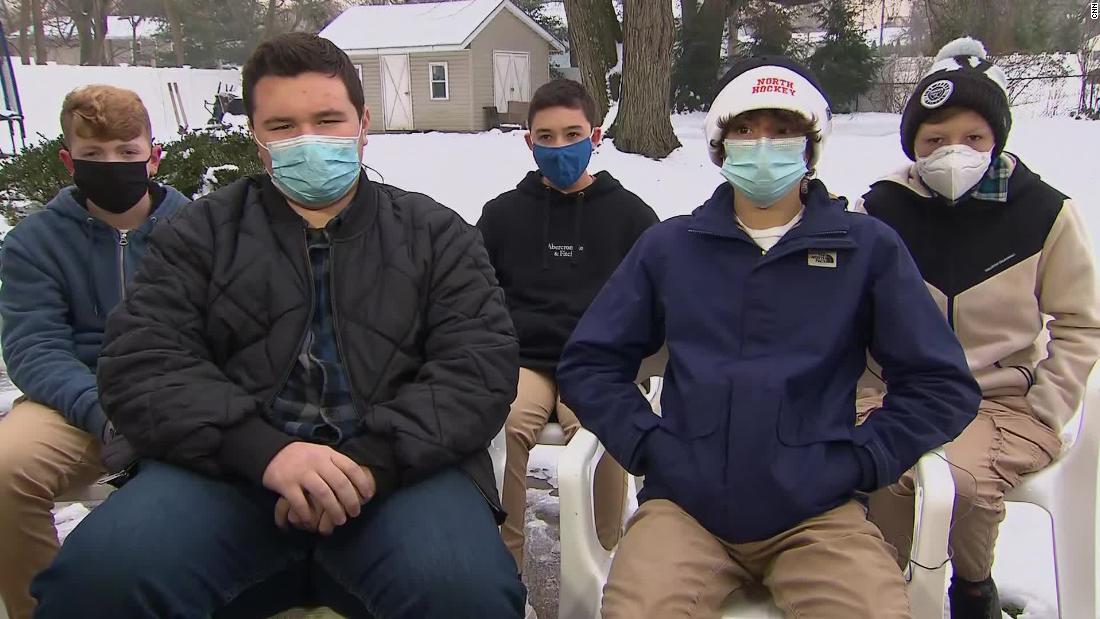 Five Heroic High School Freshman Heed Call to Action, Save Children From Icy Pond!
When the worst happens in front of our eyes, we all hope that we will have the fortitude to act. For five teenagers from New Jersey, a call to action manifested before themselves while heading home from an evening at Beacon Hill Country Club. The five kids were all from a local high school and they had been sledding at the local country club in Middletown when they heard a commotion coming from a pond near the bottom of the hill. As it turned out, two children on a sled had been rocketing straight toward the ice-covered surface. What happened next could have ended in tragedy if not for a group of brave kids.
Tyler Armagan, Ryan Day, Kieran Foley, Drew Scalice, and Joseph Dietrich had been hanging out at their favorite sledding spot in town when their lives changed forever. Kieran, a 14-year-old from New Jersey, said that he saw the two children careening down the hill and toward the ice-covered pond. Kieran stated, "They just went so fast right down the hill."
According to Kieran, the father of the children had been yelling for his kids to jump out of the sled. The problem was that 8-year-old Olivia and 4-year-old R.J. were not in control. In the Olympics, sleds can reach speeds of up to 70mph. While little Olivia and R.J. weren't going that fast, they were certainly not in control. True tragedy was hovering over the entire moment but the boys leaped into action.
As it turns out, Kieran and his friends were all from the same Boy Scout troop. The kids kept their cool and jumped into action immediately. Kieran and his friends formed a human chain down to the pond where the two children had fallen into the icy water. Knowing that time was of the essence, Kieran waded into the water. Kieran stated, "I knew it wasn't that deep, the water, so I just picked them up.."
Drew was also shocked by what happened though he was quick to act. Drew told reporters, "All I can remember is seeing the kids come down (the hill)." Drew would go on to describe how Ryan helped calm the kids down after pulling them from the water, asking them questions about Christmas and what presents that they would want. As it turns out, this was a wonderful way to calm the kids down as their parents arrived.
After pulling the children from the freezing water, Kieran and his buddies consoled them as they tried to keep them warm. Soon Richard Heid and Stephanie Irlbeck appeared, the parents quick to thank the heroic children that had stepped up to the plate to save their child. As frostbite can occur within ten minutes in the right frigid temperatures, it isn't dramatic to say that Kieran and his friends potentially saved two lives.
While 2020 was a constant lesson in how dark and hard the world can be, there are always silver linings to turn to for hope and inspiration. While much of the world was engulfed in chaos relating to politics or COVID, good folks like Kieran and his friends continue to do great things for the people around them. Perhaps we could all learn a little bit more from these heroic kids!
Walk Along the Beach Turns Into Jurassic Experience For Shellfish Collector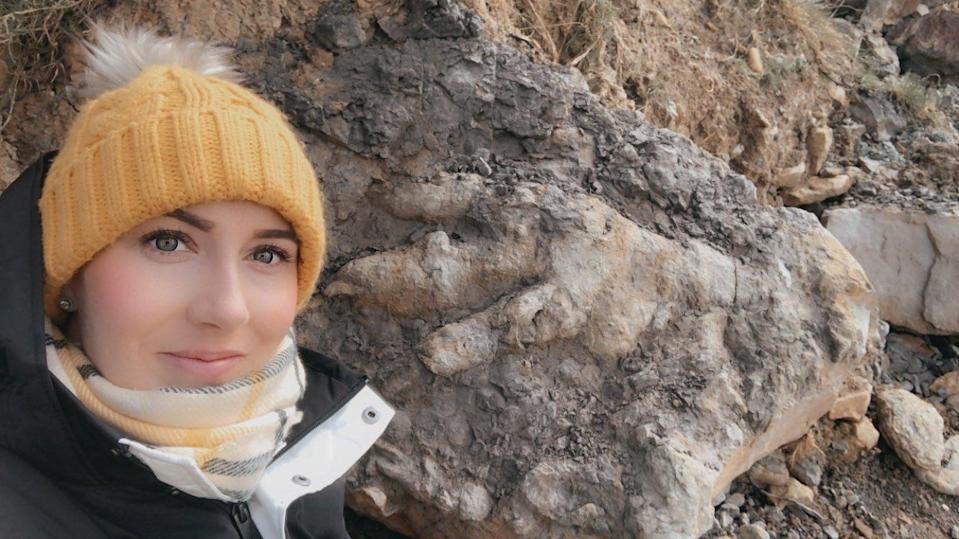 When was the last time that you were truly blown away by something? We don't mean impressed, we mean truly blown away. It's a tough state of mind to find ourselves in, but that doesn't mean that 29-year-old shellfish collector Marie Woods would have the same experiences! Woods had been foraging for shellfish along the Yorkshire Coast when she came across something quite remarkable. And when we say 'quite remarkable' what we really mean is 'a relic of time'.
Let's explore how a walk along the beach turned into a journey through time.
165 Million Years Ago…
Marie Woods was like many Yorkshire locals when she found herself walking along the coast, foraging for dinner. Woods had been looking for shellfish to incorporate into her meal when she came across something quite unique. In fact, what she found was something both out of time and out of place – an enormous footprint thought to be at least 165 million years old!
Now documented by experts, Marie was one of the first leaders in the field to examine the footprint. More than just a local shellfish enthusiast, Marie is also an archeologist. Upon finding the footprint, Marie would end up making international news. Marie said of her experience, "All I wanted was to grab some shellfish for my dinner." Marie would go on to add, "..and I ended up stumbling across this."
Woods wasn't the only expert to put a pair of eyes on the uncovered footprint as Dr. Dean Lomax of the University of Manchester was quick to chime in. Dr. Lomax believes that the discovered print is that of the Megalosaurus, an animal that would stand with hips over two meters high and a body longer than nine meters. Put more plainly, Dr. Lomax says, "This is the largest theropod footprint ever found in Yorkshire, at least made by a large meat-eating dinosaur."
The footprint is distinguishable at a glance, most notable due to its three-toed track and long shape. Dr. Lomax goes on to say that the shape of the footprint makes for a 'large theropod' or, as he likes to say, 'a real Jurassic giant'.
Learning About Megalosaurus
Also known as the Great Lizard, the Megalosaurus was a large meat-eating dinosaur from the theropod class, existing throughout the Middle Jurassic Period. Found throughout Southern England, the first-ever genus of this dinosaur was found in 1824. Originally mistaken by a researcher for a 66-foot long lizard, Megalosaurus would receive more significant and accurate coverage after its inclusion in Richard Owen's Dinosauria.
Described as bipedal with stout hind limbs, the Megalosaurus stood roughly 20 feet tall while weighing in at over 1,500 lbs. With short forelimbs and sharp teeth, the megalosaurus was quickly categorized as another meat eater for the time period. Unfortunately, we are still very short on further details as it has been beyond difficult for researchers to find a well-preserved fossilized skull for the Megalosaurus. Sans this information, it can be hard for researchers to get completely accurate details.
After discovering the fossilized footprint of Megalosaurus, Marie would contact other local experts where she would find out that her discovery was not completely new. Roughly a year ago, the footprint had been found by a local photographer named Rob Taylor. Though the image had been shared on social media, nothing had ever come of the discovery – at least not until Marie showed up.
Working with local experts, Marie and Rob are hopeful that their share discovery may find its way into a public display at the Rotunda Museum located in Scarborough.