Five Cyclists Rescue A Deer As He Struggles To Free Himself From Dangerous Floodwaters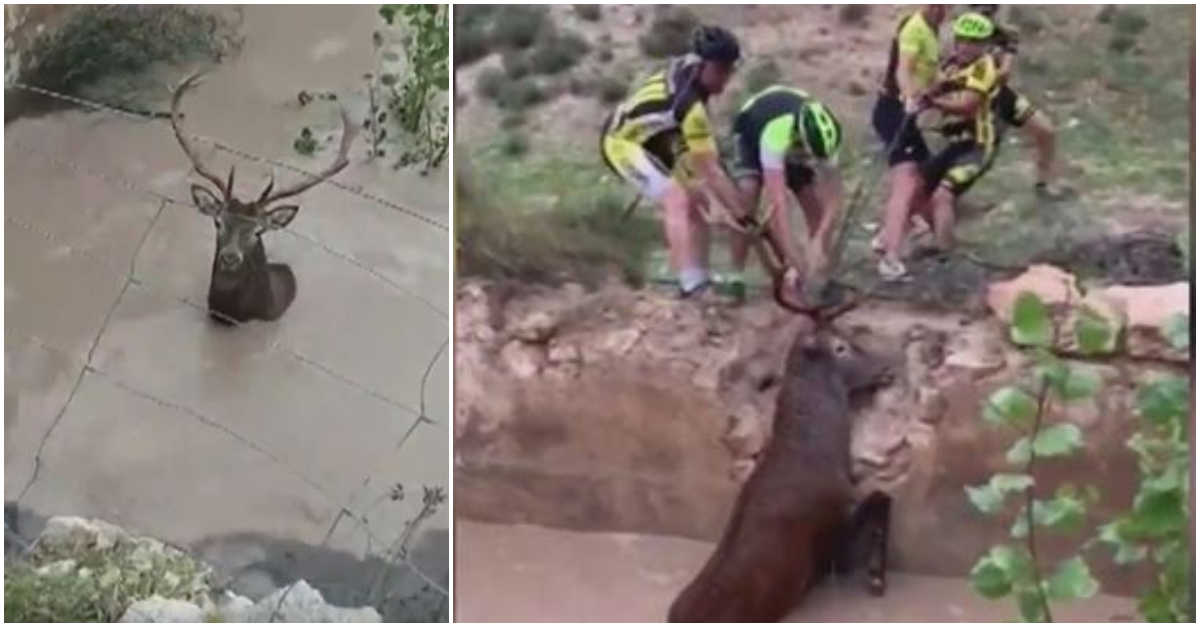 This bike ride was supposed to offer a chance to take a closer look at the scenery. Instead, these riders received the scare of a lifetime. These cyclists saw a deer that was in distress and they did not hesitate to help out. The animal was trapped inside a body of water. Unfortunately, the deer did not have the ability to free themselves from this difficult situation.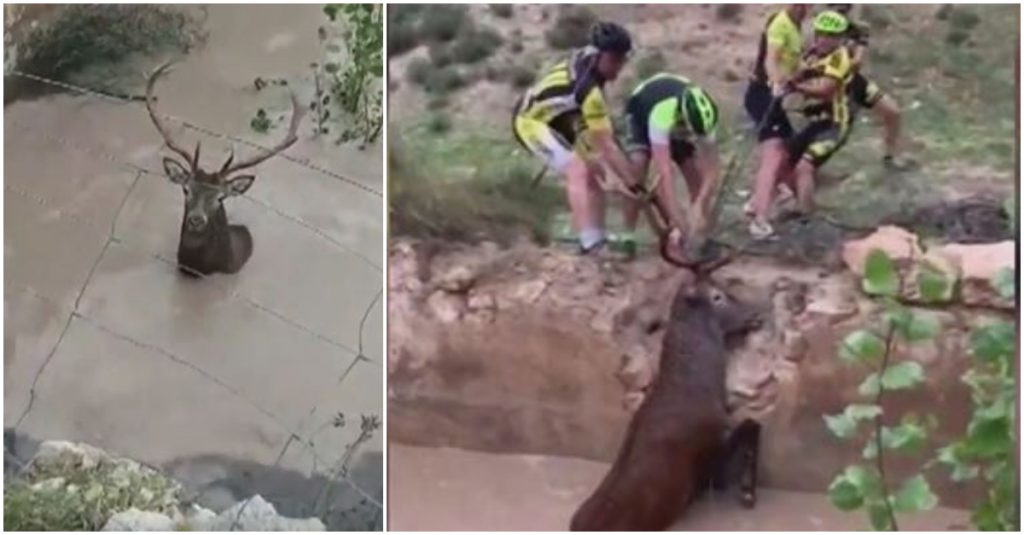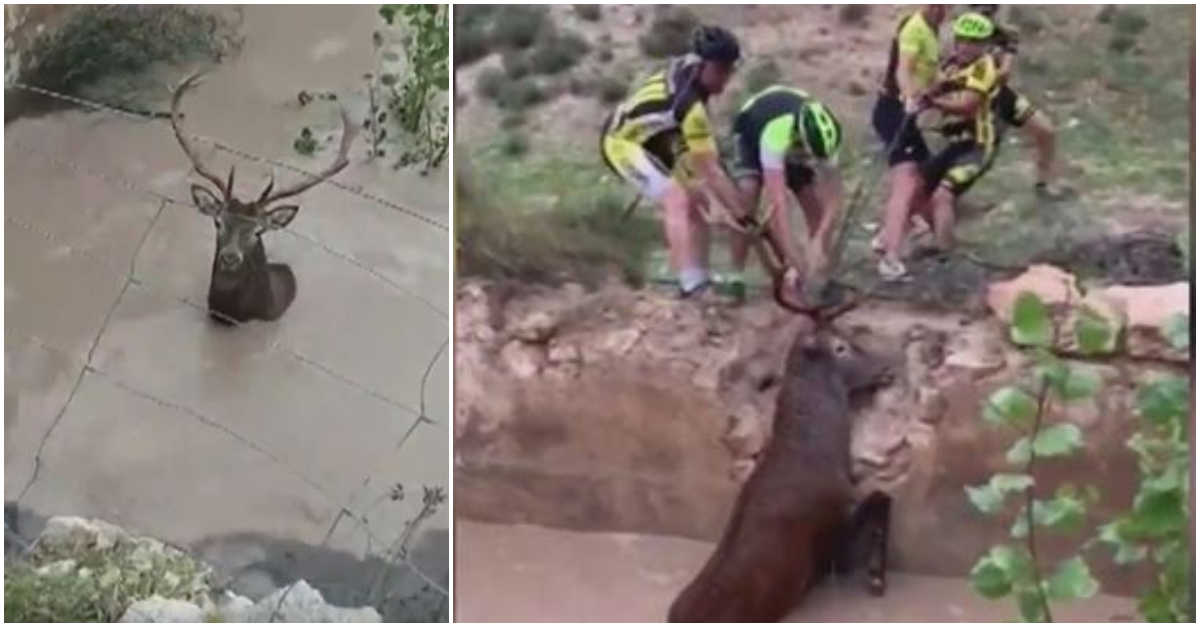 At the time, Spain was experiencing a sizable amount of heavy rainfall. This caused flooding to take place and left the deer in this story in dire straits. The floodwaters had risen to the point where the deer was unable to extricate themselves. If not for these helpful rescuers, we shudder to think of what might have happened next.
The kind and gentle souls who stop to help animals deserve all of our love and consideration. The cyclists were passing through Huéscar and this rural area had been hit particularly hard by the floodwaters. The deer was trying their very best to escape. The waters had caused the ledge to become slick. The deer was unable to successfully grip the rocks and pull themselves out of the waters.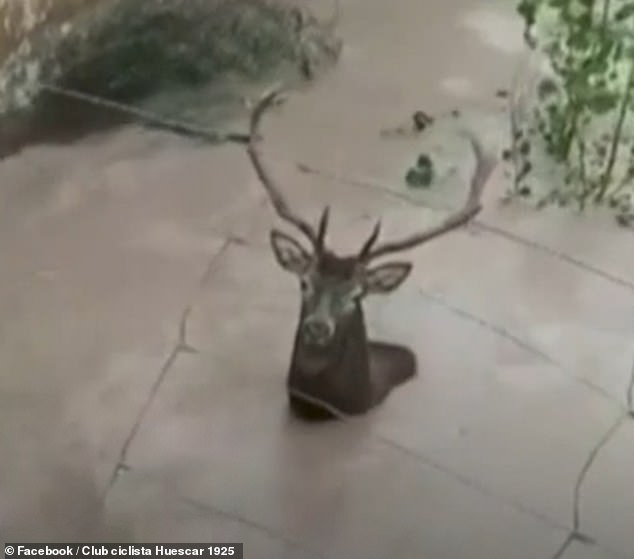 If not for these cyclists, the deer would have been in a much more challenging position. Animal rescues do not always take place in a timely manner. The cyclists knew that the deer was going to drown, though. They could not allow the animal to suffer like this. That's why they stopped and started to assist them. In order to provide the deer with the necessary leverage, they tugged on the antlers.
The deer definitely appreciated the support that they were able to receive. We cannot even begin to imagine the level of fear that this animal was experiencing at the time. Their life was likely flashing before their eyes. That's what makes this story such a special one. These cyclists went above and beyond to ensure the health and safety of an animal that they had never met before in their lives.
If only everyone could be this kind and thoughtful when they came across animals in need, the world would be a much better place. We wish that stories like this one were more common, that is for sure. The cyclists worked very hard to make sure that the deer was okay, even risking their own life and limb in the process. By the time the deer was rescued, one of the cyclists had been sent tumbling to the ground.
The cyclist was okay, however. The deer was also no worse for the wear. The deer was able to walk away from the incident relatively unscathed and the cyclists continued onward with their trip. It is the sort of rescue that has to be seen to be believed, though. If you are anything like us, you are definitely going to want to check out this one for yourself as soon as possible.
We cannot get enough of this clip. The bravery that the cyclists displayed during this pressure situation is exemplary. Hopefully, other readers are inspired to take the same sort of measures when they find an animal who is experiencing any form of distress. These brave people prove that not all heroes are equipped with capes.
Sometimes, heroes are normal folks just like you and me. That's what makes this story worth sharing. This is a level of persistence that you simply do not see every day. Be sure to take a closer look at this video clip, so that you can learn more about the amazing events that took place on this fateful day in Spain.
A Call to Change by An Amazing Third Grade Class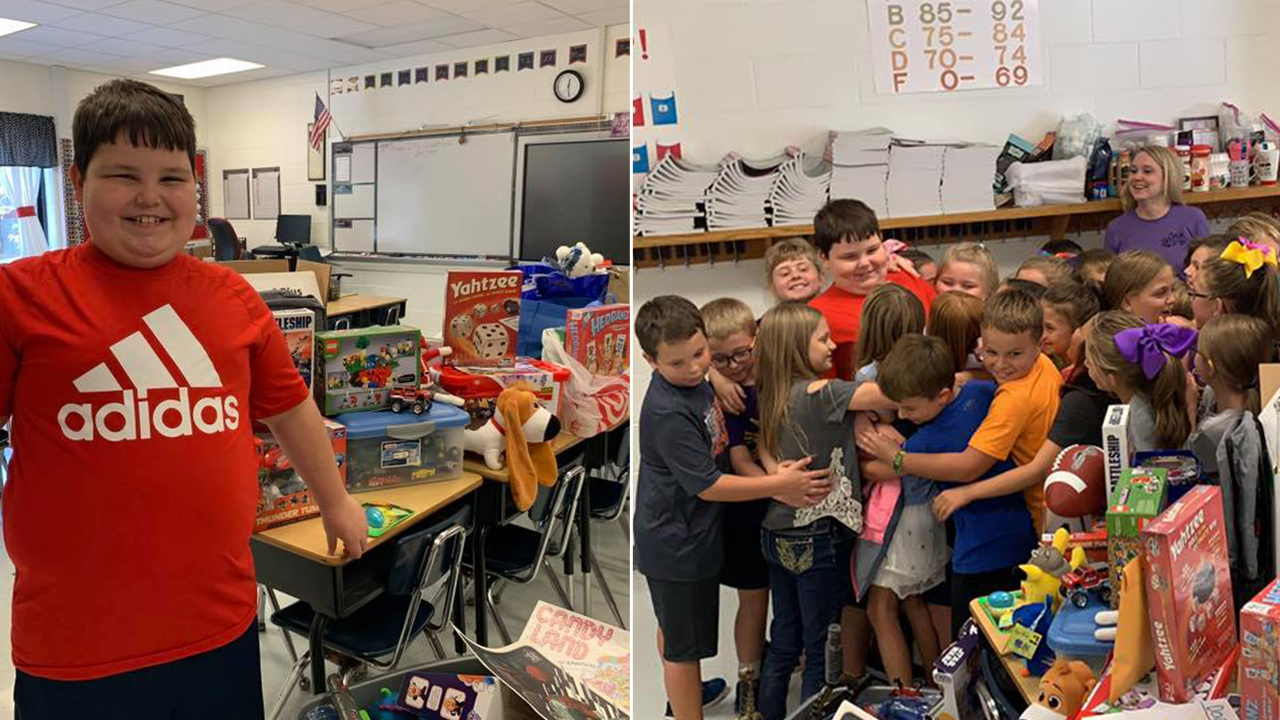 I have always believed that hate and greed are things that humans are taught- that they are learned behaviors- not characteristics that we are born with. Children are pure and, unless taught otherwise, they are full of love and compassion. This story encompasses this theory more than any other I have ever seen.
Just a few weeks ago on September 21, 2019, sweet and lovable eight year old Daniel Hunt's and his family's Tennessee home went up in smoke, along with their possessions. This included all of Daniel's beloved toys. What was a devastating blow to this child did not stop him from being the happy and friendly kid on campus.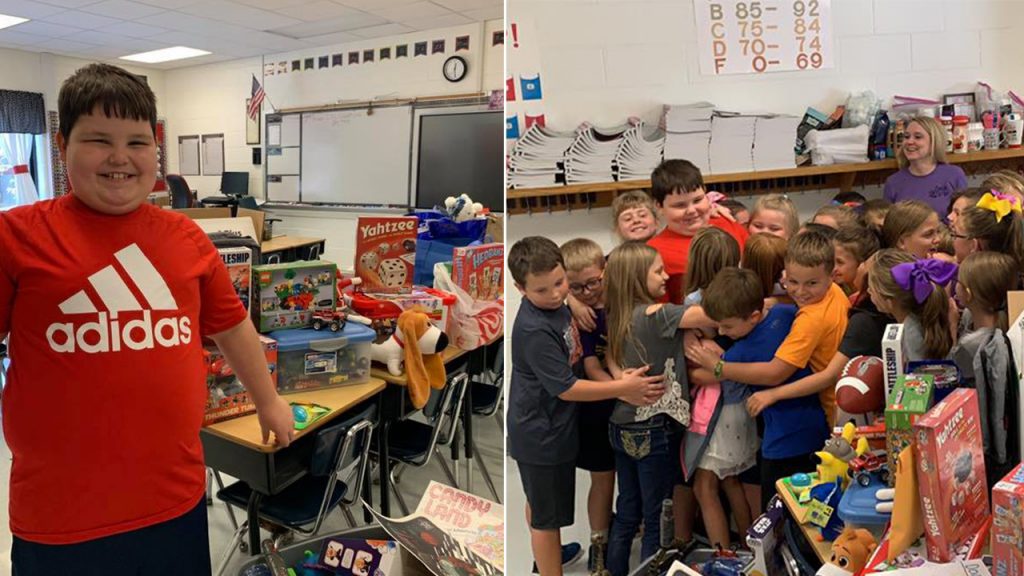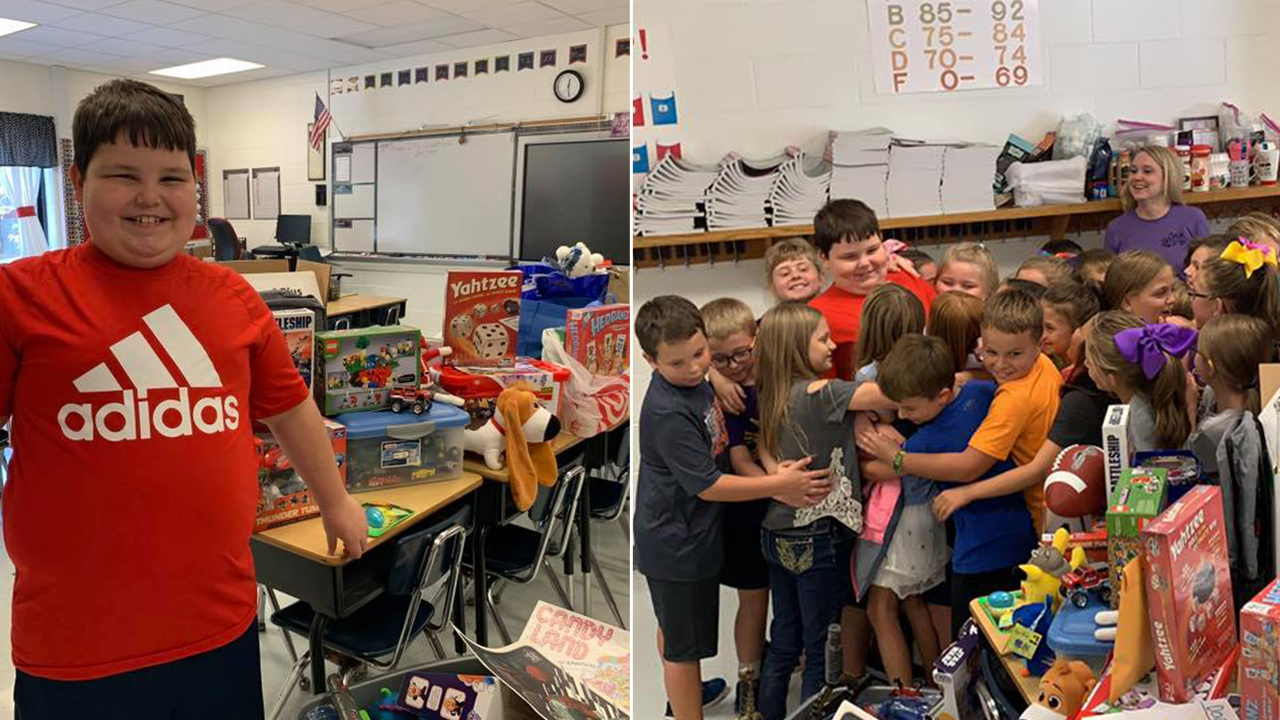 More touching, though, is his classmates' response. It started with being overly friendly- making an extra effort to play with him, holding doors for him, even sharpening his pencils for class- but sweet Daniel could have never guessed just how far it would go.
After being sent on an errand by the teacher, Daniel Hunt returns to his classroom to find a large pile of toys and classmates yelling, "Surprise!" Turns out, his teachers and classmates had been secretly collecting toys for Daniel. This group of 8 year olds had such compassion for their classmate that they put extreme effort into replacing the possessions that kids love most- his toys.
And, in true Daniel Hunt fashion, while being elated at his new toys, he responded in a way that most adults would not: He turned to his classmates first- before even approaching his new toys- to say, "I love it!" and called them all in for a giant group hug.
These selfless, loving, and compassionate acts from such young hearts is incredibly touching. At the same time, it calls us to question ourselves. When is the last time we have given so selflessly to others in need? As adults, it is so easy to worry about whether our bills are paid as opposed to caring for others as we should. Not these young children- they simply worried that their friend had nothing to play with.
This group of eight years olds- both Daniel and his classmates- can inspire the world to be different. They can remind us of the compassion that we should show other humans. They can remind us of the joy of giving. It is time that we learn to give again.
People are in need year round, so there is always a reason to give, but this time of year is a great time to start. With the holidays quickly approaching, we should bear in mind the families who cannot afford to buy their children Christmas presents, the elderly who have no family to visit them, the single moms and dads who are merely trying to keep their heads above water, the families with no heat for the winter, and those with no home at all.
Let's take a lesson from these incredible children and find the love that we were born with to give to others what they need this year and every year to come.