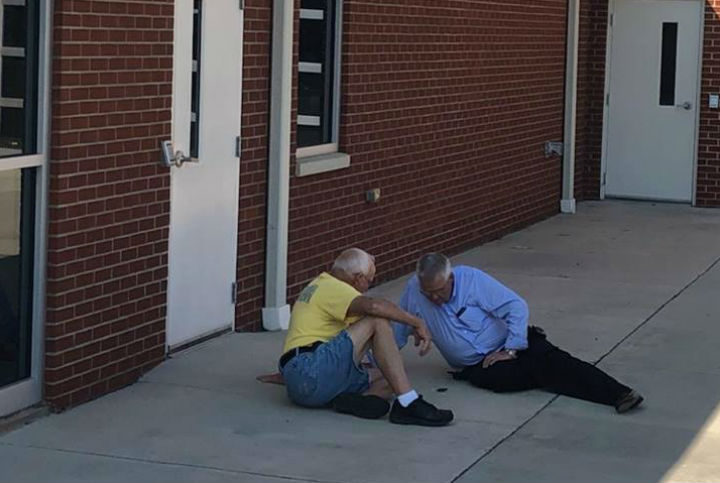 Firefighters Save Everyone, Even Little Birds
Have you ever heard a thud against your big home or room window, looked up and then wondered what happened? Or maybe you've seen a black sticker silhouette of a big bird on a window that looks odd without any apparent reason. The thud or sticker both have to do with the same common issue of small birds hitting windows frequently because they can't see and differentiate plate glass as a surface when flying. They fly and get exhausted or just don't realize the difference of a building and then the flight mistake occurs. The bird then impacts, gets knocked out, and falls to the ground stunned.
It just happened one day that two firefighters happened to be working at their station in South Carolina one day and found a stunned hummingbird on the ground as they went outside the station. The day was hot and part of heat wave in the area common in the South at certain times of the year. The two took a closer look and found an emerald-green creature lying almost dead still on the cement, showing now sign of life. But the eyes still showed signs of life. The impact wasn't too much of a surprise however; bird stuns are common in South Carolina has it's a major migratory path during the month of March and October annually.
David McCain, a fire marshal, and Jobeth Holmes, a firefighter, looked at the little bird up close and quickly realized the animal needed some kind of food and water or was going to die quickly. Hummingbirds naturally have a fast metabolism and energy consumption, burning out their internal resources in minutes and hours versus days. The two had found stunned birds before and this hummingbird was either recovering from a bad flight path or just dropped from exhaustion due to the hot temperature that day. From experience the two tried a few tricks they learned over the years to bring the bird back to life. Using bottled water and some table sugar, the created a quick mix and then made it possible for the bird to drink the solution. Coaxing the bird to take in the liquid, they patiently waited minutes for a response to occur.
Sure enough, the hummingbird began to perk up and react. The sugar metabolized quickly in the bird's digestion and its energy level spiked. The bird keep drinking a bit more and then, like a laser dart, it zipped off in a spark, looking for more food and flower nectar. The departing bird didn't give any acknowledgement or romantic movie-like thanks, but the two firefighters knew they had done a good deed in the grand scheme of life.
She Did Not Guess That Her Secret Admirer Was a Cat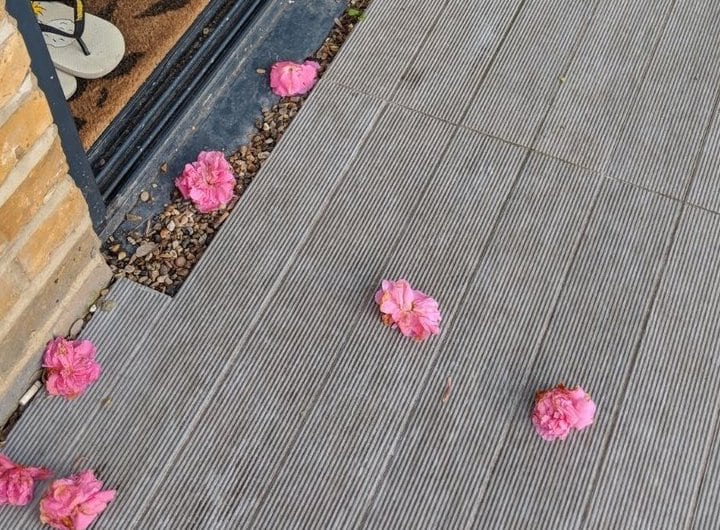 At most times, it feels really sweet to have a secret admirer. It feels nice to know that someone out there views you as special and interesting. Who said that all secret admirers have to be human beings? You will be interested to know that a secret admirer can also be your beloved furry neighborhood friend.
Rosie started to notice pink flowers everyday on the back of her deck, she did not think much of them at first until it became a continuous occurrence. Her secret admirer was very unexpected. Read on to know more about the unexpected feline admirer.
Flowers on Rosie's Porch
Rosie relocated to a quaint neighborhood in the United Kingdom to start her life afresh. She shared the home with several roommates. 6 houses down from where she stayed lived a cat called Willow, who was not like any ordinary neighborhood kitty. Ever since the spring started in that particular year, Rosie would find a flower display on her terrace every day. It was pretty.
At first, she assumed that it was the wind that was blowing flowers on to her porch, but a housemate of hers told her about Willow the neighborhood cat. This kitty is well-known in the neighborhood as being friendly and affectionate to people who reside there. She just seems to care for the people who live there, who also tend to be kind too her too.
Rosie was baffled by the flowers on the porch until her housemate informed her that she had seen this beloved cat carrying pretty flowers in her mouth. This was really surprising to Rosie, and she wanted to witness this spectacle for herself.
Willow the affectionate kitty
The cat clearly liked Rosie and her housemates because she was stealing flowers from her owner's garden and leaving them on their terrace. They would come home from their daily activities to find pink pretty flowers spread all over their back porch nicely. Clearly, there was a secret admire leaving the flowers on a daily basis.
Domestic cats have provided companionship to their owners for many centuries. Without a doubt, cats have a reputation for being unfriendly and proud animals that do not heed to commands, but Rosie and her friends are certain that their friendly neighborhood feline is different from other cats. Willow ensured that her new-found friends had a flower display daily on their deck.
The arrangement of houses in Willow's neighborhood are such that Garden corridors have been used to separate each house. Each day, the popular cat would cross 6 garden corridors, and get some tasty treats in every house she passed before she reached Rosie's home. Rosie admits that it is not easy to turn Willow down, she is just too cute and charming.
Seen in action
Rosie really wanted to see Willow doing what she always did. One day, as she was busy cooking in their kitchen, she happened to see what she had been waiting for. Rosie grabbed her phone quickly to capture the inspiring moment.
Willow was prancing up to their deck carrying a flower in her mouth. This was really surprising because cats are known for bringing dead animals at home, not pretty flowers! This was such a cute scene. Obviously, this friendly kitten understands how to keep the neighborhood happy. Rosie says that Willow holds a special place in her heart.
Willow is not the only cat with a unique story, every year interesting stories about affectionate animals hit the papers. It just goes to show that human beings are not the only species on earth that understands the meaning of caring and being considerate.