Firefighters do not give up on horse stuck in mud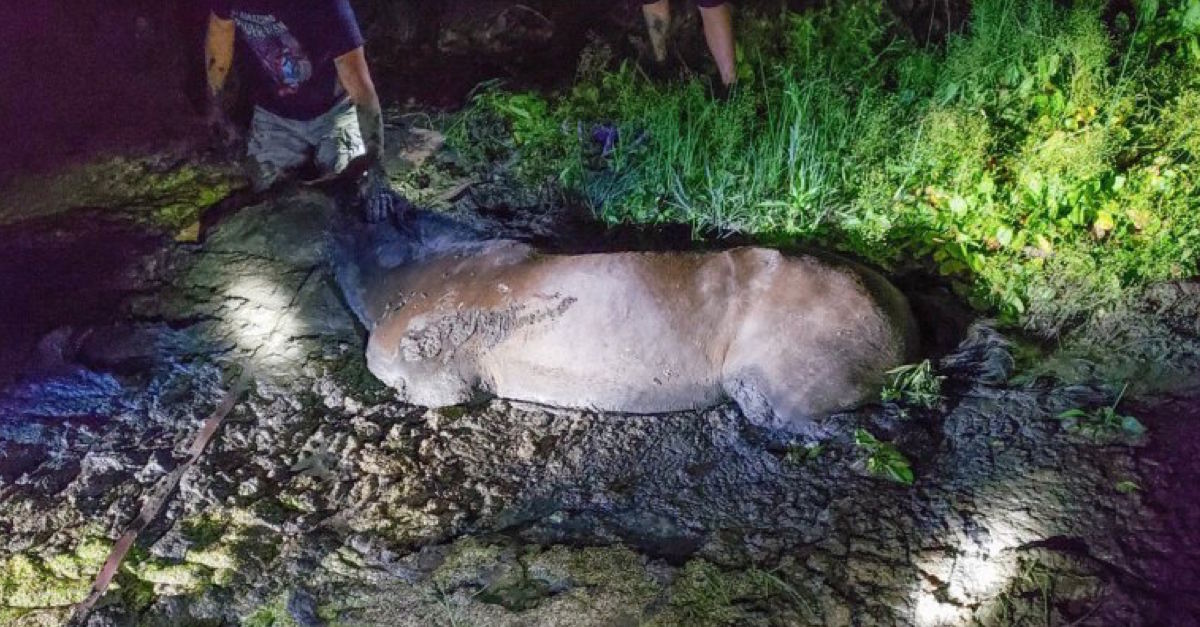 It was a warm summer night in August of 2018 when Chris and Tiffany Flynn of Castle Rock, Colorado, noticed the neighing of their horses out in the pasture.
The beautiful 1,200-pound Tennessee walking horse named Partner had vanished and they knew something was wrong and they needed to find him quickly. The couple made their way down to a nearby pond and found their missing horse.
Partner had somehow managed to slide down a 10-foot embankment into a giant mud pit, where he had become stuck. He simply could not get his ample body loose from the thick, sticky ground that had seemed to swallow him.
At first, Chris and Tiffany could only stand there and look at their poor horse while frozen in shock. As panic and confusion set in, they tried to form a plan of action to save the life of their much-loved yet giant horse.
The couple worked at desperately trying to free Partner but he began to sink even deeper into the thick, sticky mud pit that had consumed him and it seemed like an impossible feat to achieve.
Tiffany made her way into the mud, walking waist-deep in it, as her feet began to sink. The realization that she may not be able to escape the muddy hole herself was not lost on her. As Partner continued to struggle to free himself, the deeper he sank.
Chris phoned 911 for help and by 11 p.m., Castle Rock firefighters and other first-responders were on the scene of the Flynn home in the beautiful suburb of Denver. They had to lug their equipment to the area where Partner was stuck which was complicated by the large distance it was from the main road to the farm.
Hiking with their equipment in tow for about a half of a mile to Partner's location, the firefighter began digging. The continued into the night for about three hours before they were able to use a sling, which required webbing and a pulley to create, to secure Partner and drag him back up the 10-foot embankment to safety. A local veterinarian was on the scene to treat and hydrate the horse after he was freed.
She specializes in large animals and said it was the most technically difficult rescues she has ever seen.
Lt. Jay Allen, a firefighter with the Castle Rock Police Department, told a local news station that he and the other firefighters would attempt to remove the mud and water from the area in which the horse was stuck to no avail at first.
"We would try to remove the mud and the water from him, but he was just stuck in there, that vacuum that was created from it. And so it took finally breaking that vacuum, that seal that was there for us to pop him up and out," said Allen.
After hours of working diligently, the firefighters were able to free the beautiful horse from his pit of mud.
"It's amazing to see Partner out of the pit. We are so grateful to the Castle Rock Fire Department and others for working to free Partner," said Chris as he put his arms around Partner's neck to reassure him that he was not in trouble for the freak accident.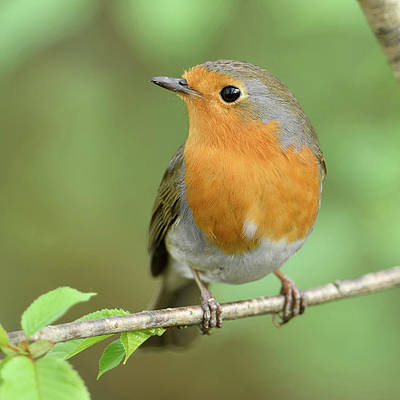 The color peach is most associated with the fruit of the same name. Apart from the fruit and a few flowers, the color peach is not commonly found in nature. There are certainly very few animals that have any shades of peach. However, there is one breed in birds that do display the color peach on its chest. The Eurasian Bullfinch is a small-size but bulky looking bird that is native to Europe and certain regions of Asia. Their range of travel is estimated to be around ten million square kilometers. Their preferred habitat parks, gardens, hedges, trees, and agricultural areas. They get their name from the bull-shaped head. Parts of the upper body are colored grey while the feathers are a mixture of black and white. The legs and feet are pinkish-brown in color. Juvenile bullfinch birds have the same shape as adult birds but they don't have the same colors. The young ones are mostly grey and brown.
For breeding purposes, the Eurasian Bullfinch nests in tall bushes. They lay about 4-7 eggs. The chest is often mistakenly described as red, but it is as peach as it gets. The males have brighter colors, while the females have a slightly beige color on their chest. Their unique color makes them easily recognizable from other birds with similar size and shape. Although the bird has a bulky shape, it is considered a small to medium-sized bird.
They are social creatures and are often found in pairs or groups. They are mostly found busy looking for seeds. Only 10% of BTO Garden BirdWatch gardens have the Bullfinch. Their shy and reclusive personality makes them a rare bird to fine. Although they mostly eat seeds, for their young ones do they occasionally feed on insects. Initially, they were mostly found in woodlands but have now slowly moved to gardens too. Although they migrate during winter months, mostly they stay in the same spot throughout their lives. If you are looking to spot one, try to look for them in a suburban garden with scrubs or thick hedgerows. They prefer to find a thick cover for the nests. As food supply has become more scattered, it has forced the bullfinch to travel more often.
There are reclusive in personality and shy away from human contact. During colder months, they migrate to southern regions of Europe and Asia. Their diet mostly consists of seeds from plants such as ash, elm, and nettle. Their liking for flower buds made them be considered as a pest of fruit trees. Although they are not considered to be an endangered species, their population has seen a decline due to the loss of arable weeds and new agricultural practices.
One of the unique features of the Eurasian Bullfinch is its ability to store seeds in a small sac at the bottom of their mouths. This feature is useful when they have to bring back seeds from long distances for their young ones. Amongst the finch species of bird, the Bullfinch is the only bird that has evolved into adapting this remarkable sac in the mouth.
Another stunning feature of the Eurasian Bullfinch is their singing ability. They have a beautiful soft and subtle call. When the male seeks to attract the females, it uses a soft tone mostly audible to other bullfinch birds only. The call from the male is a polite descending set of notes, repeated at specific intervals. The bullfinch is also skillful in mimicry and is popular birds to keep as pets. They are even able to follow tunes played to them.