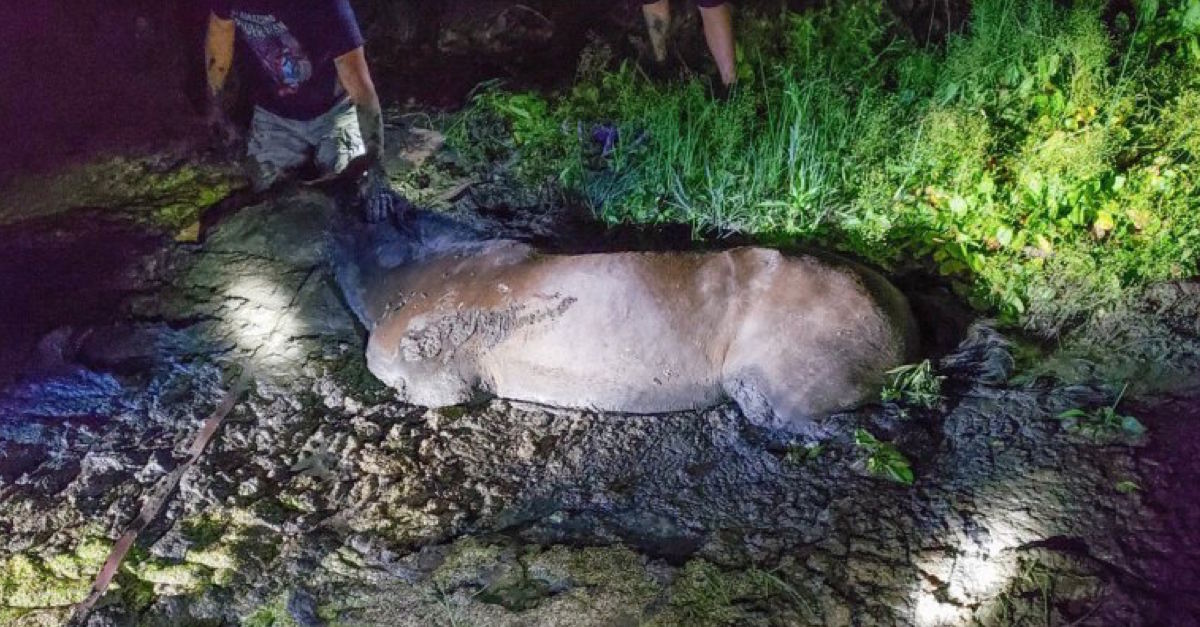 Firefighters do not give up on horse stuck in mud
It was a warm summer night in August of 2018 when Chris and Tiffany Flynn of Castle Rock, Colorado, noticed the neighing of their horses out in the pasture.
The beautiful 1,200-pound Tennessee walking horse named Partner had vanished and they knew something was wrong and they needed to find him quickly. The couple made their way down to a nearby pond and found their missing horse.
Partner had somehow managed to slide down a 10-foot embankment into a giant mud pit, where he had become stuck. He simply could not get his ample body loose from the thick, sticky ground that had seemed to swallow him.
At first, Chris and Tiffany could only stand there and look at their poor horse while frozen in shock. As panic and confusion set in, they tried to form a plan of action to save the life of their much-loved yet giant horse.
The couple worked at desperately trying to free Partner but he began to sink even deeper into the thick, sticky mud pit that had consumed him and it seemed like an impossible feat to achieve.
Tiffany made her way into the mud, walking waist-deep in it, as her feet began to sink. The realization that she may not be able to escape the muddy hole herself was not lost on her. As Partner continued to struggle to free himself, the deeper he sank.
Chris phoned 911 for help and by 11 p.m., Castle Rock firefighters and other first-responders were on the scene of the Flynn home in the beautiful suburb of Denver. They had to lug their equipment to the area where Partner was stuck which was complicated by the large distance it was from the main road to the farm.
Hiking with their equipment in tow for about a half of a mile to Partner's location, the firefighter began digging. The continued into the night for about three hours before they were able to use a sling, which required webbing and a pulley to create, to secure Partner and drag him back up the 10-foot embankment to safety. A local veterinarian was on the scene to treat and hydrate the horse after he was freed.
She specializes in large animals and said it was the most technically difficult rescues she has ever seen.
Lt. Jay Allen, a firefighter with the Castle Rock Police Department, told a local news station that he and the other firefighters would attempt to remove the mud and water from the area in which the horse was stuck to no avail at first.
"We would try to remove the mud and the water from him, but he was just stuck in there, that vacuum that was created from it. And so it took finally breaking that vacuum, that seal that was there for us to pop him up and out," said Allen.
After hours of working diligently, the firefighters were able to free the beautiful horse from his pit of mud.
"It's amazing to see Partner out of the pit. We are so grateful to the Castle Rock Fire Department and others for working to free Partner," said Chris as he put his arms around Partner's neck to reassure him that he was not in trouble for the freak accident.
Love, Laughter, and 75 Years Together: Gene and Virginia Nelson's Remarkable Anniversary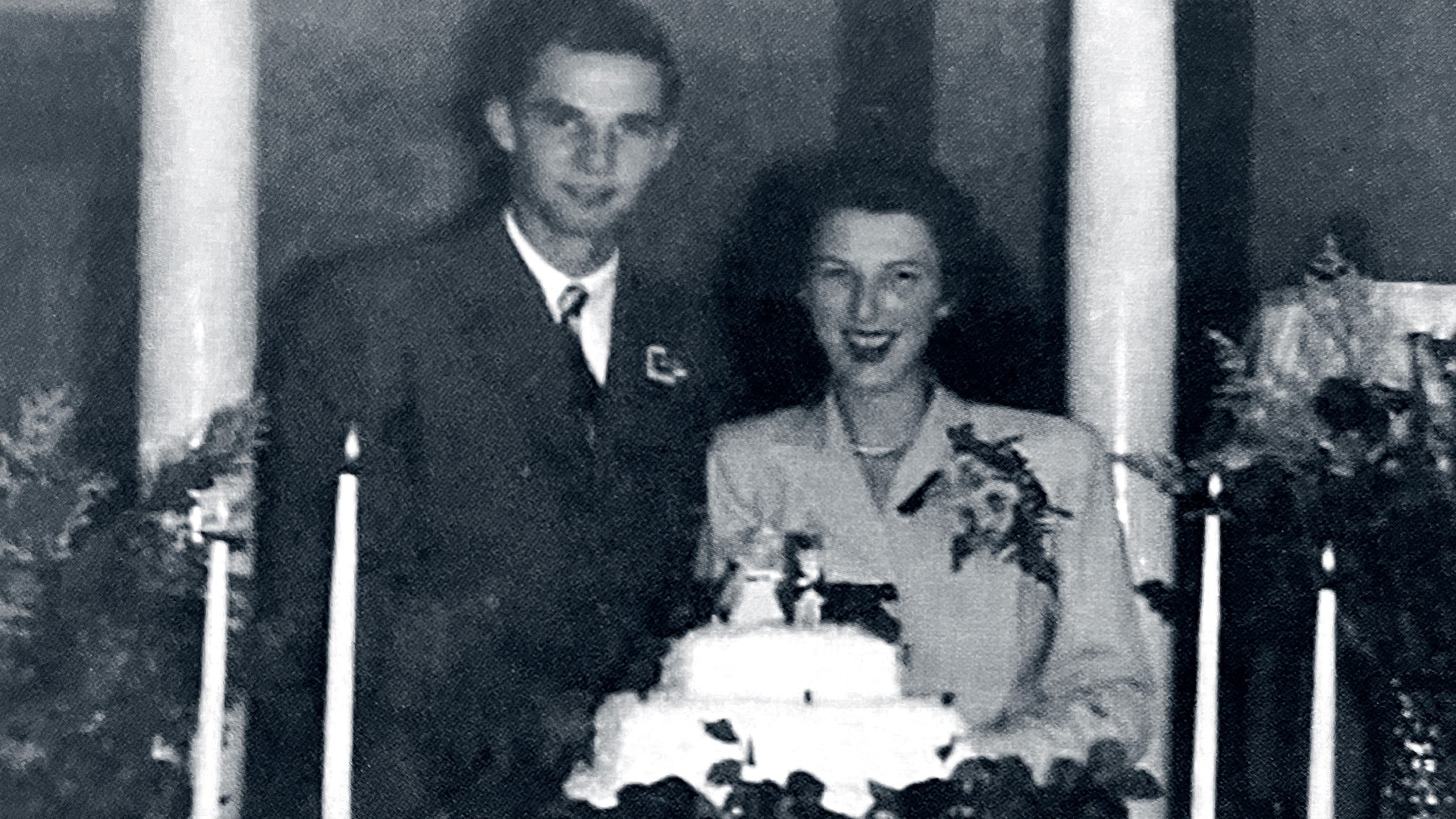 Gene and Virginia Nelson of Canby, Oregon, have a relationship that showcases love's enduring power. The couple recently celebrated an incredible 75 years of marriage, a milestone that very few can claim to have reached. When asked the secret to their lasting love, they attribute it to patience, trust, and a good sense of humor.
Gene, at 95, and Virginia, at 92, have seen a lifetime of changes and challenges, but their love has remained steadfast. When questioned about their enduring bond, Virginia simply replied, "We were just meant to be together!" Gene chimed in, "Have patience through the good times and the bad, try to be honest and faithful."
Their journey began 75 years ago on August 8 when they decided to elope from Brownsville, Oregon, in Linn County. They hopped on a bus to Reno and got married, a move that still brings a giggle to Virginia's lips as she recalls how they outfoxed their parents. At the time, Virginia was just 17, and Gene was 20, with Gene humorously adding, "I was 20 and five months, lacked 2 days, and she was 17 years and 25 days."
According to their grandson, Cody Westphal, their sharp minds are one of the reasons behind their enduring relationship. He said, "Just actively trying to exercise your mind is how it stays sharp."
The couple has three children and seven grandchildren, with the youngest being 29 years old. Gene recalled what made him know that Virginia was the one, saying, "She was a sweet girlfriend, and I hadn't found out any of her faults yet when we were young," which elicited laughter from both of them.
Judy, their daughter, expressed her pride in her parents' long-lasting love. She said, "It takes a lot to make it 75 years and not give up, and they never gave up."
Their sense of humor remains a cornerstone of their relationship, as Judy shared, "They both have a really good sense of humor." Gene and Virginia often engage in friendly banter, and even if they have disagreements during the day, they never go to bed angry.
The couple's thrifty nature is another shared trait. They still have the refrigerator they purchased right after their wedding from Sears Roebucks, and it's still in working condition. Just like their marriage, it has stood the test of time. Gene proudly mentioned, "Never had a service charge, and it's still working! We've always been thrifty."
Their light-hearted arguments, thrifty habits, and enduring love have earned them the nickname "the Bickersons" among family members. Cody noted, "Even if they fight all day, they don't go to bed angry. I think that's why they wake up the next day, and they're still the Bickersons!"
In the twilight of their lives, Gene and Virginia continue to cherish their partnership. As Gene put it, "We're in our waning days. I hope she outlives me because I don't want to outlive her." Their story is a heartwarming reminder that love, patience, and a good sense of humor can make a marriage truly timeless.