Firefighters do not give up on horse stuck in mud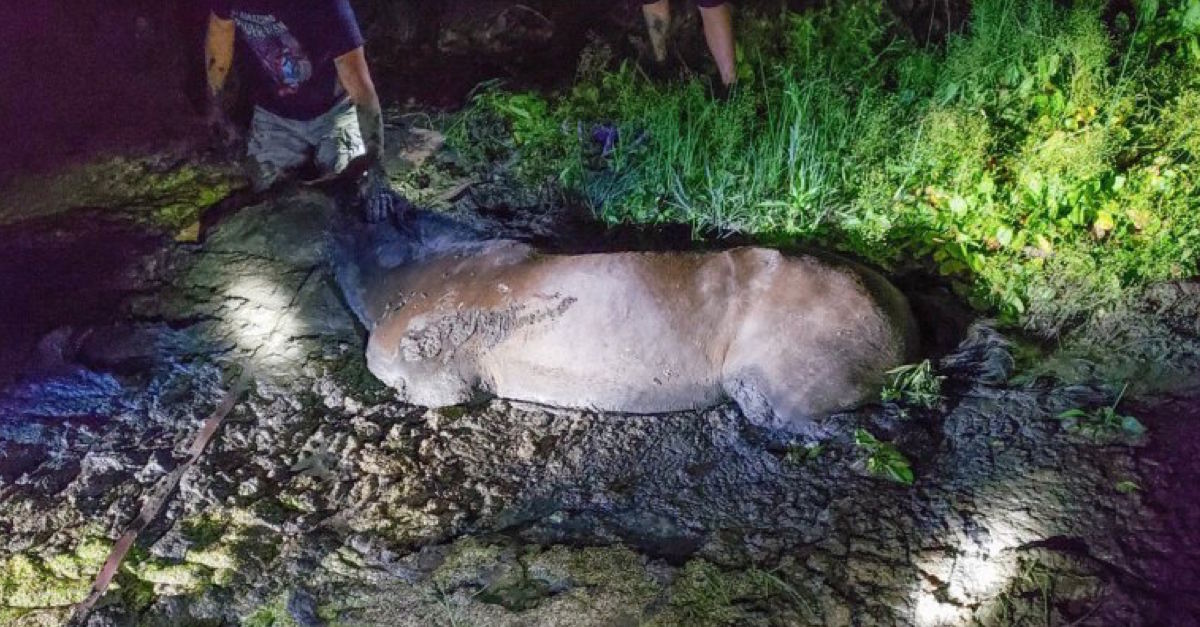 It was a warm summer night in August of 2018 when Chris and Tiffany Flynn of Castle Rock, Colorado, noticed the neighing of their horses out in the pasture.
The beautiful 1,200-pound Tennessee walking horse named Partner had vanished and they knew something was wrong and they needed to find him quickly. The couple made their way down to a nearby pond and found their missing horse.
Partner had somehow managed to slide down a 10-foot embankment into a giant mud pit, where he had become stuck. He simply could not get his ample body loose from the thick, sticky ground that had seemed to swallow him.
At first, Chris and Tiffany could only stand there and look at their poor horse while frozen in shock. As panic and confusion set in, they tried to form a plan of action to save the life of their much-loved yet giant horse.
The couple worked at desperately trying to free Partner but he began to sink even deeper into the thick, sticky mud pit that had consumed him and it seemed like an impossible feat to achieve.
Tiffany made her way into the mud, walking waist-deep in it, as her feet began to sink. The realization that she may not be able to escape the muddy hole herself was not lost on her. As Partner continued to struggle to free himself, the deeper he sank.
Chris phoned 911 for help and by 11 p.m., Castle Rock firefighters and other first-responders were on the scene of the Flynn home in the beautiful suburb of Denver. They had to lug their equipment to the area where Partner was stuck which was complicated by the large distance it was from the main road to the farm.
Hiking with their equipment in tow for about a half of a mile to Partner's location, the firefighter began digging. The continued into the night for about three hours before they were able to use a sling, which required webbing and a pulley to create, to secure Partner and drag him back up the 10-foot embankment to safety. A local veterinarian was on the scene to treat and hydrate the horse after he was freed.
She specializes in large animals and said it was the most technically difficult rescues she has ever seen.
Lt. Jay Allen, a firefighter with the Castle Rock Police Department, told a local news station that he and the other firefighters would attempt to remove the mud and water from the area in which the horse was stuck to no avail at first.
"We would try to remove the mud and the water from him, but he was just stuck in there, that vacuum that was created from it. And so it took finally breaking that vacuum, that seal that was there for us to pop him up and out," said Allen.
After hours of working diligently, the firefighters were able to free the beautiful horse from his pit of mud.
"It's amazing to see Partner out of the pit. We are so grateful to the Castle Rock Fire Department and others for working to free Partner," said Chris as he put his arms around Partner's neck to reassure him that he was not in trouble for the freak accident.
Giant Seal is Beached and Then has a Baby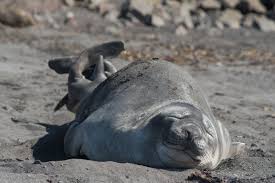 The exact moment when a mother sees her newborn baby for the first time is one of the most amazing sights in the world. The utter disbelief and joy on her face in combination with wonderment is one of the finest moments in any woman's life. It is the same feeling that animals have when they give birth and the look on their faces when they first see their babies is as equally magical.
Recently a tourist spotted a large female seal on the beach. She appeared to be in great pain because of the manner in which she was writhing around. The tourist shot a video of the seal. A few minutes later, the elephant seal appeared to have a spot beneath her tail. After some hard pushing, her calf was born. She quickly turned around and inspected her new baby to make certain that it was okay.
Elephant Seal Interesting Facts
Giant seals or elephant seals are the largest seals in the world. There are two types: the Northern elephant seal and the Southern elephant seal. The northern species are found in the coastal waters near Canada and Mexico and the southern species are found off the coast of South Africa, Argentina and New Zealand.
The adult bull or male seal has a proboscis that appears much like the trunk of an elephant, making it easy to distinguish males from females at a glance. The males roar through this appendage during the mating season to attract females. They also use it to fight with other males in order to win battles and claim females as their own.
The average adult southern male can weigh up to 6,600 pounds and reach a length of 16 feet in total. The female adults weigh about 2,000 pounds and measure around 10 feet long. Elephant seals may be light brown, dark brown, gray or rust colored.
Southern elephant seals can live to reach 22 years old and the northern species life span is only about 9 years.
Elephant Seal Reproduction
Elephant seals return to the coast for their breeding grounds in the winter. Female giant seals reach maturity between 3 and 6 years old and males mature slower between 5 and 6 years. Males battle each other to gain the alpha status that allows them to mate with the females. A male will mate with 30 to 100 females. A bit over 50 percent of first time breeding seals fail to produce a pup. A female elephant seal has one pup per year and the gestation period is 11 months. So, when females arrive at the breeding grounds in the winter, they are already pregnant. Females don't eat while nursing their pups for the first month of its life.
Don't Get Too Close to Wildlife
If you ever spot an animal of any kind that appears to be hurt, it's best not to get too close to them. In 2000, Homer, an elephant male seal terrorized Gisborne, a town in New Zealand. He attacked trash bins, cars, boat trailers, a tree and a power transformer in a rage. It isn't known what made him so mad, but it's best to keep your distance from all wildlife—thus the term of wild and life.