Firefighter Adopts Newborn Left in Florida Safe Haven Box
In the early hours of the morning, while working an overnight shift at a fire station in Ocala, Florida, a firefighter's life took an unexpected turn. Fast asleep, he was awakened by the sound of an alarm at 2 a.m. The alarm indicated that a baby had been placed in the Safe Haven Baby box located in the building. This box is a special device designed to provide a safe and anonymous way for someone to surrender a child without any questions asked.
Initially, the firefighter, who prefers to remain anonymous to protect his family's privacy, thought it might be a false alarm. However, when he opened the box, he found a healthy infant wrapped in a pink blanket. Little did he know that this baby would soon become his beloved daughter, Zoey. Holding her in his arms, he felt an instant connection. "We locked eyes, and that was it. I've loved her ever since that moment," he expressed with deep affection.
For over a decade, the firefighter and his wife had been trying to have a baby of their own, facing numerous challenges along the way. This unexpected encounter awakened a glimmer of hope within him. He decided to go to the hospital with the baby and explore the possibility of adoption. As a paramedic as well, he wrote a heartfelt note explaining their journey of trying to conceive and their readiness to provide a loving home for a child.
"I explained that my wife and I had been trying for 10 years to have a baby. I told them we'd completed all of our classes in the state of Florida and were registered to adopt," he recalled. The firefighter waited until morning to share his plan with his wife, fearing that the note might get separated from Zoey. When he finally shared his intentions, his wife couldn't contain her joy and started crying with excitement.
The days that followed were filled with anxiety and stress as they waited to see if their message would reach the right hands. On January 4th, just two days after being placed in the safe haven box, Zoey was welcomed into the firefighter and his wife's loving home. They later discovered that her umbilical cord had been tied off with a shoelace. Reflecting on the extraordinary circumstances, the firefighter believes it was a sign from a higher power. He becomes emotional every time he recounts this incredible story.
The firefighter decided to share their story not only to celebrate the joy of their adoption but also to provide Zoey's biological mother with closure. He wants her to know that her child is cherished, cared for, and loved unconditionally. Through sharing their story, he hopes to express his gratitude to Zoey's biological mother for ensuring her safety and bringing her to a place where she would be taken care of.
Safe Haven Baby Boxes, like the one where Zoey was found, exist in various locations across the United States. These temperature-controlled devices feature bassinet-style beds inside. According to the organization's website, there are 148 Safe Haven Baby Boxes in the U.S., and 31 babies have been safely surrendered through these boxes.
To the parents who legally surrendered Zoey, the director of Safe Haven Baby Boxes wants to address them directly with gratitude. "Thank you for keeping your child safe. Thank you for bringing your child to a place that you knew was going to take care of this child. And thank you for doing what you felt was best," she expressed with deep sincerity.
500,000-Year-Old Wooden Structure Rewrites History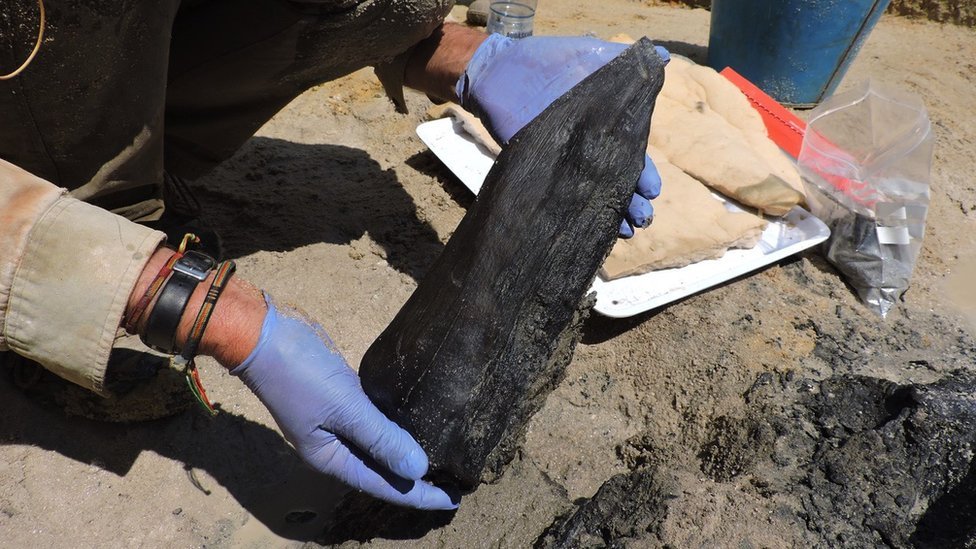 In an archaeological discovery, a wooden structure dating back an astonishing 500,000 years has been unearthed on the banks of a river in Zambia, challenging long-held beliefs about the capabilities of ancient humans. Researchers stumbled upon these ancient wooden logs, a revelation that has the potential to reshape our understanding of the lives of early humans.
The find, located on the riverbanks near Zambia's Kalambo Falls, provides compelling evidence that stone-age people may have constructed primitive shelters, forever altering our perception of their intelligence and resourcefulness. Archaeologist Prof Larry Barham, who led the research, was profoundly impacted by the discovery, stating, "This find has changed how I think about our early ancestors."
What makes this find truly remarkable is that it suggests ancient humans did more than merely survive; they thrived by creating something entirely new. These early humans exhibited intelligence, imagination, and craftsmanship by fashioning structures from wood, a material that had never before been transformed into such large and sophisticated objects.
The researchers also uncovered ancient tools, including digging sticks, but the most exciting find was two pieces of wood positioned at right angles to each other. "One is lying over the other, and both pieces of wood have notches cut into them," explained Geoff Duller, a professor of geography at the University of Aberystwyth and a member of the research team. "You can clearly see those notches have been cut by stone tools, making the two logs fit together to become structural objects."
Radiocarbon dating confirmed the wood's age, placing it at a staggering 476,000 years old. This revelation has ignited curiosity about the woodworking traditions of ancient societies, challenging the prevailing notion that early humans led simplistic, nomadic lives.
Perrice Nkombwe, a team member from the Livingstone Museum in Zambia, expressed her astonishment, saying, "I was amazed to know that woodworking was such a deep-rooted tradition. It dawned on me that we had uncovered something extraordinary."
The preservation of the wooden structure itself is a miracle. Typically, wood decays over time unless preserved under specific conditions. However, in the waterlogged environment along the Kalambo Falls, the wood remained intact, essentially pickled by the elements for millennia.
While the exact purpose of this ancient wooden structure remains a mystery, it has sparked numerous speculations. Prof. Duller suggests it might have been used as a place to sit beside the river and fish, although a complete understanding of its function remains elusive.
Moreover, the identity of the individuals who constructed this structure raises intriguing questions. "We don't know – it could have been Homo sapiens, and we just haven't discovered fossils from that age yet," Prof. Duller added. "But it could be a different species – [perhaps] Homo erectus or Homo naledi – there were a number of hominid species around at that time in southern Africa."
This discovery has the potential to enrich our understanding of ancient woodworking techniques, craftsmanship, and human interaction with the environment. As researchers continue their work at the Kalambo Falls site, the pages of history are being rewritten, and our appreciation for the ingenuity of our ancient ancestors grows ever deeper.