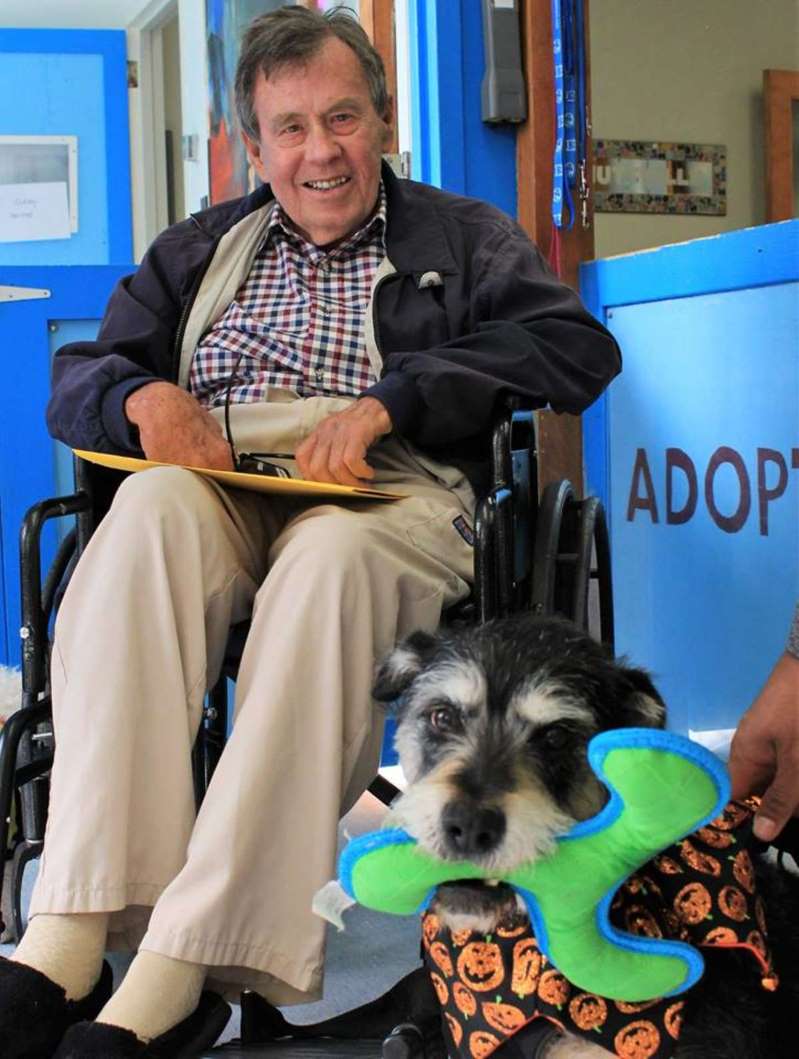 Find a Home for Pawpaw: Man's Dying Wish Is to Make Sure His Dog Has a Great Home
John didn't want to live the rest of his life without a loving dog by his side. He needed a wheelchair to get around, but he knew that he was capable of finding a shelter dog and giving the dog a loving home. In 2017, at an animal rescue in California, he met his new best friend Pawpaw. Just like John, Pawpaw was considered a senior dog, so they instantly bonded and became a family.
The last two years, Jon and Pawpaw have lived of life full of love. John grew up and always had dogs, and Pawpaw is John's 13th dog he has lived with throughout his life. He has said that he couldn't imagine a more perfect companion than Pawpaw.
John suffers from ALS. ALS is a progressive neurodegenerative disease that can affect the spinal cord and the nerve cells in the brain. Unfortunately, there is no cure for the disease and the disease will eventually be fatal, since it will lead to the paralysis of the muscles that control breathing. As John's condition worsens his heath has been declining and he is making plans for the future. His number one priority for the future is finding a home for Pawpaw so that the dog has a family after he passes away.
Many pets, even though they are beloved by their owners, end up homeless when their owners pass away, even if there are still other family members around. Other family members often don't want to deal with the stress of an animal when dealing with other arrangements after a loved one's death. John's forward thinking is heartwarming, since he is trying to do everything in his power to make sure that Pawpaw won't become homeless when he passes away. Many dogs will end up in local animal shelters, and for older dogs it can be deadly. Unfortunately, many animals have to be put down if there isn't a home found fast enough. John is working with Muttville to find a new home for Pawpaw. Muttville gets a lot of different dogs from different backgrounds, but the founder of the shelter said that the ones that affect her most are the dogs that have a wonderful home but are brought there because their owner passed away or moved to a care facility and can't take care of the animal anymore. Muttville has a program that is called Seniors for Seniors. The program helps seniors who have lost dogs and want a seasoned companion.
Pawpaw may be a senior dog, but at 13 years old he still acts like a puppy. He is constantly smiling and loves every human and other dog he meets. Pawpaw is easygoing and will likely fit well into a number of different situations. He could be the right fit for a family or even a single person. He does like to enjoy an active lifestyle, but also loves the indoors and sleeping with his owner. Pawpaw can also go on to help another person who is suffering from an illness. There are many benefits to people like John having a dog. When John adopted Pawpaw, he was told he only had six months to live but he's still here.
Just like John, it's not too early for pet owners to think about what will happen to their beloved pet when they pass. Animals are family and there should be instructions in writing and conversations with whomever will be your pet's advocate. It can help save their lives. Many people are currently sharing John's last wish for Pawpaw in hopes that he finds a new home soon.

Mayor Max III: The Golden Retriever Who Leads with Love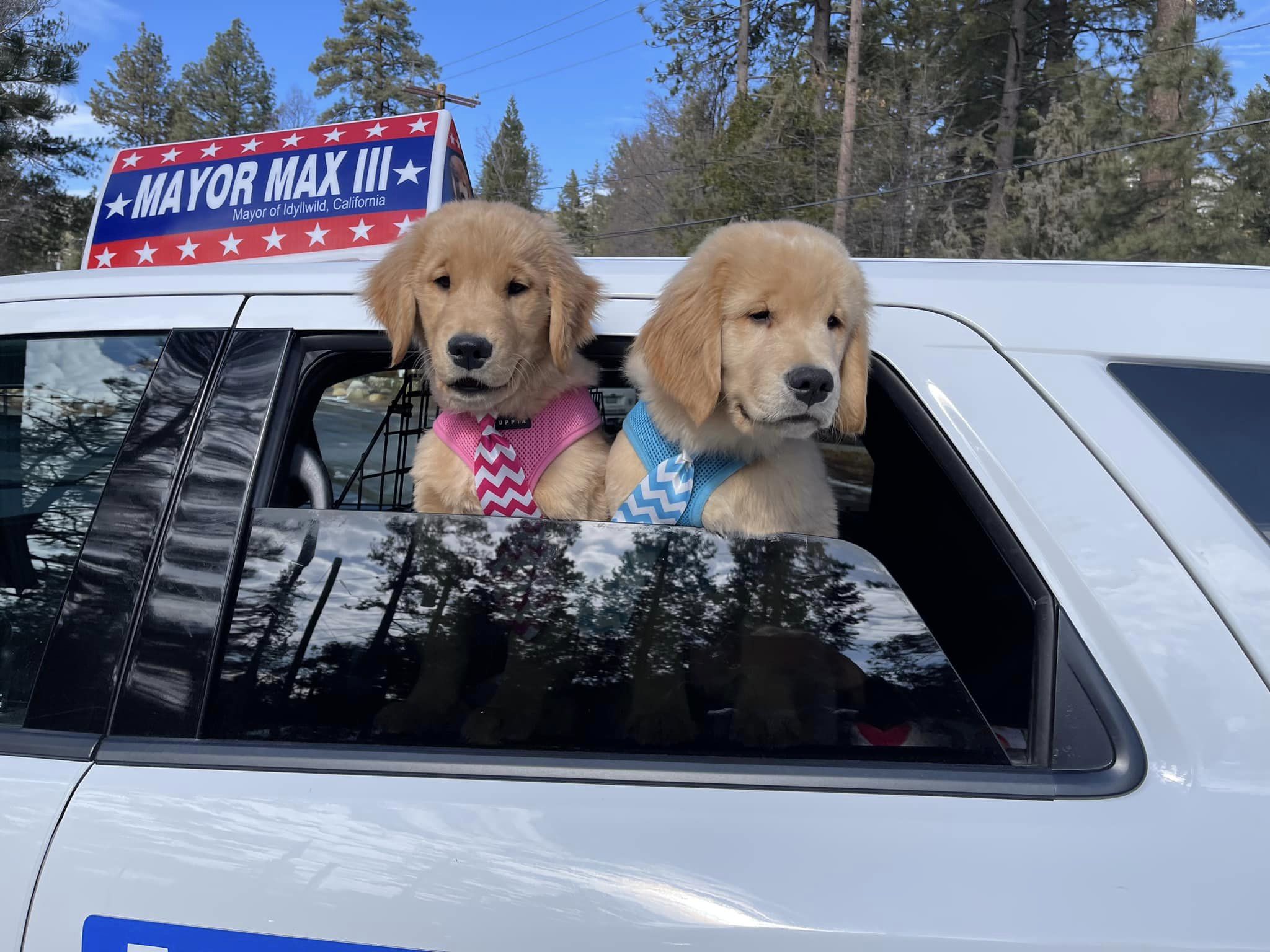 In the picturesque unincorporated mountain town of Idyllwild, nestled in the heart of Southern California, an extraordinary political figure has been making waves for the past year. But this isn't your typical politician; this is Mayor Max III, a lovable and charismatic golden retriever who has celebrated a year in office as the town's mayor. In a town known for its unique and quirky traditions, Max III has carved out a special place in the hearts of the residents.
The legacy of golden retriever mayors in Idyllwild began in 2012 when Mayor Max I took office, followed by Mayor Max II. These remarkable dogs were more than just pets; they were symbols of unity and positivity in a world sometimes marked by division and strife. Max III proudly continues this legacy, and some say he possesses a unique talent passed down from his predecessors—a charming "mouth-closing trick."
Phyllis Mueller, Max III's owner, attests to the magic of this trick. "I just held the treat above his mouth, and he knew exactly what to do, without any instruction," she says with a proud smile. This special skill has become a signature move during his public appearances in the center of town, where Max III has embraced his role with enthusiasm.
Mayor Max III's duties extend beyond his charming tricks. He is a dog on a mission to bring joy and comfort to the people of Idyllwild. His calendar is filled with visits to schools, nursing homes, and hospitals, where he spreads cheer and offers a welcome distraction from life's challenges. "It's a fun way to do politics because we don't do anything divisive, ever," Mueller explains.
Max's journey to becoming the mayor of Idyllwild is a heartwarming tale. Phyllis Mueller, a successful owner of a full-service marketing agency, always maintained a commitment to living on a smaller budget with the intention of giving back to the community. When she adopted Max, she realized that golden retrievers were the perfect ambassadors for her mission to achieve world peace through love and compassion.
Several golden retrievers later, Mueller, along with her husband Warren and their elderly dog Max, made a life-changing move from Pasadena to Idyllwild in the summer of 2011. Fate seemed to be on their side when the town's animal rescue center announced that it would be holding its first-ever election for a non-human mayor. This was the opportunity they had been waiting for.
In their cozy mountain home, Mayor Max III enjoys the perks of his position. Mueller proudly showcases one of two tie closets for the mayor, where Max's collection boasts an impressive 3,000 ties. However, being a mischievous pup at heart, Max couldn't resist indulging in a few of his ties, devouring three of them during his first month in office.
But beyond the ties and the charming tricks, Mayor Max III serves as a reminder to the people of Idyllwild that there is still goodness in the world. "Every day, people do good things," says Mueller, "and these dogs here, they are living angels, and they love you with all their heart."
As Mayor Max III continues his reign, the town of Idyllwild remains a shining example of how love, unity, and the unbreakable bond between humans and their four-legged companions can make the world a better place—one adorable golden retriever at a time.