Find a Home for Pawpaw: Man's Dying Wish Is to Make Sure His Dog Has a Great Home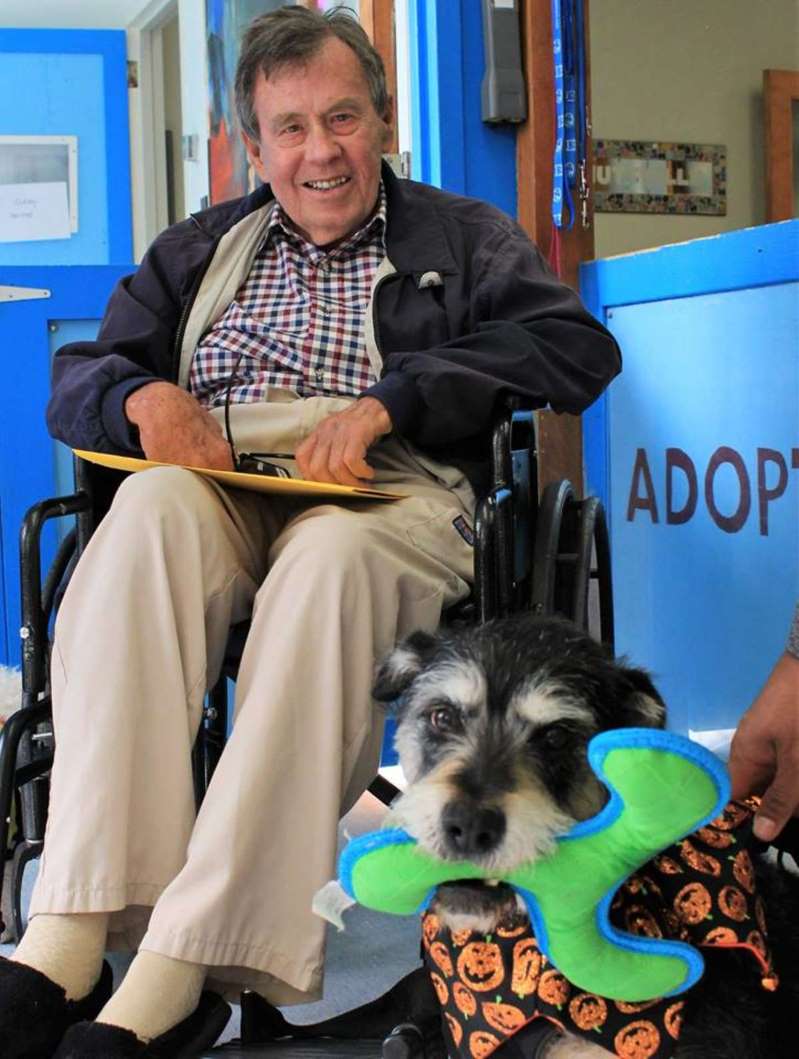 John didn't want to live the rest of his life without a loving dog by his side. He needed a wheelchair to get around, but he knew that he was capable of finding a shelter dog and giving the dog a loving home. In 2017, at an animal rescue in California, he met his new best friend Pawpaw. Just like John, Pawpaw was considered a senior dog, so they instantly bonded and became a family.
The last two years, Jon and Pawpaw have lived of life full of love. John grew up and always had dogs, and Pawpaw is John's 13th dog he has lived with throughout his life. He has said that he couldn't imagine a more perfect companion than Pawpaw.
John suffers from ALS. ALS is a progressive neurodegenerative disease that can affect the spinal cord and the nerve cells in the brain. Unfortunately, there is no cure for the disease and the disease will eventually be fatal, since it will lead to the paralysis of the muscles that control breathing. As John's condition worsens his heath has been declining and he is making plans for the future. His number one priority for the future is finding a home for Pawpaw so that the dog has a family after he passes away.
Many pets, even though they are beloved by their owners, end up homeless when their owners pass away, even if there are still other family members around. Other family members often don't want to deal with the stress of an animal when dealing with other arrangements after a loved one's death. John's forward thinking is heartwarming, since he is trying to do everything in his power to make sure that Pawpaw won't become homeless when he passes away. Many dogs will end up in local animal shelters, and for older dogs it can be deadly. Unfortunately, many animals have to be put down if there isn't a home found fast enough. John is working with Muttville to find a new home for Pawpaw. Muttville gets a lot of different dogs from different backgrounds, but the founder of the shelter said that the ones that affect her most are the dogs that have a wonderful home but are brought there because their owner passed away or moved to a care facility and can't take care of the animal anymore. Muttville has a program that is called Seniors for Seniors. The program helps seniors who have lost dogs and want a seasoned companion.
Pawpaw may be a senior dog, but at 13 years old he still acts like a puppy. He is constantly smiling and loves every human and other dog he meets. Pawpaw is easygoing and will likely fit well into a number of different situations. He could be the right fit for a family or even a single person. He does like to enjoy an active lifestyle, but also loves the indoors and sleeping with his owner. Pawpaw can also go on to help another person who is suffering from an illness. There are many benefits to people like John having a dog. When John adopted Pawpaw, he was told he only had six months to live but he's still here.
Just like John, it's not too early for pet owners to think about what will happen to their beloved pet when they pass. Animals are family and there should be instructions in writing and conversations with whomever will be your pet's advocate. It can help save their lives. Many people are currently sharing John's last wish for Pawpaw in hopes that he finds a new home soon.

Zookeepers Set Up Camera And Capture Pregnant Rhino Giving Birth Without Any Assistance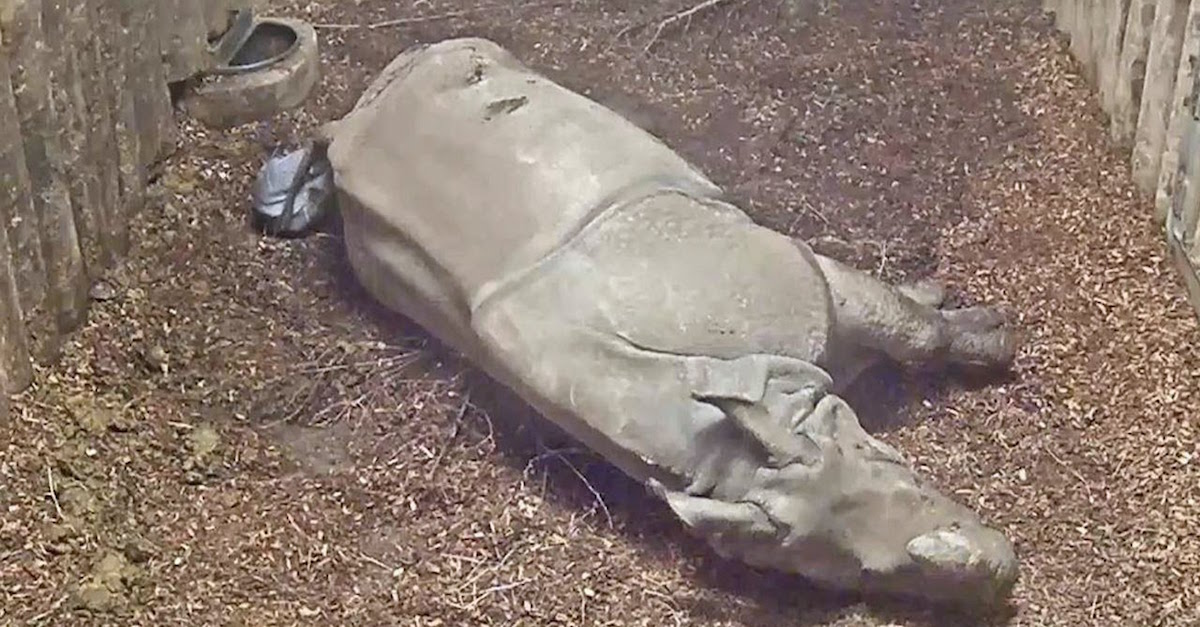 For a whopping sixteen months, Asha carried her baby in her womb. Asha, a rare greater one-horned rhinoceros, lives at the Chester Zoo in Cheshire, England. Luckily, her labor and delivery were much quicker than the gestational period was for her baby Rhino to come into the world.
After only about 20 minutes of labor, Asha successfully delivered a healthy male calf in the early morning hours on May 3, 2018, at her home at the Chester Zoo. The staff at the zoo were able to capture Asha's labor and delivery on video. The mama had an easy delivery on the floor of her enclosure and did not require assistance from the staff as she labored and brought her 132-pound baby boy. Once he is fully grown, Asha's son will balloon to an eye-popping two tons plus in weight!
Guests of the Chester Zoo were excited to visit the little rhino and his mama in their exhibit. Asha's baby is named Akeno which means "beautiful sunrise." Along with his birth, Akeno's first steps were also caught on tape along with snuggles with his 11-year-old mother Asha. They are a hit at the zoo and seem to be getting along well.
The staff at the well-visited zoo have been working towards keeping beautiful animals like Asha and baby Akeno together and better protected. One-horned rhinos are one-horned rhinos that are endangered at this point in a critical way and the staff is hoping the miraculous birth will not only attract visitors to the zoo but will draw attention to their work on this front. Animals like Asha and baby Akeno are the object of hunters who illegally poach them to be able to obtain their horns and sell them. There is a market for them as they are used in traditional Chinese medicine. A hunter can sell a single horn on the Asian black market for around $65,000 United States dollars. Even more offensive is the fact that wealthy hunters simply want the horns to hang on their walls and show off to friends as a status symbol of wealth and popularity.
According to a staff member of the Chester Zoo, not long ago there were less than 200 greater one-horned rhinoceros in the wild.
"They were hunted almost to extinction. Just in time steps were taken to protect them. Now there are about 2,600, but they still face threats in India and Nepal… it's important we do all we can to stop their numbers going down to critical levels again."
As the staff and many others work hard to fight against the illegally poaching of these beautiful animals, Asha and Akeno, who appears like he is dressed in a dark gray suit of armor, are enjoying their stay at the zoo and the many delighted visitors they come into contact with each day. The birth of Akeno on video has drawn more new visitors to the Chester Zoo and everyone seems to be happy with this new situation.