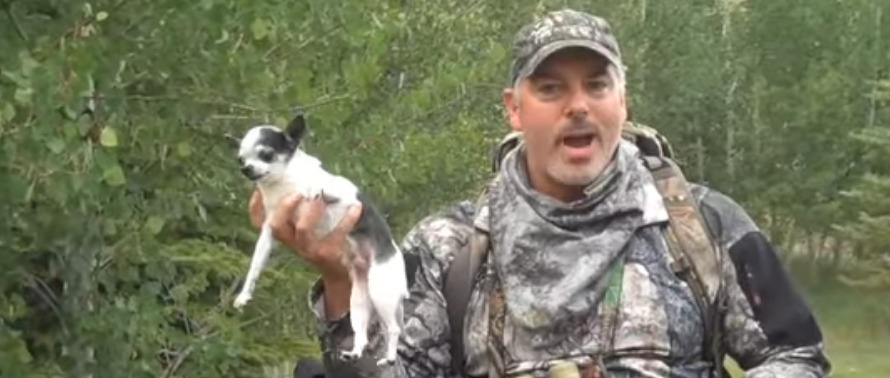 Feisty Chihuahua: The Perfect Hunting Dog?
Kris Burget made a video in September 2011 where he explained the basics of how he prepared for hunting. Kris is a normal sized guy, but he goes out and hunts elk. Even a small elk is at least 500 pounds, but Kris is easygoing and confident as he explains how he gets ready.
The first thing he explains is that you should always have extra clothes, and he points out that even as he was speaking it looked as though there was a rain storm headed his way. If he became too wet and uncomfortable, he would have to cut his trip short, so he wanted to be able to change into rain gear if necessary.
The next thing he talked about was his cow calling gear. The gear was in his pocket and Kris squeezed it so listeners could hear the odd noise it made. Cow calling gear is available at sporting goods stores and hunters can use it to get the attention of the elk they are looking for. There are tutorials online so hunters can learn the best techniques and methods for using the gear.
Kris also carries an extra gun, as could be expected, and he has jerky within easy reach. Beef jerky is a convenient snack that doesn't need to be refrigerated and that can be eaten without silverware, so hunters can conveniently carry it for when they need a snack while they are spending several hours in the outdoors. Hunters have to learn to be patient and do without nice things while on the hunt.
Finally, Kris pointed out that one of the most important things to bring on a hunting trip was a really good companion. For Kris, the perfect companion is his hunting dog.
Anyone watching up to that point would be wondering where his dog was. Most people assume a hunting dog is going to be large, especially if the dog hunts elk. However, this is where Kris surprised everyone.
At that point, with a sly smile, Kris opened his camouflage backpack so he could introduce his hunting dog Coco. At first, you can't see Coco because she is so small, but then she scrambles into view.
Kris is explaining how great Coco is at hunting, and how she is all business when it comes down to it. While he is talking, Coco seems to understand, because she lifts her tiny head higher and barks like crazy.
Kris warns everyone not to let Coco's size fool them. Even though she looks small compared to other Chihuahuas, Coco obviously believes she is fierce and frightening. Her small size might be what makes her so good at tracking.
At the end of the video, Kris picks Coco the rest of the way out of the backpack and holds her up there with one hand. Is it true? I would have to see it to believe it.
400-Pound Black Bear Rescued From Waterway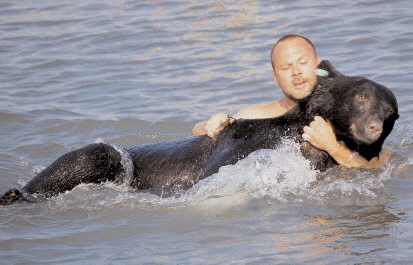 A Florida man recently became a hero after saving a 400lb black bear from drowning. Black bears are known to be excellent swimmers and are athletic animals, but the bear in question was not in its usual state when it jumped into the water. The bear had been tranquilized after walking into a residential neighborhood, and when the tranquilizer started to take effect, it ran towards the water and eventually began to sink.
Wildlife biologist Adam Warwick immediately sprang into action, jumping into the water to save the bear. Despite the bear's massive size, Adam was able to keep its head above water and pull it to safety. Although he suffered only a scratch in the process, Adam's bravery was a testament to the care and dedication of wildlife officials in protecting and preserving the natural world.
Black bears are found in various parts of North America, including Florida, and are excellent swimmers. They are known for their athletic ability and can easily swim across rivers and lakes in search of food and territory. However, when the bear in question was tranquilized, it was not in its natural state, and its swimming abilities were significantly compromised.
The incident highlights the importance of wildlife officials in preserving natural habitats and protecting animals from harm. Despite the risks involved, these officials put their lives on the line to ensure that animals receive the care and protection they need. The successful rescue of the black bear is a reminder of the importance of caring for the environment and all its inhabitants, no matter how large or small.