Feisty Chihuahua: The Perfect Hunting Dog?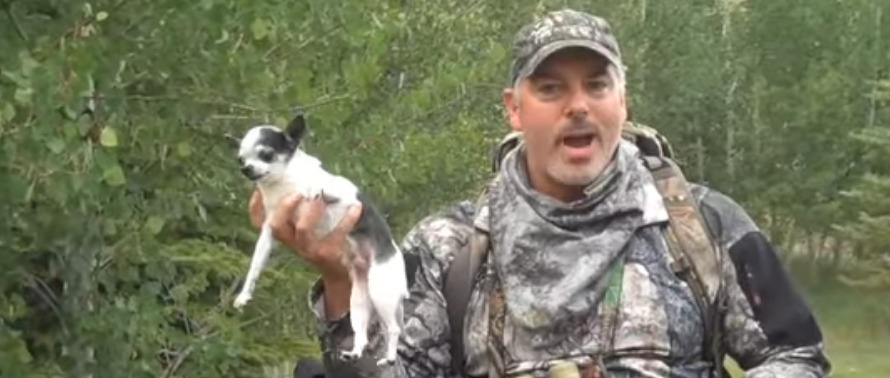 Kris Burget made a video in September 2011 where he explained the basics of how he prepared for hunting. Kris is a normal sized guy, but he goes out and hunts elk. Even a small elk is at least 500 pounds, but Kris is easygoing and confident as he explains how he gets ready.
The first thing he explains is that you should always have extra clothes, and he points out that even as he was speaking it looked as though there was a rain storm headed his way. If he became too wet and uncomfortable, he would have to cut his trip short, so he wanted to be able to change into rain gear if necessary.
The next thing he talked about was his cow calling gear. The gear was in his pocket and Kris squeezed it so listeners could hear the odd noise it made. Cow calling gear is available at sporting goods stores and hunters can use it to get the attention of the elk they are looking for. There are tutorials online so hunters can learn the best techniques and methods for using the gear.
Kris also carries an extra gun, as could be expected, and he has jerky within easy reach. Beef jerky is a convenient snack that doesn't need to be refrigerated and that can be eaten without silverware, so hunters can conveniently carry it for when they need a snack while they are spending several hours in the outdoors. Hunters have to learn to be patient and do without nice things while on the hunt.
Finally, Kris pointed out that one of the most important things to bring on a hunting trip was a really good companion. For Kris, the perfect companion is his hunting dog.
Anyone watching up to that point would be wondering where his dog was. Most people assume a hunting dog is going to be large, especially if the dog hunts elk. However, this is where Kris surprised everyone.
At that point, with a sly smile, Kris opened his camouflage backpack so he could introduce his hunting dog Coco. At first, you can't see Coco because she is so small, but then she scrambles into view.
Kris is explaining how great Coco is at hunting, and how she is all business when it comes down to it. While he is talking, Coco seems to understand, because she lifts her tiny head higher and barks like crazy.
Kris warns everyone not to let Coco's size fool them. Even though she looks small compared to other Chihuahuas, Coco obviously believes she is fierce and frightening. Her small size might be what makes her so good at tracking.
At the end of the video, Kris picks Coco the rest of the way out of the backpack and holds her up there with one hand. Is it true? I would have to see it to believe it.
The little boy shares a special moment with a police officer during a protest rally for George Floyd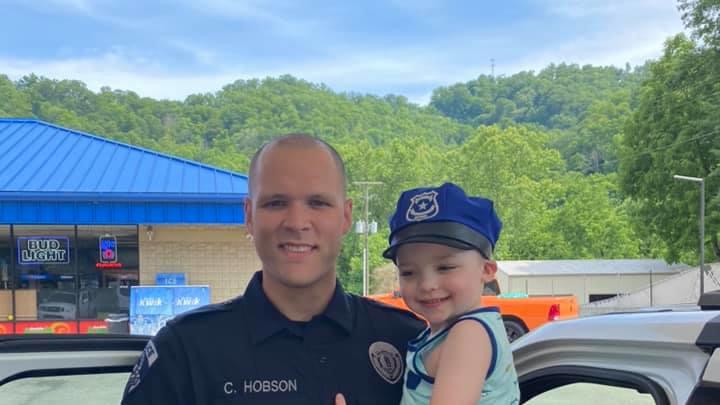 The ruthless killing of George Floyd has caused a thunderous uproar and rage throughout the world. In Winston-Salem, NC, hundreds of people gathered to protest against the killing of Floyd. They took to one knee for 8 minutes and 46 seconds that is the exact length of time former police officer Derek Chauvin had shoved his knee onto Floyd's neck which resulted in Floyd's death. The killing of George Floyd has become a symbol of injustice not only in American society but throughout the world. "Say no to racism" has been the most trending topic in all regions of the globe. In this particular incident, it was a black man who was the victim and this is not the only time it has happened. Several cases have occurred which demonstrated the lack of compassion and justice in the way law enforcement has dealt with individuals from minority racial groups.
Yolanda Williams Dickey, a resident of Winston-Salem, NC, was driving by the protest when she decided she wanted her family to be part of this protest as a sign of solidarity against discrimination against the minority groups. She went home to pick up her husband and son, who were glad they got a chance to be part of this historic protest. For her little son, Kamari it was quite the experience. He had never seen a protest rally before this. He saw a lot of anger and pain in the faces of the protestors. He could also see his parents being very emotional too. His parents had told him what the protest was about and how Floyd had been murdered. Kamari couldn't understand why the former police officer did what he did to George Floyd.
Kamari's attention went to the police officers on the sidelines. He watched them very closely as they stood by making sure there was no violence at the protest. Kamari had always wanted to a police officer himself but now his mother was concerned that after this incident, maybe he would not want to be one. Most of the toys that Kamari had were related to the police and he spent most of his days playing with them. He often told his parents that when he grows up he wanted to be a police officer so he could catch the bad guys. This unfortunate killing of George Floyd might have shattered the dreams of the little boy. At the protest, as the family moved closer to the police officers, Kamari approached Sgt. Dan Battjes, who was sitting on his motorcycle.
Kamari formally introduced himself to the police officer, who was very kind and friendly to the boy. After a few minutes of talking, Kamari said goodbye to the officer by a friendly fist pump. While the citizens of the country are demonstrating against the police and there is an unbelievable level of anger toward law enforcement, this little boy kept no hatred in his heart. The innocence of the little boy showed the resilience of the American community. One incident cannot dismantle years of peaceful coexistence. Yes, there have been cases where the minority communities have been discriminated and there should be strict actions and reforms against such incident but Americans still need to live together. The dream of Kamari to become a police officer might still be alive. The question remains, is the dream of a multi-racial America living with each other with love, compassion, and tolerance still alive? Only time will tell if this dream is alive.