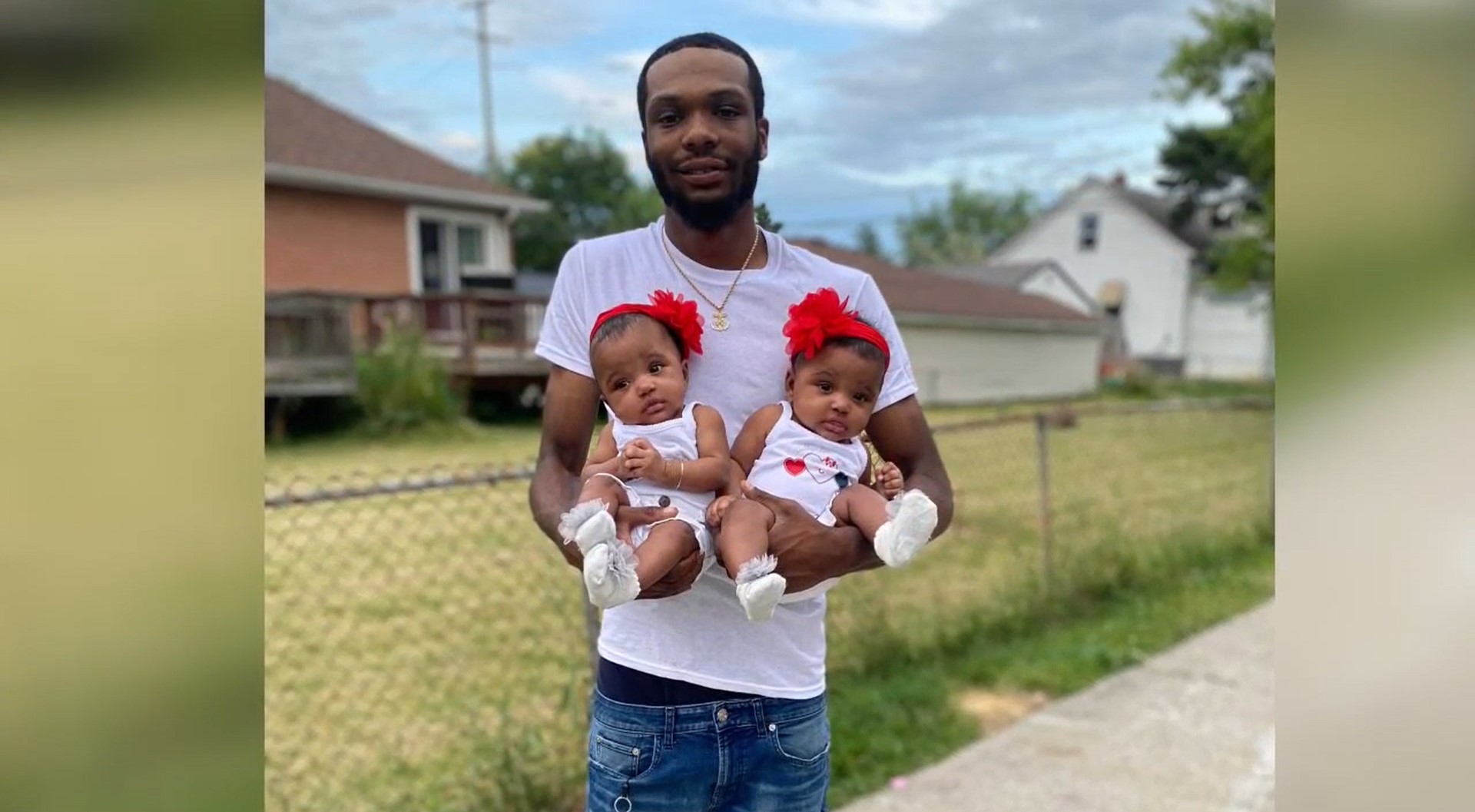 Father Saves Twin Daughters from a Burning Home
Everyone generally wants to keep their kids safe, but life forces even the best parents to have to take chances at times to take care of essentials for the family as a whole. That was the case for Ray Lucas as well as his girlfriend Shi'Ann Brown. They thought a quick zip down the street to the corner market for milk would just take a few minutes. Little did they know it was going to be a life-changing event. When they came back, their entire home was shooting flames and smoke. Worse, their twin girls were inside.
The girls hadn't been left alone. Ray's mother was watching the twins, but when the couple got back, his mother was on the front lawn screaming for help. Typically, when people are shocked by something, they either freeze in place trying to process what's going on, or they act without thinking. Ray was the latter. Instead, of trying to understand what was going on, he simply ran inside the building to get his children. All three floors were on fire with the flames spreading fast. The kids were in the basement, still in their cribs, and the fire department was nowhere to be seen.
Inside, the smoke was already thick enough that Ray couldn't see where he was going by sight. However, he knew the sound of the floors and the general physical layout of the building, so he found his way to the basement in seconds. The girls were still alive in the cribs when he arrived and got in, and the area around them was already smokey and showing signs of catching on fire. Ray grabbed both girls instantly and began making his way back upstairs and out of the building. Clutching the twins close to his chest to filter their breathing, he again blindly made a pathway to the front door and out. It was only when he got outside that Ray realized handing the twins to his mother a niece was still trapped inside the burning building as well.
By now, the flames had grown stronger, but Ray still dashed back into the house, this time to the second floor. He couldn't find her, however. Running back outside and around the building to the back, Ray hollered for his niece. Her face showed up in the window. He yelled for the girl to open the window and jump out; he would catch her. As the little girl tumbled through the air, Ray was in the right place at the right time and caught her without injury.
What would have otherwise been a horrible disaster ended up being property damage loss only, and Ray Lucas' entire family got out of the building safely and alive. Unfortunately, for Ray, he paid a price for his gut instinct. His arms, ears, face, and neck were all seriously burned. His eyes were almost lost as well; the corneas reacted to all the smoke and wouldn't function normally for days. Eventually, Ray got his vision back for the most part, but it wasn't perfect. The two twins were burned during the exit moment as well; both girls received full care in an intensive care unit for week after wards courtesy of the Children's Hospital of Michigan. No surprise, their legs which Ray couldn't cover up while carrying them got exposed and burned.
Ray himself is also dealing with something similar to post-traumatic stress disorder. He continues to try to work his mind through the event and what happened and how they managed to survive at all. The physical injuries will fade, but his mind still has challenges from the memories.
As for the home, it was a total loss. Everything was burned to ash. Ray and his girlfriend have moved in with relatives just to make ends meet, and the medical bills have been mounting. However, the community has also raised $286,000 to help the young couple and their children, which has gone a long way in helping them recover.
500,000-Year-Old Wooden Structure Rewrites History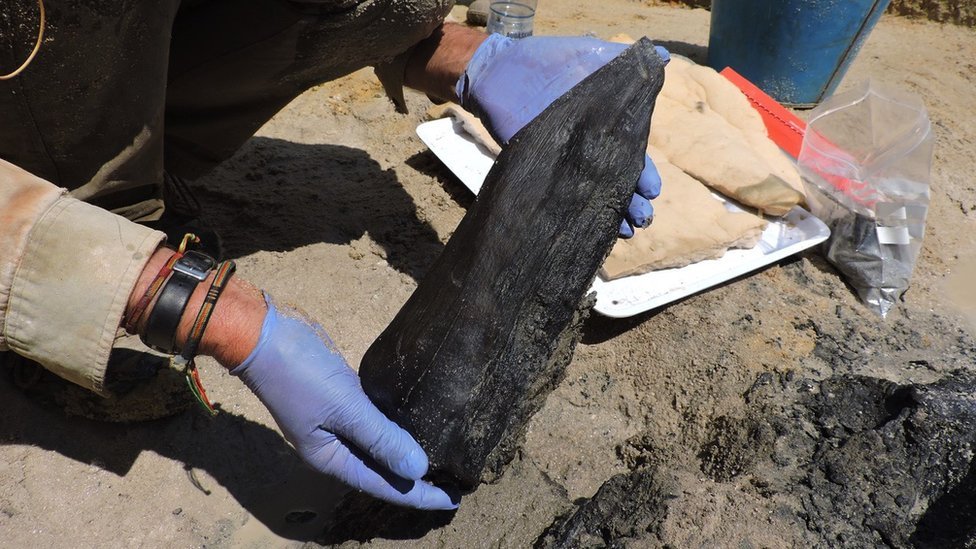 In an archaeological discovery, a wooden structure dating back an astonishing 500,000 years has been unearthed on the banks of a river in Zambia, challenging long-held beliefs about the capabilities of ancient humans. Researchers stumbled upon these ancient wooden logs, a revelation that has the potential to reshape our understanding of the lives of early humans.
The find, located on the riverbanks near Zambia's Kalambo Falls, provides compelling evidence that stone-age people may have constructed primitive shelters, forever altering our perception of their intelligence and resourcefulness. Archaeologist Prof Larry Barham, who led the research, was profoundly impacted by the discovery, stating, "This find has changed how I think about our early ancestors."
What makes this find truly remarkable is that it suggests ancient humans did more than merely survive; they thrived by creating something entirely new. These early humans exhibited intelligence, imagination, and craftsmanship by fashioning structures from wood, a material that had never before been transformed into such large and sophisticated objects.
The researchers also uncovered ancient tools, including digging sticks, but the most exciting find was two pieces of wood positioned at right angles to each other. "One is lying over the other, and both pieces of wood have notches cut into them," explained Geoff Duller, a professor of geography at the University of Aberystwyth and a member of the research team. "You can clearly see those notches have been cut by stone tools, making the two logs fit together to become structural objects."
Radiocarbon dating confirmed the wood's age, placing it at a staggering 476,000 years old. This revelation has ignited curiosity about the woodworking traditions of ancient societies, challenging the prevailing notion that early humans led simplistic, nomadic lives.
Perrice Nkombwe, a team member from the Livingstone Museum in Zambia, expressed her astonishment, saying, "I was amazed to know that woodworking was such a deep-rooted tradition. It dawned on me that we had uncovered something extraordinary."
The preservation of the wooden structure itself is a miracle. Typically, wood decays over time unless preserved under specific conditions. However, in the waterlogged environment along the Kalambo Falls, the wood remained intact, essentially pickled by the elements for millennia.
While the exact purpose of this ancient wooden structure remains a mystery, it has sparked numerous speculations. Prof. Duller suggests it might have been used as a place to sit beside the river and fish, although a complete understanding of its function remains elusive.
Moreover, the identity of the individuals who constructed this structure raises intriguing questions. "We don't know – it could have been Homo sapiens, and we just haven't discovered fossils from that age yet," Prof. Duller added. "But it could be a different species – [perhaps] Homo erectus or Homo naledi – there were a number of hominid species around at that time in southern Africa."
This discovery has the potential to enrich our understanding of ancient woodworking techniques, craftsmanship, and human interaction with the environment. As researchers continue their work at the Kalambo Falls site, the pages of history are being rewritten, and our appreciation for the ingenuity of our ancient ancestors grows ever deeper.