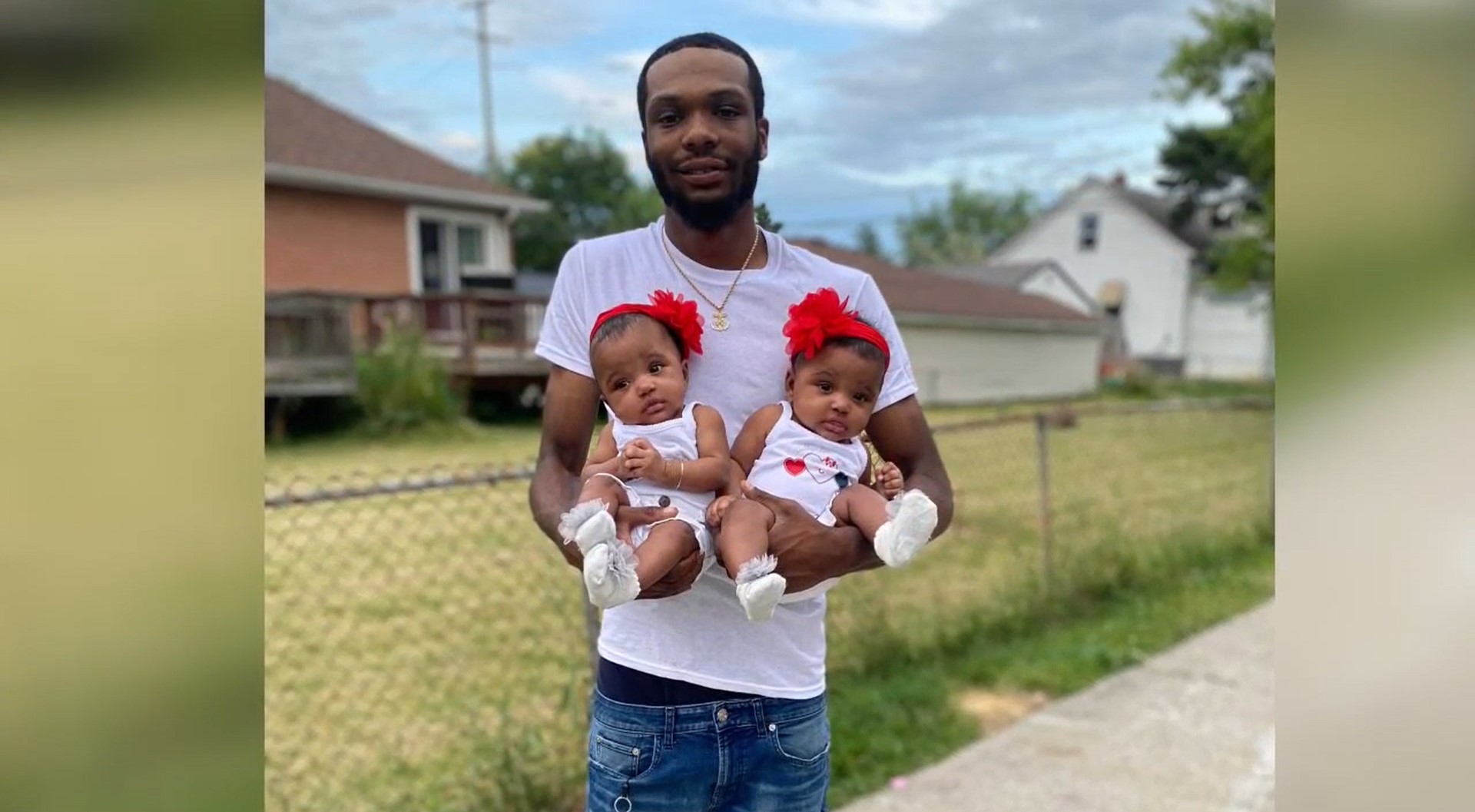 Father Saves Twin Daughters from a Burning Home
Everyone generally wants to keep their kids safe, but life forces even the best parents to have to take chances at times to take care of essentials for the family as a whole. That was the case for Ray Lucas as well as his girlfriend Shi'Ann Brown. They thought a quick zip down the street to the corner market for milk would just take a few minutes. Little did they know it was going to be a life-changing event. When they came back, their entire home was shooting flames and smoke. Worse, their twin girls were inside.
The girls hadn't been left alone. Ray's mother was watching the twins, but when the couple got back, his mother was on the front lawn screaming for help. Typically, when people are shocked by something, they either freeze in place trying to process what's going on, or they act without thinking. Ray was the latter. Instead, of trying to understand what was going on, he simply ran inside the building to get his children. All three floors were on fire with the flames spreading fast. The kids were in the basement, still in their cribs, and the fire department was nowhere to be seen.
Inside, the smoke was already thick enough that Ray couldn't see where he was going by sight. However, he knew the sound of the floors and the general physical layout of the building, so he found his way to the basement in seconds. The girls were still alive in the cribs when he arrived and got in, and the area around them was already smokey and showing signs of catching on fire. Ray grabbed both girls instantly and began making his way back upstairs and out of the building. Clutching the twins close to his chest to filter their breathing, he again blindly made a pathway to the front door and out. It was only when he got outside that Ray realized handing the twins to his mother a niece was still trapped inside the burning building as well.
By now, the flames had grown stronger, but Ray still dashed back into the house, this time to the second floor. He couldn't find her, however. Running back outside and around the building to the back, Ray hollered for his niece. Her face showed up in the window. He yelled for the girl to open the window and jump out; he would catch her. As the little girl tumbled through the air, Ray was in the right place at the right time and caught her without injury.
What would have otherwise been a horrible disaster ended up being property damage loss only, and Ray Lucas' entire family got out of the building safely and alive. Unfortunately, for Ray, he paid a price for his gut instinct. His arms, ears, face, and neck were all seriously burned. His eyes were almost lost as well; the corneas reacted to all the smoke and wouldn't function normally for days. Eventually, Ray got his vision back for the most part, but it wasn't perfect. The two twins were burned during the exit moment as well; both girls received full care in an intensive care unit for week after wards courtesy of the Children's Hospital of Michigan. No surprise, their legs which Ray couldn't cover up while carrying them got exposed and burned.
Ray himself is also dealing with something similar to post-traumatic stress disorder. He continues to try to work his mind through the event and what happened and how they managed to survive at all. The physical injuries will fade, but his mind still has challenges from the memories.
As for the home, it was a total loss. Everything was burned to ash. Ray and his girlfriend have moved in with relatives just to make ends meet, and the medical bills have been mounting. However, the community has also raised $286,000 to help the young couple and their children, which has gone a long way in helping them recover.
Twins Whose Lemonade Stand Was Robbed Gets Surprised By Community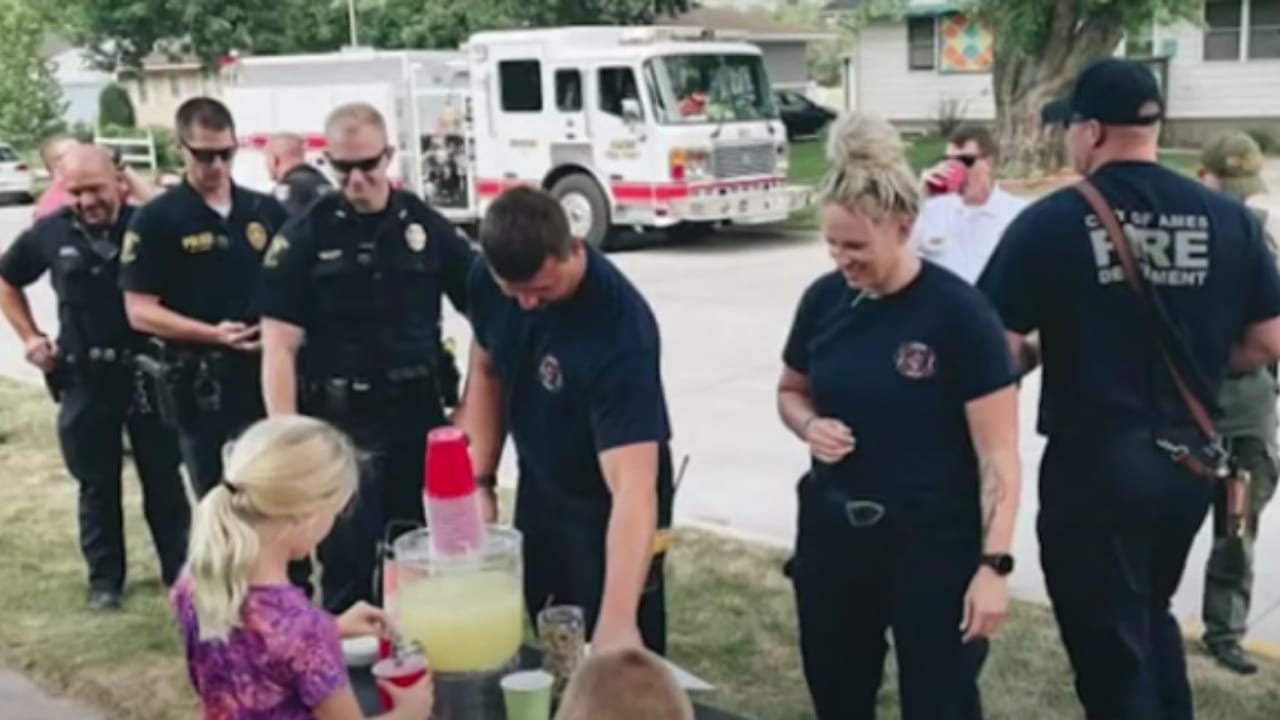 Being robbed is bad by every means; however, when it's a child or children who the criminals prey on, this draws the wrath of everyone.
When two innocent young girls are trying their hands at entrepreneurship, it is a sign that they have great plans ahead and believe that the world awaits them with open arms.
However, for a pair of nine-year-old twins, they saw the bitter side of life way too early, and the community decided to chime in and help remove or at least soften the scars in their minds of what the world represents.
After a robber decided to steal from a lemonade stand operated by the two 9-year-olds, the Ames community reacted.
Katelyn and Elias, twins, had a lemonade business on Monday, but things rapidly went south.
"We were simply selling lemonade when a car pulled up, and a girl got out, so I asked if she wanted lemonade," Katelyn explained. "She answered 'sure,' then took the tip jar, climbed into the passenger seat, and drove away."
When the family phoned the cops, they said the response was better than they could have ever imagined.
Officer Celena Rohland stated, "I started texting some of the folks I work with, asking them to get together and maybe visit the lemonade stand so that we could make a difference in Katelyn and Elias' day."
The twins reopened their stand, deciding that when life hands you lemons, you make lemonade.
The cops had no intention of taking the matter lightly. Four different law enforcement agencies arrived to assist them in recovering the money that the culprit stole.
"It makes me so glad to see these youngsters so happy right now. It's all about that. Taking care of our neighborhood," said one community member, Kyle Dirks. It is a sentiment shared by scores of other residents there.
Katelyn and Elias' mother commented that this life lesson makes it all worthwhile.
"There was one terrible apple," Karen Smidt explained, "but they got to experience the goodness of so many more people, and one bad apple will not spoil it for us." "We're going to keep going."
According to the family, they have now raised more than $750. They intend to donate the entire sum to the Shop with a Cop program, and they are thrilled to be able to give back to the community that has helped them.
What happened to these young entrepreneurs might be a lesson to many criminals who have the money but not the people's hearts.