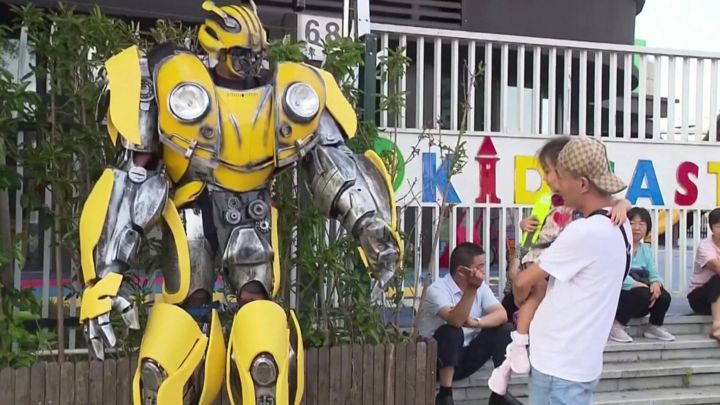 Father in Bumblebee costume escorts his kid back to school
Bumblebee from the American sci-fi movie series Transformers never had a kid, but if he did, he'd have definitely escorted him to school.
A father in Shanghai, China has gone above and beyond to encourage his kid to go back to school after staying at home for months due to the Covid-19 pandemic. There's no way any child is refusing to walk with Bumblebee into school, and this man had that in mind when building his Autobot suit.
Just like the rest of the world, China had been on lockdown, and for months, kids had to stay away from school to prevent infection and spread of the deadly virus. However, some normalcy is being restored in some parts of the region, and schools now have the green light to open and allow children continue with their education.
The Bumblebee suit wasn't only for his kid, though. He built it to serve as some amusement and surprise to other kids at school- and that he did.
"I also want to bring happiness to other children. I didn't only wear it for my own child. All of them were preschoolers," he said in the video.
His suit looks like the real thing. The only things missing were metal, alien technology, and missiles- not much, right? Standing about 2.3-metre tall, the suit was built using soft materials to prevent touchy and curious children from getting injured- and he was right to have done that because he was rushed and hugged by children upon arrival at the school.
The excitement of the kids at the sight of Bumblebee could light up astronomical units of outer space, as the intergalactic warrior once again put smiles on the faces of humans. Kudos to this amazing dad for his efforts to make kids happy to resume back to school- he'd probably do it every day if he could.
The home-made suit seems to be inspired by the 2017 movie Bumblebee.
Elephant Protects Best Friend As She Bathes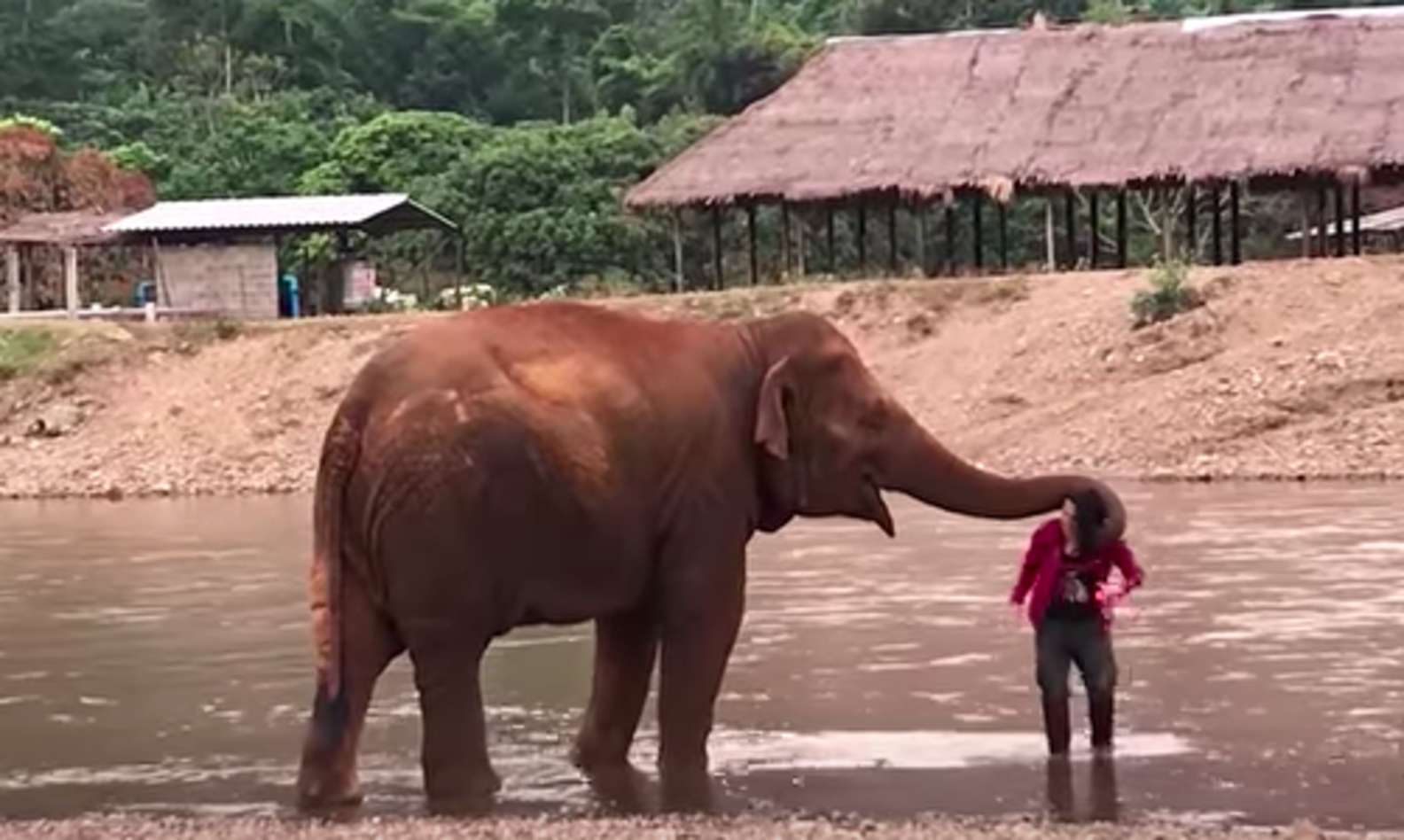 Everybody needs a friend.
Everyone deserves to have a true friend, and most times we often find it in the people we interact with on a daily basis- at work, at home, on the streets, in a café, at a leisure park and even in the weirdest of places.
The fun thing about friendship is that it knows no bounds. Throughout history, humanity has seen the most unlikely individuals and groups become best of friends to create alliances that help all the parties involved. Such is the story of the unique friendship between this elephant and her human buddy.
Yes. You read that right. A human and her giant elephant friend have grown super close to become best of friends, and they often find ways to show each other just how much they mean to each other.
Who said friendships couldn't be inter-specific?
This elephant is so fond of her best friend that she follows her to the river banks to have friendship baths, and it can be said with utmost certainty that her friend loves her just as much. She protects her friend at the river by noticing the strong river currents and placing her quite heavy trunk on her friend to protect her from getting swept away.
The elephant places her huge foot on the woman's head without hurting her while she's bathing at the river. Nobody knows why she actually did that, but a pretty good guess would be that she just loves playing around with her human friend.
The woman also doesn't mind the foot- she knows her best friend wouldn't crush her, so she trusts her and continues with her bath. In the video that shows their friendship bath, a voice can be heard telling the woman that the elephant's foot would only get her dirty again, but she doesn't really mind.
After her bath, the woman walks up the river and the elephant can be seen walking right above her. Yes. Right above. But she spreads her leg open while walking to avoid crushing her best friend under her huge weight.
They both walk all the way to shore, and the elephant seems to be glad that she spent some time with her friend, and she got the chance to protect her.
Elephants are known to be a very emotional species, so this type of relationship is only typical of them. They often create forever friendships with family members, grieve the death of their loved ones, and even visit their death sites.
Since humans are also equally very emotional, it shouldn't come as a surprise that they create bonds with elephants. Under the right circumstances, a strong friendship can come out of human-elephant interactions, and this story only proves it.