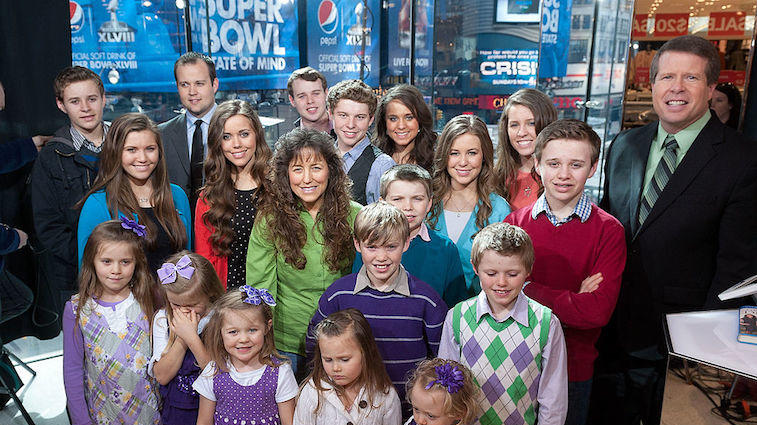 Fans of the Duggar Family have a new theory about Josh Duggar
Jim Bob And Michelle Duggar continue to have a large fan following due to their 19 Kids and Counting reality show that aired from 2008 to 2015. The controversial show featured nine girls and ten boys of Jim and Michelle. At one point the show was the most popular show on TLC and also landed in Neilson's "Cable Top 25" ranking.
With 19 children in one house, there are a lot of different dynamics at play. Fan of the show believes that there is a money related dispute between Jim and Jill Bob. Both Derick and Jill don't get much screen time as they are often shown to be busy with their own private life. The other family member that doesn't get much screen time is Josh Duggar, who has developed a reputation for being a trouble maker. During his younger days, he was accused of sexually assaulting several family members. That eventually led to the cancellation of the show.
Recently, Josh Duggar has been back in the news. This time it is because of the fan theory that has surfaced online. According to the fan theory, Josh Duggar and his wife Anna are scheming to become owners of the Duggar family house, which is an enormous property, probably worth millions of dollars. Just to provide an idea of the size of the house, the laundry room has four washers and four dryers, running nine loads of laundry a day. The house has gone through expensive renovations and expansions.
The fan theory is based on the fact that Josh and Anna seem to be overly connected with the Duggar house. They continue to live in it even though Josh and his parents don't get along too well. With the history of the violence of Josh, his parents have distanced them from him and Anna. Josh has also been accused of cheating on his wife. It would be fair to say, Josh has not demonstrated himself as a person of high moral standards and character. The fan theory believes that the only reason Anna has been staying with Josh is because of the greed to own the property one day. Josh has even admitted to cheating. Anna claimed she didn't want to divorce him due to religious reasons but fan theory believes it all about the money. She is biding time until she gets the property. It's all part of a plan. Anna is shown to be "very happy" on her social media accounts, but given the track record of the couple, the fans believe it is all fake. The couple already has five children and they expect to continue to have more. Looks like they don't want to leave anything to chance and position themselves as front runners to inherit the house.
This theory is further reinforced with the news that Josh Duggar has not been doing good financially. The last job he had was of a used car salesperson and that was a while ago. On Reddit forums, this fan theory has gained a lot of attention. The fans believe that the Duggar child who has the most grandchildren might inherit the house. Also, Bob and Michelle might show some pity on Josh given that he has gone through a lot in his life, although it has mostly been his fault.
'Trail Angel' Leaves Behind Good Deeds For Other Hikers to Find
A marked route stretching between the Eastern United States and into Maine, the Appalachian Trail offers hikers the chance to experience the longest hiking-only trail on the planet. As a one-of-a-kind destination, the Appalachian Trail brings in more than 2 million visitors every single year. Reaching heights of 6,643 feet and extending for more than 2,200 total miles, the Appalachian Trail is as challenging as it is inviting, a testament both to nature and those willing to overcome it.
Due to the intensity of the trail and its large coverage area, Trail Angels have begun to leave behind little gifts to help others follow in their path. Michele Staudenmaier had been hiking on the Appalachian Trail (A.T.) in March alongside her son, Zach. While walking the trail, Zach and Michele got to talking about gifts left behind for the hikers. Apparently, the hiking community has always appreciated donated gifts and drinks alongside trail markers, lovingly referring to these individuals as Trail Angels.
Understanding how important food and drink can be to a wilderness hike that ranges from easy to strenuous, Michel decided that she would become a Trail Angel herself alongside her husband, Dave.
Becoming a Trail Angel
When Michel and Zach had their discussion regarding trail angels, they were in the middle of a fun family trip. Michel's husband, Dave, had already booked several Airbnb's along their route through the A.T., with booked stops in Georgia, Tennessee, Vermont, Maine, West Virginia, and Pennsylvania. The trip was scheduled to take roughly six months, crossing through many significantly remote and rural places. Some of these rural areas end up featuring a small oasis of hikers, and finding these areas is known as stumbling upon Trail Magic.
Michel and her family ran into a group of Trail Angels during their work. Michele said, "I realized there was a massive community of volunteers that spend their time and money to support A.T. hikers." Michele went on to say, "I had no idea!"
While an average hike will knock out nearly 600 calories per hour, it can be hard to normalize this average. Many hikers will carry packs weighing upwards of 30 to 50lbs, adding a tremendous amount of stress to their physical efforts. To help keep these folks fed and energized, Michele would cook and pack foods like hot dogs, chips, sweet treats, Gatorade, and even sodas. One such Trail Magic event saw Michele arrive with several buckets of Kentucky Fried Chicken, leading to more than 30 hikers eating well and sharing their stories.
One event showed Michele the true stakes pertaining to Trail Angels as well as the importance of her own work. Michele had fueled a trail marker with food when a hiker arrived. After talking to the weakened hiker, he revealed that he had run out of food completely. Had he not found Michele and her food, there is no telling what could have happened.
According to Michele and many of the hiking enthusiasts that she has met, it is rare to have any food leftover after a long hike. For that reason, unexpected hot meals waiting in the middle of the A.T. will always be seen and enjoyed as a magical moment!