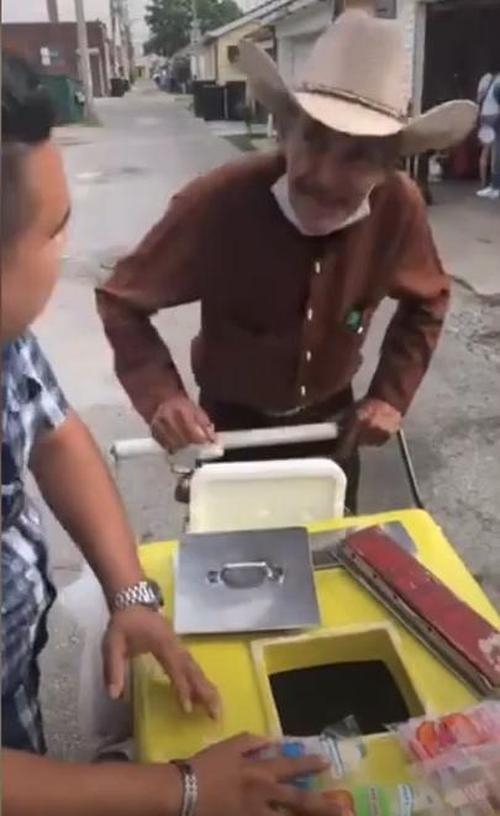 Family helps raise $40,000 for an elderly man
On father's day, Michaelangelo Mosqueda and his Gonzalez-Dominguez family were spending some time outdoors when they stumbled upon a man selling ice pops. These ice pops were paletas, a traditional Mexican version of the ice pops. This vendor selling the ice pops was seventy years of age. His name was Don Rosario. He has been a resident of Chicago for over five decades. To keep up with life's expenses, he has been selling pushing his ice pops cart through the street of the Windy City. Chicago can be brutal in the weather. It has icy cold winters but the summer can get very hot too. The crime rate is also very high in Chicago. It is not uncommon to be mugged while walking around the streets. Don Rosario was not the sort of man who would complain. Even in this heat, he wore his cowboy-style hat and always had a smile on his face. He took great pride in his work and never felt his work was tough. That was part of why the family just couldn't ignore him.
On a day like father's day, the Gonzalez-Dominguez family could not help but feel sorry for the old man struggling to sell his ice pops on a scorching hot day. The family thought that they were blessed to be able to spend the day with their family and enjoy all the luxuries of life, but others such as this old man are not so fortunate. The family decided to buy all the ice pops from Don Rosario so that he can go home and relax. This gesture bought tears to the old man, who was not used to such acts of kindness.
When Mosqueda posted the video online, it became viral. Online viewers of the video praised the family for what they did but Gonzalez-Dominguez went one step ahead and did something that would change the life of Don Rosario. They set up a GoFundMe profile with a final target of $10,000. Even the family did not expect what was going to happen after that.
The GoFundMe is an American free fundraising platform designed for people to set up their profile and raise money from different events in life such as illnesses, graduations, businesses, etc. When the profile of Don Rosario was set up, it instantly got people to donate money to him. By the time the campaign had ended, the fun had reached $40,000. That is enough money for Don Rosario to retire and not spend his old age trying to sell ice pops. Mosqueda plans on withdrawing the money and delivering it all to Don Rosario himself.
Many research studies have shown that one of the keys to happiness is helping others. The family could have used the money to buy something for themselves but helping others is far more noble and satisfying than spending on materialistic endeavors. The family who helped Don Rosario and the people who donated to Don's fund blessed themselves with more happiness and satisfaction. This story should be an inspiration for others to help those who need and who have not been blessed with necessities in life. This story also should be a reminder to show gratitude for what you have, whether it is more or less, it certainly is more than someone else out there.
Newly Discovered Flower Blooms Atop One of the World's RAREST Trees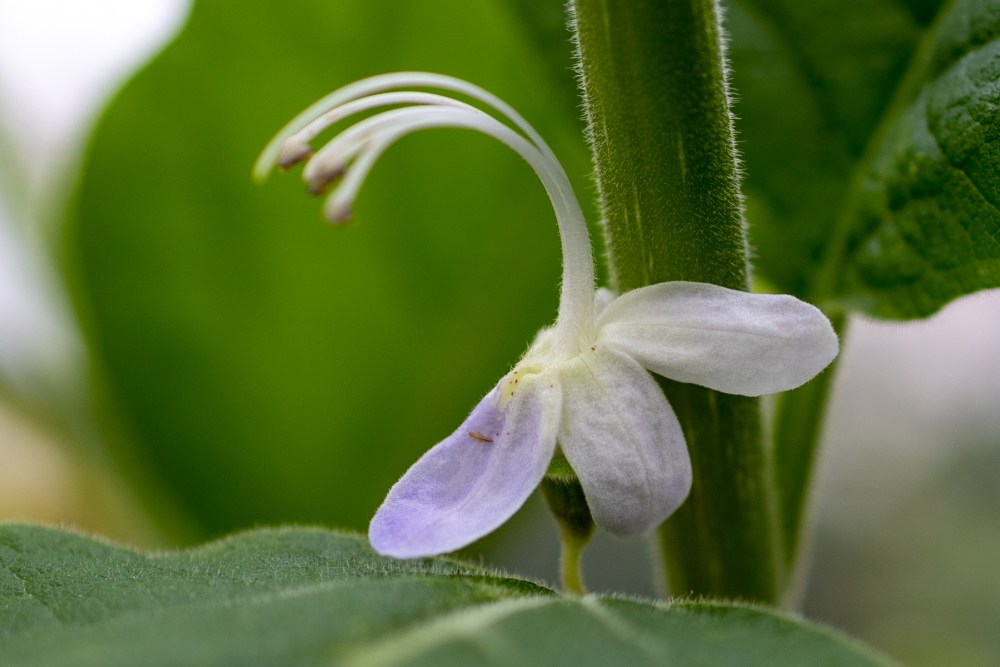 The Missouri Botanical Garden in St. Louis is known by locals for the intense work performed by the experts inside. When a small purple-and-white flower began to grow within their greenhouse, the team of experts at the Missouri Botanical Garden were confused. From their perspective, they were seeing something brand new – a completely fresh discovery.
Discovery on May 3rd
Justin Lee is a senior horticulturist at the Missouri Botanical Garden, and he was performing regular work on a Karomia Gigas sapling in the greenhouse when he first stumbled upon the rare purple-and-white flower. The Karomia Gigas is a tree from Africa with close relations to the mint plant. An endangered tree species in Africa, Justin was confused by the flower that had grown nearly an inch in length atop the tree.
Lee says of his discovery, "It's a bit odd for a mint flower. It seems flipped inside out."
The flower measured an inch in length with a strong halo of purple petals, sloping gently downward toward white stamens bearing pollen. According to Lee, the mint family likes to put out tube-styled flowers in an attempt to attract bees, butterflies, and moths. Lee also suggests that the tree can self-pollinate if necessary.
As the discovery made headlines around the city, the researchers at Missouri's Botanical Garden are preparing for more blooms in the future. Research has suggested that more Karomia Gigas flowers will grow at the greenhouse and it is then that their scientific research will really begin. Lee and his team are focused on successfully cultivating cross-pollination, thus improving the survivability of the plant in the world. At the time of this writing, only about two dozen of the Karomia Gigas trees can be found in the wilds throughout Tanzania.
The Wilds of Tanzania
At the time of this writing, the Karomia Gigas is considered so rare as to not even have a local Tanzanian nickname, nor is there an English one. What little is broadly known about the Karomia is that it can grow in straight stretches for up to 80 feet, limiting branch exposure until nearly halfway to its final height. As a result of its odd, stick-like growth, finding these unseen flower blooms has been harder than you might anticipate!
Roy Gereau is a program director for Tanzania at the Missouri Botanical Garden. Surprised but not shocked by the flower, Gereau was quick to admit that the bloom was new. Gereau said of the rare flower, "There certainly is no record of the flowers in scientific literature."
More important than discovering the flower, researchers in Missouri believe that they can maintain the health of the newly bloomed petals to prevent them from disappearing. Andrew Wyatt is the VP of Horticulture at the Missouri Botanical Garden, and he said, "We can make sure the species doesn't go extinct."
It has been a challenge to grow the plant in Missouri, as has been repeated by researchers at the facility. Seeds had been collected in 2018 from a series of Tanzanian field expeditions. These seeds were shipped to St. Louis where only around 100 were thought to be viable. To make things even more difficult, it was a task to match Tanzanian growing conditions within greenhouses in Missouri.
Despite the challenges that they had to face, it looks like the Karomia is finding solid footing within St. Louis. With some momentum and optimism on their side, what's next?
Andrew Wyatt said of the rare blooming flower and of his own future, "We were debating whether it would even flower in our careers."