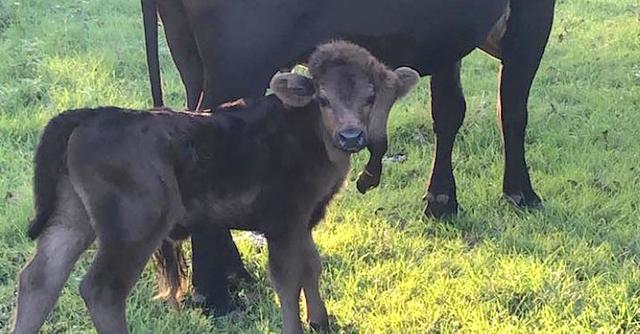 Everyone Matters on the Family Farm, Even a Five-Legged Calf No One Else Would Buy at Auction
When You're a Farm Animal Who's Different, Your Life Can Be At Risk
It was a balancing act of common sense and compassion, and compassion won. At the cattle auction, the bidding was going down, rather than up, on the little calf who had an extra leg. It was a disturbing sight, after all, attached to her ear. Normally calf prices at this auction started with a $100 bid, but even at a $50 starting bid no one wanted to take a risk. Farmers were there to add to their herds and make money, after all, and Elsie's condition was an unknown risk. But farmer Matt Alexander had a plan.
Matt and Maghin Had a Heart for Elsie
Lousiana farmer Matt Alexander was thinking differently from the other farmers, and when he shared some photos of the little one with his fiancee, Maghin Davis, she went all-in on the deal. She said the little one was perfect for their farm. He started bidding on Elsie. Then, Maghin confessed, she had more practical thoughts, but Matt was already on a roll. He bid, and he knew that Maghin would take to the calf and fall in love with her. She did, and fully supported the decision.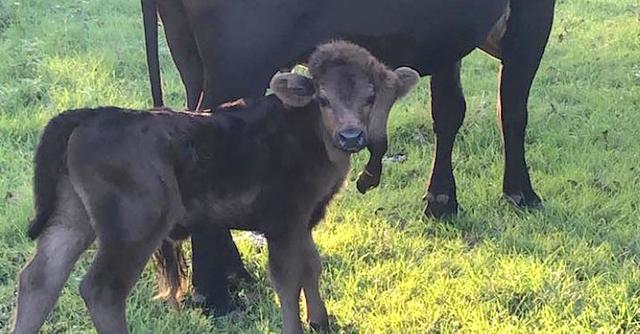 Only a Week Old, She Still Needed Her Mom — So They Bought Her, Too
Little Elsie, as they called her, was not the only deal they had to make. She was too young to survive well on her own, only a week old at auction time. With her condition uncertain at that point, proper care was important. To ensure that she could continue nursing and receive maternal care, Matt also bid on her mother. He planned to keep them together while Elsie grew and weaned.
A Farmer's Balancing Act: Business Decisions and Caring For Animals
As a farmer and a businessman, he was putting his own bottom line at risk. With the other farmers probably thinking of their bottom lines as well, he realized that Elsie's chances were not good. If nobody bids, she'll just stay with the barn and eventually die, he thought. Other farmers told him she wasn't a good investment. But when he got her back to his farm, she thrived.
A Rare Condition, Elsie's Missing Twin
Elsie's extra leg and also a third ear were the result of being a twin. Before she was born, her body absorbed the other twin, leaving her with a few complexities. It's a rare condition called Vanishing Twin Syndrome, where the miscarriage of one twin results in the reabsorption of the fetal tissue into the other twin, the placenta or the mother's body. In this case, Elsie was born with her sibling's remaining leg and ear attached to her body.
Watching Elsie Grow as Part of the Couple's Loving Louisiana Farm
Matt and Meghin have been watching little Elsie grow, and are happy that she's fitting in nicely with their other calves, growing and staying healthy. In a way, they got a bargain, but eventually they'll get a veterinarian to consult on her condition. They're sharing Elsie's progress on Facebook, @Elsiecowsjourney. Maybe compassion is common sense, after all.
Kenyan Tree Planting Holiday: A Collective Effort Against Climate Change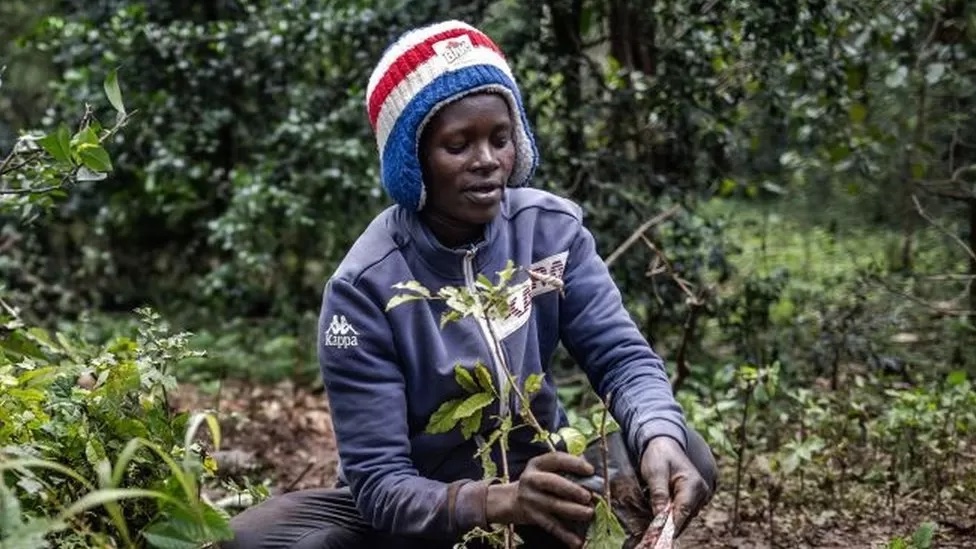 Kenya has embraced a unique and powerful approach to combating climate change with a national tree planting holiday. This initiative, led by Environment Minister Soipan Tuya, aims to involve every Kenyan in planting trees to contribute to a lofty goal of reaching 15 billion trees in the next decade. Recently, Kenyans came together to plant a staggering 100 million seedlings, demonstrating their commitment to a greener and more sustainable future.
The tree planting holiday allows "each and every Kenyan to own the initiative," as Minister Tuya emphasizes. This means that every citizen has a role to play in contributing to the ambitious goal of planting billions of trees. The target is for each Kenyan to plant at least two seedlings, a simple yet impactful way to make a difference.
The primary goal behind this massive tree planting effort is to fight climate change. Trees play a crucial role in mitigating climate change by absorbing carbon dioxide during photosynthesis. They act as natural carbon sinks, reducing the concentration of greenhouse gases in the atmosphere. Additionally, trees help regulate local climates, prevent soil erosion, and provide habitats for various species.
To encourage widespread participation, the Kenyan government is distributing tree seeds for free. However, there is also a push for planting trees in specific areas where they are more likely to thrive. This strategic approach ensures that the trees planted have a higher chance of growing into healthy, mature specimens.
While the initiative promotes free seed distribution, Kenyans are also encouraged to buy at least two seedlings for planting on their private land. This personal investment further engages citizens in the cause, fostering a sense of ownership and responsibility for the environment.
One notable tree planting site near the source of Kenya's second-longest river, Athi, saw active participation from various groups, including soldiers, residents, and families. The event showcased a collective effort to address environmental concerns.
To monitor the success of the tree planting initiative, an internet app has been introduced. This app allows individuals and organizations to record their planting activities, including details like plant species, the number of trees planted, and the date of planting. This technological aspect enhances transparency and accountability in achieving the set goals.
While the initiative has garnered widespread support, environmentalist Teresa Muthoni highlights some challenges. She notes that the effort is not organized in a way that ensures everyone is actively participating, as many individuals must prioritize their livelihoods. Additionally, Muthoni emphasizes the importance of planting the right trees in the right places, cautioning against the prevalence of exotic species in public nurseries.
Kenya's tree planting holiday exemplifies a collective and determined effort to combat climate change. By involving every citizen, the initiative seeks to make a significant impact on the environment. As the nation strives toward its ambitious goal of 15 billion trees in the next decade, the tree planting holiday stands as a beacon of hope for a greener and more sustainable future for Kenya and the planet.