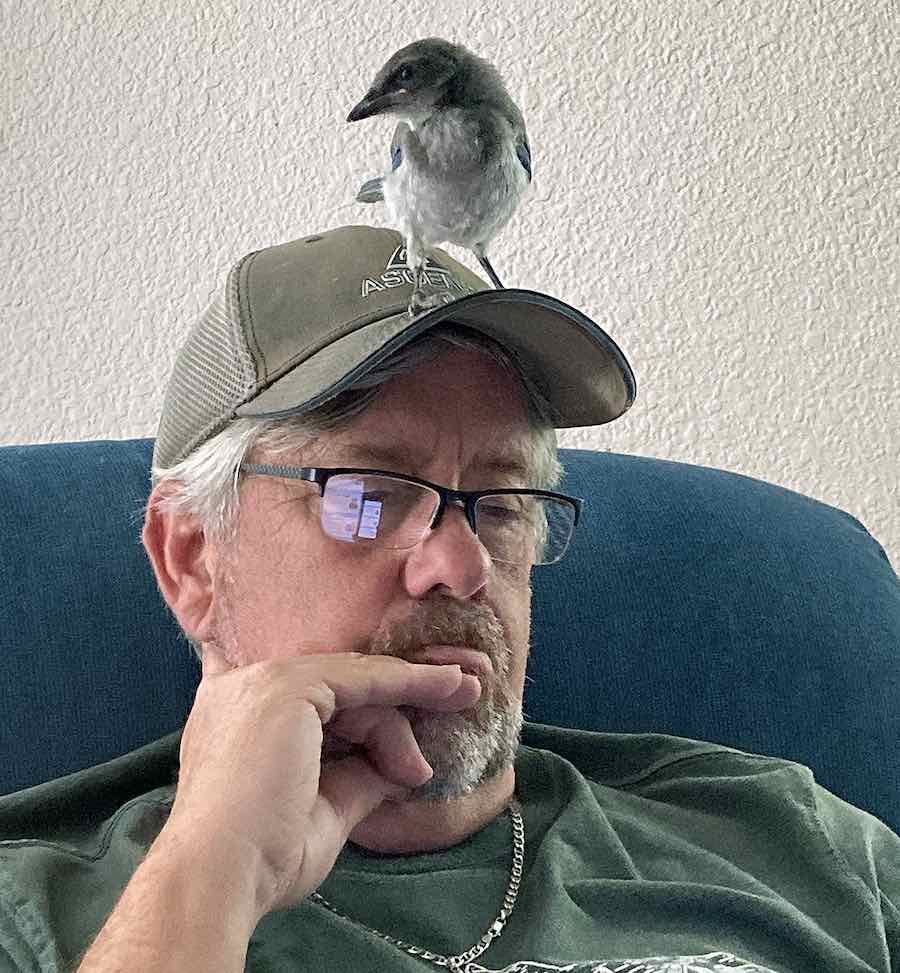 Everyone Falls In Love With Baby Birds That Are Saved From a BullDozer
Sacramento, California gets hot in the summer, real hot. So when it's a 100 degree day, folks tend to think that's kind of a pleasant change from what can usually get up to a 110 hot oven blast by 4pm in the afternoon. Given all the levee work that had been going on in 2020 and 2021, the crews working on the construction and repair were feeling it either way.
Roberto Navarez was one of the contract workers on the construction site, and it just so happened his eye caught something as he was walking on the site. A branch had been broken off a tree and, sitting in the path of a dozer that was slowly moving towards that exact spot, were two baby birds. The chicks were just looking around, confused, trying to figure out what to do next. Navarez looked around for a nest, but he couldn't find any sign of one wherever he looked. All that was evident was that the branches came from a nearby oak tree that hung over the levee itself.
Generally, most workers know to just leave animals they see alone. Nature tends to be very good at taking care of itself. However, while Navarez kept watching the birds to see whether the parents would fly down and scoop them up, nothing happened. The heat was reaching the high of the day, well over 100, and too much equipment was moving in the area of the birds. So, he decided get help from a biologist on site. That expert confirmed the heat was going to kill the birds if nothing was done, so the chicks were contained in a cardboard box and put into one of the nearby trailers with air-conditioning. One of the birds was quite active, but the other seemed drained of any energy.
Eventually, the workers placed the birds in the box in a branch, waiting for the parents to find them again. The lively one, however, jumped out of the box and to the ground. The parents found it, and it took off into a bush with one of them. However, the listless second bird stayed put. Eventually, it became clear the bird was going to need some help with the parents nowhere to be found. Lee Roork, an avid bird rescuer, stepped in.
Texting his wife at home about a new arrival, Lee Roork went into bird-caring mode, a practice he and his wife had done previously for other abandoned birds. In this case, their latest adoptee would be a scrub jay, it turned out. The first 24 hours were rough; it was a big question whether the tired chick would survive and live. However, by the next day, Roork's wife, Susan, was able to get the bird to take food and water. That was a key start.
The bird was named Blu and took to Lee and Susan very well within a few days. Interacting excitedly, the bird decided humans were definitely going to be its food source and care. And, within a few days, Blu was trying her wings out, zipping around the house. The Roorks tried to get Blu to adapt back to the wild, but the bird would have none of it, enjoying interacting and hiding food all over the house. However, it was a firm plan. Blu would go to the wild when ready. Yet, weeks later, while they had planned to release her formally, Blu decided when she was ready and darted out an open door. Hesitating for a few seconds and chirping at Susan, Blu eventually embraced her freedom with other jays nearby and took off.
Yet, for Lee and Susan, the fact that Blu made it was all that mattered. Blu came back once, interacting with Lee and Susan for a bit and then taking off again. It was as if the bird wanted them to know she was alright and things worked out fine.

The Mother Doberman and the Kitten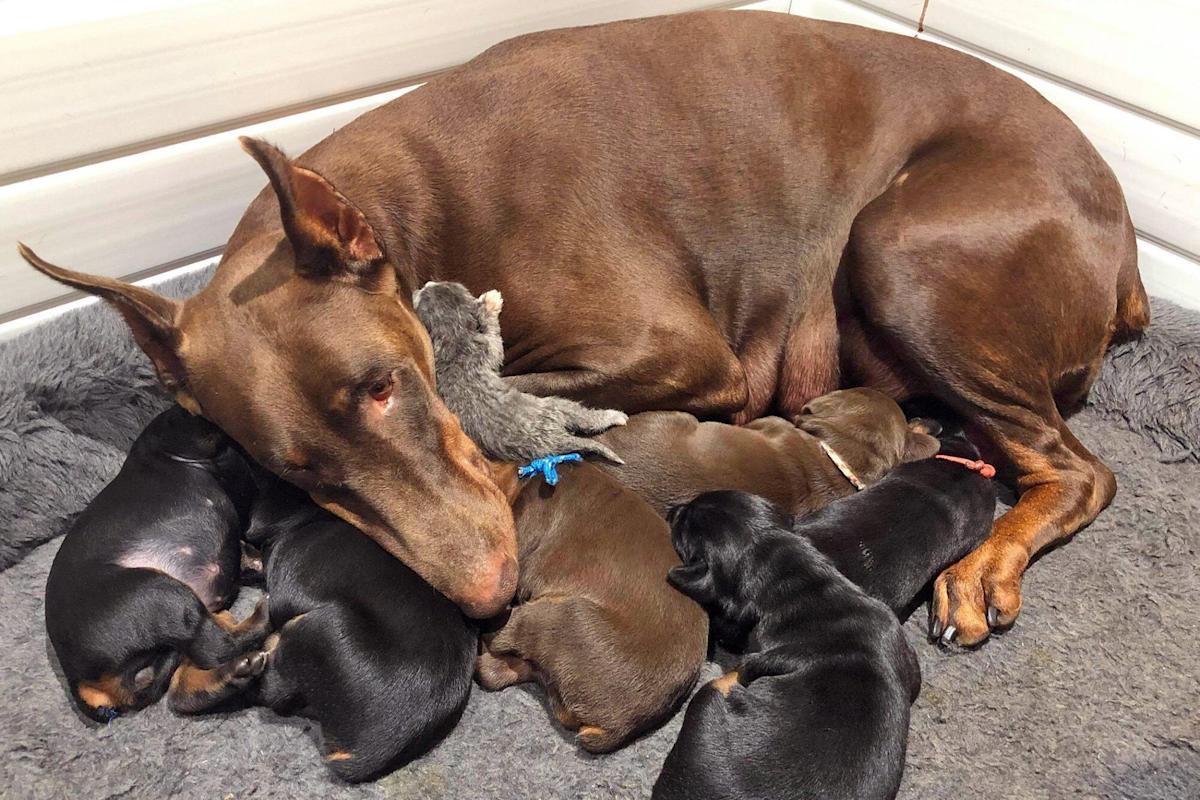 The idea of one animal raising a baby of a different species has long been part of human folklore. After all, the ancient myth of how Rome was created started with Romulus and Remus, twin babies, kept alive by a mother wolf. In far more modern times, Dr. Seuss books also took the same theme and reflected the story line with Horton the Elephant helping to hatch a baby bird. And then, of course, there is Dumbo the Elephant, Disney's version, flying after being raised and taught by crows.
Of course, in real life, cross-species care rarely happens. However, once in a while, animals do show empathy and go beyond their norms to help a young one in need. Koko the Gorilla, famous for learning sign language, raised a kitten. And a big-sized Doberman, Ruby, did the same with a little kitten she found herself with. Ruby was already in mother mode, which probably helped the situation; she had six puppies of her own nursing at the time, so the idea of a newborn kitten being added to the mix didn't seem that far-fetched, even to a big dog.
The human taking care of Ruby and her brood, Brittany Callan, normally manages the raising of Dobermans as her occupation. It helps that she lives on a farm, with plenty of room and facilities to manage animal husbandry. Given that background, when Callan happened to find a baby kitten without her mother and sure to end up passing away exposed, Callan immediately wondered whether Ruby could help. Ruby had just given birth to her own puppies just a few days before, so if anything, the dog would likely be in a prime maternal mood. It was worth a chance to save the cat.
It took a few minutes for Ruby to be comfortable with the new feline introduction, but once the nursing mother deemed the kitten no apparent threat, she was fine with taking care of one more baby in the melee of her puppies clamoring for food. Ruby was quite accommodating, actually, according to Callan. The Doberman was already used to being on the farm and surrounded by multiple species and sizes, so another kitten wasn't going to be much of a shock to her compared to how a city dog might act.
Is inter-species motherhood common? Not really, but it does happen. Russian ookeepers trying to save two tiger cubs were able to depend on the help of a Shar-Pei that nursed the two cubs long enough that they would survive. And in Ireland, a similar situation occurred with a cat raising three ducklings along with her regular kittens. In Callan's opinion and experience on the farm, the maternal instinct is so strong, it drives animals to become sympathetic to the plight of young ones needing care. And being around other animals regularly helps a lot with that trend of adoption.
As it turned out, Ruby's new kitten puppy, Ramblin' Rose, ended up doing just fine. The baby cat even got protective care from mom when the puppies started getting a bit too rough for the cat. The kitten ended up growing strong and taking on weight and will likely be just fine around dogs on the farm as a result of her rearing by Ruby.